Casio is releasing a more affordable classic-style G-Shock with a stainless steel bezel…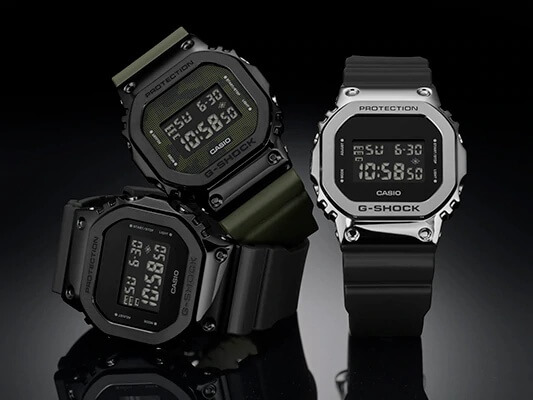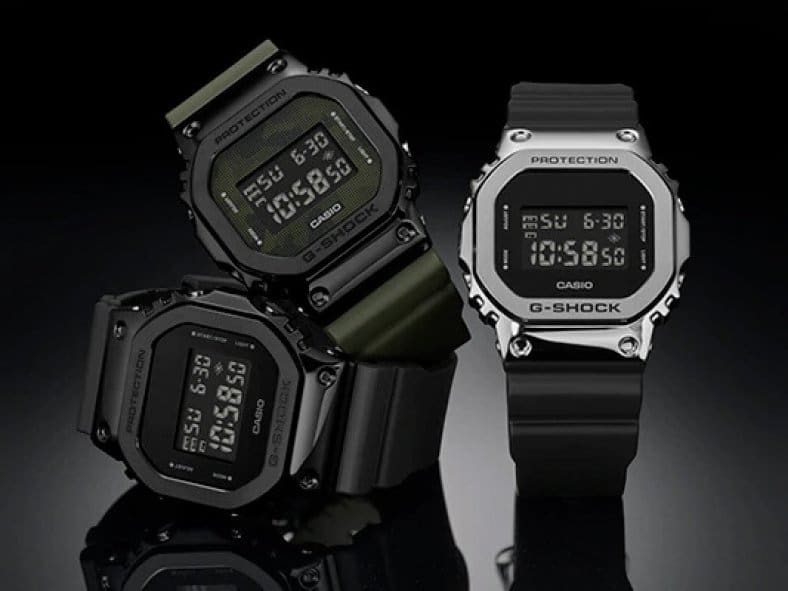 Casio officially announced the upcoming G-Shock GM-5600 and GM-5600B square-faced digital models featuring a stainless steel bezel. The debut models include the silver and black GM-5600-1 (left), the black IP and black GM-5600B-1 (middle), and the black IP and khaki green GM-5600B-3 (right). All three models have reverse LCD displays and resin bands. The GM-5600-1 and GM-5600B-1 have a black minimalist face like the DW-5600BB-1, and the GM-5600B-3 has a dotted camouflage pattern on the face.
Casio states that these models have the same design as the resin-made 5600 line but with the addition of a stainless steel bezel with a quality finish. The inner module case is made of resin like the DW-5600 and offers a lighter weight than the premium full-metal GMW-B5000 models.
The features are the same as the DW-5600 and include shock resistance, 200-meter water resistance, stopwatch (1-100 second for the first 60 minutes, 1-second after 60 minutes, max 23:59'59 with elapsed, split, 1st and 2nd place times), countdown timer (1-second units, max 24 hours with auto repeat), multi-function alarm, hourly time signal, full-auto calendar, 12/24 hour format, flash alerts, and EL backlight with afterglow. The dimensions are 49.6 x 43.2 x 12.9 mm and the weight is approximately 73 grams. That is slightly longer and wider, but thinner, than the DW-5600.
A September 2019 release is expected in Japan and Asia.
Update: In an unusual case of the U.S. getting a new release before Japan and Asia, Casio America announced the GM5600-1, GM5600B-1, and GM5600B-3 for an August 2019 release with a list price of $180 for the GM5600-1 and $200 for the GM5600B-1 and GM5600B-3.
Update 2: The GM-5600-1JF (list price 22,000 JPY), GM-5600B-1JF (24,000 JPY), and GM-5600B-3JF (24,000 JPY) are September releases in Japan.
G-Shock GM-5600-1: Silver stainless steel bezel and black resin band.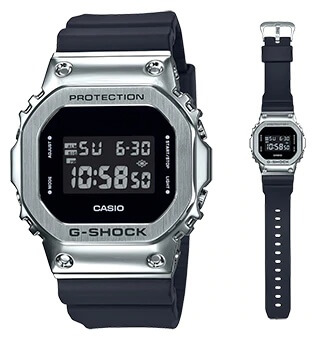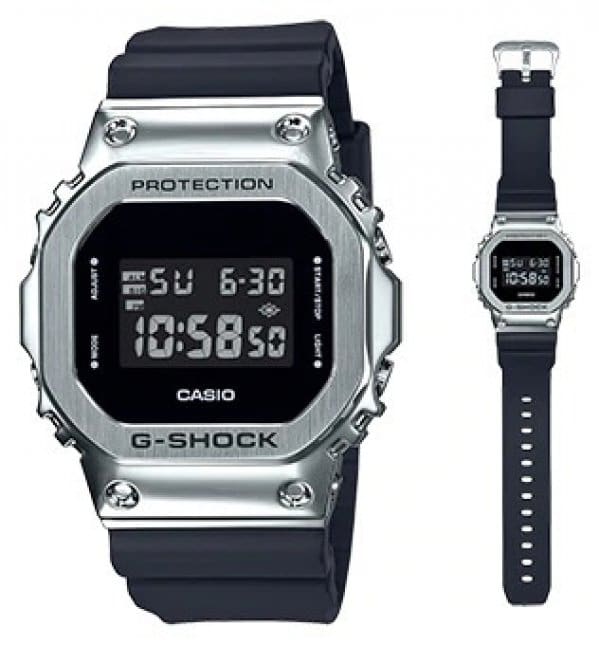 G-Shock GM-5600B-1: Black IP stainless steel bezel and black resin band.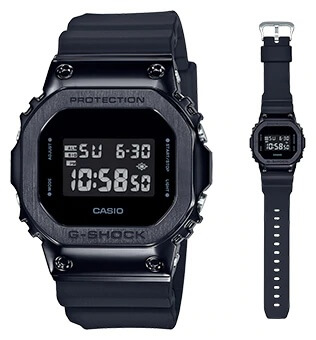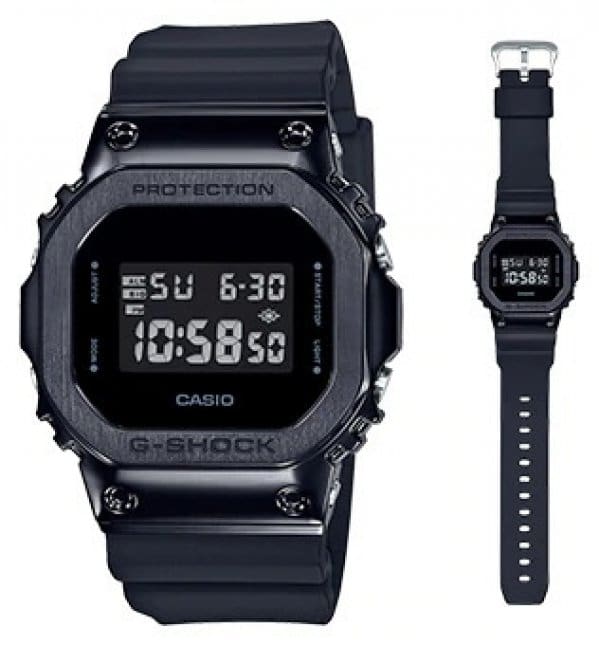 G-Shock GM-5600B-3: Black IP stainless steel bezel with camouflage face and green resin band.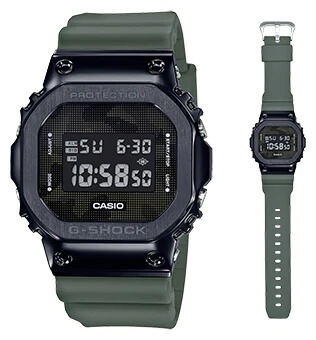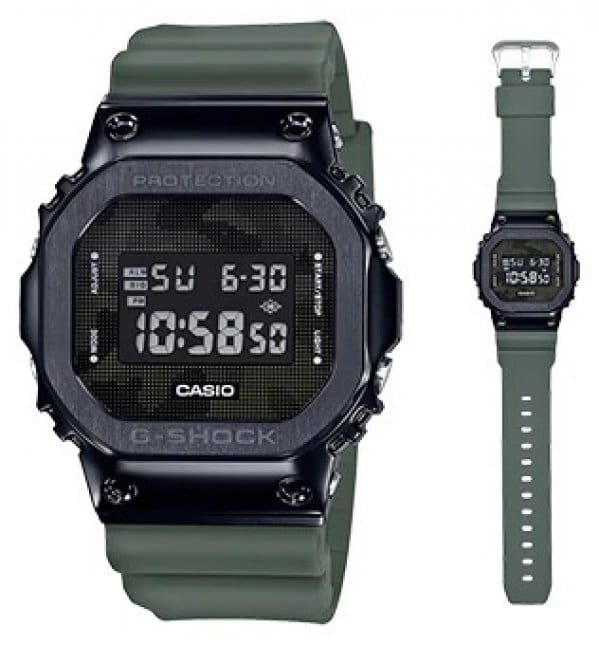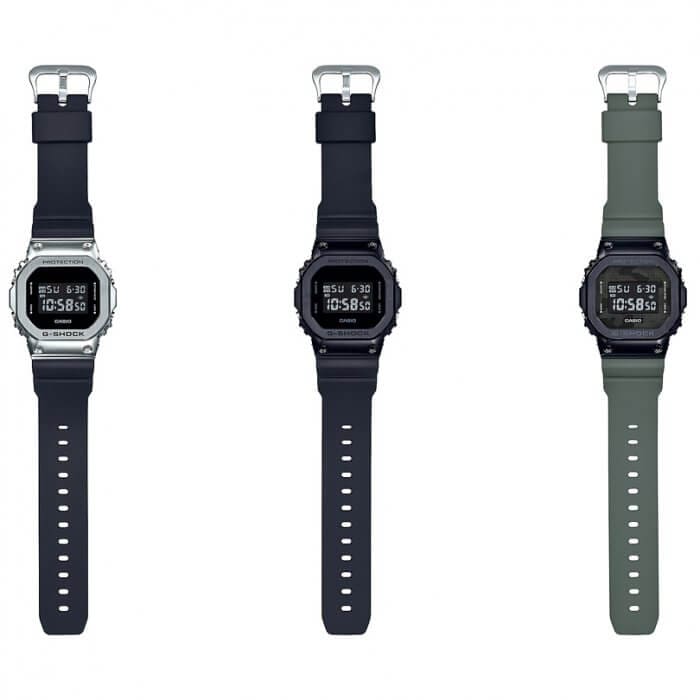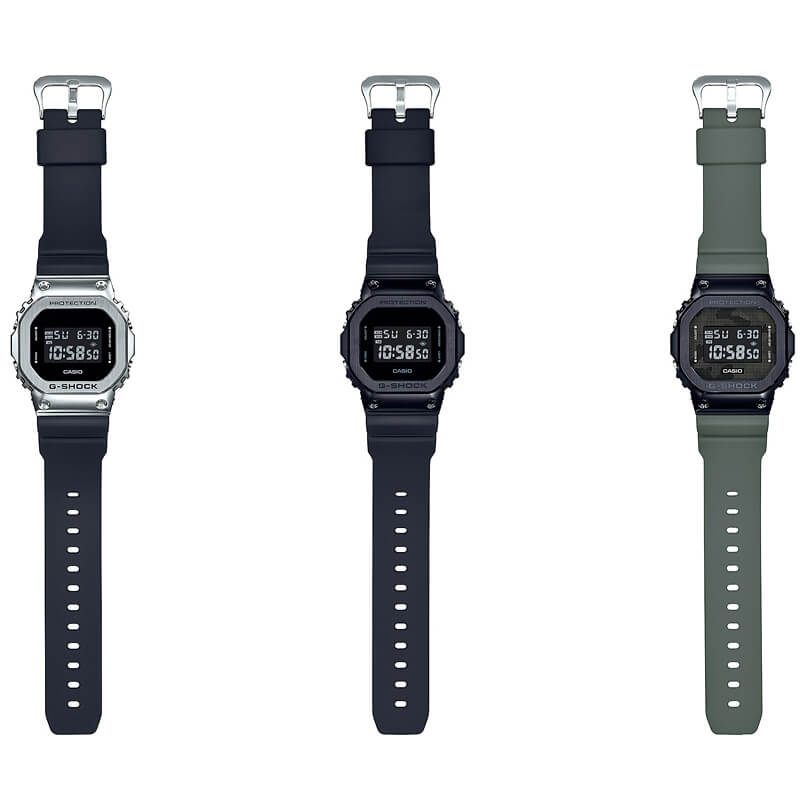 Source: casio-intl.com
Original Post (June 26, 2019):
An affordable G-Shock 5600-series watch featuring a metal bezel will be making its debut soon. The G-Shock GM-5600 will reportedly be launched in September 2019.
One of the debut models will be the GM-5600-1 (GM-5600-1ER in Europe) with a silver bezel and black resin band which will reportedly sell for €200. There will also be more expensive black IP versions with black or olive green resin bands. These metallic bezels are presumably made of stainless steel. The module is reportedly similar to the DW-5600 and is battery-powered. Also, all three debut models have negative LCD displays. The GM-5600 reportedly has a resin inner case like the DW-5600, unlike the fully stainless steel GMW-B5000.
The GM-5600 will provide an affordable alternative to the GMW-B5000 and seems to be a necessary addition to combat the counterfeit metal G-Shock cases that have appeared in the GMW-B5000's wake. Though it remains to be seen if there will be any versions with a stainless steel band, it's hard to imagine there won't be somewhere down the line. This release also leads us to believe that a metal version of the DW-6900 is inevitable.