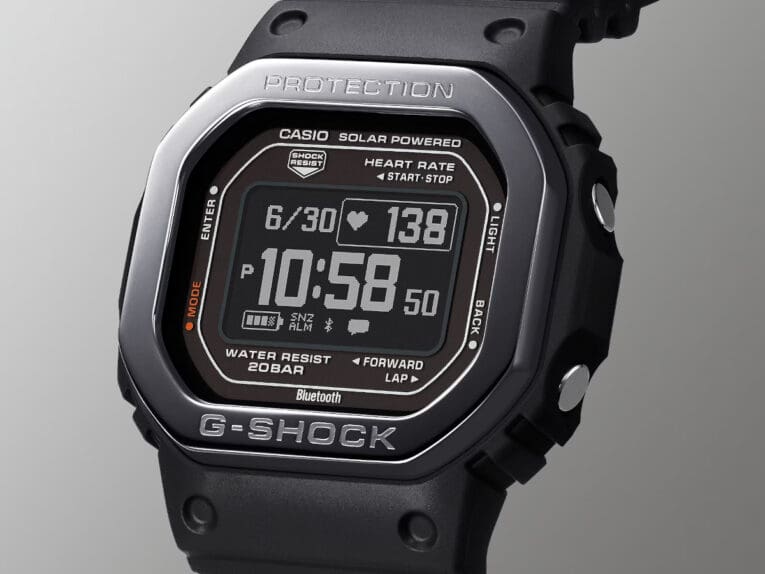 Casio announced the upcoming G-Shock G-SQUAD DW-H5600 fitness watch on G-Shock's 40th birthday.
Coming in May 2023, the G-Shock G-SQUAD DW-H5600 is an advanced fitness watch in the style of the original G-Shock DW-5000C, offering the brand's signature protection of extreme shock resistance and water resistance to 200 meters. It is the first 5000 series watch with an MIP LCD display and the most advanced 5000-5600 "square" model to date.
The DW-H5600 is slightly larger than the basic DW-5600, but it is one of the more compact G-SQUAD models. The DW-H5600 with a full resin bezel measures 51.1 x 44.5 x 17.4 millimeters and weighs 59 grams. The models with a hybrid resin and stainless steel bezel (DW-H5600MB) are a little thinner at 16.6 millimeters and weigh 65 grams. (In comparison, the basic DW-5600 measures 48.9 x 42.8 x 13.4 mm and the similarly shaped G-SQUAD GBD-200 measures 48.4 x 45.9 x 15 millimeters.) Like other recent G-Shock models, the bezel and band are made from renewable bio-based resins. This is also the first G-Shock watch with a case made of carbon fiber-reinforced bio-based resin made from castor oil plants.
The DW-H5600 has some similarities with the recent GBD-H2000, with fitness measurement and analysis powered by Polar. Along with the optical heart rate monitor and step counter, the watch is equipped with Bluetooth smartphone link, an accelerometer, and wired and solar charging. Some of the all-new fitness features of the GBD-H2000 are also found on the DW-H5600, such as cardio load status, blood oxygen level measurement, sleep measurement (with recovery status and autonomic nerve status), and a breathing exercise function. The DW-H5600 calculates VO2 max (maximum consumable oxygen uptake), which is displayed as the "Running Index" (and also referred to as such in the instruction manual).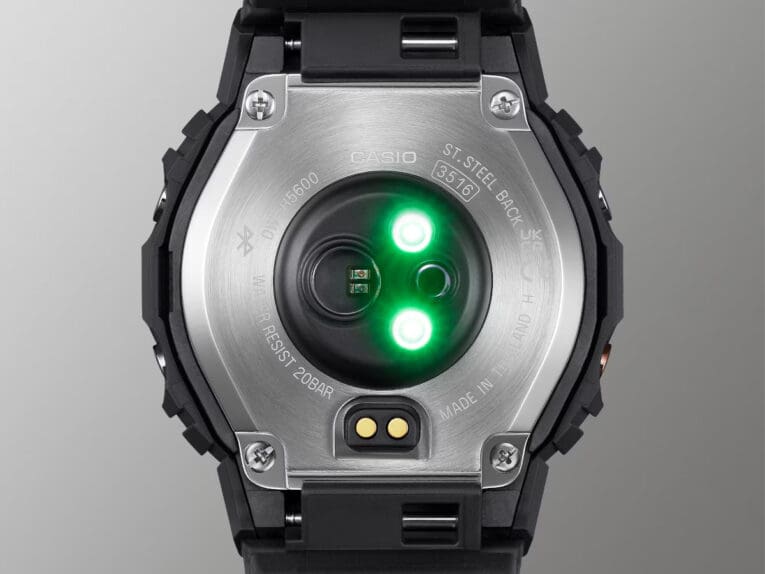 The activity log measures up to 100 runs up to 200 laps each (with time, distance, pace, calories burned with energy source, heart rate, maximum heart rate, cardio load, pitch, maximum pitch, and stride). The active time measurement uses a special algorithm to determine the type of activity. The life log records step count data, calorie consumption measurement, and active time measurement, and offers a step reminder function and a step count graph with weekly, monthly, and 6-month data. Like other advanced G-SQUAD models with the MIP LCD display, the DW-H5600 has a vibration alert setting.
In addition to the fitness functions, the Bluetooth connection and Casio Watches smartphone app offer automatic time correction, easy watch setting, world time with around 300 cities, smartphone notification display, distance correction with smartphone GPS, and phone finder.
The watch battery is rechargeable with the included proprietary USB cable or by solar. This is not a "Tough Solar" watch, so it cannot be fully powered by solar if all the functions are used regularly, but the time display can be driven by solar alone. The wired charging time is approximately three hours, and a full charge will last about a week when used for about one hour per day, according to Casio. On a full charge without further solar charging, the watch will run for about 35 hours in activity mode with the heart rate monitor on. In watch mode with the hear rate monitor turned off, the battery life is approximately one month, and with power saving on, it is about 11 months.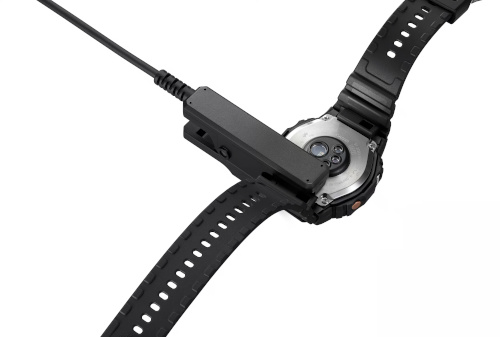 There are also some notable differences from the GBD-H2000. The DW-H5600 supports four activities (versus eight for the GBD-H2000): running, walking, gym workout, and interval timer. It does not have GPS or the environmental Triple Sensor combo of the GBD-H2000, but it does have the almanac functions of sunrise and sunset time display and moon data with moon age and shape display.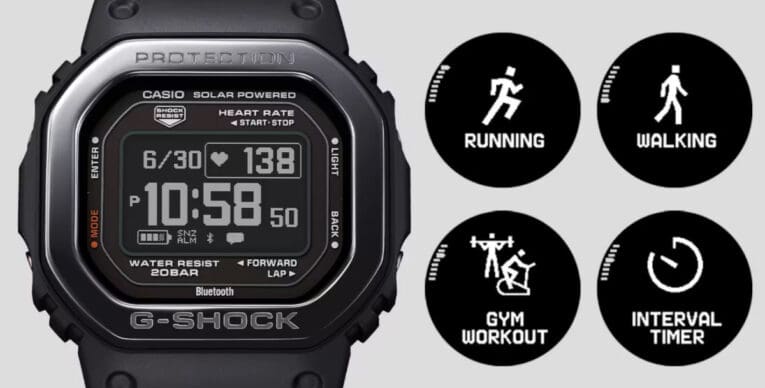 Other watch functions include world time, 1-second stopwatch (up to 100 hours, with split), 60-minute timer, 4 alarms with snooze and 1 smart alarm with snooze, full auto calendar, button operation sound on/off, and full auto LED light with 1.5 or 5-second afterglow. The "smart alarm" determines the best time to activate (when the user is in a lighter sleep state) during a specified time period. Like the DW-5600, the current time is displayed in the stopwatch and timer modes, with the hour and minute of the current time shown on the bottom right of the display. Along with the limitation of 1-second increments for the stopwatch and timer, another feature that the DW-H5600 lacks compared to other 5000-5600 models is the hourly time signal. The option of a 5-second light duration is the longest available for a G-Shock and is not seen on many other series, as most adjustable lights are 3 seconds at the most, or 4 in the case of the GMW-B5000 and GW-B5600. (Others with a 5-second light option include the G-7900, G-9000, and GD-350.)
(Note: While an interval timer is not listed in the Casio specifications, there is an interval timer as part of the fitness functions, with up to five individual timers that can auto-repeat up to 10 times. We also noticed that the GBD-H2000 specifications were changed and do not list the interval timer, although it does have the interval timer function like the DW-H5600.)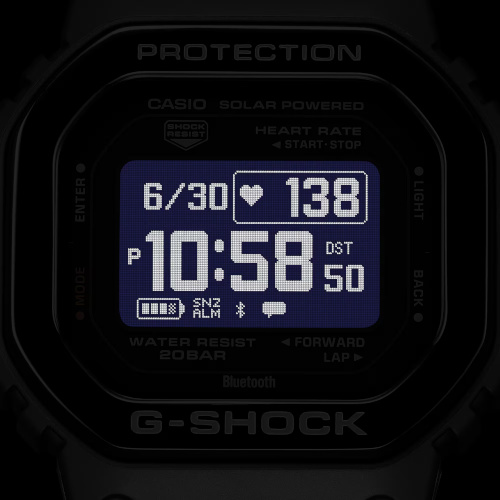 The DW-H5600 series will launch on May 19, 2023, with five models. The black DW-H5600-1 and blue DW-H5600-2 have a full resin bezel. The DW-H5600MB-1 and DW-H5600MB-2 have a hybrid resin and ion plated stainless steel bezel. The DW-H5600EX-1 is a limited 40th Anniversary edition that includes a hybrid stainless steel bezel and a second (resin) bezel and band set. The drafting line design of the DW-H5600EX-1 is inspired by the original DW-5000C drawings and the replacement bezel and band set features the wiring diagram of the original G-Shock module.
The DW-H5600 was announced only in Japan so far but is expected to be released worldwide with more information coming soon. In the U.S., the price is expected to be around $300 for the full resin models. The tax-included prices in Japan are as follows: 41,800 yen: DW-H5600-1JR, DW-H5600-2JR, 44,000 yen: DW-H5600MB-1JR, DW-H5600MB-2JR, 60,500 yen: DW-H5600EX-1JR.
Update: G-Shock U.S. is releasing the DWH5600-1 and DWH5600-2 for $299 each, and is not expected to release any of the models with a stainless steel bezel piece. G-Shock U.K. is releasing the DW-H5600-1ER and DW-H5600-2ER for £269 each and also the DW-H5600MB-1ER (£289) and limited DW-H5600EX-1ER (£389), which is likely to be the same for Europe.
View DW-H5600 Specifications in our Specs Catalog
G-Shock DW-H5600 Heart Rate Monitor Promo Video
G-Shock DW-H5600-1
Black with full resin bezel.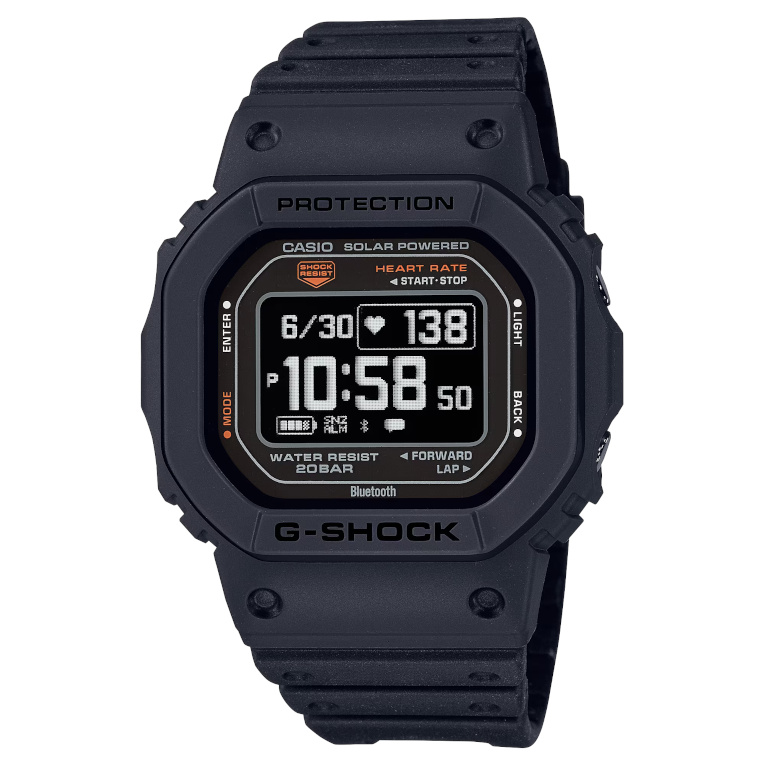 Buy DWH5600-1
Amazon Reeds Casio DWH5600-1 on eBay
G-Shock DW-H5600-2
Light blue with full resin bezel.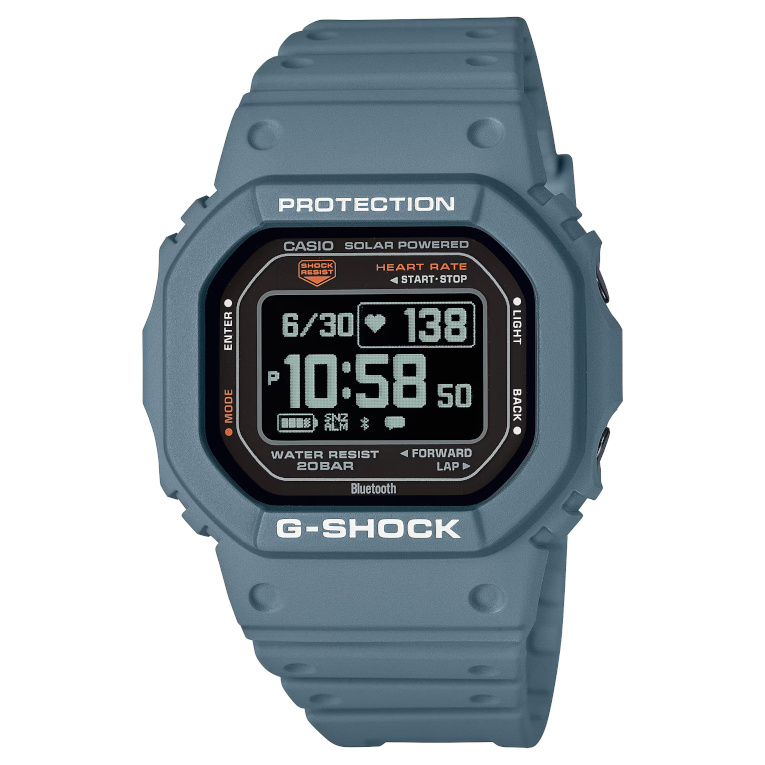 Buy DWH5600-2
Amazon Reeds Casio DWH5600-2 on eBay
G-Shock DW-H5600MB-1
Black with black ion plated stainless steel front bezel.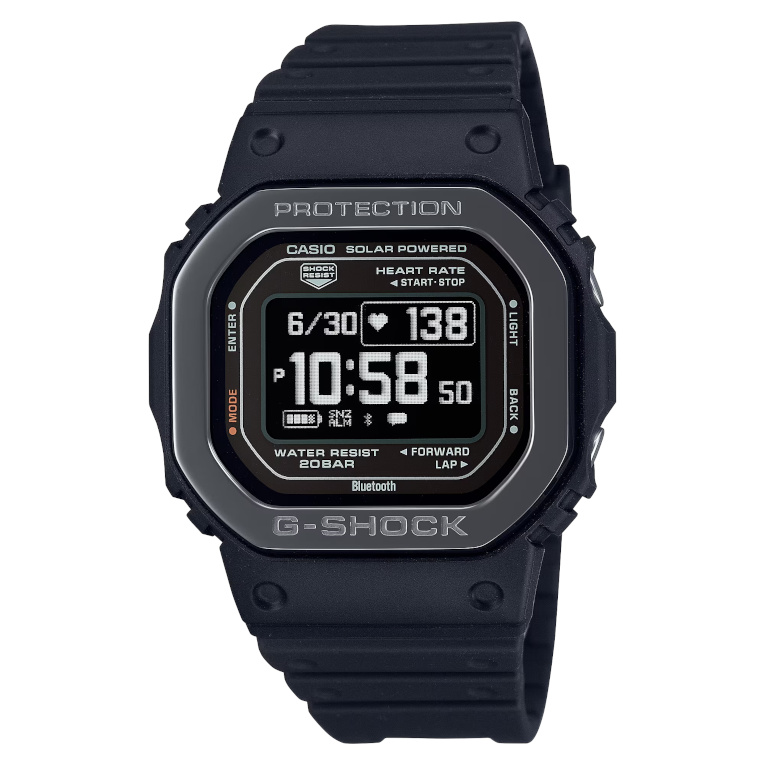 Buy DW-H5600MB-1JR (Japan Model)
eBay
G-Shock DW-H5600MB-2
Blue with blue ion plated stainless steel front bezel.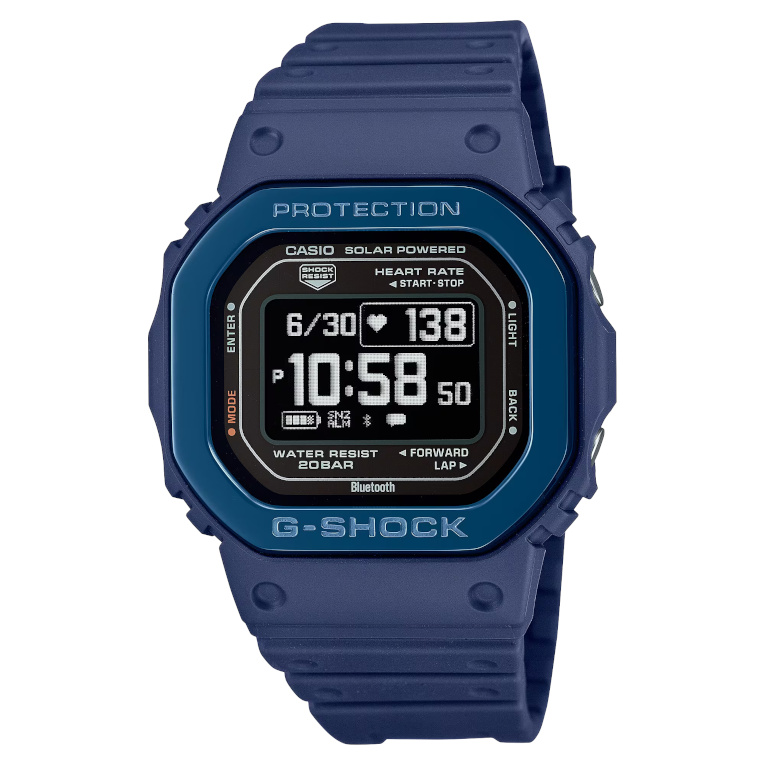 Buy DW-H5600MB-2JR (Japan Model)
eBay
G-Shock DW-H5600EX-1
Limited edition 40th Anniversary model with two bezel and band sets.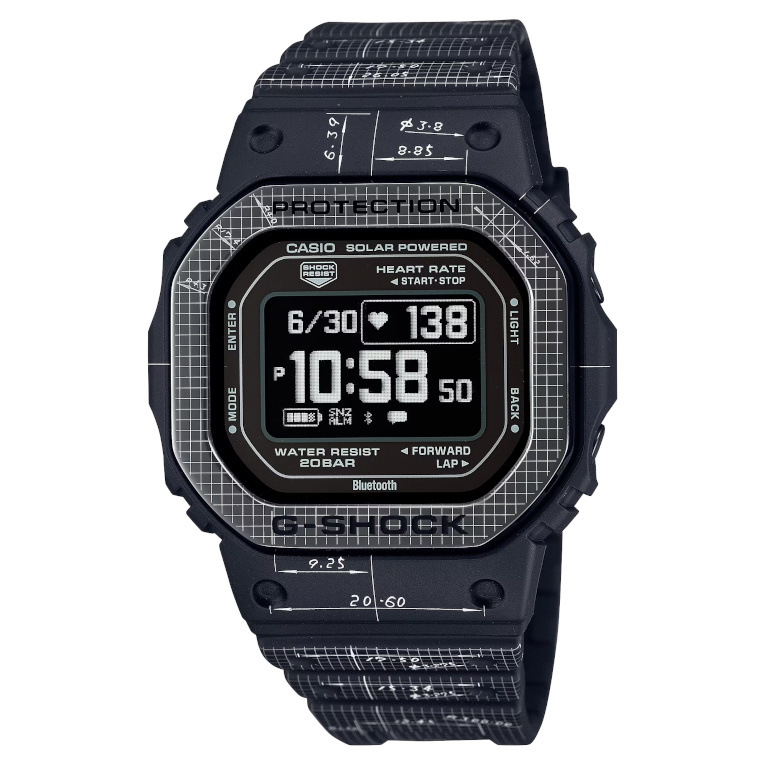 Buy DW-H5600EX-1JR (Japan Model)
eBay