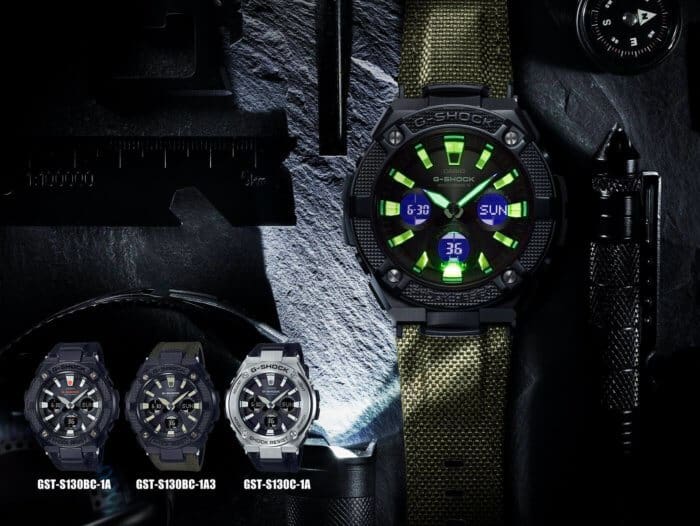 Following the GST-W130BC series in Japan, the G-STEEL GSTS130BC-1A and GSTS130BC-1A3 will see a May 2018 release in North America. These Tough Solar-powered watches are the same as their Japanese counterparts except for the exclusion of the Multi-Band 6 radio time-syncing feature. The GSTS130BC-1A has a black band with white markers and orange accents. The GSTS130BC-1A3 has an olive green band with green-tinted markers and green accents.
The GST-S130BC series introduces new features to the G-STEEL line like the hybrid Tough Leather and Cordura band and the Neon Illuminator UV LED light for the hands and markers. The band is made of a core of resin, with an outer surface of Cordura nylon-like fabric and an inner surface of synthetic Tough Leather. A new style of urethane bezel has a unique knurled texture that resembles the grip of an instrument or tool. Altogether these features offer a new tactical-style look for the G-STEEL series along with enhanced readability in the dark. While the G-STEEL line was previously regarded as a more refined style of G-Shock, the GST-S130BC series adds a more ruggedly styled option for the outdoors.
This is an extra-large model with dimensions of 59.1 x 52.4 x 16.1 mm and a weight of 105 grams.
Casio America has dubbed this series the G-STEEL Street Utility Collection.
Update: The GST-S130BC-1A & GST-S130BC-1A3 are also May 2018 releases in Asia and Asia is also getting the GST-S130C-1A and mid-size GST-S330C-1A with a standard stainless steel bezel and black hybrid band.
The GSTS130BC-1A and GSTS130BC-1A3 have a list price of $350 USD each.
G-Shock G-STEEL GSTS130BC-1A
Black band and white markers.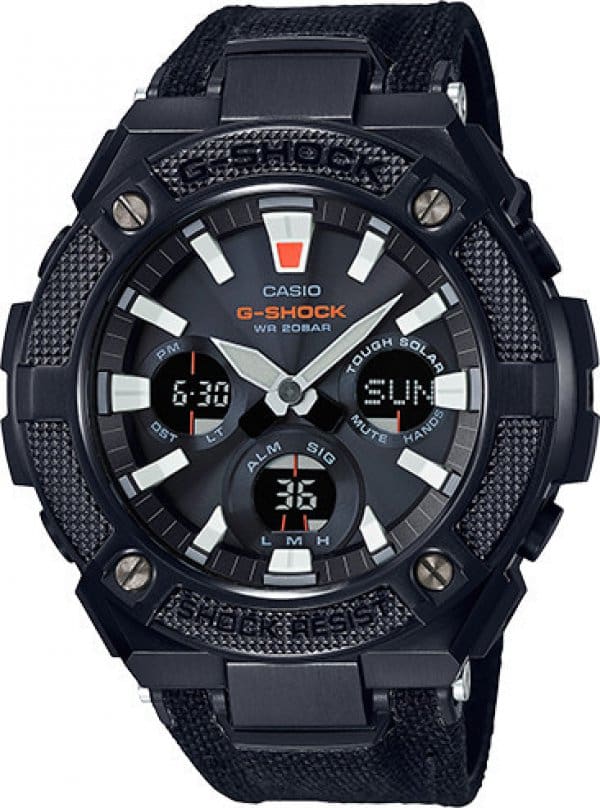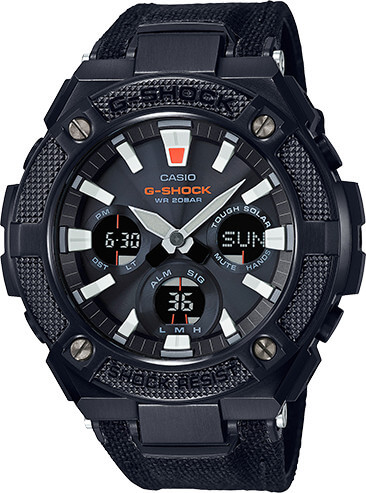 G-Shock G-STEEL GSTS130BC-1A3
Olive green band and green markers.