A February 2018 release in Taiwan and a March release elsewhere, the G-Shock GA-110CR Coral Reef Color Series is a collaboration with nonprofit environmental conversation group Aqua Planet meant to bring awareness to global warming and its effect on the marine environment. The translucent colors in this series are inspired by Aqua Planet's commitment to the ecological conservation of coral reefs. Representing the ocean is the blue GA-110CR-2A while the red GA-110CR-4A and clear white GA-110CR-7A represent living coral. The pointer at the nine o'clock position is inspired by the color pattern of a clownfish.
Update: G-Shock Japan is releasing the GA-110CR-2AJF, GA-110CR-4AJF, and GA-110CR-7AJF in March 2018 with a list price of ¥16,000 JPY each.
It looks like North America is only getting the GA110CR-7A and BA110CR-7A.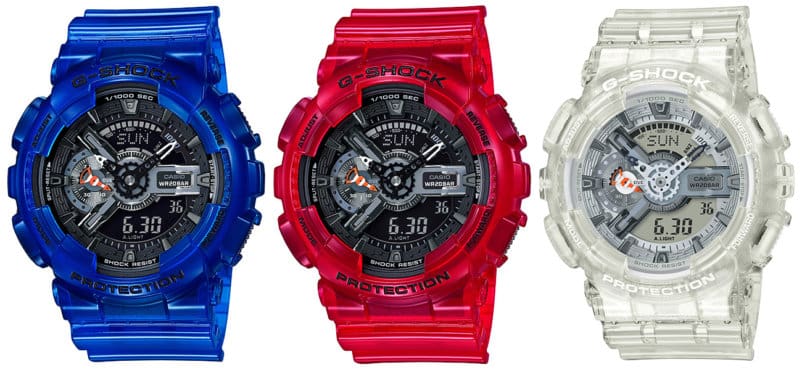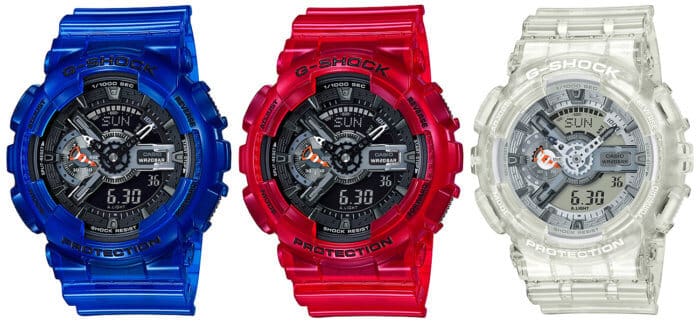 Casio is also releasing a matching Baby-G series which includes the BA-110CR-2A, BA-110CR-4A, and BA-110CR-7A.