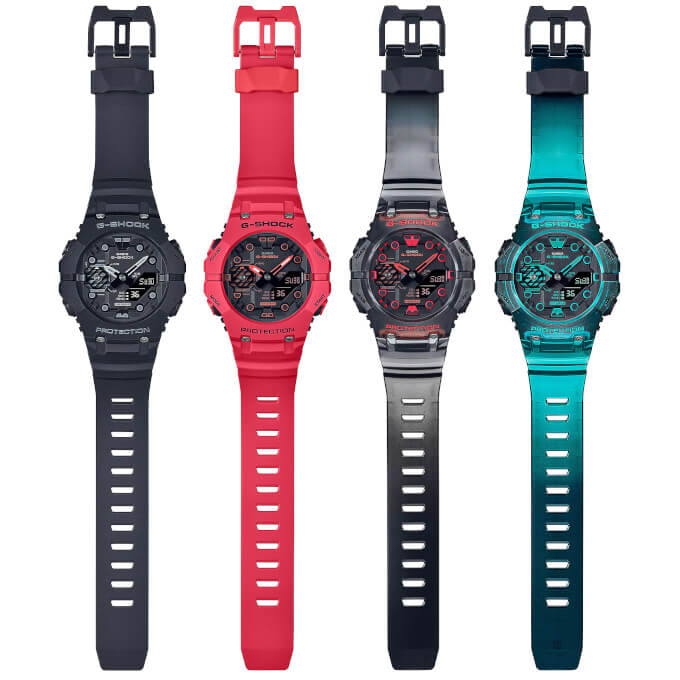 G-Shock officially announced the all-new GA-B001, a Carbon Core Guard model with a unique bezel structure featuring an upper and lower bezel that are integrated (or attached) to the band sections. This is the first G-Shock we've seen with a structure where the bezel is separated into a top and bottom half (and attached at the 3 and 9 o'clock positions). While it may not be as radical as some were expecting, the GA-B001 offers a unique style and the Bluetooth smartphone link feature at an affordable price. The launch models include the black GA-B001-1A, red GA-B001-4A, translucent black and red GA-B001G-1A, and translucent blue GA-B001G-2A. In Japan, the black and red models have a tax-included price of 17,600 yen each, and the translucent models are 19,800 yen each. We expect these prices to correspond to around $130 and $150 for a U.S. release.
Update: The GAB001-1A and GAB001-4A are expected to be $140 in the U.S., and the GAB001G-1A and GAB001G-2A are expected to be $150.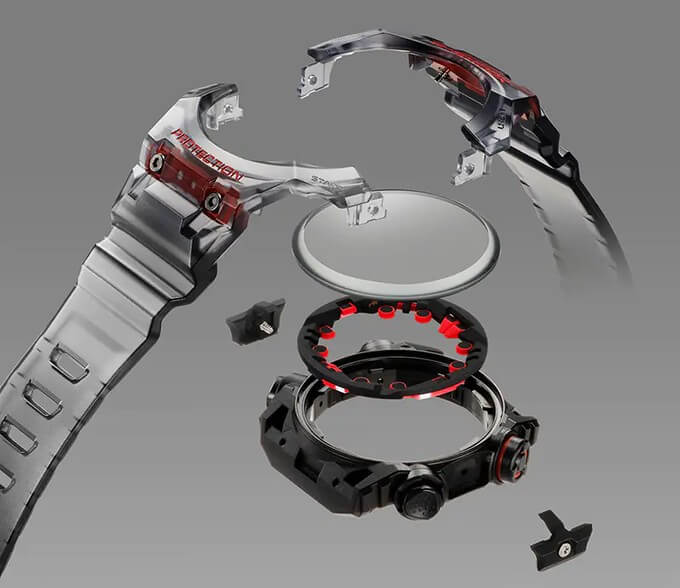 The Bluetooth connectivity offers additional features through the Casio Watches smartphone app, including automatic time adjustment, easy watch setting, around 300 world time cities, a time & place log, and the phone finder function. Like other Bluetooth-equipped G-Shock watches, using Bluetooth is not required to set up or operate the watch.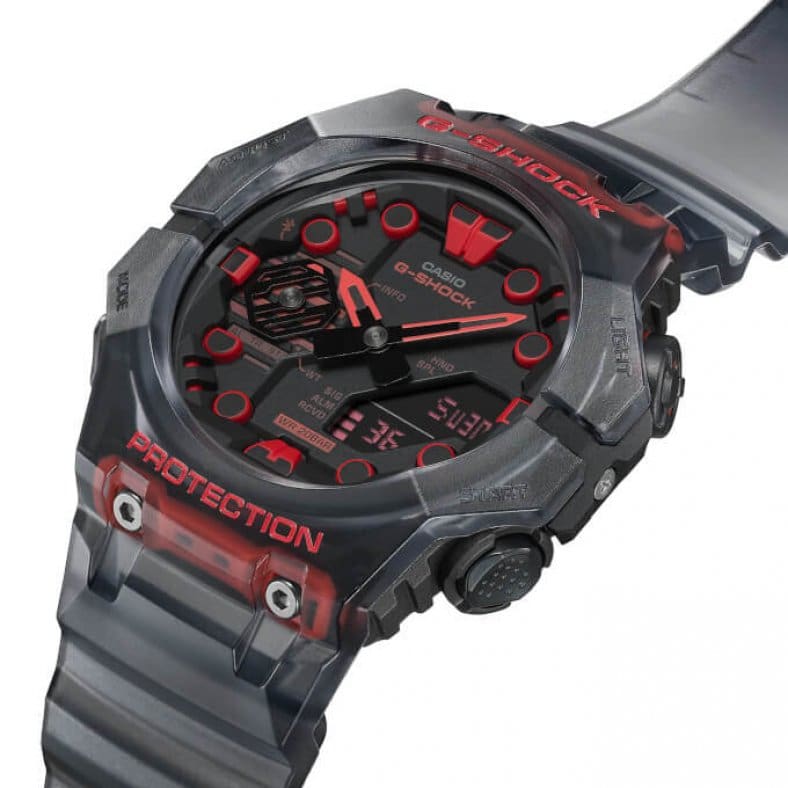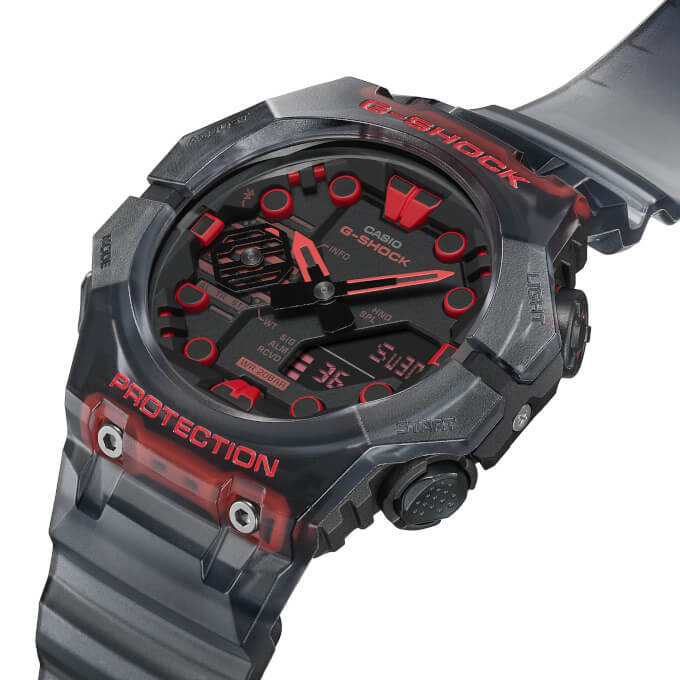 The GA-B001 has a futuristic style that sets it apart from other recent G-Shock models that tend to draw on previous design elements. The style of the 3D index markers is unique for a G-Shock and brings to mind the diving style of the Gulfmaster series. The size of the watch is similar to the medium-size GA-B2100 but a little thicker and lighter, and the band will accommodate wrist sizes of around 5.7 to 8.5 inches. The unique and lightweight design combined with the enhanced functions of Bluetooth make the GA-B001 an attractive choice for a rugged watch. The stylistic approach reminds us of the GA-2000. Although that model had the look of a more traditional watch, they are both somewhat of a departure from the usual rugged G-Shock style and seem designed to attract new customers who are not attached to existing models.
Release Date: September 2022 (Japan and Asia), other regions TBA
List Price: $140 to $150 Size: 42.5 × 46 × 13.8 mm Weight: 51 grams
Structure: Carbon Core Guard, carbon case, resin bezel and band, mineral glass, Neobrite
Protection: Shock Resistance, 200-meter Water Resistance Power: Battery (SR726W X 2, approx. 3-year life)
Features: Bluetooth smartphone link, world time (38 time zones, 38 cities + UTC, DST on/off, auto DST, home/world time city swap), stopwatch (23:59'59 max, 1/100-second first 60 minutes, 1-second after 60 minutes, elapsed time, split time, 1st-2nd place times), countdown timer (24 hours, settable in seconds, minutes, and hours), 5 daily alarms, hourly time signal, dual LED light with 1.5 or 3-second afterglow, full auto-calendar, button tone on/off, 12/24-hour format, hand shift
GA-B001 Pros:: Unique style. Large buttons. Includes Bluetooth feature at an affordable price.
GA-B001 Cons:: No solar power. No auto-activation for LED light. Inverted LCD displays may be difficult to read. Replacing the band may be more costly than other models.
Alternatives: A recommended alternative to the GA-B001 is the GA-B2100, another analog-digital model which also has Bluetooth plus Tough Solar power. One significant advantage of the GA-B001 is its 24-hour timer versus 60 minutes for the GA-B2100. Like the GA-B2100, the date format on the GA-B001 is adjustable (with date/month display swapping), and the day of week is available in six languages.
GA-B001 Promo Video:
G-Shock GA-B001-1A: Black with inverted LCD display.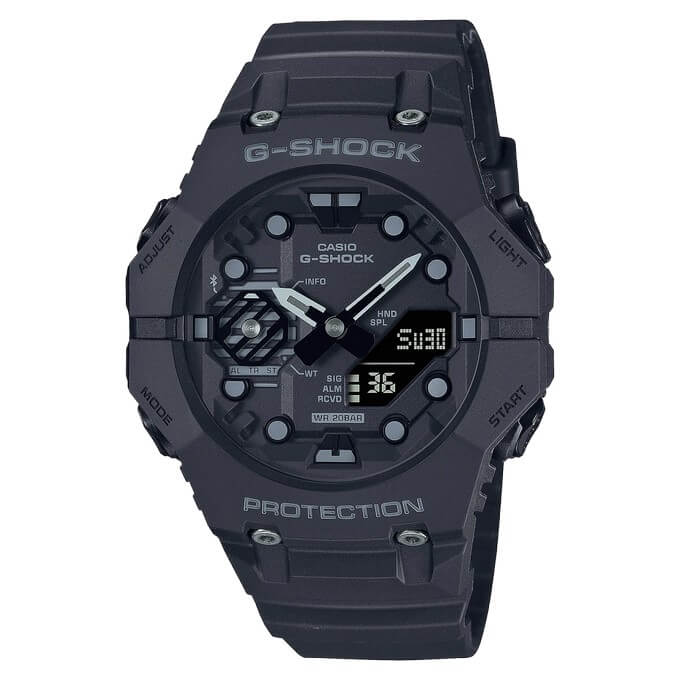 Buy GAB001-1A
Casio Amazon Reeds eBay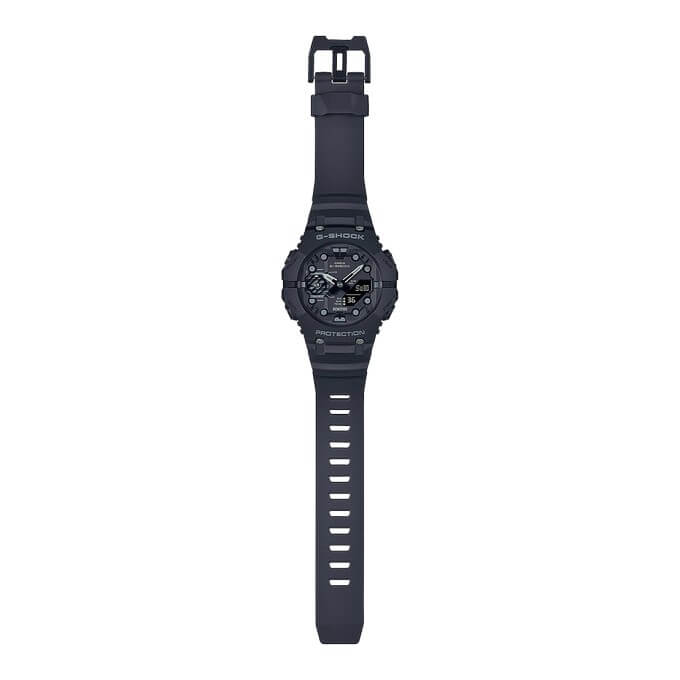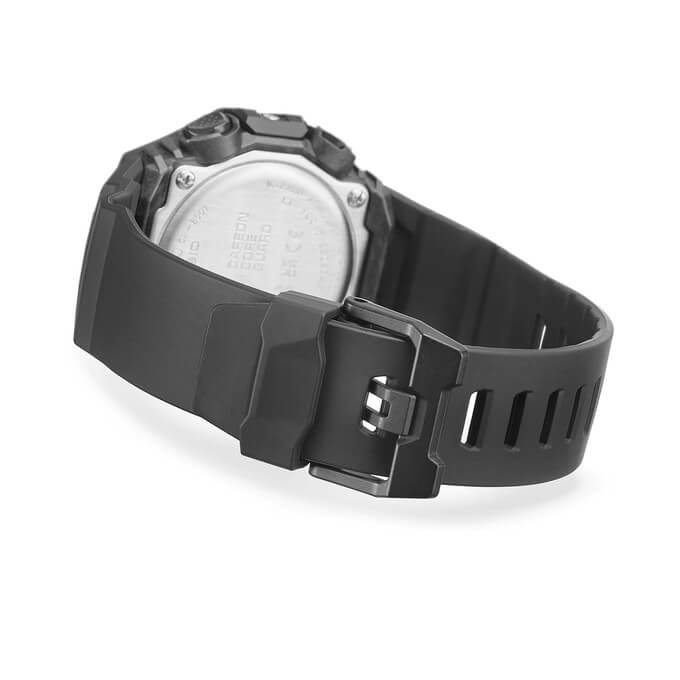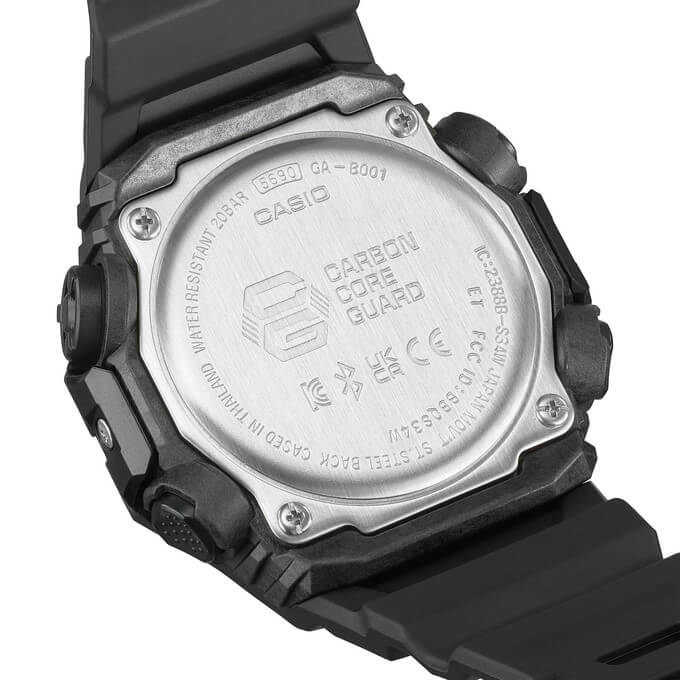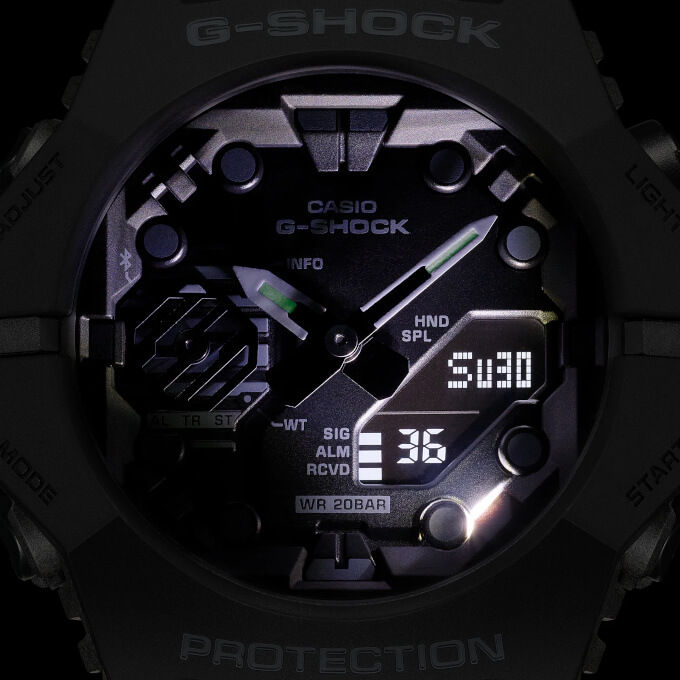 G-Shock GA-B001-4A: Red with inverted red-tinted LCD display.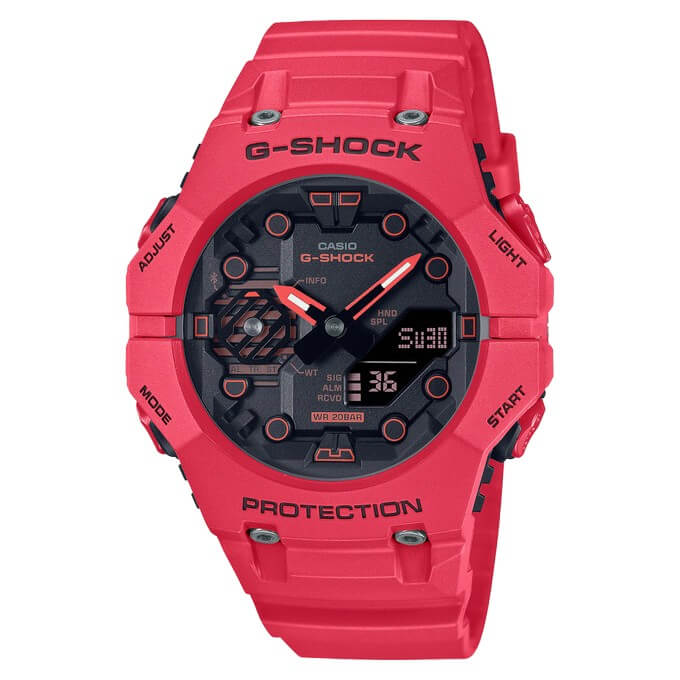 Buy GAB001-4A
Casio Amazon Reeds eBay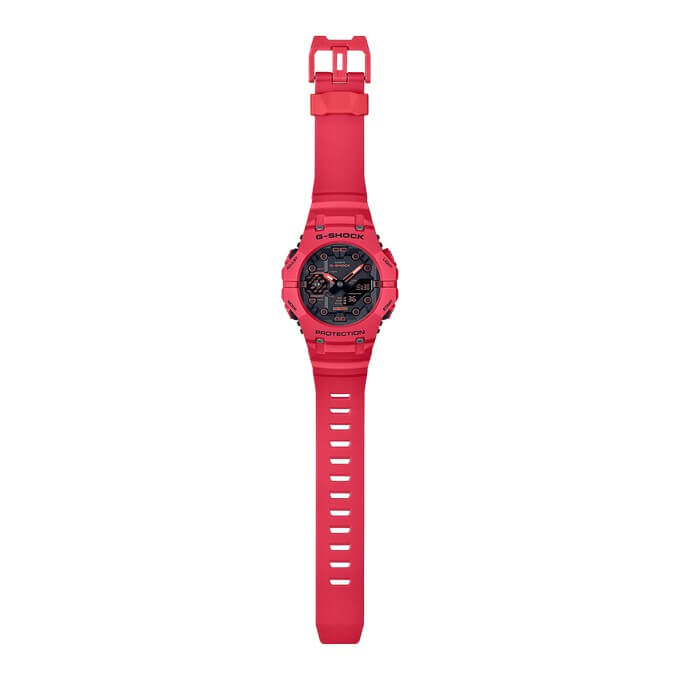 G-Shock GA-B001G-1A: Translucent black and red with gradated band and inverted red-tinted LCD display.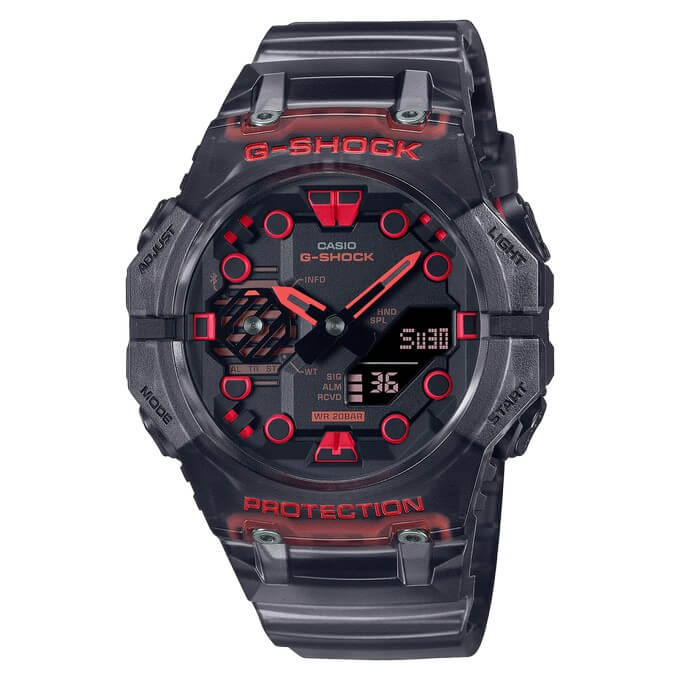 Buy GAB001G-1A
Casio Amazon Reeds eBay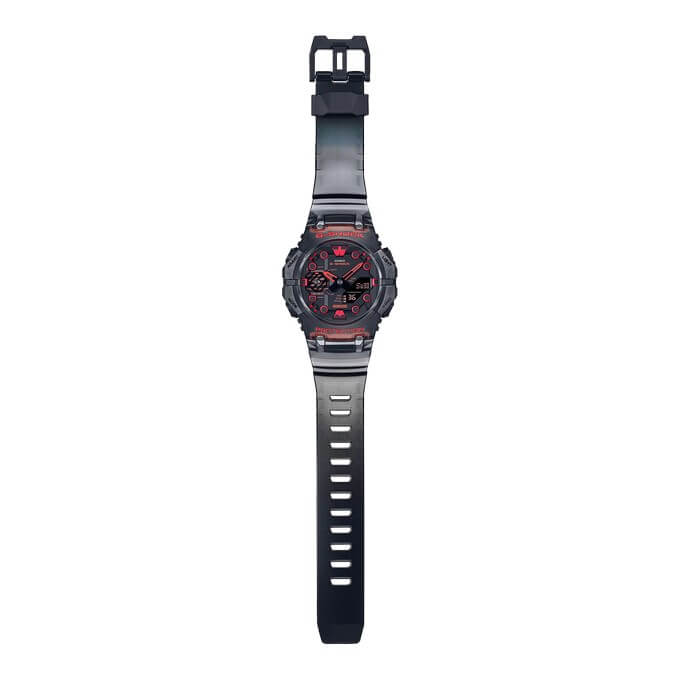 G-Shock GA-B001G-2A: Translucent turquoise blue with gradated band and inverted blue-tinted LCD display.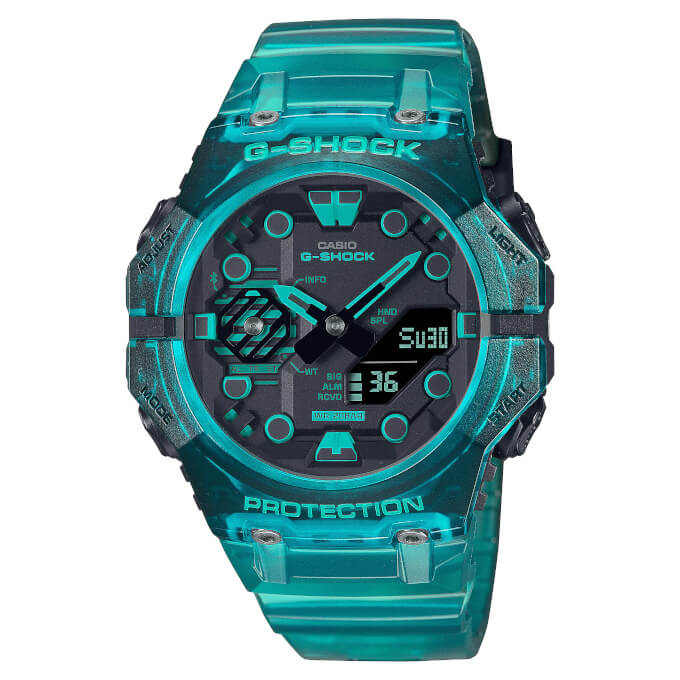 Buy GAB001G-2A
Casio Amazon Reeds eBay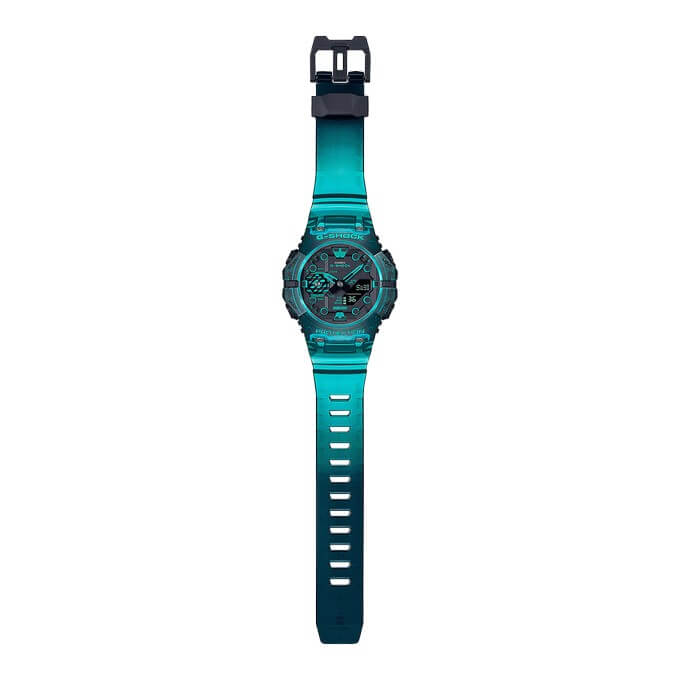 GA-B001 Wrist Shots: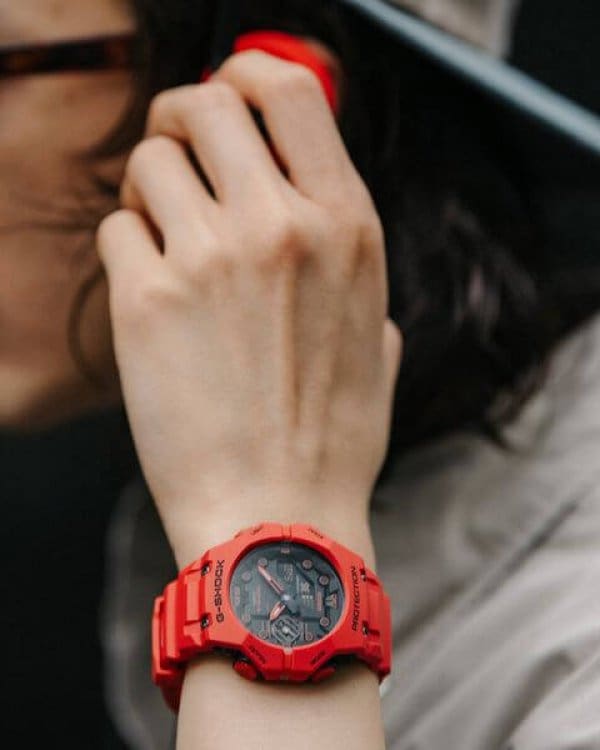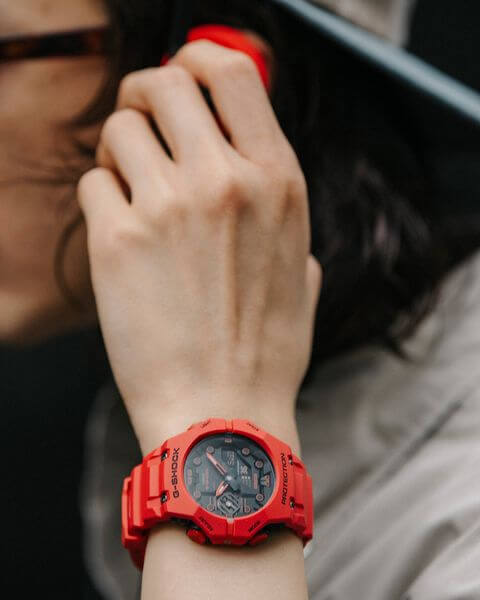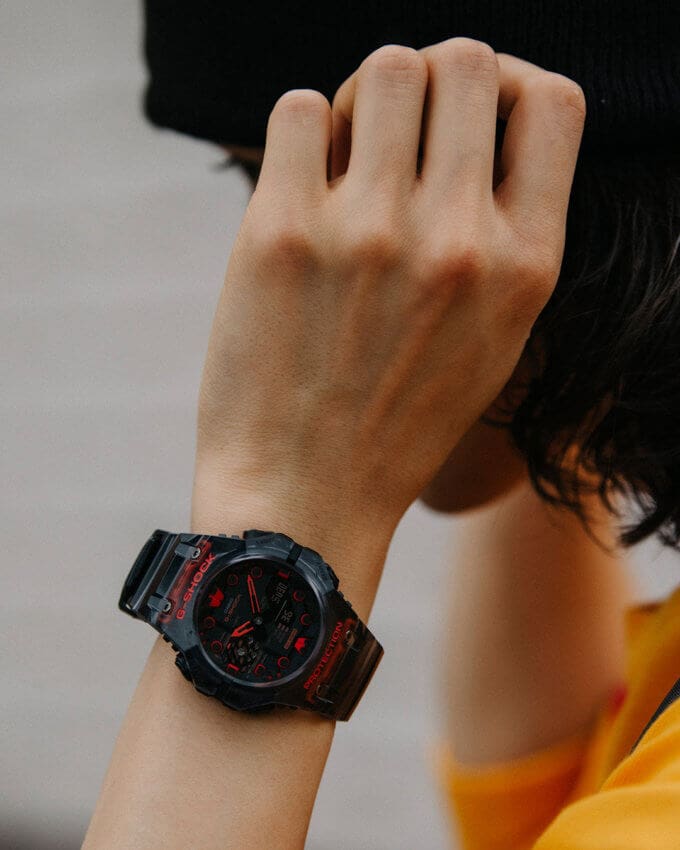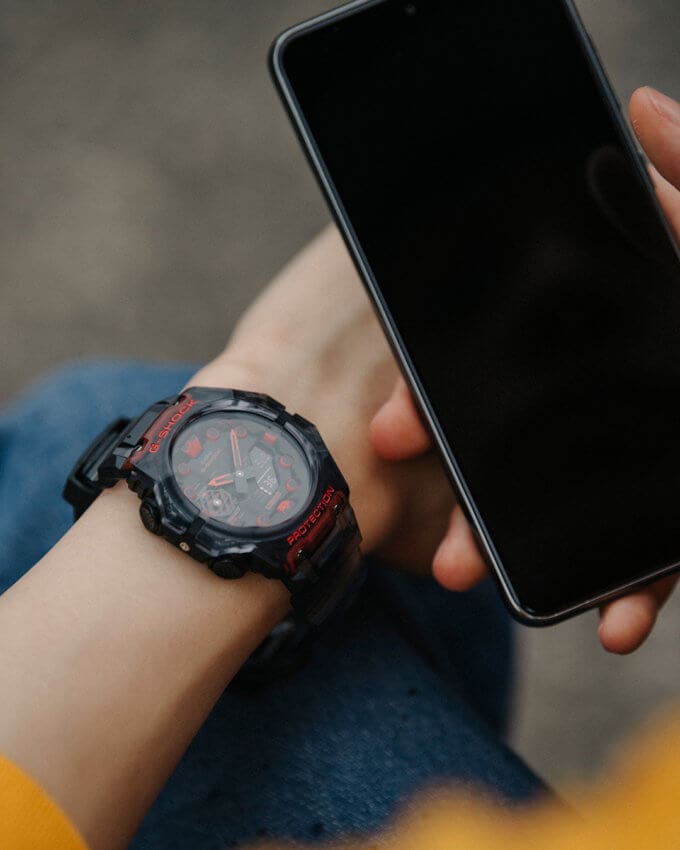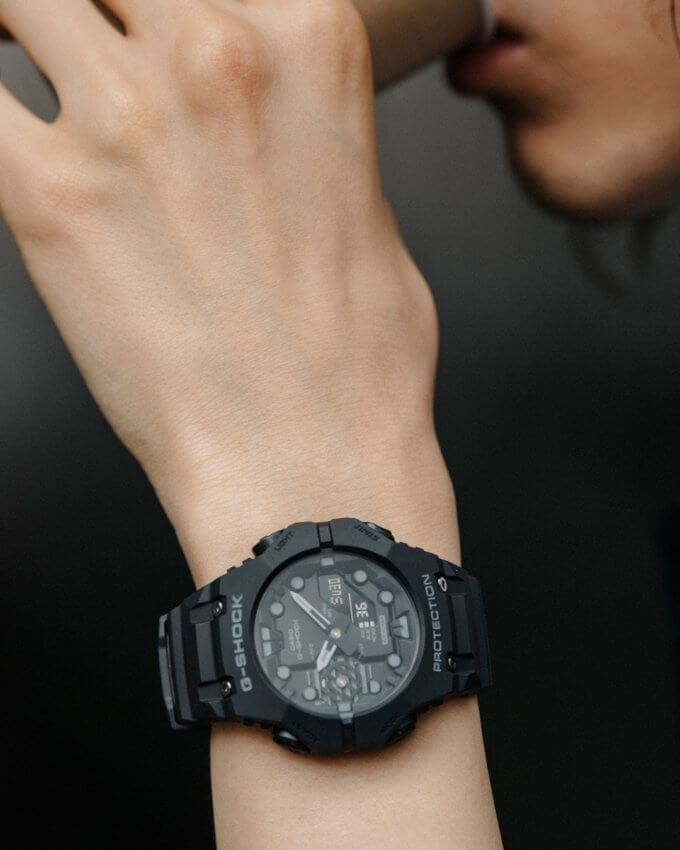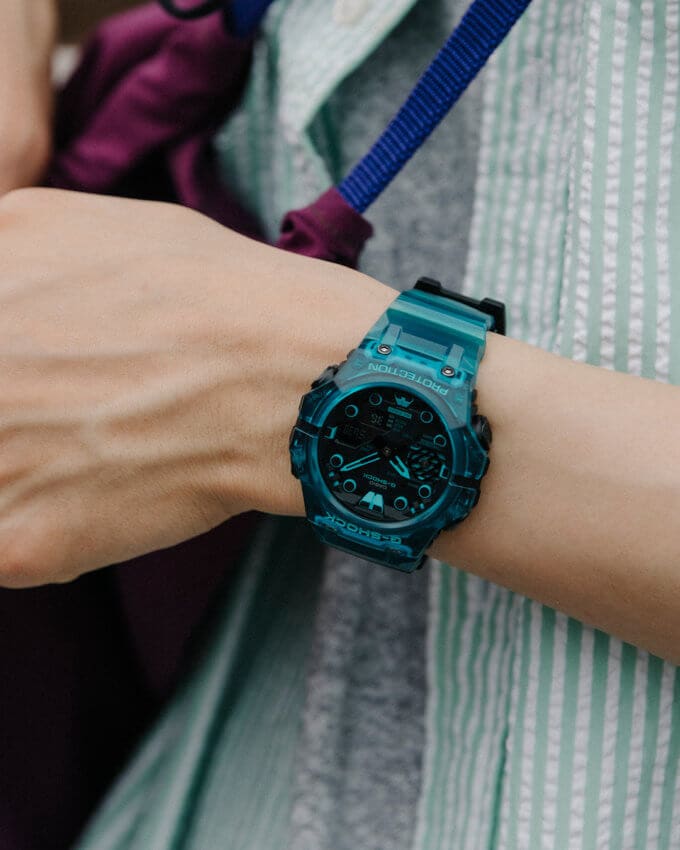 G-Shock GA-B001 Features Versus GA-B2100:
| | | |
| --- | --- | --- |
| | | |
| | | |
| | | |
| | | |
| | | |
| | | |
| | | |
| | | |
| | | |
| | | |
| | | |
| | 38 cities and 38 time zones, auto DST, UTC | 38 cities and 38 time zones, auto DST, UTC |
| | 1/100-second for first 60 minutes (up to 59'59"99). 1-second after 60 minutes up to 23:59'59, with elapsed time, split time, 1st and 2nd place times | 1/100-second for first 60 minutes (up to 59'59"99). 1-second after 60 minutes up to 23:59'59, with elapsed time, lap/split time |
| | 24 hours, settable in hours, minutes, and seconds | 60 minutes, settable in minutes and seconds |
| | | |
| | | |
| | | |
| | Double LED light with 1.5 or 3-second afterglow | Double LED with 1.5 or 3-second afterglow |
| | | |
| | | |