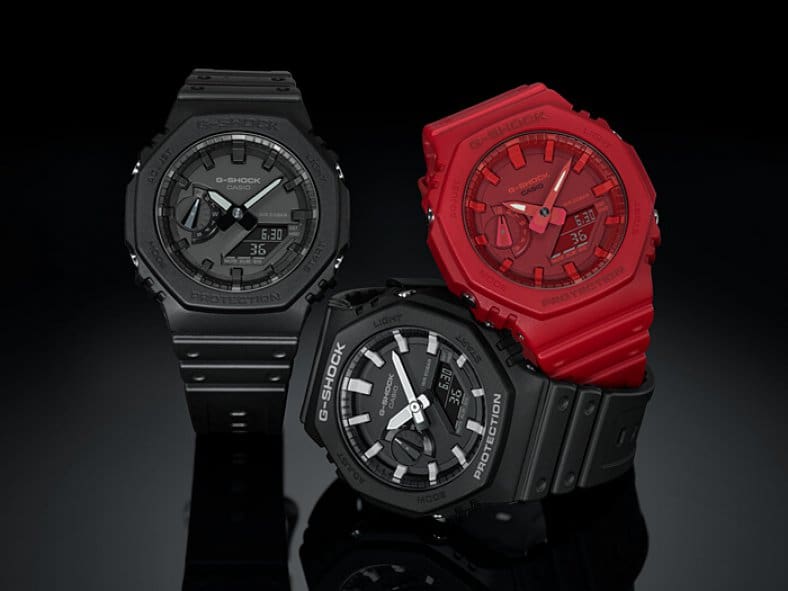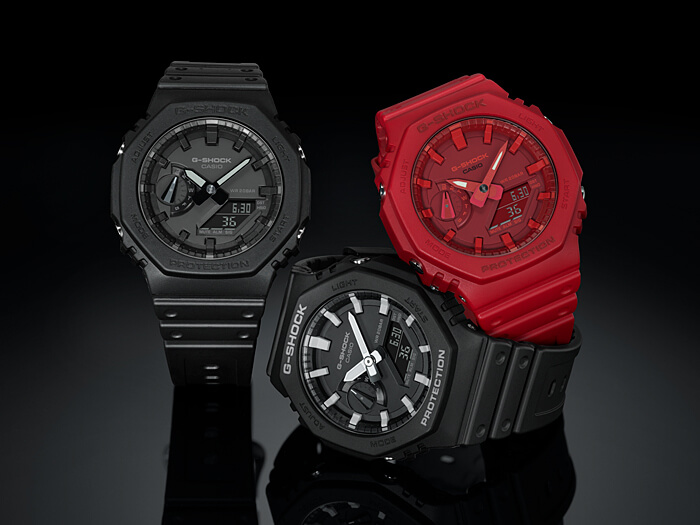 G-Shock GA-2100 Rating by G-Central
Build

Functions

Size & Weight

Style
Summary
The GA-2100 was an absolute sensation when it launched and resulted in a worldwide shortage of the GA-2100-1A1. This was surprising to many fans as well as to Casio, as there was not a lot of buzz about it in advance. The GA-2100 came at the right time, when people were starting to prefer smaller watches again. In just a few short years, the GA-2100 has become one of G-Shock's bestselling models ever. It brought many new fans to the brand, many of them from the younger generation, and Casio is now fully committed to expanding the 2100 line with more advanced models, premium metal models, and smaller models for women. With a familiar yet refreshed style and clean dial layout, G-Shock has created another iconic timepiece that is suitable for both casual fashion and rugged outdoor use.
Pros
• Carbon Core Guard with carbon fiber-reinforced center case is lightweight and strong
• Simple and refined style with rugged characteristics
• One of the slimmest and lightest G-Shock watches ever made
• Design elements pay tribute to the original G-Shock
Cons
• Small buttons
• LCD display is small
• Inverted LCD display can be difficult to see
• No solar power (see GA-B2100 for solar model)
• LED light cannot be auto activated
List Price: $99-$140 Size: 48.5 × 45.4 × 11.8 mm Weight: 51 grams
Structure: Carbon Core Guard, carbon case, resin bezel and band, mineral glass, Neobrite (select models)
Protection: Shock Resistance, 200-meter Water Resistance Power: Battery (SR726W x 2, approx. 3-year life)
Features: World time (31 time zones, 48 cities + UTC, DST on/off), stopwatch (23:59'59 max, 1/100-second first 60 minutes, 1-second after 60 minutes, elapsed time, split time, 1st-2nd place times), countdown timer (24 hours, settable in seconds, minutes, and hours), 5 daily alarms, hourly time signal, dual LED light with 1.5 or 3-second afterglow, full auto-calendar, button tone on/off, 12/24-hour format, hand shift
Popular GA-2100 Models:
See all GA-2100 models (See launch models below)
Alternatives: The GA-2100 is inspired by the simplicity and classic style of the original G-Shock 5000-5600 series, which has a full digital display. Another popular mid-size analog-digital model is the AWG-M100 with Tough Solar power and Multi-Band 6 auto radio time adjustment.
Related G-Shock 2100 Series:
GA-B2100: With Tough Solar power and Bluetooth smartphone link.
GM-2100: Metal-covered with stainless steel bezel.
GM-B2100: Full metal with stainless steel case, bezel, band. Screw-back case.
GMA-S2100: Smaller women's resin model.
GM-S2100: Smaller women's metal-covered model.
Original Post:
G-Shock releases a retro-inspired analog-digital watch with the Carbon Core Guard…
The all-new G-Shock GA-2100 series is coming to Japan in August 2019. Like the recent GA-2000, the GA-2100 is a Carbon Core Guard model, but unlike other recent carbon models, it has a retro G-Shock look thanks to its octagonal bezel and traditionally shaped resin bands. The GA-2100 is actually inspired by the design and shape of the first-ever G-Shock DW-5000C but in a combination analog and digital form. At 11.8 millimeters, it is the thinnest current G-Shock watch and thinner than the DW-5600 and GW-M5610. (Update: The G-Shock GMA-S2100 (11.2 mm) and GM-S2100 (11 mm) are now slimmer, but the GA-2100 remains the slimmest men's model.)
The GA-2100 will debut with three models: the black and gray GA-2100-1AJF, the blacked-out GA-2100-1A1JF, and the red GA-2100-4AJF. Each model has a list price of 13,500 JPY plus tax.
Features include shock resistance, 200-meter water resistance, needle withdrawal function, world time, 1/100 second stopwatch (less than 1 hour, 1-second stopwatch for one hour or more, 24 hours with split), timer (1-second, 24 hours), 5 alarms, hourly time signal, full auto calendar, 12/24 hour format, operation sound on/off, double LED lights (Super Illuminator with afterglow, 1.5/3 seconds, with LED backlight for LCD display), and estimated 3-year battery life. (The GA-2100-1A and GA-2100-4A also have Neo-Brite luminous hands.) The dimensions are 48.5 x 45.4 x 11.8 millimeters and the weight is 51 grams.
Update: Casio America released the GA2100-1A1 and GA2100-4A with a list price of $99 USD.
Update 2: The GA-2100 series has earned the nickname "CasiOak" among watch enthusiasts and fans, due to the bezel shape's similarity to the Audemars Piguet Royal Oak watches.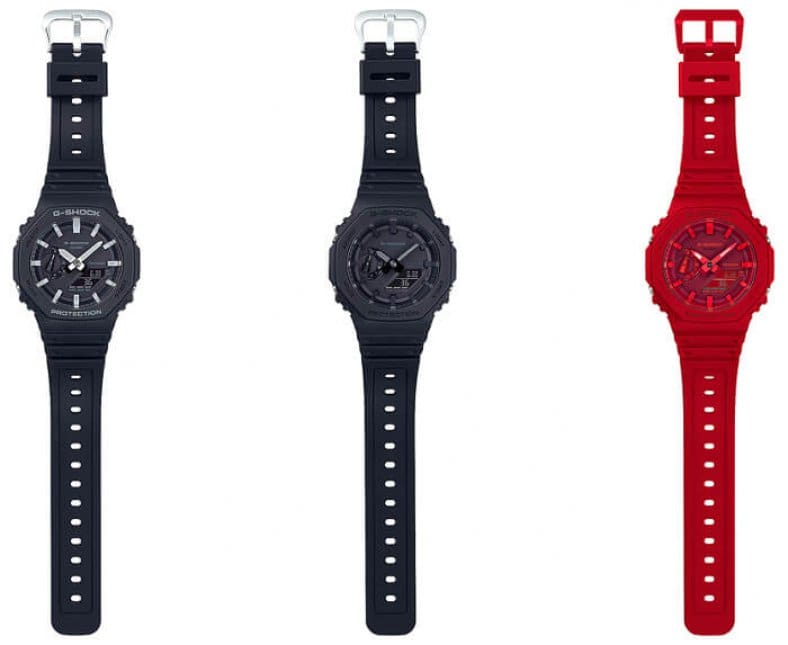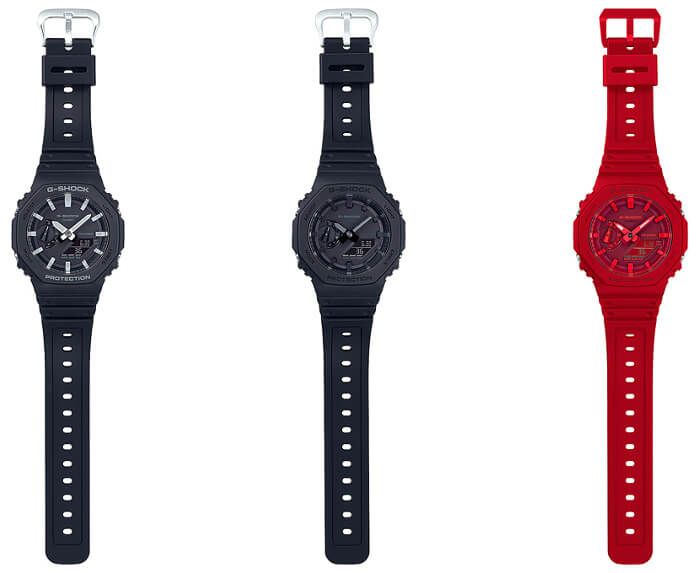 Based on the following photo, these watches are equipped with quick-release bands.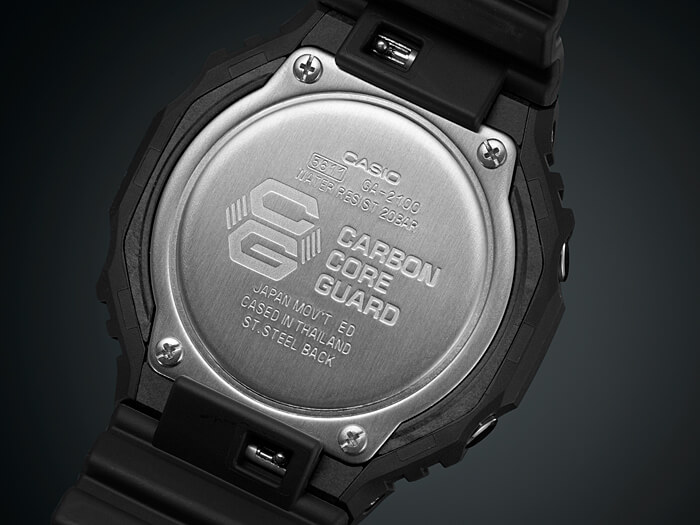 G-Shock GA-2100-1A
Black bezel and band with gray markers.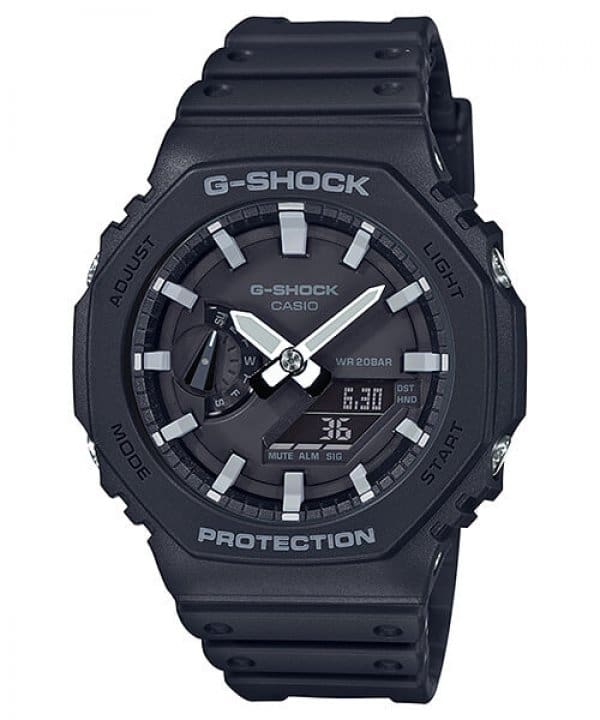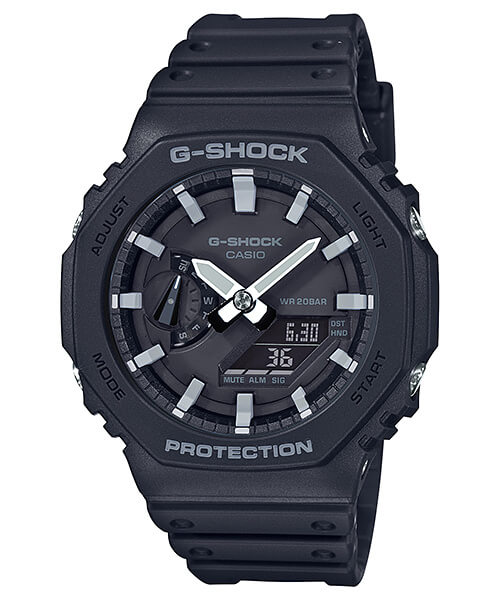 G-Shock GA-2100-1A1
Blacked-out bezel and band with black markers.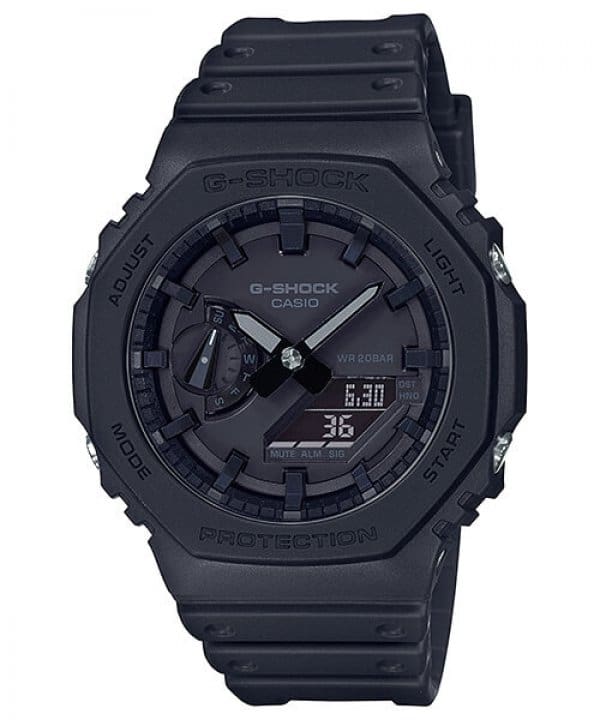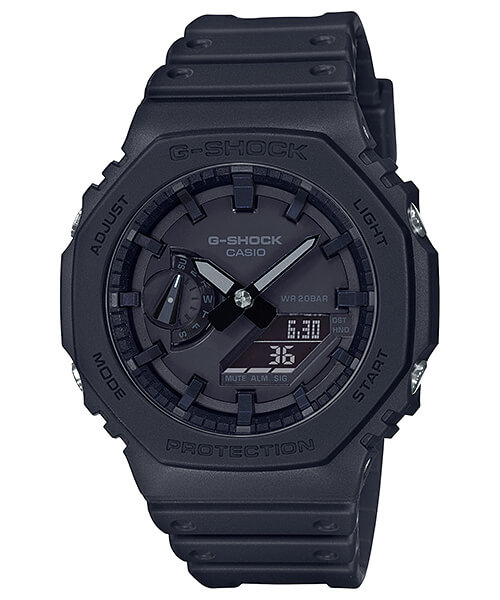 G-Shock GA-2100-4A
Red bezel and band with red markers.