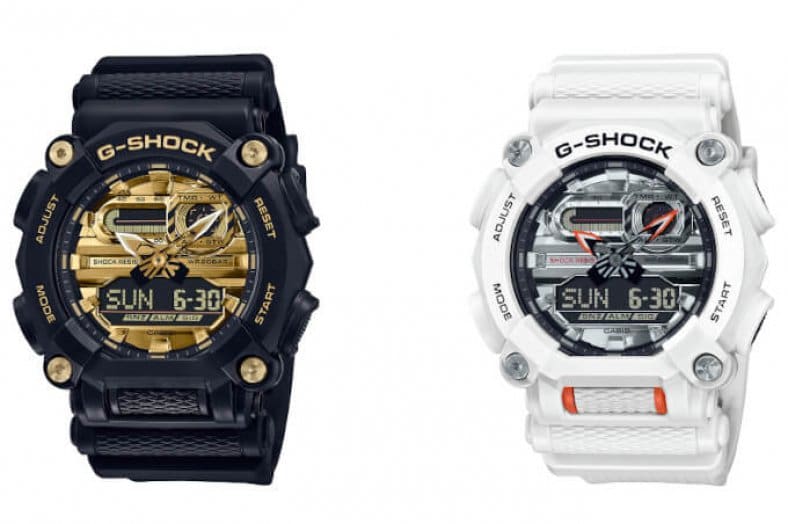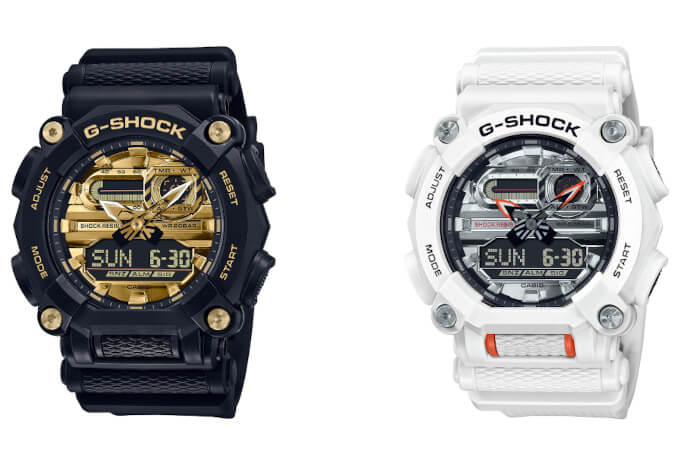 Coming soon are the G-Shock GA-900AG-1A and GA-900AS-7A featuring a metallic vapor deposition finish on the dial and hands. The GA-900AG-1A is black with a gold dial, and the GA-900AS-7A is white with a silver dial. There is also a GA-900AS-1A model expected (black and silver with purple accents), which might be only released outside of Japan. These new colorways offer a unique and striking streetwear style for the recently introduced GA-900 series.
The GA-900 is known for its ultra-rugged industrial style and for having the longest approximate battery life (7 years) of any current non-solar G-Shock with an analog display (along with the revived AW-500). Other features include shock resistance, 200-meter water resistance, world time, 1/100-second stopwatch (with target time alarm and direct start button), countdown timer (1-minute increments, 60 minutes max), 5 alarms with 1 snooze, hand shift function, and Super Illuminator LED light with afterglow (1.5/3 seconds).
In Japan, the G-Shock GA-900AG-1AJF (19,250 yen) and GA-900AS-7AJF (17,600 yen) will be released in July 2021. G-Shock U.S. is releasing the GA900AG-1A ($150), GA900AS-1A ($130), and GA900AS-7A ($130). The GA-900AG-1A, GA-900AS-1A, and GA-900AS-7A will also be released throughout Asia in July.
G-Shock GA-900AG-1A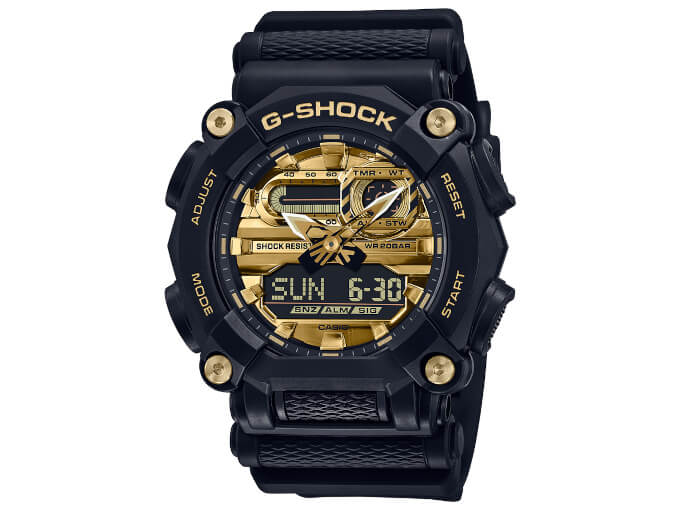 Size: 52.8 × 49.5 × 16.9 mm Weight: 65 grams
Structure: Resin case, bezel, and band, mineral glass
Protection: Shock Resistance, 200-meter Water Resistance Power: Battery (CR2016, approx. 5-year life)
Features: World time (31 time zones, 48 cities + UTC, DST on/off, home/world time city swapping), 1/100-second stopwatch (23:59'59 max, elapsed time, split time, 1st-2nd place times, target time alarm, direct timing start button), countdown timer (60 minutes, settable in minutes), 5 daily alarms (with 1 snooze), hourly time signal, LED light with 1.5 or 3-second afterglow, full auto-calendar, button tone on/off, 12/24-hour format, hand shift
G-Shock GA-900AS-7A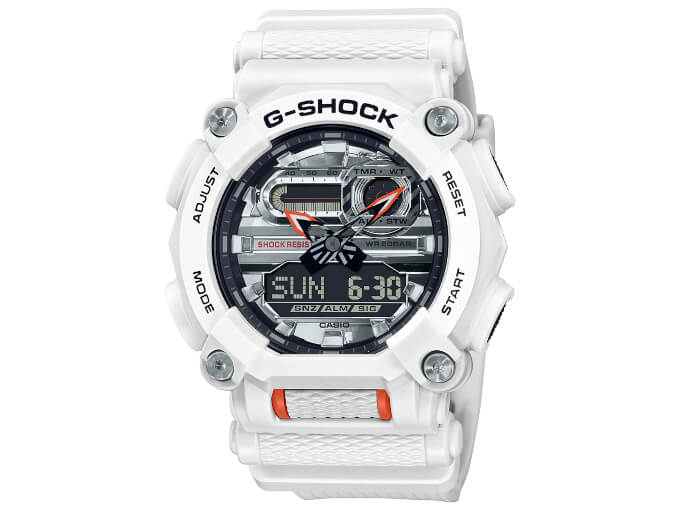 Size: 52.8 × 49.5 × 16.9 mm Weight: 65 grams
Structure: Resin case, bezel, and band, mineral glass
Protection: Shock Resistance, 200-meter Water Resistance Power: Battery (CR2016, approx. 5-year life)
Features: World time (31 time zones, 48 cities + UTC, DST on/off, home/world time city swapping), 1/100-second stopwatch (23:59'59 max, elapsed time, split time, 1st-2nd place times, target time alarm, direct timing start button), countdown timer (60 minutes, settable in minutes), 5 daily alarms (with 1 snooze), hourly time signal, LED light with 1.5 or 3-second afterglow, full auto-calendar, button tone on/off, 12/24-hour format, hand shift
G-Shock GA-900AS-1A
(Image is not to scale. The watch is the same size as GA-900AG-1A and GA-900AS-7A above.)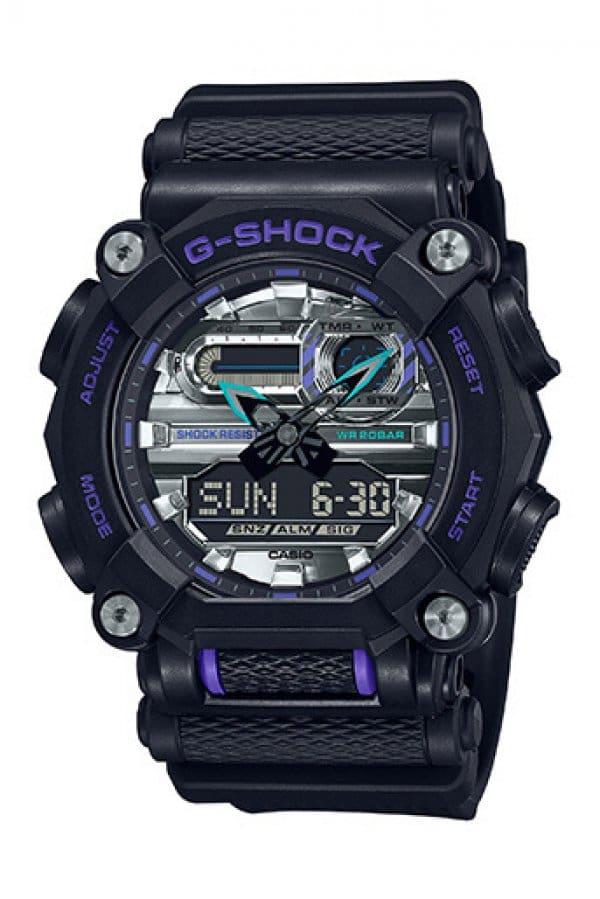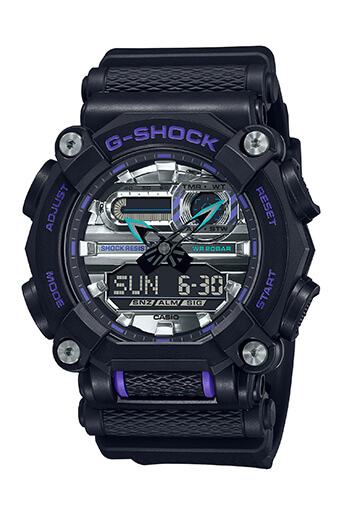 Size: 52.8 × 49.5 × 16.9 mm Weight: 65 grams
Structure: Resin case, bezel, and band, mineral glass
Protection: Shock Resistance, 200-meter Water Resistance Power: Battery (CR2016, approx. 5-year life)
Features: World time (31 time zones, 48 cities + UTC, DST on/off, home/world time city swapping), 1/100-second stopwatch (23:59'59 max, elapsed time, split time, 1st-2nd place times, target time alarm, direct timing start button), countdown timer (60 minutes, settable in minutes), 5 daily alarms (with 1 snooze), hourly time signal, LED light with 1.5 or 3-second afterglow, full auto-calendar, button tone on/off, 12/24-hour format, hand shift