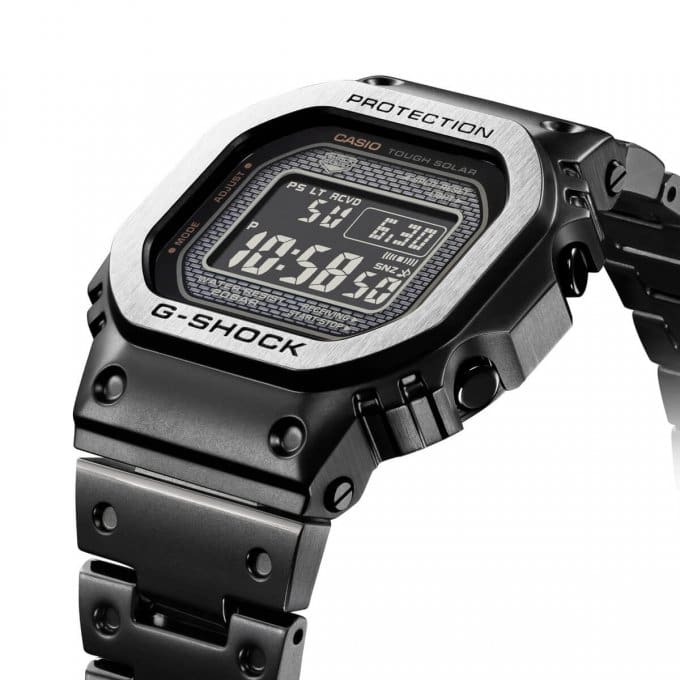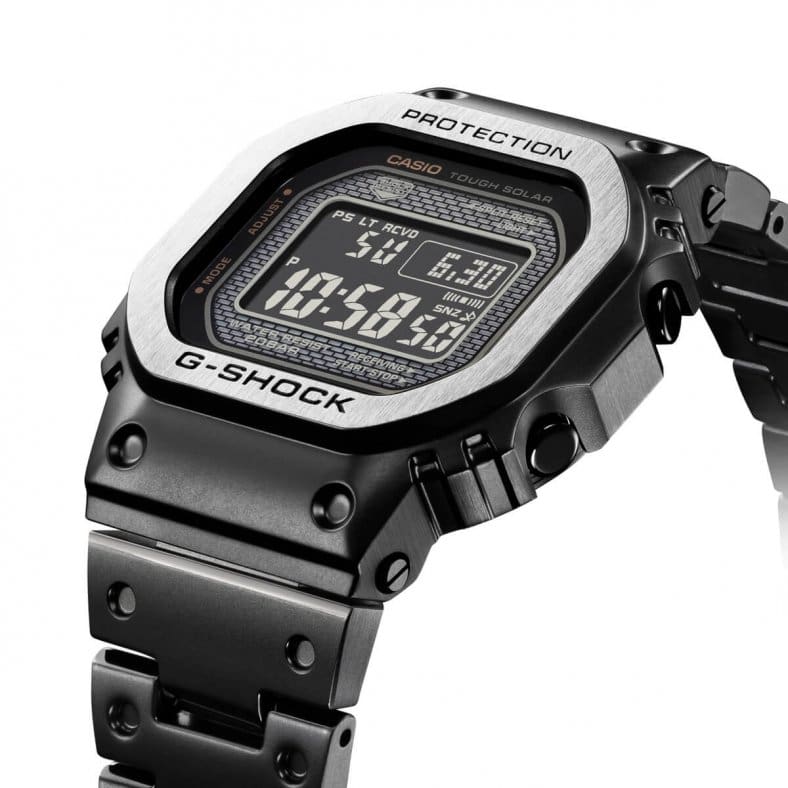 Update: The matte black stainless steel G-Shock GMW-B5000MB-1 was officially announced in Japan and Asia for March 2022. In Japan, the GMW-B5000MB-1JF will be 77,000 yen (tax-included). The watch has a unique matte texture which is the result of a honing finish applied before the black ion plating. The top surface of the bezel uses a new type of processing that involves a hairline finish polishing to reveal the stainless steel, giving it a contrasting silver gleam. The sides of the bezel and band have a hairline finish, and the buttons and screws have a mirror finish. The "MB" stands for "Multi-Finish Black." Casio describes the ion plating as "one shade lighter than conventional black." The watch measures 49.3 x 43.2 x 13 millimeters and weighs 167 grams.
The "JF" in the Japan model name suggests that it is not designated as a limited edition, but it should be noted that other recent "JF" GMW-B5000 models have ended production not long after their release. The GMW-B5000MB-1 is also expected to be released worldwide. (Casio Europe also announced the GMW-B5000MB-1ER.)
Update 2: G-Shock U.S. is releasing the GMWB5000MB-1 for $600.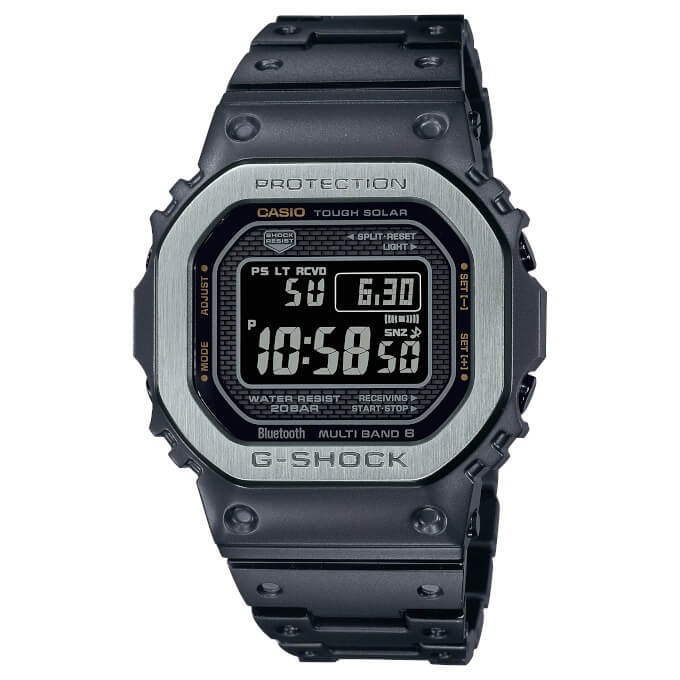 Size: 49.3 × 43.2 × 13 mm Weight: 167 grams
Structure: Stainless steel screw-back case, bezel, and band, mineral glass
Protection: Shock Resistance, 200-meter Water Resistance Power: Tough Solar
Features: Multi-Band 6 auto time adjustment, Bluetooth smartphone link, 5 world times (39 time zones, 39 cities + UTC, DST on/off, auto DST, home/world city swap), 1/100-second stopwatch (23:59'59 max, elapsed time, split time, 1st-2nd place times), countdown timer (24 hours, settable in minutes and hours), 5 daily alarms, hourly time signal, full auto EL backlight with 2 or 4-second afterglow, full auto-calendar, button tone on/off, low battery alert, 12/24-hour format, date/month display swap, adjustable day display language (6)
The GMW-B5000MB-1 offers a very masculine and distinctive matte black finish combined with a contrasting silver and brushed front bezel.
Buy GMWB5000MB-1:
Casio Amazon Reeds eBay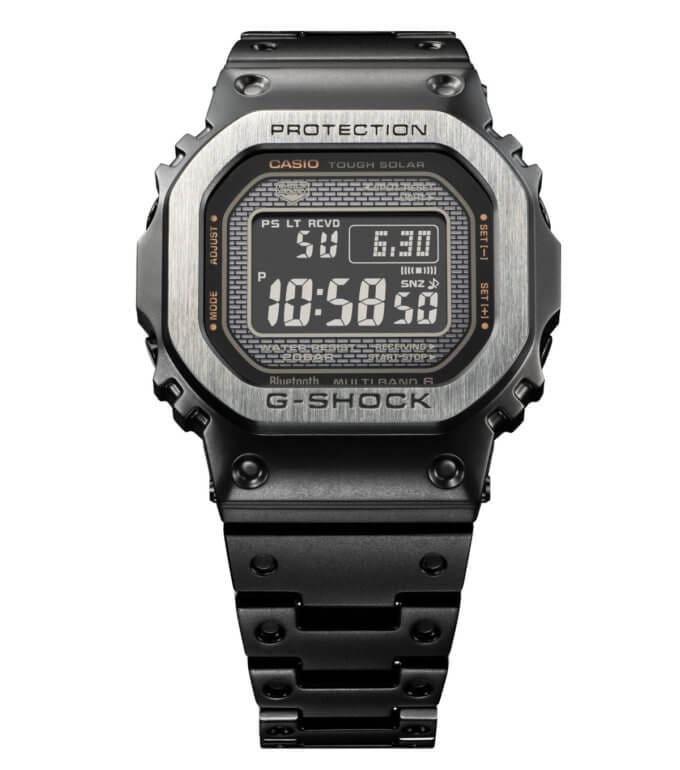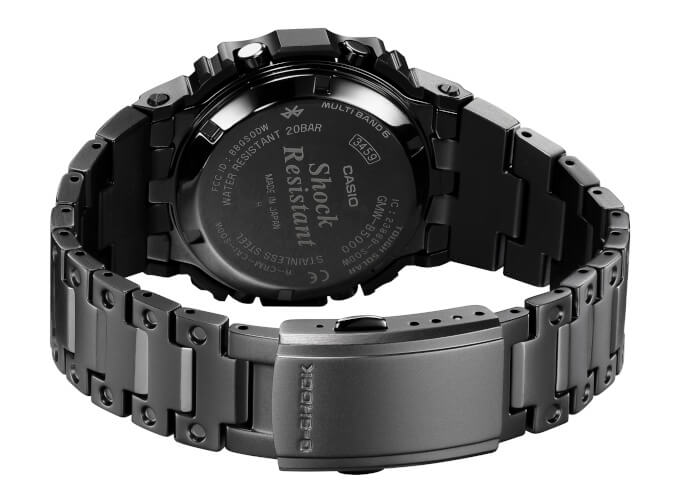 GMW-B5000MB Multi-Finish Black Promo Video:
Original post (Jan 5, 2022):
After a string of more colorful and playful designs, the full-metal G-Shock GMW-B5000 series is going back to basics with the GMW-B5000MB-1, which is expected to be released in February.
With its inverted LCD display, the wach has a similar appearance to the basic black GMW-B5000GD-1 at first glance. Though the "1" indicates a black color, it appears to be more of a grayish or dark gunmetal color. The bezel surface apart from the brushed area appears to have a matte finish versus the glossy finish of the GMW-B5000GD-1. As a stainless steel model, the GMW-B5000MB-1 will be more affordable than the recent titanium GMW-B5000TVA-1, and we're expecting the price to be around $600 in the U.S. (It could end up costing more due to the unique matte finish or possible limited status. The matte finish also brings to mind the limited GMW-B5000V-1 featuring a vintage-style aged ion plating, which had a price of $1,000.)
Major features of the GMW-B5000MB-1 include shock resistance, 200-meter water resistance, Tough Solar power, Multi-Band 6 automatic radio wave time syncing, Bluetooth smartphone link, and a full auto LED backlight.