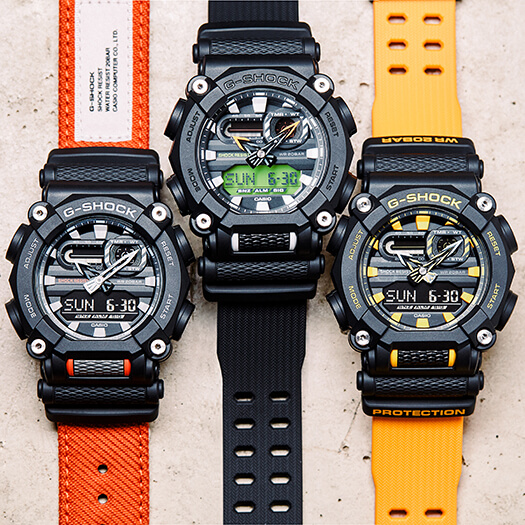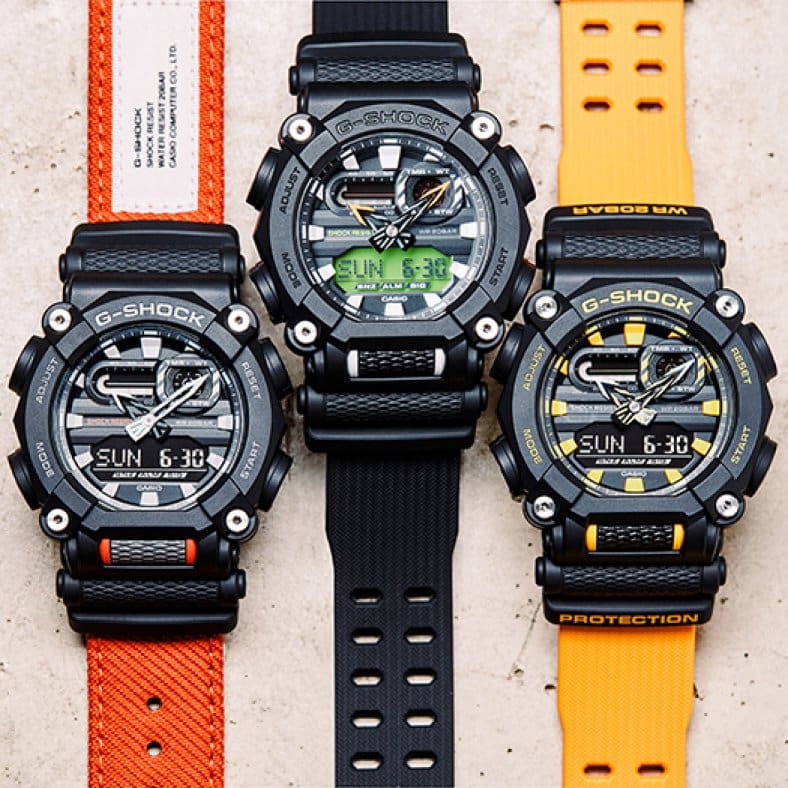 Update: G-Shock officially announced the GA-900 series for August 2020 in Japan. It is confirmed that the GA-900 has an estimated 7-year battery, making it the longest lasting battery for a non-solar G-Shock watch with an analog display.
The debut models include the black and yellow GA-900A-1A9JF (list price 15,000 JPY), black and orange GA-900C-1A4JF with cloth band (16,000 JPY), and black GA-900E-1A3JR with interchangeable reflective green band (19,000 JPY). The GA-900A-1A9, GA-900C-1A4, and GA-900E-1A3 will also be released in other Asian countries in August. See below for full specifications.
Update: G-Shock U.S. announced the GA900A-1A9 (list price $120), GA900C-1A4 ($130), and GA900E-1A3 ($160) and is now taking pre-orders.
G-Shock GA-900A-1A9: Black with yellow accents and yellow resin band.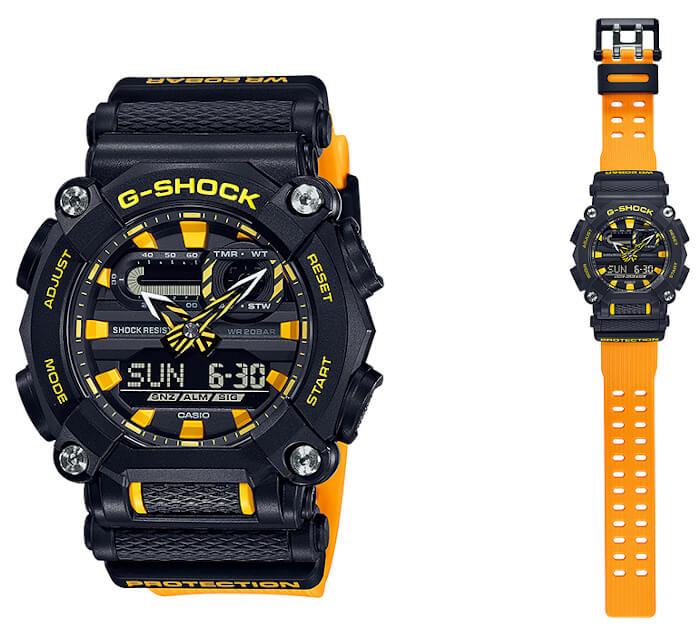 G-Shock GA-900C-1A4: Black and gray with orange cloth band.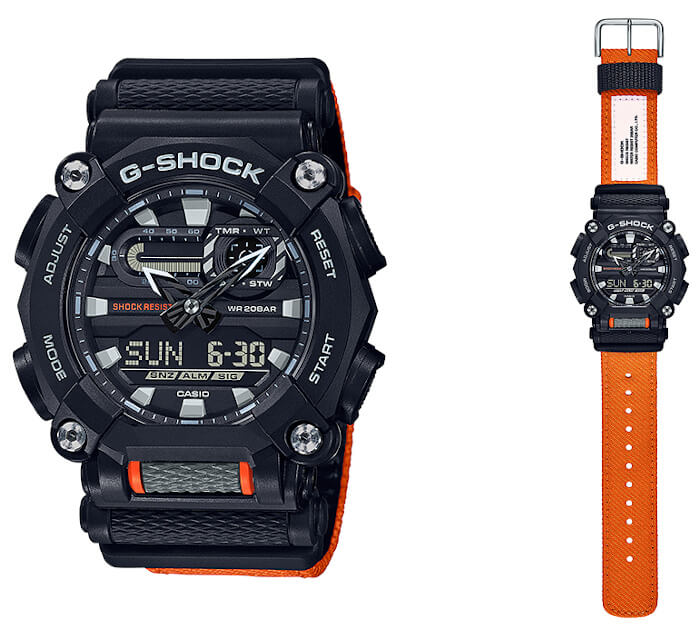 G-Shock GA-900E-1A3: Black and gray with non-inverted LCD display, black resin band, and interchangeable green reflective band.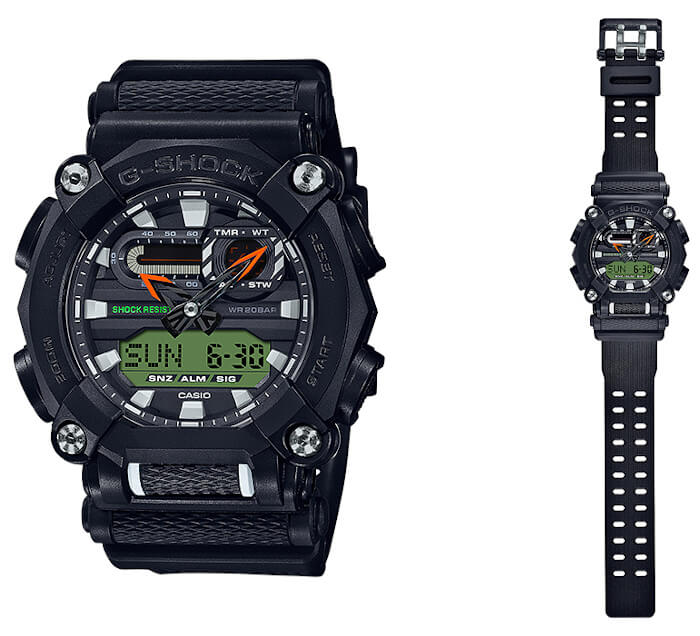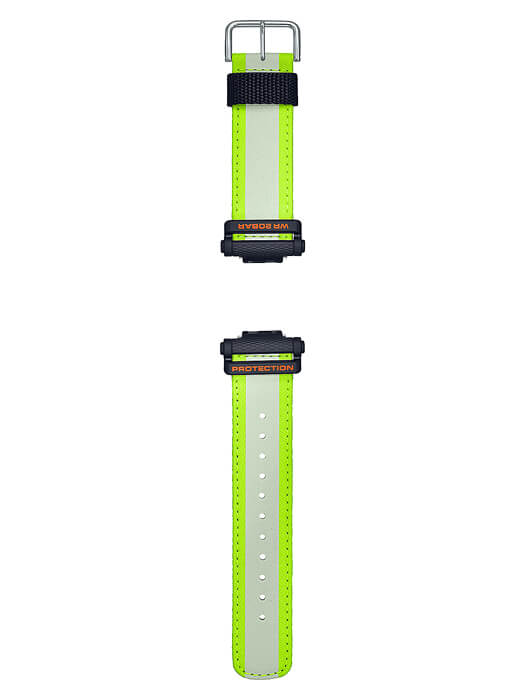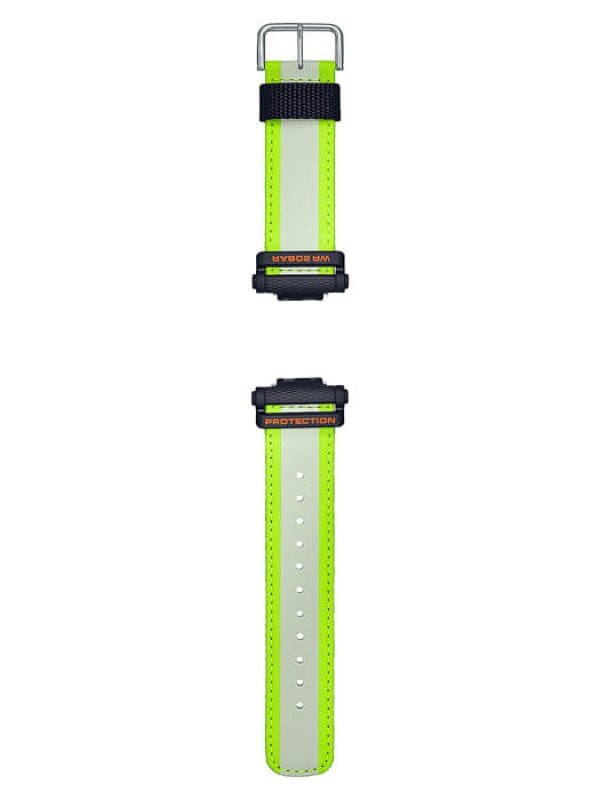 Original Post (July 22, 2020):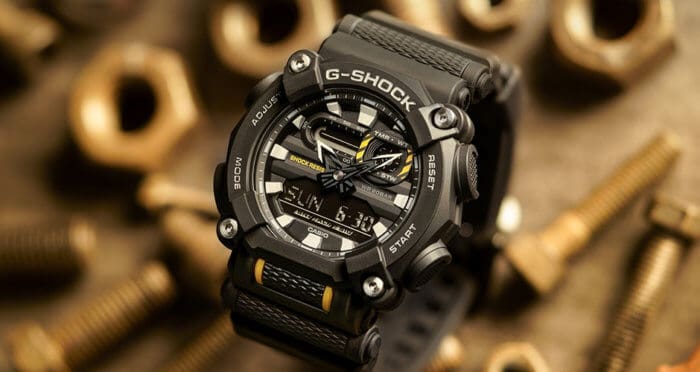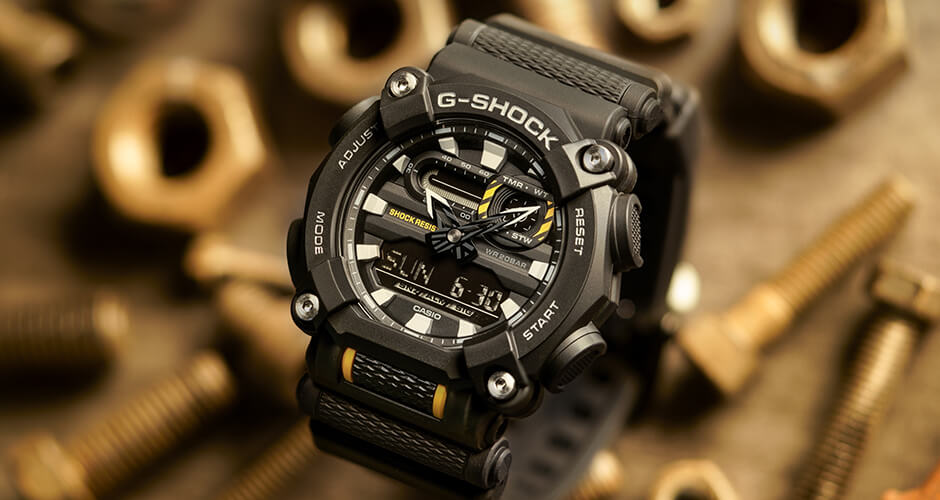 Japanese Harley-Davidson magazine Club Harley is running a contest for web members, with the upcoming G-Shock GA-900-1AJF as a prize. The application period runs until August 6, 2020, with prizes to be send out in late August. The GA-900 series has not been officially announced by G-Shock yet.
Club Harley describes the watch as having a a heavy-duty look with an industrial design motif, with a ten-sided decagonal bezel that resembles a large nut. The four front screws and the yellow and gray accents on the dial and hands resemble the heavy equipment and machinery on a construction site. Each button has a knurled non-slip surface. The style brings to mind Kikuo Ibe's original idea of G-Shock as a rugged watch made for construction workers.
According to Club Harley, the price is 16,500 JPY and features include shock resistance, 200-meter water resistance, hand shift feature, world time (48 cities + UTC, UTC direct call function, , 1/100-second stopwatch (24 hours total, with split, one-push stopwatch start from time mode, target time notification), countdown timer (60 minutes max), 5 alarms with 1 snooze alarm, hourly time signal, full auto calendar, 12/24-hour mode, button sound on/off, and Super Illuminator LED light. The GA-900 measures 52.8 x 49.5 x 16.9 and weighs 65 grams.
Based on the timing of the contest, it's probably safe to expect G-Shock to release the GA-900 series in August or within the next few months. (One retailer on Instagram said that it will be released in August.)
The expected debut models include the GA-900A-1A9, GA-900C-1A4, and GA-900E-1A3. The status of the GA-900-1AJF above, outside of the contest, is not known, and it is possibly coming later.
(Click to enlarge. These images may not be the final specification.)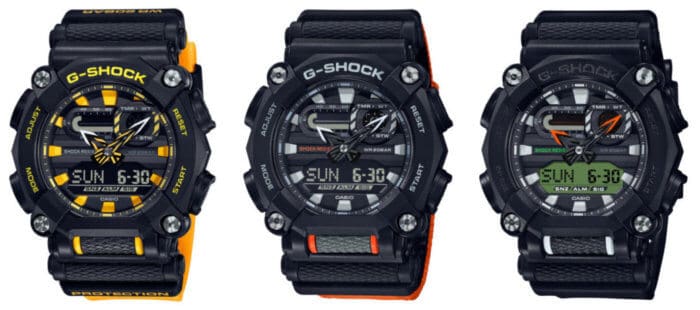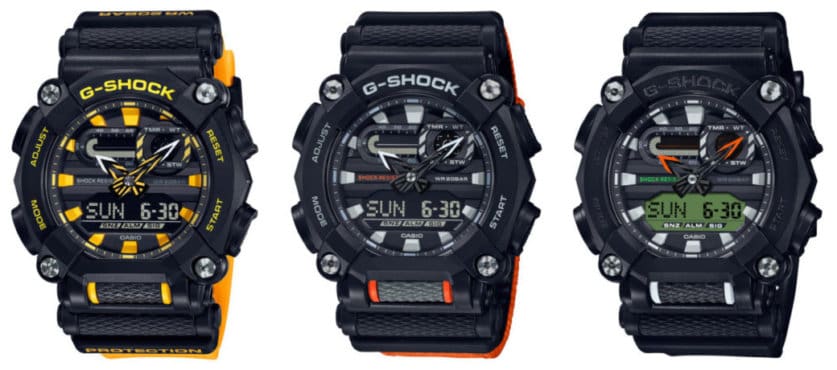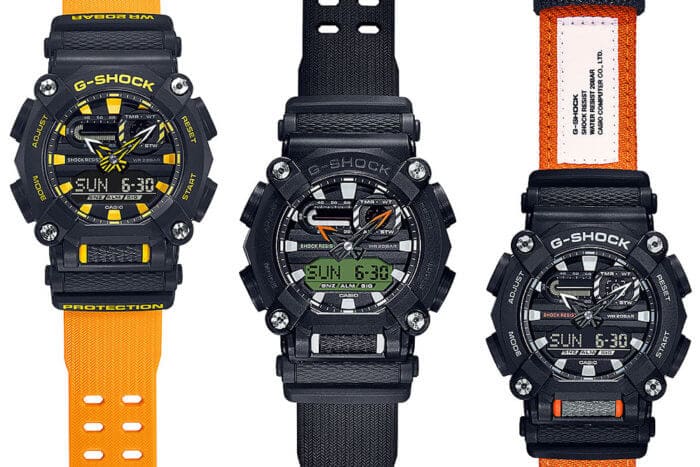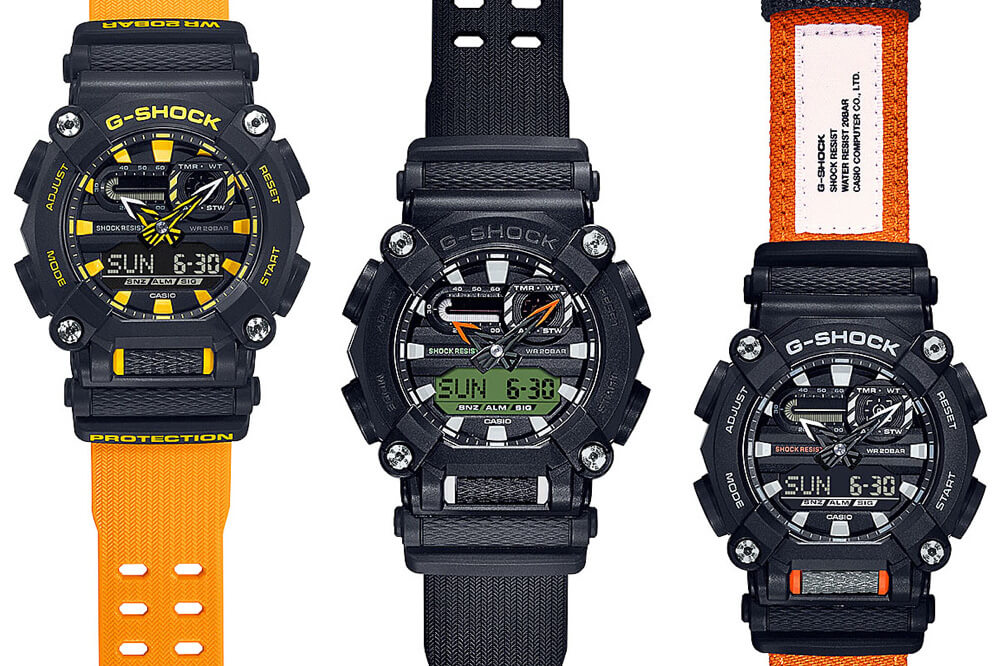 GA-900A-1A9: Black case with yellow accents and yellow resin band.
GA-900C-1A4: Black case with white accents and orange cloth band.
GA-900E-1A3: Black case with black resin band and green-tinted non-inverted LCD display, also includes reflective band.