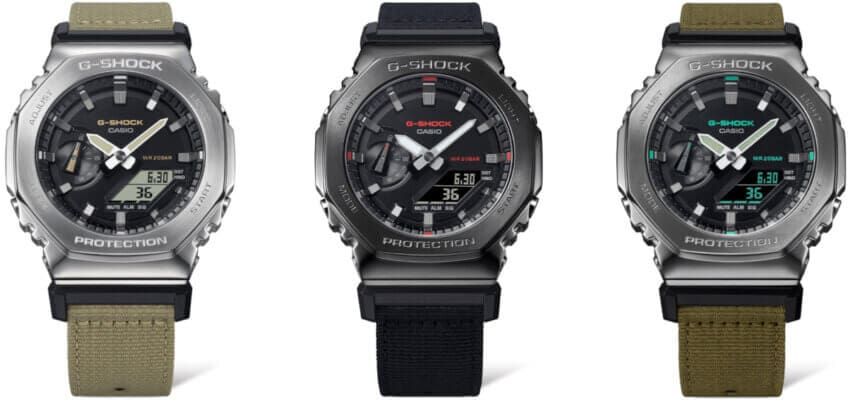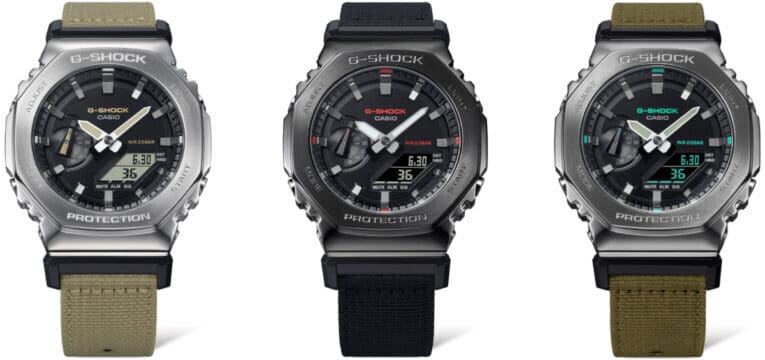 Those who have been waiting for a utility-style colorway series may find much to like about the newly leaked G-Shock GM-2100C Utility Metal Series, featuring three analog-digital models with stainless steel bezels and cloth bands. These are the first GM-2100 models to come with a cloth band, which gives each timepiece the traditional style of a military field watch. The bands have the look of a NATO or ZULU watch strap with two metal band keeper loops, but these are two-piece bands with strap adapters and not a single-piece pass-through design. The strap adapters are equipped with quick-release levers to attach to the watch, so the watches should be compatible with standard resin bands and the cloth bands should fit on other models that are compatible with a GM-2100 band (DWE-5600, DWE-5610, GA-2100, GA-2110, GAE-2100, GM-5600, and GM-6900). The series includes the the silver GM-2100C-5A with beige band, the black ion plated GM-2100CB-1A with black band and red accents, and the gray ion plated GM-2100CB-3A with olive green band and green accents.
The GM-2100C is a medium-size model measuring 49.3 x 44.4 x 11.8 millimeters and featuring full shock resistance and 200-meter water resistance. (Update: According to one source, the weight is 72 grams, which is the same as a resin band model). These models have a phosphorescent coating on the hands and a dual LED light with a dial light and LCD backlight, along with an approximate battery life of 3 years. Expected to be released in March, the European price will reportedly be around 229 euros each.
German watch blog WatchDavid.com posted an article and a video with a hands-on look.
Update: Casio released a promotional image of the GM-2100C series on social media.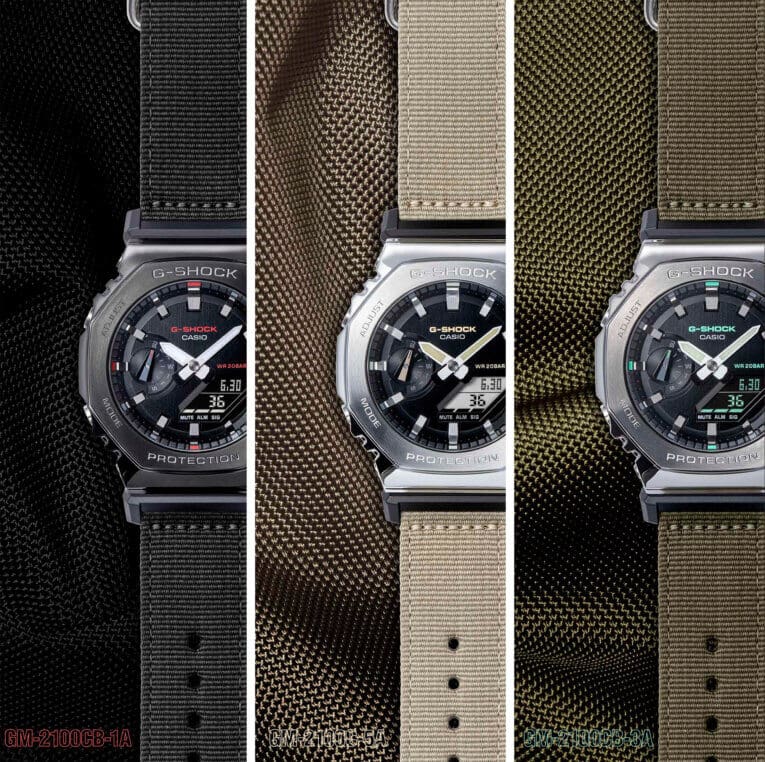 G-Shock GM-2100C-5A: Silver stainless steel bezel with beige cloth and and positive LCD display.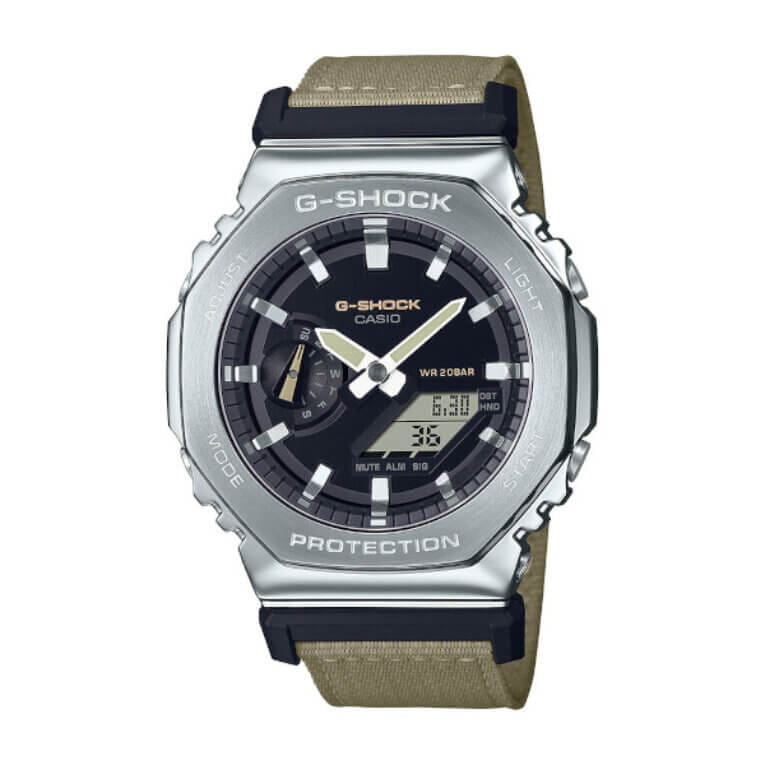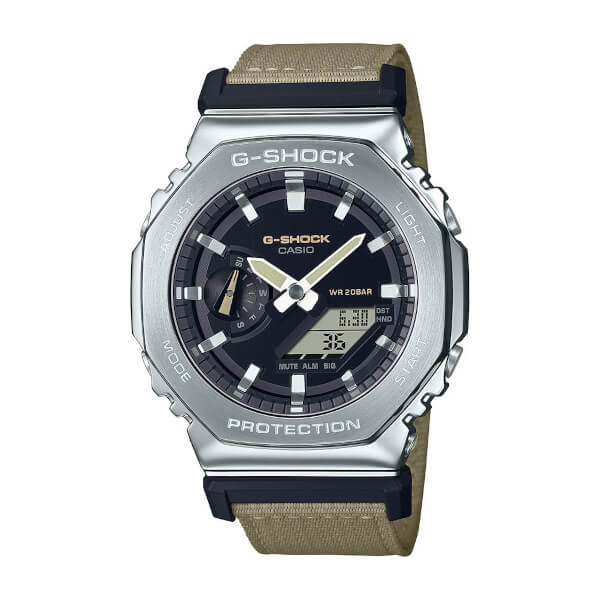 Buy GM2100C-5A
Casio Amazon Reeds eBay
G-Shock GM-2100CB-1A: Black IP stainless steel bezel with black cloth band and inverted LCD display.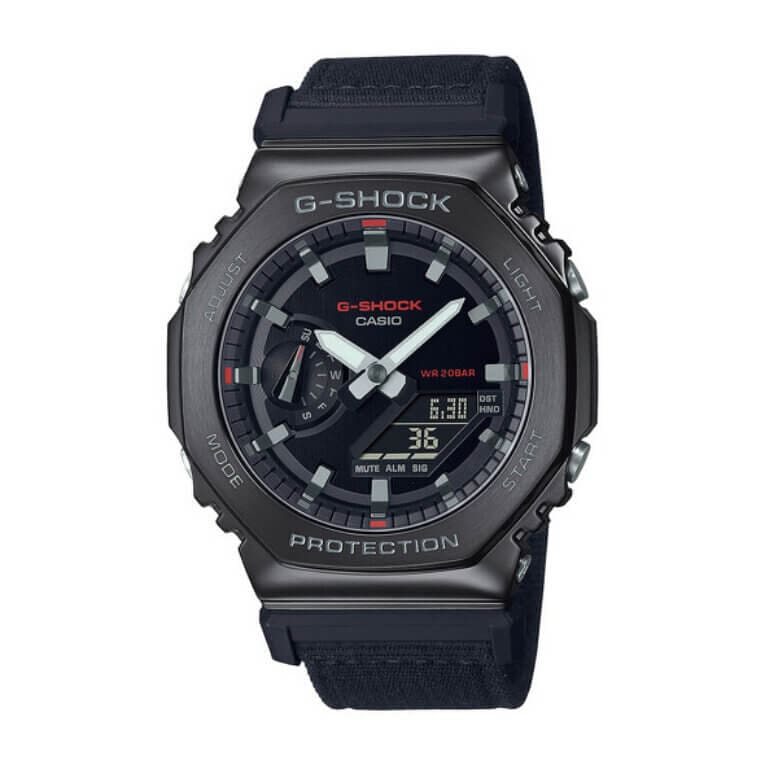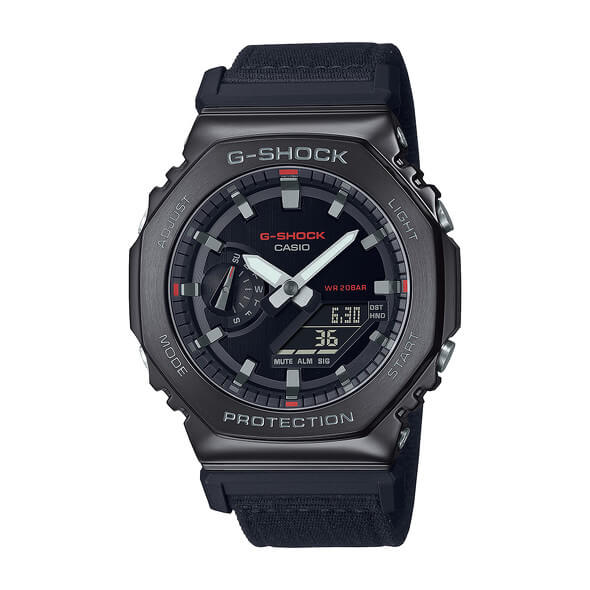 Buy GM2100CB-1A
Casio Amazon Reeds eBay
G-Shock GM-2100CB-3A: Gray IP stainless steel bezel with olive green cloth band and inverted LCD display.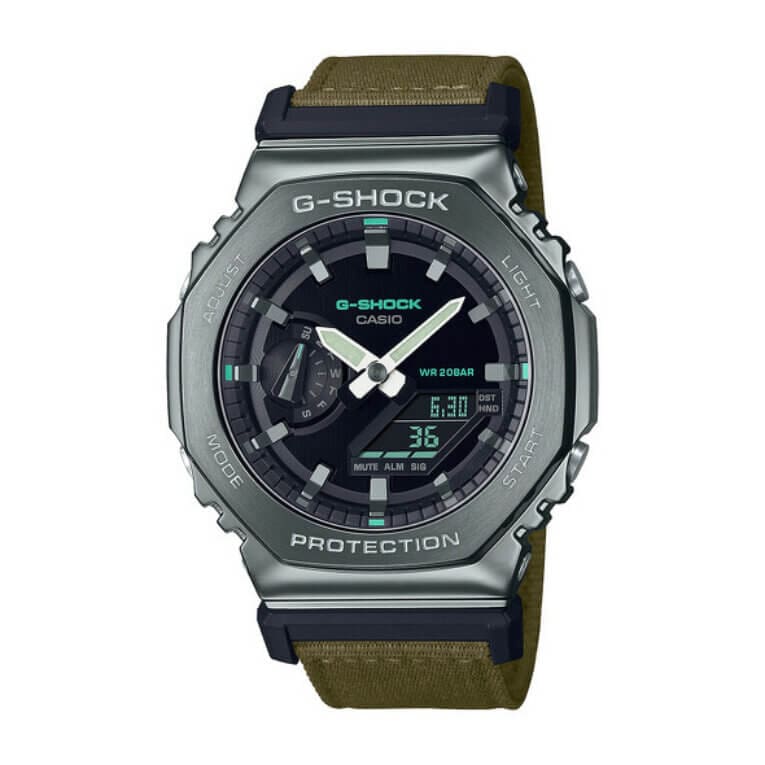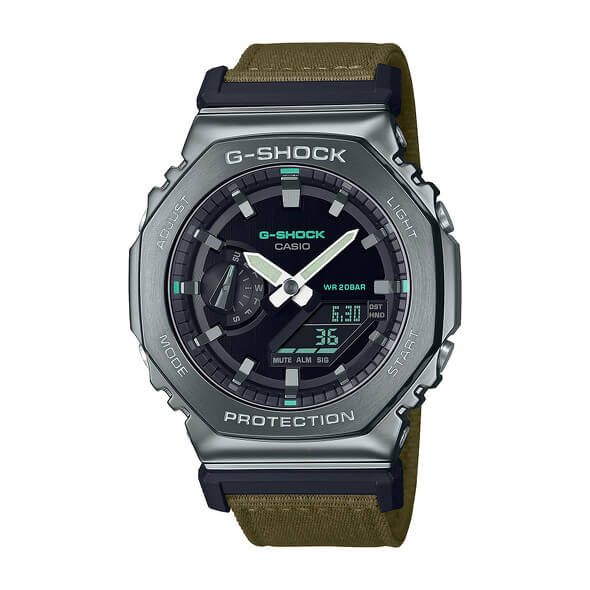 Buy GM2100CB-3A
Casio Reeds eBay