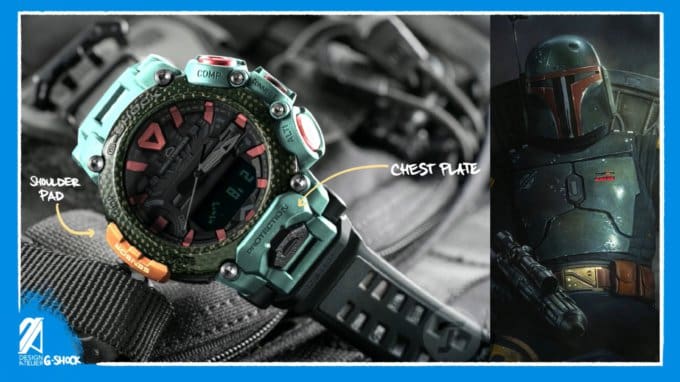 An early rendering of a Boba Fett concept by Design Atelier.
In late 2021, watch enthusiast YouTube channel Design Atelier featured a virtual mock-up of a custom G-Shock Gravitymaster GR-B200 design inspired by Boba Fett. The popular Star Wars character was the the overwhelming favorite of many fans in the 1980s and remains popular with a recent revival in the Disney Plus television series "The Mandalorian" and "The Book of Boba Fett."
With its many exterior parts and asymmetrical style, the GR-B200 lends itself well to custom designs like this. Host Jayson goes through several drafts as he adds the signature colors of Boba Fett's armor to the exterior of a GR-B200RAF-8A. He also makes small changes to some parts to add matching textures and details, and swaps out the resin band for leather. The end result is a unique G-Shock that greatly captures the style of the intergalactic bounty hunter.
(The "Lego Star Wars: The Skywalker Saga" PC game (Steam), which features Boba Fett as an unlockable character, is currently 17% off at at Green Man Gaming for $41.49 (Standard Edition) and $49.79 (Deluxe Edition). (Not a sponsored link, I just bought it myself.)