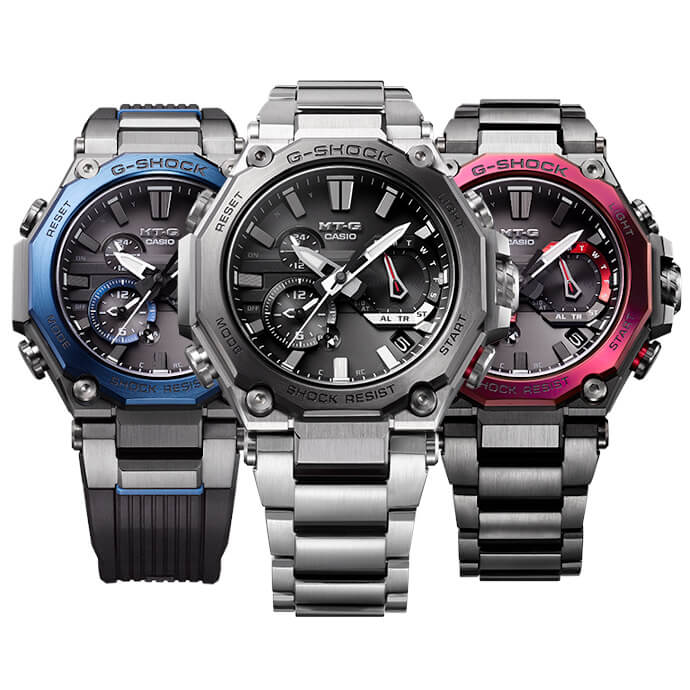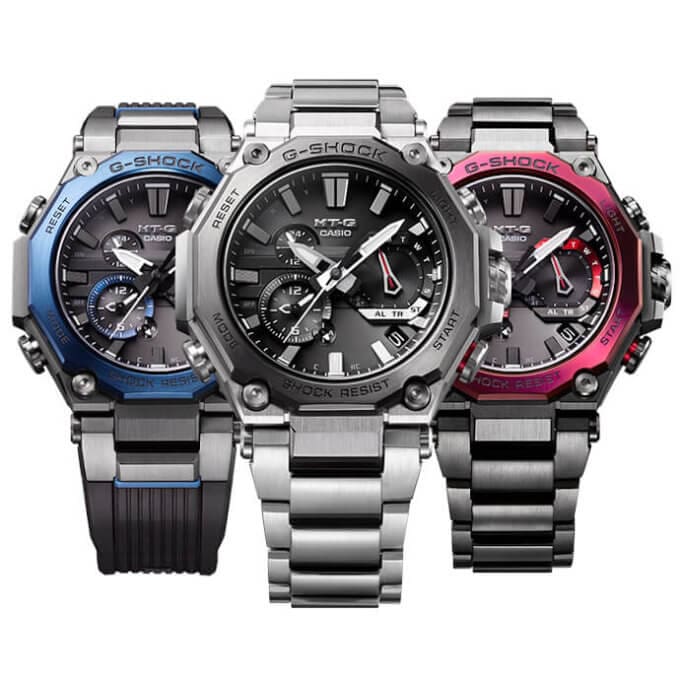 Casio announced the G-Shock MTG-B2000 series for a November 2020 release in Japan and Asia. This all-new model has a Carbon Core Guard structure that consists of a Dual Core Guard monocoque (single shell) case that is surrounded by a stainless steel metal frame. This gives the watch a seamlessly integrated case back and a more refined metallic look from the front and sides, unlike previous MT-G models that also had large resin parts on the sides. Other major features include Tough Solar power, Multi-Band 6 automatic radio time-syncing, Bluetooth smartphone link, Triple G Resist protection (against shock, centrifugal force, and heavy vibration), and 200-meter water resistance. The MTG-B2000 is manufactured at the Yamagata Casio factory in Japan.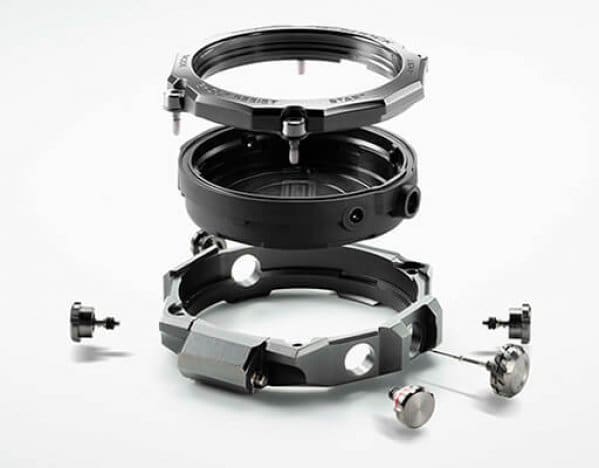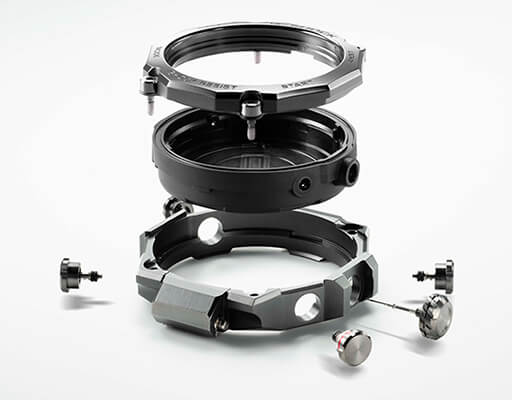 The MTG-B2000 has a distinctive 12-sided (dodecagon) bezel and a body that brings to mind older MT-G models like the MTG-G1000 with its angular case. G-Shock states that the MTG-B2000 is a mid-size model like the previous generation MTG-B1000. The dimensions are 55.1 x 51 x 15.9 millimeters, compared to 55.8 x 51.7 x 14.4 for the MTG-B1000. The bezel and body of the MTG-B2000 are separated, and this allows for them to have a different colored ion plating for a unique metallic style. This is the first MT-G model using three dual coil motors, allowing for swift hand movements.
MTG-B1000 (Left) and MTG-B2000 Comparison Photo: (via news.mynavi.jp)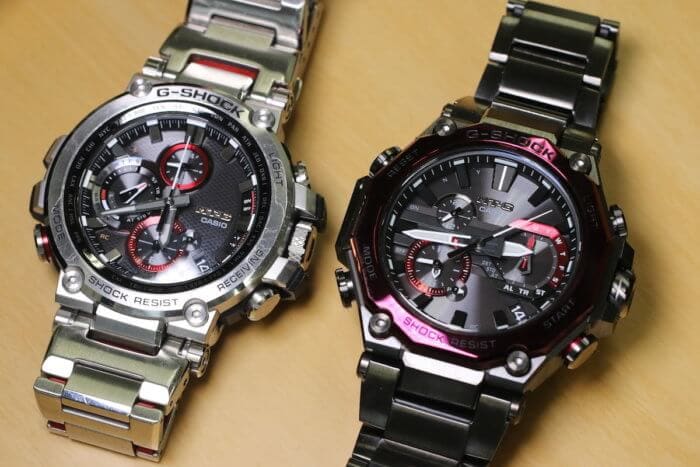 The MTG-B2000BD and MTG-B2000D models have a layered composite band, which is made of stainless steel and a fine resin inner layer. This composite band is 15% lighter than the band of the previous MTG-B1000D. The composite and resin bands have a double slide lever for quick release. A black soft urethane band (BANDGS51P-1JR) and a stainless steel composite band (BANDGS51D-1JR) will be available separately for 15,000 JPY and 30,000 JPY plus tax, respectively. The MTG-B2000BD MTG-B2000D models with a composite band weigh 156 grams, and the MTG-B2000B with a soft urethane band weighs 127 grams.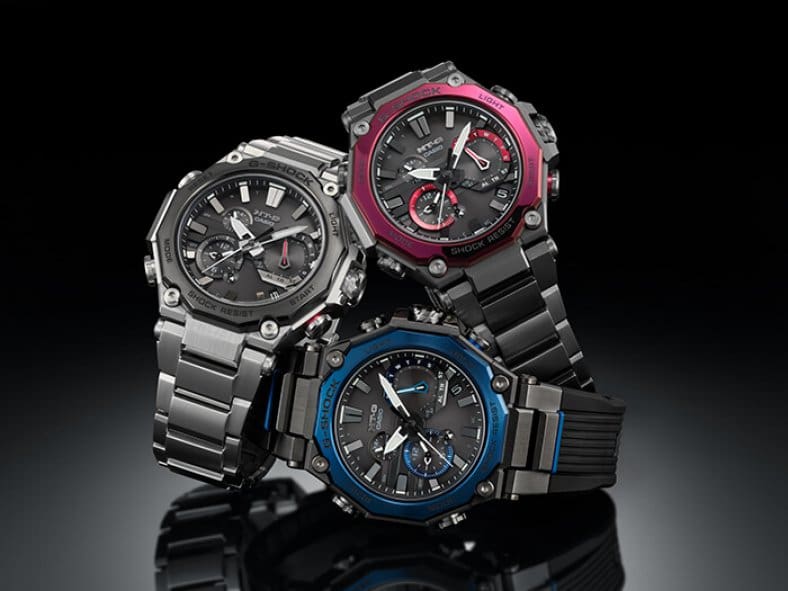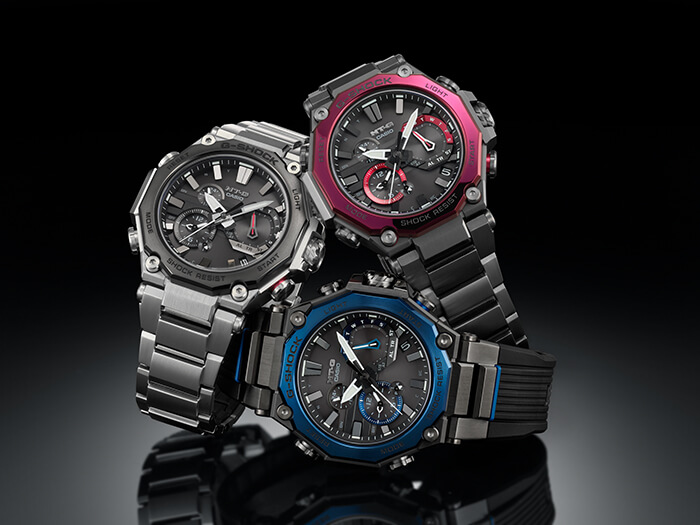 Other features include a spherical curved sapphire crystal with inner anti-reflective coating, Neobrite lume, needle position correction, hand shift function, dual time (27 time zones with automatic DST setting), 1-second stopwatch (24 hours total), countdown timer (24 hours max), alarm, power saving function, date and day display with full auto calendar, and Super Illuminator LED light with afterglow. The Bluetooth smartphone link function offers clock status display (time reception status, solar charging status, internal data update history), self-check automatic diagnosis, automatic time adjustment, world time city setting (with more than 300 cities), home time and world time display replacement, timer and alarm setting, and phone finder. The module number is 5636.
In Japan, the release date is November 13, 2020, and the model names and pre-tax prices are MTG-B2000B-1A2JF (list price 110,000 JPY), MTG-B2000BD-1A4JF (125,000 JPY), and MTG-B2000D-1AJF (115,000 JPY). The MTG-B2000B-1A2, MTG-B2000BD-1A4, and MTG-B2000D-1A were also announced for other Asian countries and are expected to be released worldwide.
Update: G-Shock U.S. is releasing the MTGB2000D-1A (list price $1,000) and MTGB2000B-1A2 (list price $950, with model name MTGB2000B1A2), but not the black and red version.
G-Shock MTG-B2000B-1A2
Black IP body with blue IP bezel and black soft urethane band.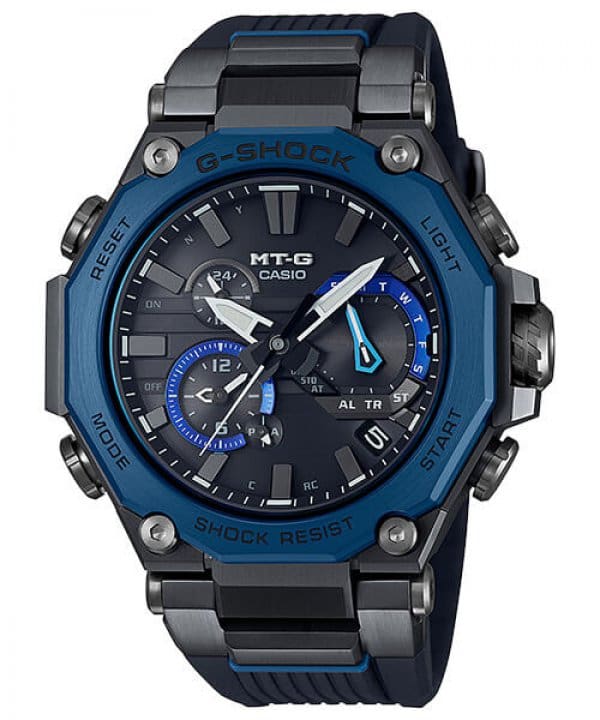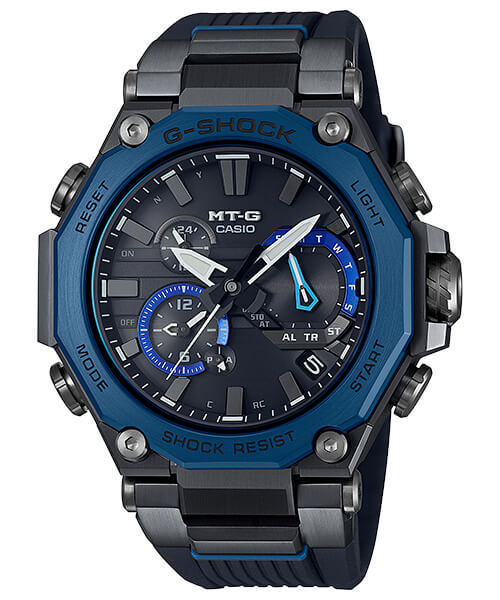 G-Shock MTG-B2000BD-1A4
Black IP body with red IP bezel and black IP stainless steel composite band.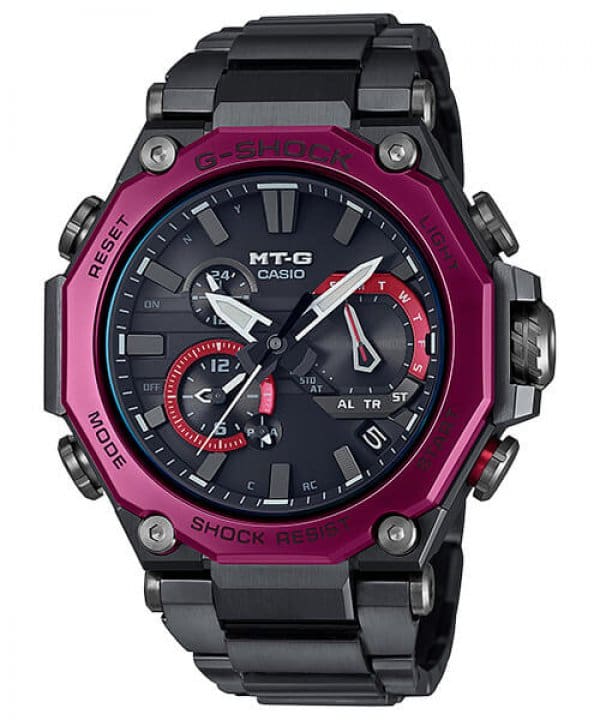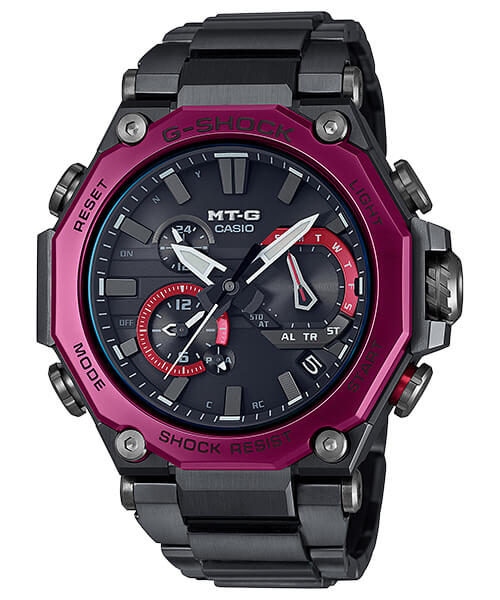 G-Shock MTG-B2000D-1A
Silver body with black IP bezel and silver stainless steel composite band.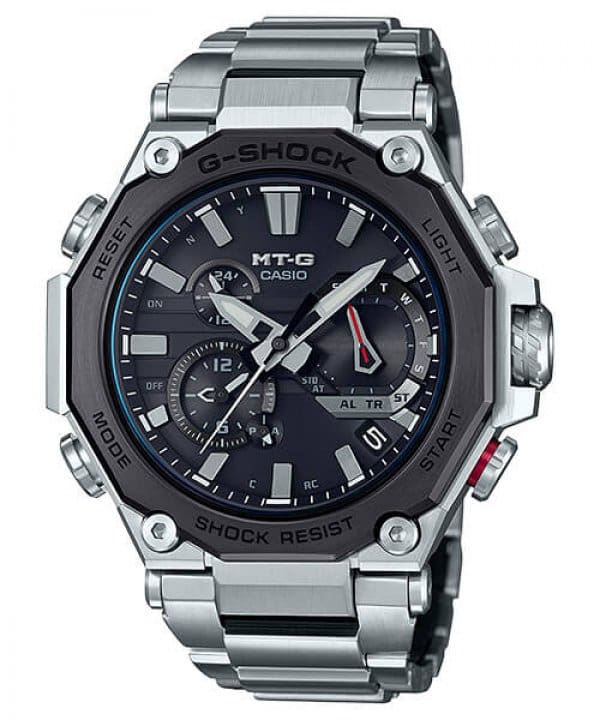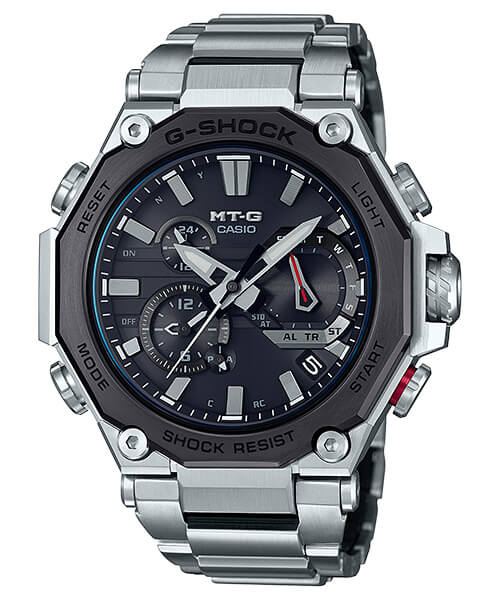 G-Shock MTG-B2000 Promo Videos: