Casio America announced this unexpected G-Shock MT-G model for July 2017, the silver and gold MTGS1000D-1A9. This model is manufactured at Casio's high-end Yamagata factory in Japan. It combines stainless steel and resin components to create a luxury watch that doesn't sacrifice G-Shock's legendary toughness. Major features include Tough Solar power, Multi-Band 6 radio timekeeping for syncing with atomic clocks, and Triple G Resist for protection against shock, g-forces, and vibration. A sapphire crystal with an anti-reflective coating provides clarity and scratch resistance. The MTGS1000D-1A9 has a silver stainless steel body and bands with gold front screws and a gold index. This eye-catching design offers a bold new look to the MTG-S1000 series which until now has always been styled on the more conservative side. Other features include 200-meter water resistance, world time (29 cities + UTC), daily alarm, 1/20 second stopwatch, countdown timer, and full auto-calendar.
The MTGS1000D-1A9 has a list price of $900 USD. It will also be sold in Japan as the MTG-S1000D-1A9JF and internationally as the MTG-S1000D-1A9.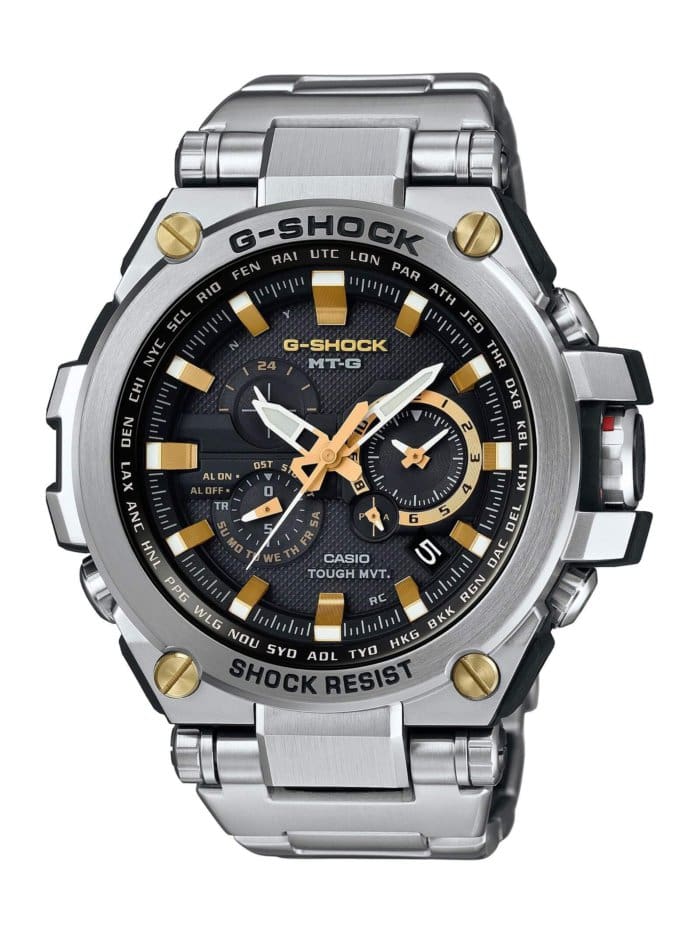 MTG-S1000D-1A9 on Amazon
MTG-S1000D-1A9 on eBay
MTG-S1000D-1A9 at Macys
(
G-Central is an independent news site created and maintained by fans and is not an official representative of Casio or G-Shock. G-Central earns a commission on qualifying purchases made from its links. See full disclosure.
)