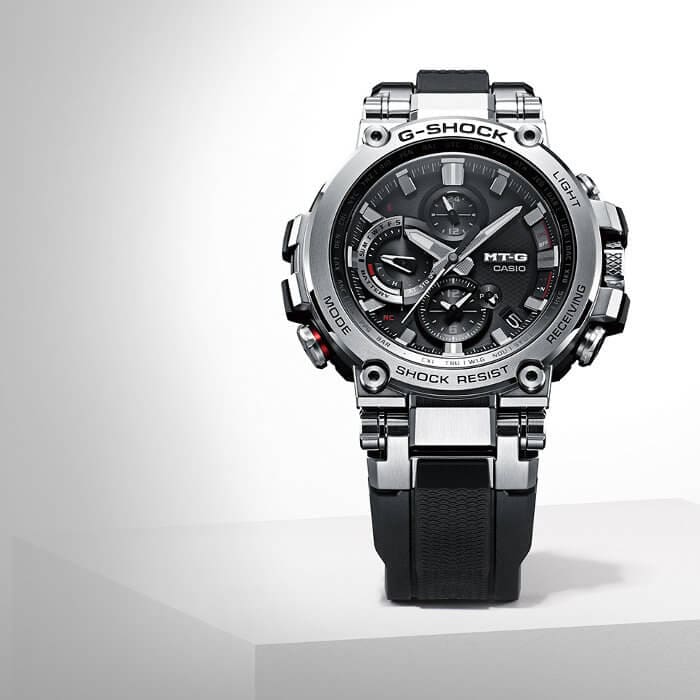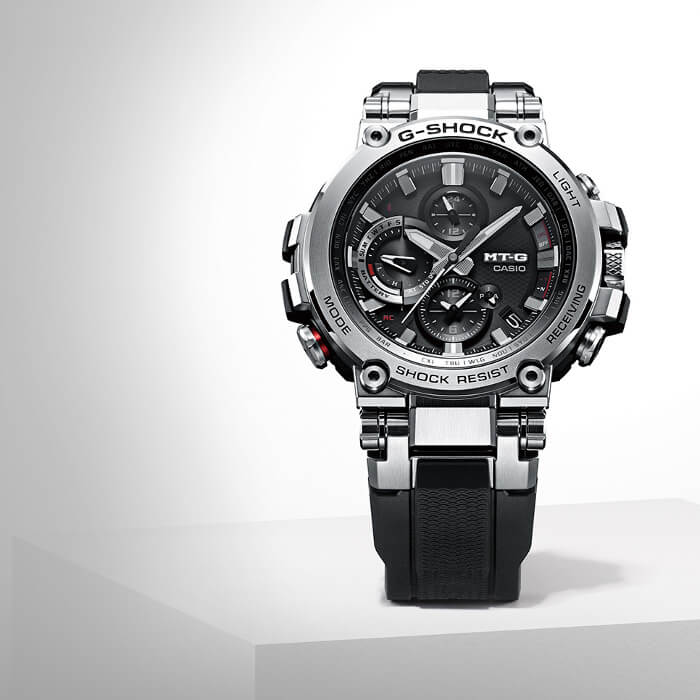 Casio is announcing the G-Shock MTG-B1000 at Baselworld 2018, though a release date has not been decided on so we may not see it on the market for a while. The solar-powered MTG-B1000 introduces Bluetooth connectivity to the MT-G line and has a more rounded body than previous MT-G models. While constantly going bigger and bigger in recent years, Casio has taken a reductive approach to the new design with a smaller exterior but retaining some signature elements. It looks similar to the previous MT-G models, yet different, with more emphasis on the face of the watch. This is an interesting new look for a luxury G-Shock and one that adds a new dimension of style. While the previous MT-G watches were known for their stainless steel bands, Casio is using soft urethane bands for the new models.
The MTG-B1000-1A (pictured below) has a silver stainless steel body and black band. The MTG-B1000B-1A has a black IP body and black resin band. The MTG-B1000B-1A4 has a black IP body and red resin band.
The MTG-B1000 has the same Core Guard structure as previous MT-G models but with a new design that allows for a smaller and thinner structure. The measurements are 55.8 x 51.7 x 14.4 mm and weighs about 123 grams (compared to 58.8 × 54.7 × 16.9 and 198 grams for the MTG-G1000). The new Bluetooth feature allows the watch to connect to a smartphone to adjust settings like world time and alarm, and automatically sync the time with internet time servers. The MTG-B1000 is equipped with Multi-Band 6 radio wave timekeeping but does not have GPS timekeeping like the MTG-G1000. The MTG-B1000 has a sapphire crystal and metal parts that are polished to a hairline finish. It retains its signature features like Sallaz polishing and Triple G Resist (shock, g-forces, vibration). MT-G models are manufactured in Japan at Yamagato Casio's Premium Production Line.
More information will be added when available.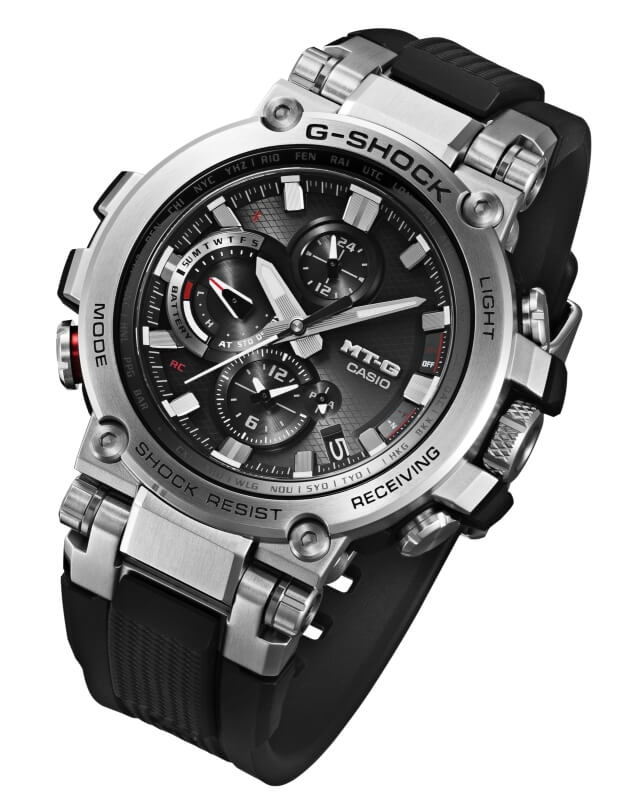 G-Shock MTG-B1000 Promotional Video: