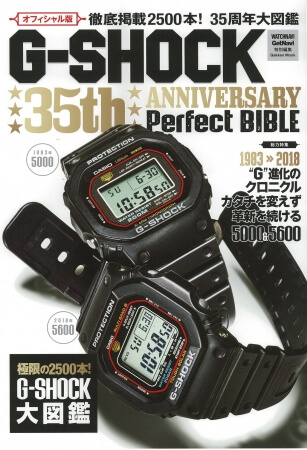 The G-Shock 35th Anniversary Perfect Bible book was released in Japan on December 14, 2017. The cover features the original G-Shock DW-5000 along with the current GW-M5610, symbolizing G-Shock's history beginning in 1983. This magazine-style book is 122 pages and features more than 2,500 G-Shock models and many articles (albeit all in Japanese). The list price is ¥1,200 JPY.
A special "Watchnavi" edition with English text based on the G-Shock 30th Anniversary Perfect Bible was released as a promotional item in Singapore in 2015, so hopefully we'll also see an English version of this one somewhere down the line.
G-Shock 35th Anniversary Perfect Bible on eBay
(
G-Central is an independent news site created and maintained by fans and is not an official representative of Casio or G-Shock. G-Central earns a commission on qualifying purchases made from its links. See full disclosure.
)