Casio released a 4-minute promotional video for the upcoming G-Shock Rangeman GPR-B1000 solar-assisted GPS watch. The video emphasizes the survival features of the watch as an adventurer's car breaks down in the middle of the desert and he uses the Rangeman to navigate to safety. The video showcases a bevy of features: GPS navigation, GPS antenna bezel, track and point memory log, recall and backtrack mode, point log with linked photos, selectable icons for point data, smartphone link, timeline display and 3D map of point data, solar power, dual charging system with wireless charging, altimeter, barometer, digital compass, sunrise and sunset time, tide and moon graph, mud-resistant structure, fine resin insert bumper, dual task display, sapphire crystal, carbon fiber insert band, ceramic case back, and auto LED backlight. The video also provides some nice wrist shots of the Rangeman in action. It ends with a list of major features and the tagline "Be a survivor."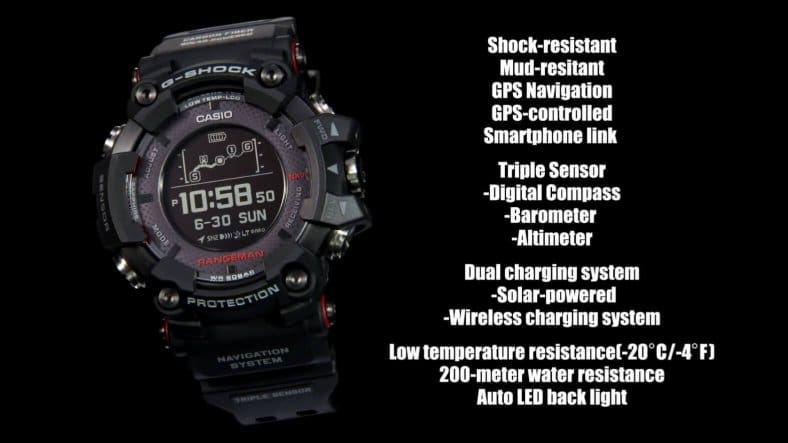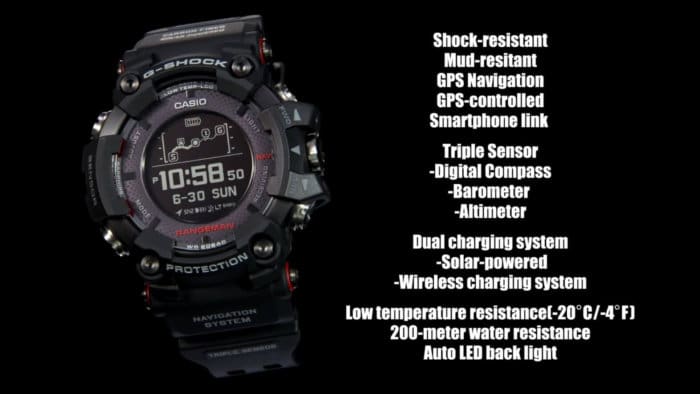 The second video features an interview with Casio representative Ryan Holland at CES 2018. The video features some nice closeups as he demonstrates the interface and menu system and describes the useful backtrack and solar charging features. He gives a brief overview of the smartphone app which is used to supplement the GPS Navigation feature with timelines and maps, change watch settings, and view instructions.
The third video is from Casio and features a brief overview of the Rangeman at CES 2018 along with some wrist shots.
Update: Casio UK released a new Rangeman GPR-B1000 video.
Visit our 2018 Rangeman GPR-B1000 page.