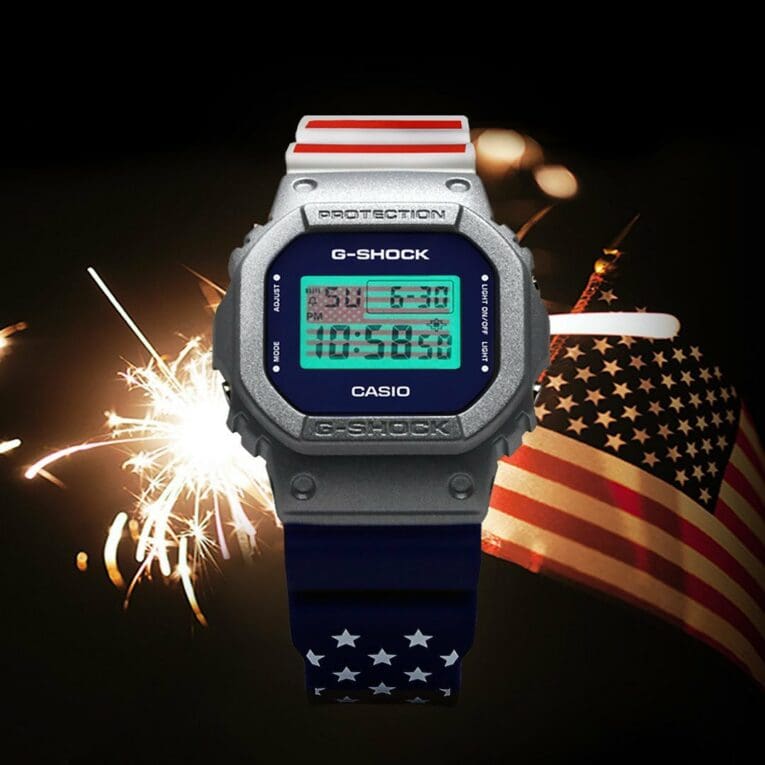 As we all wait patiently for the Remaster Black series to be released in the United States, Casio America has surprised us with the release of the DW5600US23-7. The unique limited edition watch is a special 4th of July edition that pays homage to the country that helped G-Shock become a mainstream success.
The watch has a silver resin bezel, white upper band with red strips, and blue lower band with white stars. Three stars are also printed on the blue band keeper, and an exclusive eagle emblem is engraved on the stainless steel case back. When the EL backlight is activated, an American flag graphic appears on the display.
When G-Shock was first released in Japan in 1983, it struggled to gain traction and its future was very uncertain. Following the release of the DW-5200 in 1984 and the widely viewed television commercial in which the watch was used like a hockey puck, G-Shock became popular in America with blue-collar workers and skateboarders. The DW-5200 is often referred to as "The Hero," as it is widely believed that if sales did not improve with this series, G-Shock would have been completely discontinued.
The DW5600US23-7 is now available for $140 at casio.com/us. It is also available at the G-Shock Soho Store in New York City. (And the DW6640RE-1 should be coming any day now for $150.)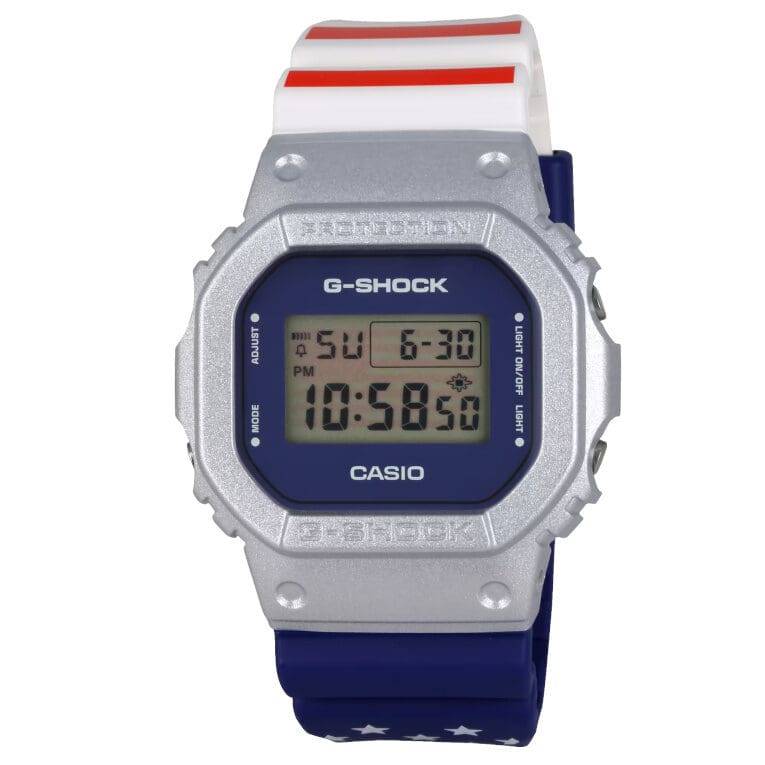 Dimensions: 48.9 x 43.8 x 13.5 millimeters
Weight: 52 grams
Features: Shock resistance, 200-meter water resistance, stopwatch, countdown timer, multi-function alarm, hourly time signal, flash alert, EL backlight with afterglow, full auto-calendar, 12/24-hour format
Specifications: DW-5600