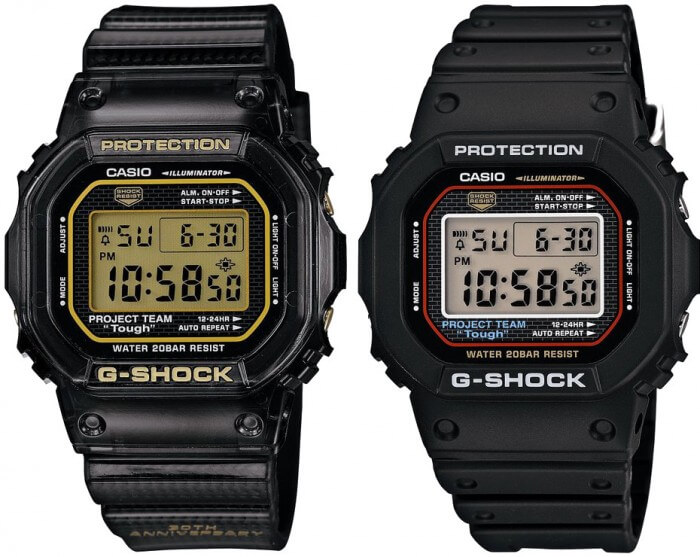 There are many options to spend more than $500 on a G-Shock these days, but perhaps none are as special as the GSET-30-1 "Thirty Stars" Box Set from the G-Shock 30th Anniversary. This box set includes 2 commemorative DW-5030 watches and a rare G-Man poseable figure. The DW-5030 models are updated reissues of the first-ever G-Shock DW-5000C-1A from 1983 and a tribute to the original Project Team "Tough" led by Kikuo Ibe. The box set was released as GSET-30-1JR in Japan and GSET-30-1DR elsewhere. Considering the two included watches are made in Japan and the limited nature of the box set, it's surprising that the GSET-30-1 is still available at reasonable prices. The GSET-30-1 is not for everyone but if it can be found for a decent price it's a must-have for the serious G-Shock collector.
The DW-5030D-1 (left) has a translucent black body with gold trim on the face and a carbon fiber insert band and keeper. The band has a clear outer layer, making the carbon fiber viewable on the outside. The words "30th Anniversary" and "Since 1983" are printed in gold on the band along with 30 small stars on the end of the band. The keeper has a G-Shock logo on it and the buckle is gold. The DW-5030-1 is a more straightforward reissue of the DW-5000C with a clean black resin band and a silver buckle and metal keeper with "Since 1983" engraving. Both watches have a screw-lock back case featuring the custom 30th Anniversary engraving. The DW-5030D-1's back case is a gold color. The screw back case is a tribute to the original G-Shock as the current DW-5600 does not have one.


For a more affordable and upgraded tribute to the DW-5000C (though not a limited edition), the Japan-only G-Shock GW-5000 is a current Japan-built model that features a screw back case with DLC coating and also has Tough Solar power and Multi-Band 6. There is also a Thirty Stars GW-M5630D-1 model without the screw back and with Tough Solar and Multi-Band 6, but it is generally harder to find now. There is also a more affordable Thirty Stars DW-6930D-1.