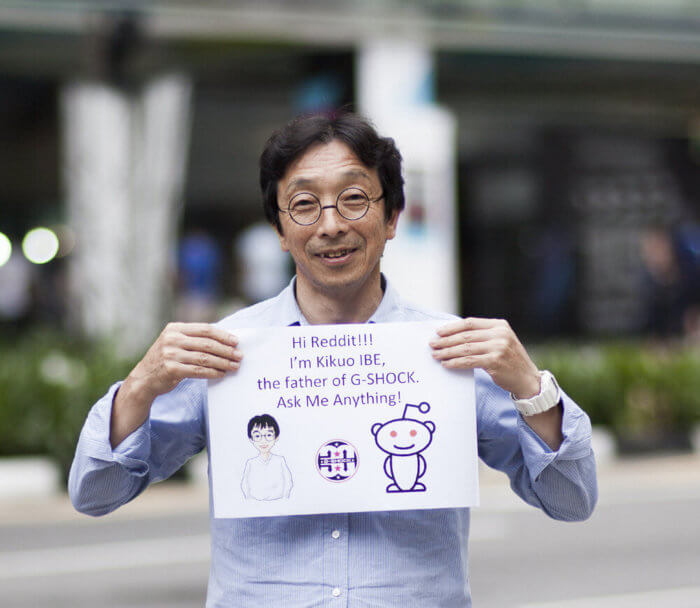 As we await more G-Shock news we'll go back in time with Kikuo Ibe's "Ask Me Anything" session from reddit in 2013. He used a translator and did not stay long but it was nice of the original G-Shock designer to make an online appearance for the brand's 30th anniversary. It is evident that he still has a lot of passion for the brand and his work. Here is a summary of what he said:
There are no plans for more GW-5500 models.
G-Shocks are not specifically designed for military use but Ibe is glad the military supports them.
He only owns the first G-Shock and a DW5600, and he is glad people still like the 5600 models.
He was inspired to create the G-Shock after his father gave him a watch and he dropped and broke it.
Gekko Kamen and Shonen Jet were his heroes as a youngster.
The GX56 was discontinued.
There are no plans for a tough automatic/mechanical G-Shock.
He is very moved and grateful that the G-Shock has many celebrity fans.
He likes solar batteries because they are environmentally-friendly.
The design team consists of 20 people.
His top pick for a desert island watch is the Mudman GW9300.
His hobbies include jogging and growing organic vegetables.
He is interested in some Swiss watches and prefers those that are high quality but reasonably priced.
He emphasized linking with smartphones several times and seems enthusiastic about going in this direction.
source: I am Kikuo Ibe, the founding father of Casio's G-SHOCK. Ask Me Anything!