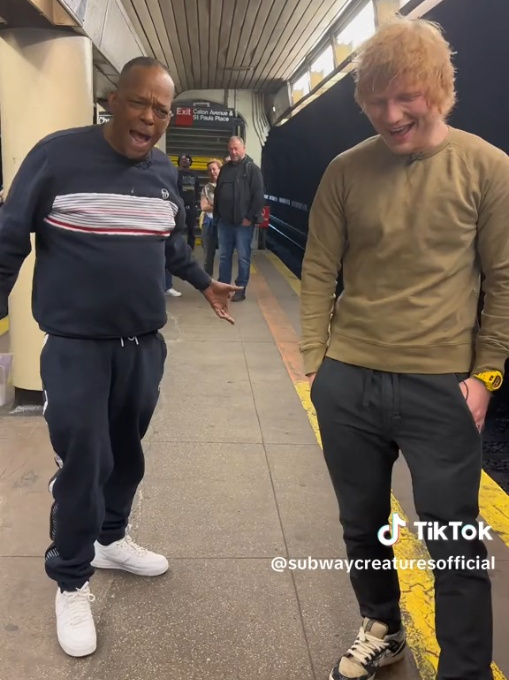 Following the sighting of Kim Kardashian wearing a custom G-Shock DW-6900 last month, another big celebrity has been spotted wearing a DW-6900. Singer Ed Sheeran was recently in New York City and was spotted wearing a yellow G-Shock watch during his sold out performance at the Kings Theatre in Brooklyn on April 10 and around town on the subway. He was also spotted wearing the watch previously in recent performances and appearances in England. Sheeran, a known watch collector and G-Shock fan, has been spotted wearing various G-Shock watches in the past, including DW-6900 and GA-110 models.
In a video posted on TikTok, Sheeran approached and joined singer Mike Yung as he was performing Sheeran's latest single "Eyes Closed." (View video on tiktok.com.) Sheeran also wore the watch during his first live performance of the song in Manchester (tiktok.com) and a television performance on The Jonathan Ross Show (youtube.com). We are unable to identify the exact model, and it may be an older or lesser known collaborative limited edition as it appears to have distinct black markings on the band, which can be partially seen in another TikTok video (tiktok.com).
Ed Sheeran will be releasing his new album – ("Subtract") on May 5, 2023, and will be embarking on a tour of the United States and Canada starting on April 29 at the Jazz & Heritage Festival in New Orleans.
Sheeran also wore the watch during an acoustic performance of "Eyes Closed" on his official YouTube channel.
Image via @subwaycreaturesoffical (tiktok.com)