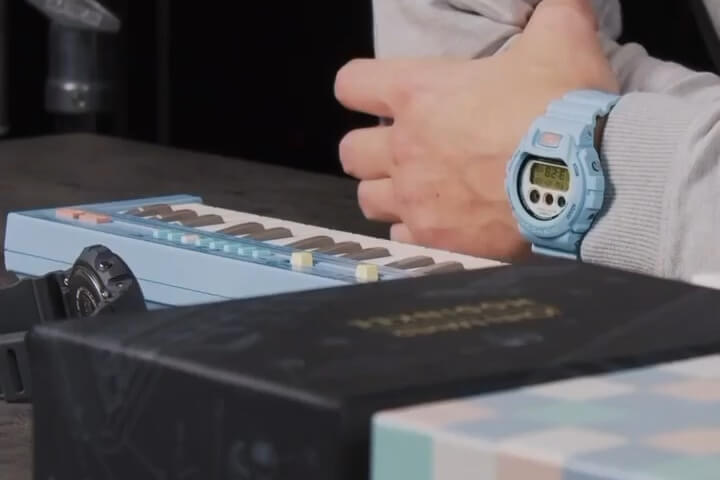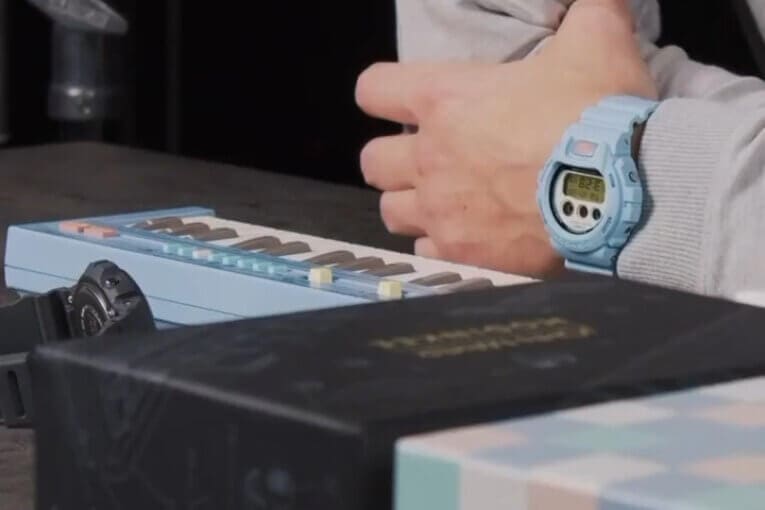 A third G-Shock DW-6900 collaboration with musician John Mayer and watch site Hodinkee is launching on Tuesday, December 13, according to Hodinkee. The inspiration for this model is the Casio PT-1 mini keyboard synthesizer. The G-Shock DW6900JM22-2 watch is based on the light blue version of that keyboard, with a light blue bezel and band and a light gray face. Hodinkee released a teaser video on Instagram that shows the watch on Mayer's wrist while he plays with the keyboard. Hodinkee refers to the release as the "grand finale" in the video, so this may be the final such collaboration with John Mayer (or perhaps it's merely the final "DW-6900" collaboration with him).
The watch features peach, coral, and turquoise accents. Photo via hodinkee.com.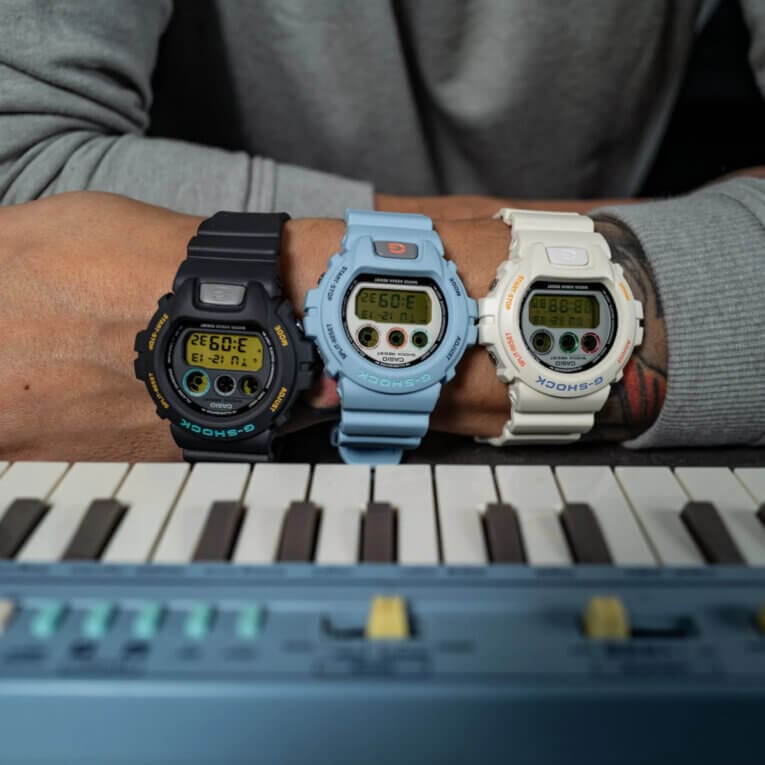 Despite reports of last year's collaboration selling out "in seconds," from our experience it was very possible to order the watch if you were there at the start (at least at casio.com). It's not known what time the watch will be released, but you can sign up to be alerted early by Hodinkee. (Last year's release was at around 11 a.m. EST.) Like the previous releases, we expect the watch to be available at both Hodinkee and Casio. It's not yet known if Casio America will be implementing another lottery sale like it did for the first time with the Frogman GW-8230B-9A recently, but this would certainly be a good candidate for that, as it is expected to sell out like the first two.
Update: The DW6900JM22-2 watch, a.k.a. "G-SHOCK Ref. 6900-PT1 By John Mayer" is now available for pre-orders at Hodinkee (now sold out) and G-Shock U.S. for $180. Hodinkee states that the first half of orders are expected to ship by December 30, while the remaining orders will ship in January 2023. G-Shock U.S. states an estimated release date of December 16. According to Hodinkee and the case back, the watch is made in Japan.
In an interview with GQ about the watch, John Mayer confirms that it is his last G-Shock collaboration and that he plans to do a collaboration with a mechanical watch brand in 2024.
John Mayer x Hodinkee x G-Shock DW6900JM22-2 Collaboration at Hodinkee
DW6900JM22-2 at G-Shock U.S. Website
John Mayer x Hodinkee x G-Shock DW6900JM22-2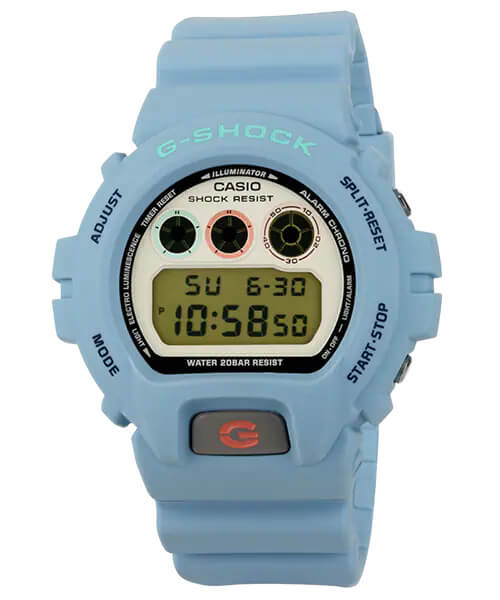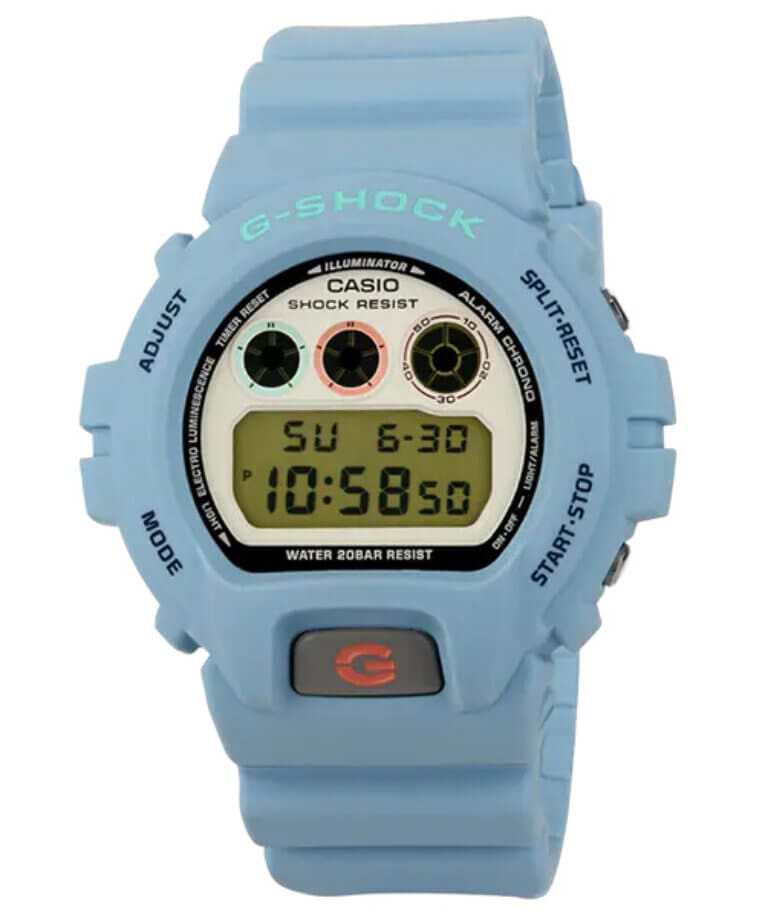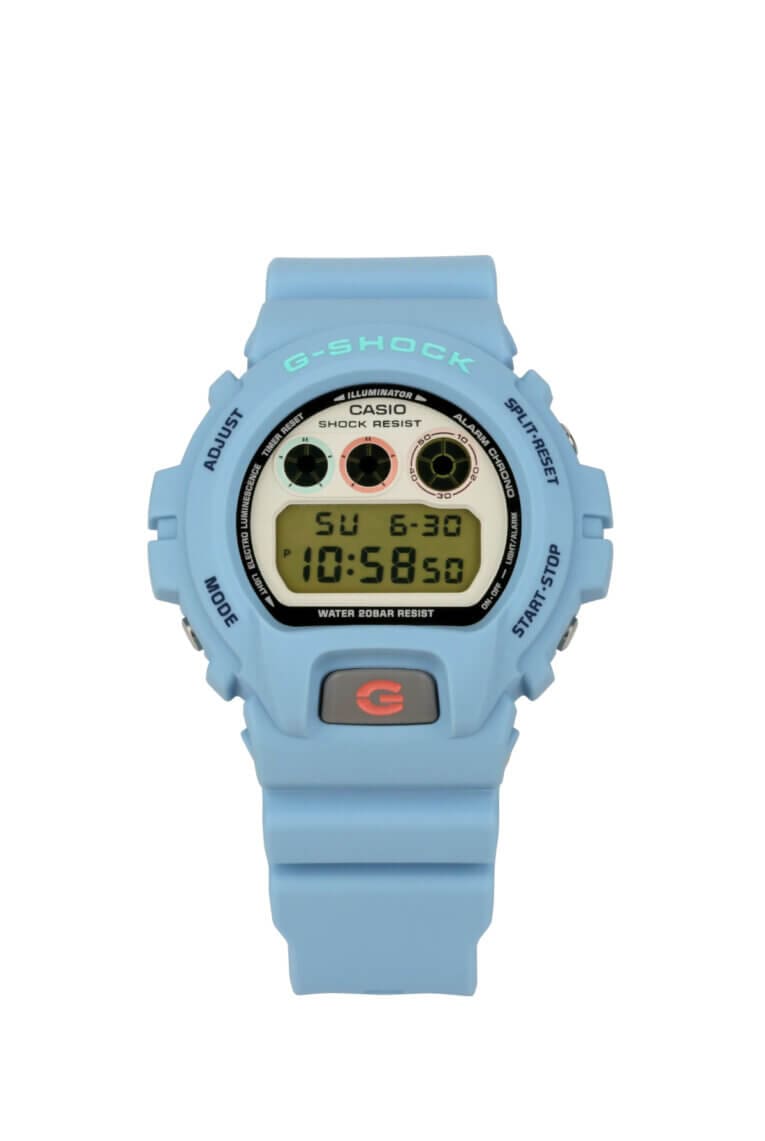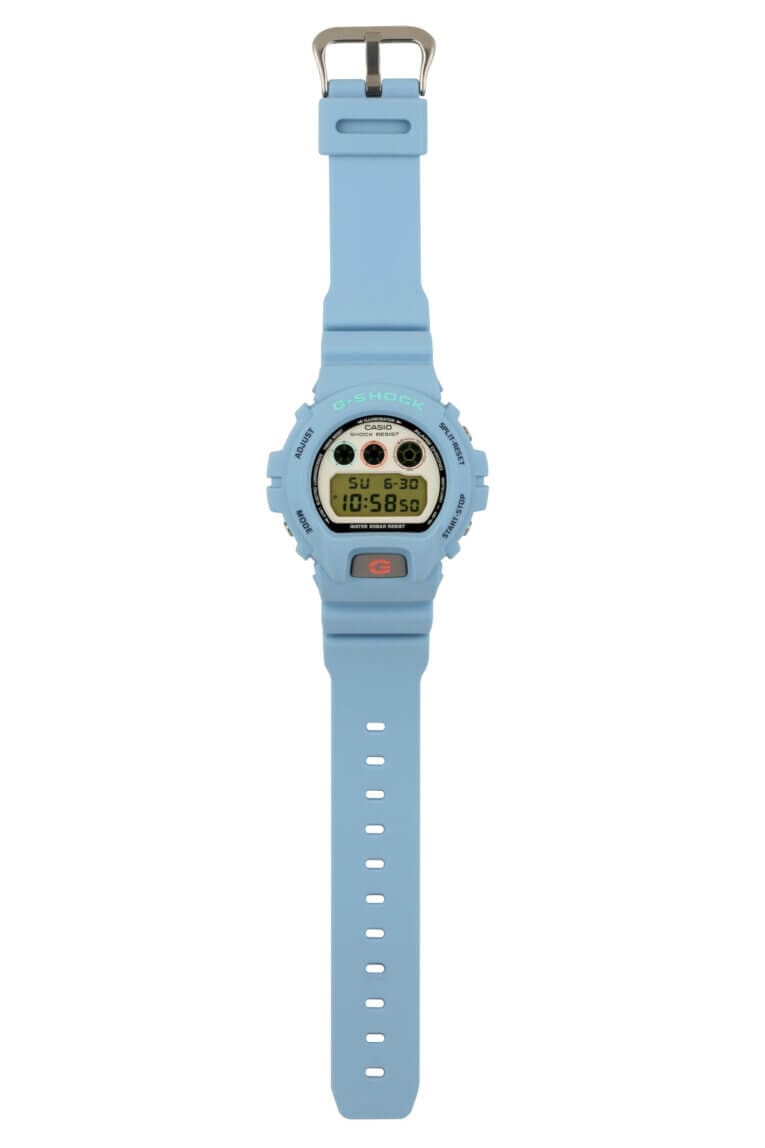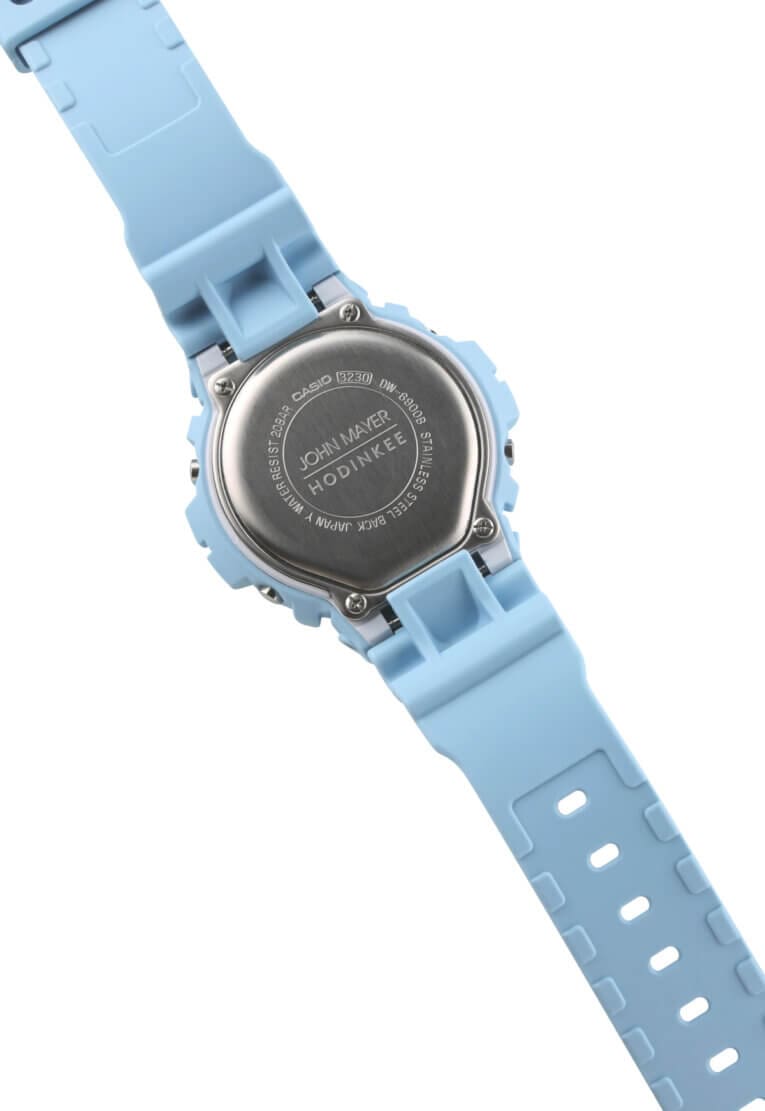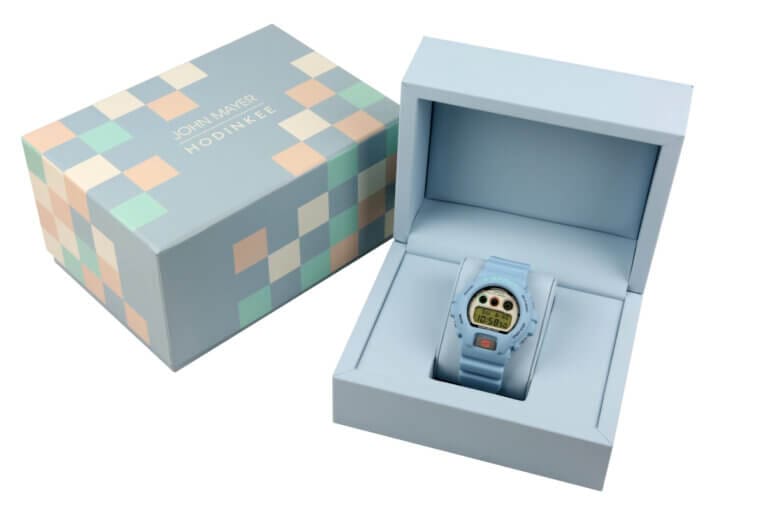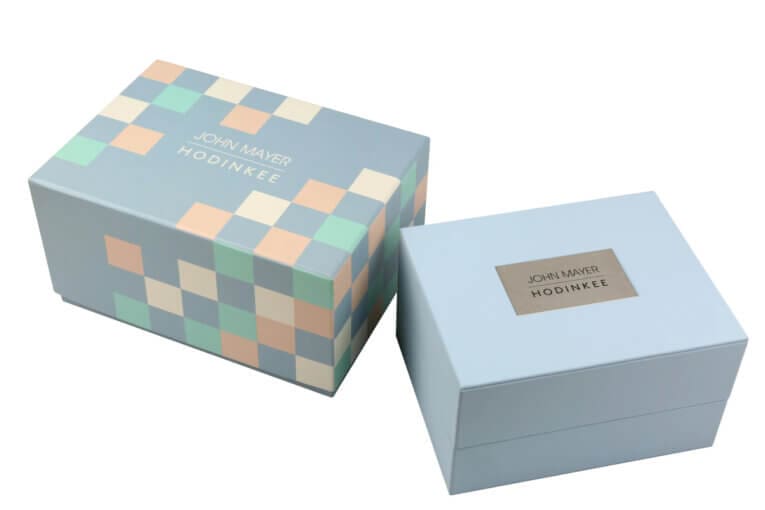 G-Shock DW6900JM22-2 Specs
Base Model: DW-6900
Dimensions: 53.2 × 50 × 18.7 mm Weight: 67 grams
Protection: Shock Resistant, 200-Meter Water Resistance
Structure: Resin case, resin bezel, resin band, mineral glass
Module: 3230 (manual at casio.com)
Battery Type (Lifespan): CR2016 (approx. 2 years)
Functions: 1/100-second stopwatch (1/100-second first hour, 1-second after first hour, 23:59'59 max), 24-hour countdown timer with auto-repeat (settable in seconds), multi-function alarm, hourly time signal, flash alert, full auto-calendar, EL backlight with afterglow, 12/24-hour format
"How To Play A CASIO PT-1 Keyboard With John Mayer Feat. A G-Shock" Video by Hodinkee