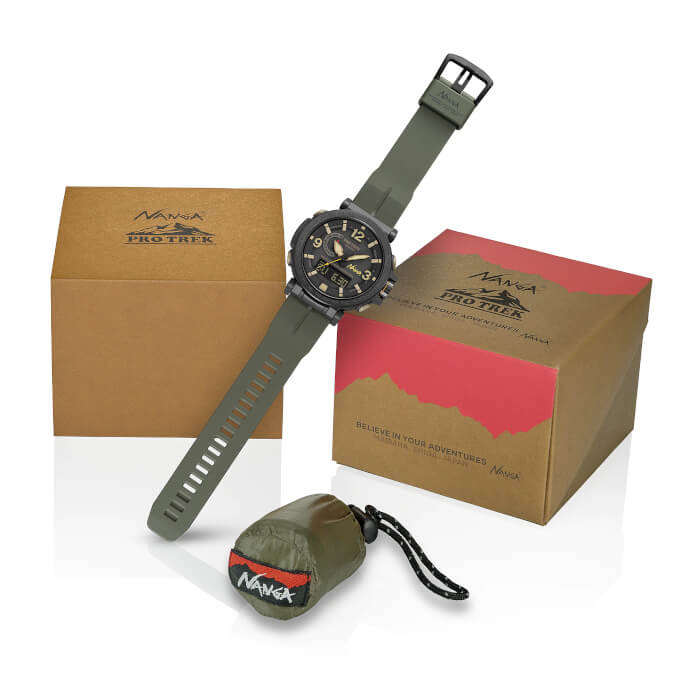 Coming in July to Japan is the Pro Trek PRW-6630NA-1A3JR collaboration with outdoor bedding and clothing company Nanga. This first-ever PRW-6630 model has a stainless steel bezel and a case, back cover, and band made of eco-friendly biomass plastic. Like the PRW-6620, this model has dual Super Illuminator LED lights (and not the Neon Illuminator of the PRW-6600). The PRW-6630 has a combination of numerical and non-numerical hour markers, similar to the PRW-6611, but with a different style of dial indicator that is more like the PRW-6600. Other major features include 100-meter water resistance, Tough Solar power, Multi-Band 6 auto time adjustment via radio reception, and the Triple Sensor with pressure sensor (altimeter and barometer), compass, and thermometer.
The limited edition watch has a Nanga logo on the dial and case back cover, along with an exclusive band keeper with the "Believe In Your Adventures" tagline. The watch comes in a co-branded box and includes a packable eco bag.
The PRW-6630NA-1A3JR has a tax-included price of 66,000 yen.
Update: Casio America released the PRW6630NA-1A3 in the U.S. for $490. The similar PRW6611Y-1 is also available in the U.S. for $420. Other than the dial indicator, some key differences are that the PRW6611Y-1 has a lighter gray bezel that is more reflective and a standard (non-inverted) LCD display.
PRW-6630NA-1A3JR at casio.com/jp