The Pro Trek PRW-6600Y-2 is the latest unexpected Casio addition by Amazon.com and is also a March 2019 release in Japan as the PRW-6600Y-2JF.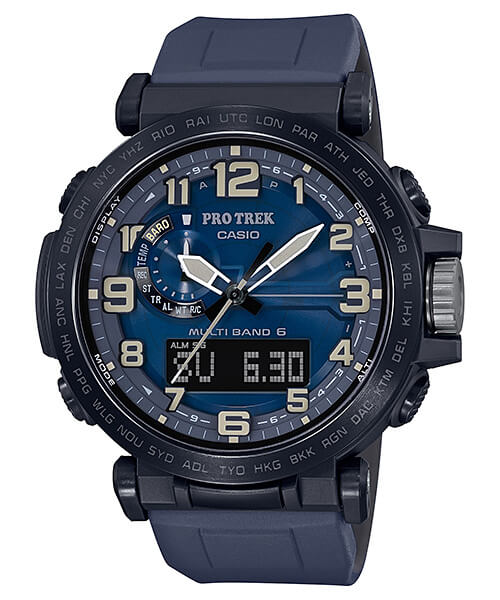 The analog-digital Pro Trek PRW-6600Y-2 has a navy blue face, Tough Solar power, Multi-Band 6 radio timekeeping, the Triple Sensor Version 3 (altimeter-barometer, compass, thermometer), 100-meter water resistance, and a blue Durosoft silicone band. Other notable features are the ion-plated stainless steel bezel, a full auto dual LED light with the Neon Illuminator black light, and low temperature resistance (to -10° C). The watch measures 51.6 x 51.5 x 13.6 millimeters and weighs 78 grams. View the full specs here (of the black PRW-6600Y-1 which has the same features) or view the Japanese PRW-6600Y-2JF page here.
The PRW-6600 series was released in Japan, China, and Europe. This is the first PRW-6600 model to be sold in the U.S. Casio watches sold directly by Amazon.com include a 1-year Casio warranty. (Please check to see that your selection is "sold by Amazon.com.")
For those who don't need Multi-Band 6, the similarly designed PRG-650 series also has the Neon Illuminator.
Update: Casio America announced the PRW-6600Y-2 (list price $350 USD) for an April 2019 release as part of the Pro Trek Midnight Navy Series. The series also includes the PRG600YB-2.