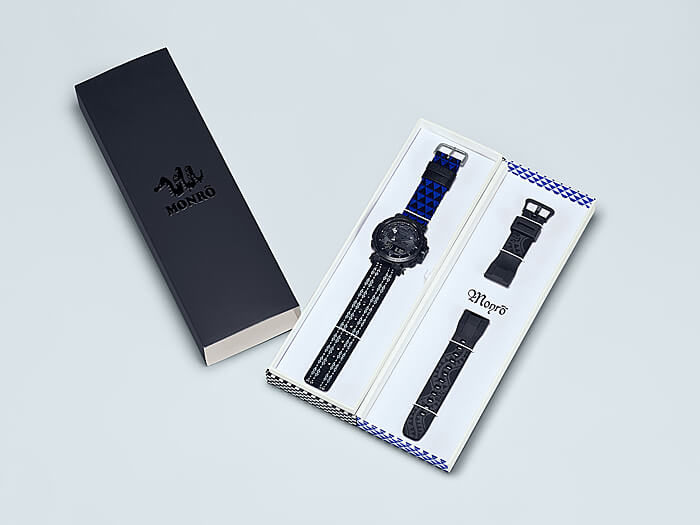 The limited edition Pro Trek PRW-6600MO-1JR has an unusual "black out dial" design with black hands on a black (or perhaps dark gray) dial, though the very tips of the hands are white with a Neo-Brite luminous coating. A collaboration with outdoor gear brand and retailer Monrõ, the PRW-6600MO-1JR also includes custom interchangeable cloth and silicone bands, with part of the cloth band made of a retroreflective material (presumably the white part of the lower band). The watch follows the brand's concept of "Urban Bohemian," and a Monrõ logo appears on the dial.
As a PRW-6600 model, the main features are Tough Solar power, Multi-Band 6 auto radio timekeeping, the Triple Sensor (altimeter-barometer with pressure trend alarm, compass, thermometer), and full auto dual LED lights with the Neon Illuminator blacklight.
The PRW-6600MO-1JR is a July 2019 release in Japan and has a list price of 59,000 JPY. The watch is listed at monromian.com for pre-order, but it appears to be sold out there.