Another new Pro Trek series revealed by Casio, the PRW-30 is expected to be launched this summer. This digital climbing model is notable for its smaller size (51.6 x 45.2 x 12.3 millimeters) and light weight (66 grams). (In comparison, the PRW-3000 measure 56 x 47 x 12.3 mm.)
The PRW-30 is equipped with an STN LCD display which provides better contrast and viewing angles compared to a standard LCD display. The display font has also been redesigned with a bold style to improve visibility. Large sensor measurement buttons for compass bearing, barometric pressure, altitude, and temperature are easily accessible on the right side of the watch. Features include 100-meter water resistance, Tough Solar power, Multi-Band 6 auto radio time adjustment, Triple Sensor (altimeter-barometer, compass, thermometer), sunrise/sunset time, world time, 1/10-second stopwatch (1,000 hours total, with split), countdown timer (24 hours), 5 alarms with 1 snooze alarm, low temperature operation (-10C/14F), power saving function, and full auto Super Illuminator LED backlight with afterglow (1.5 or 3 seconds).
The PRW-30 comes with a 23-mm-wide Durosoft silicone band with quick-release slide levers. Other bands, including a carabiner attachment, a field loop band for wearing over gloves, and a cloth band, are in the planning stages and may later be available separately. (A carabiner attachment is included with the PRW-30AE-2JR.)
Update: The PRW-30 series is being released in August 2020 in Japan. The PRW-30-1A, PRW-30-5, PRW-30AE-2, PRW-30Y-1B, and PRW-30Y-3 are also being released in other Asian countries in September 2020.
Pro Trek PRW-30-1AJF (List price 40,000 JPY): With black Durosoft silicone band.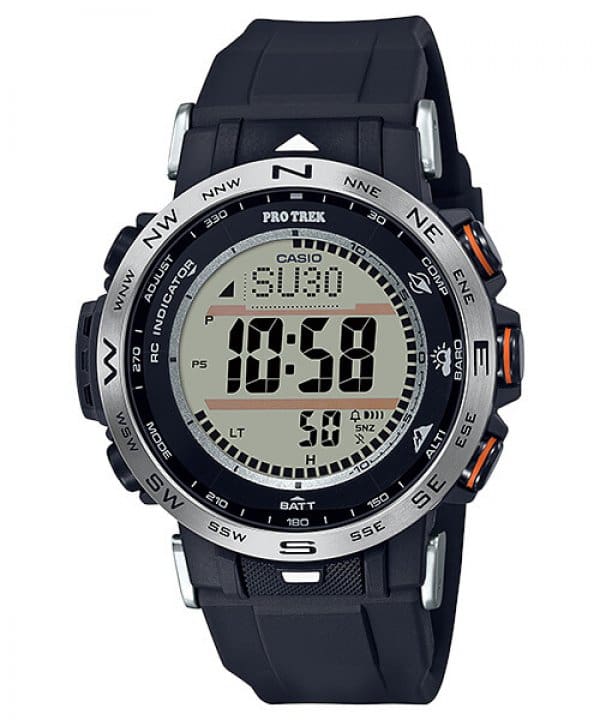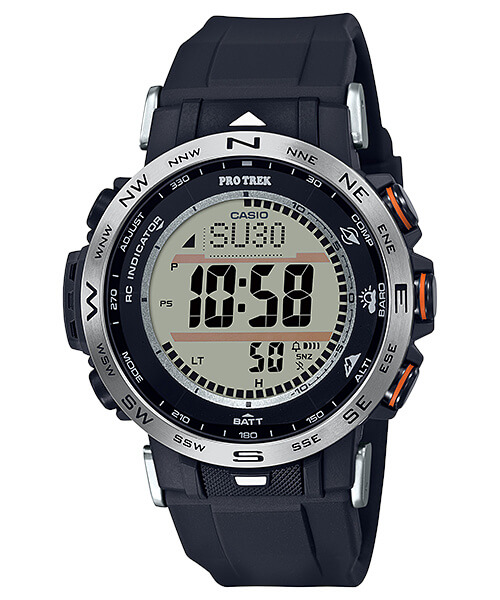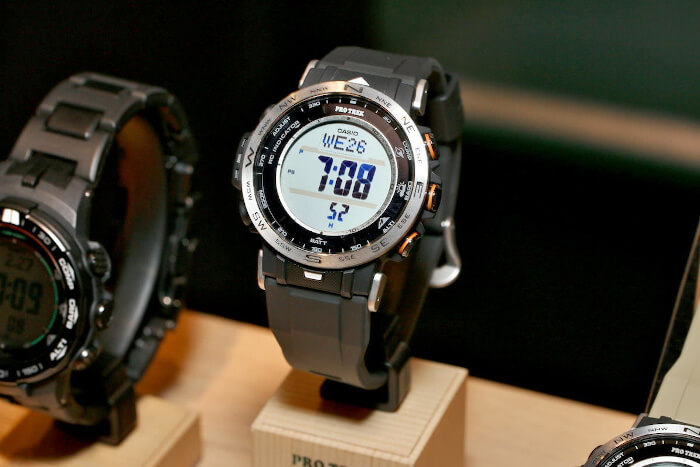 Pro Trek PRW-30-5JF (40,000 JPY): With brown Durosoft silicone band.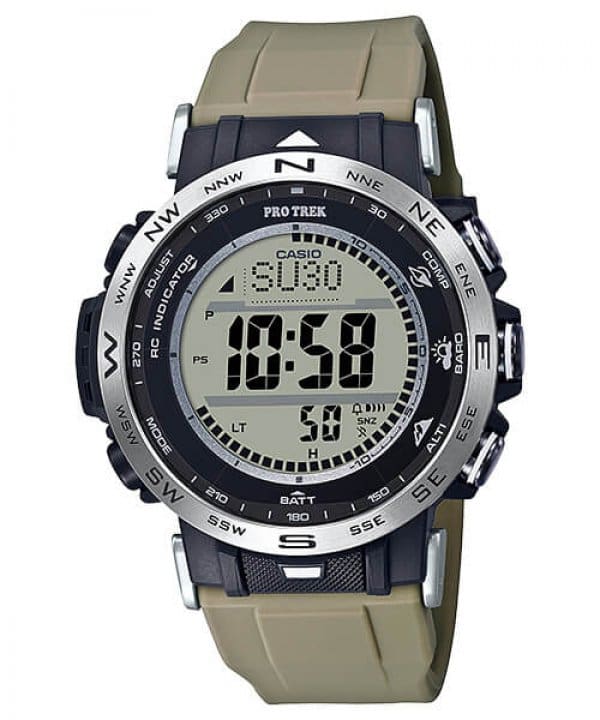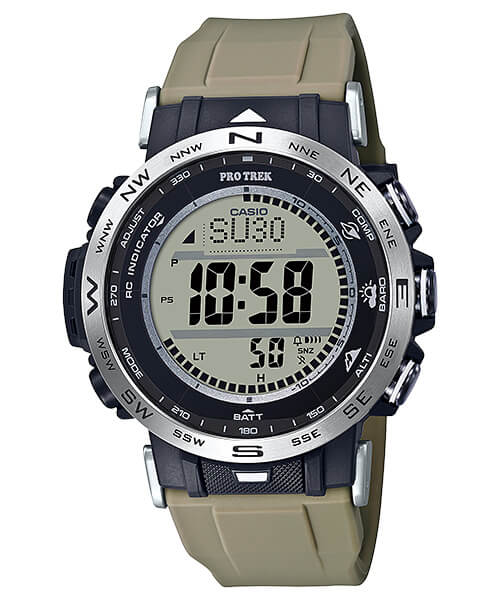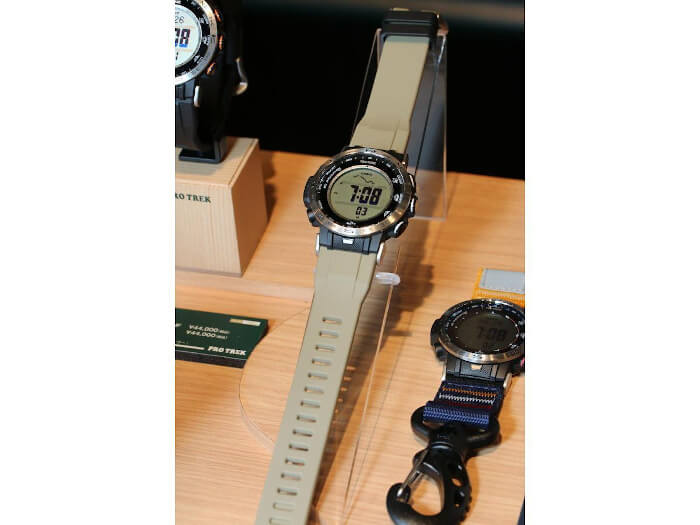 Pro Trek PRW-30AE-2JR (45,000 JPY): Includes interchangeable caribiner attachment and navy blue Durosoft silicone band.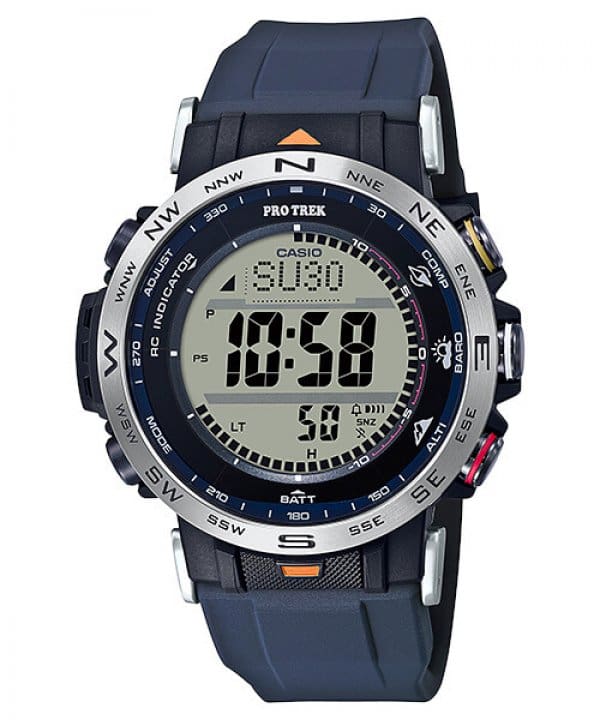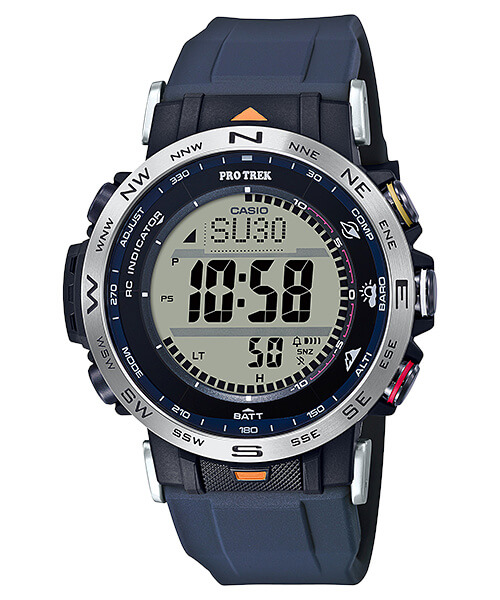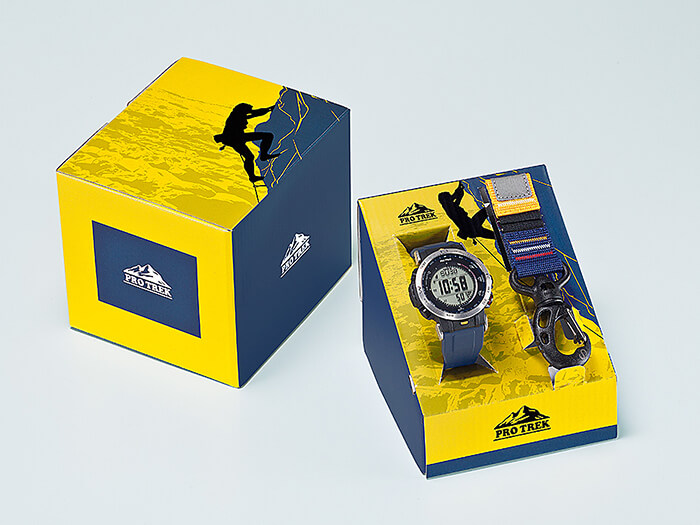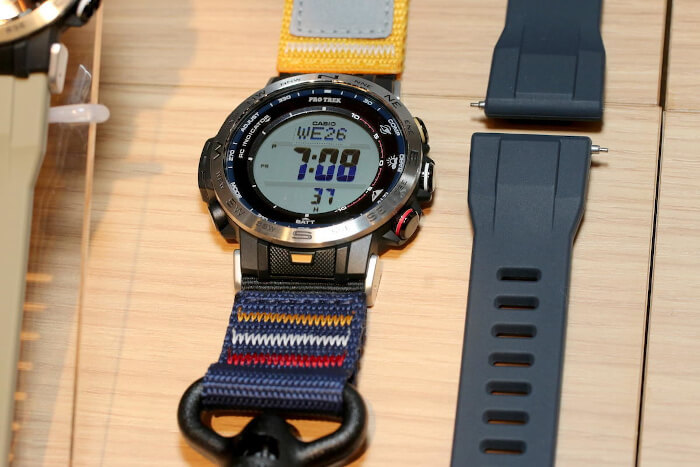 Pro Trek PRW-30Y-1BJF (42,000 JPY): The only PRW-30 model with an inverted LCD display, so far.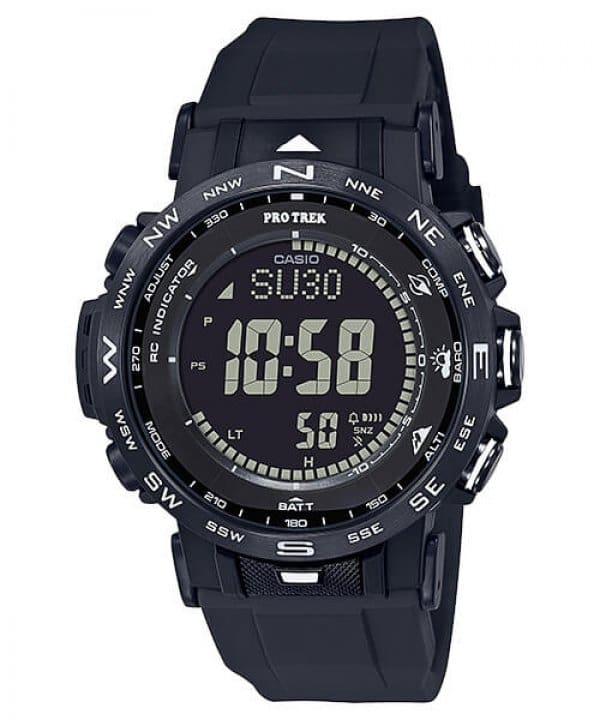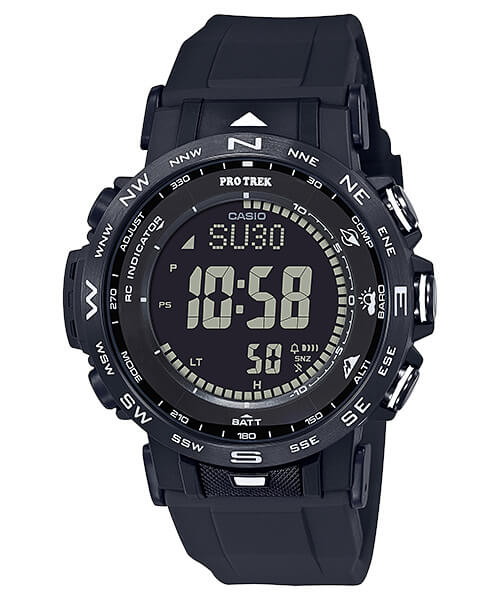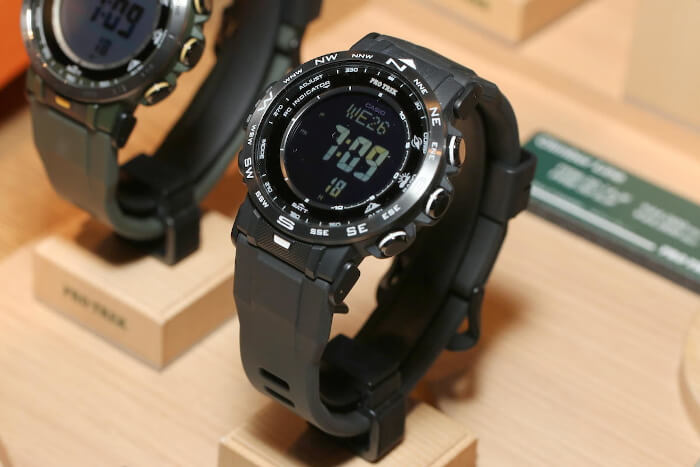 Pro Trek PRW-30Y-3JF (42,000 JPY): With green Durosoft silicone band.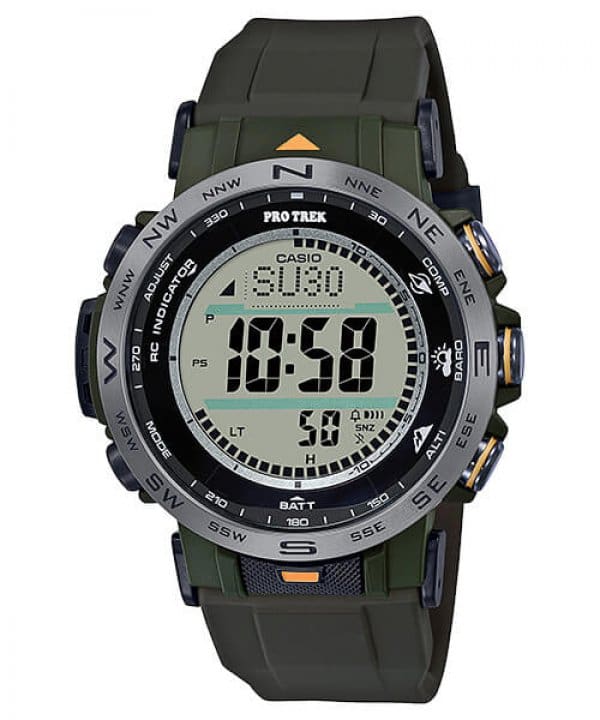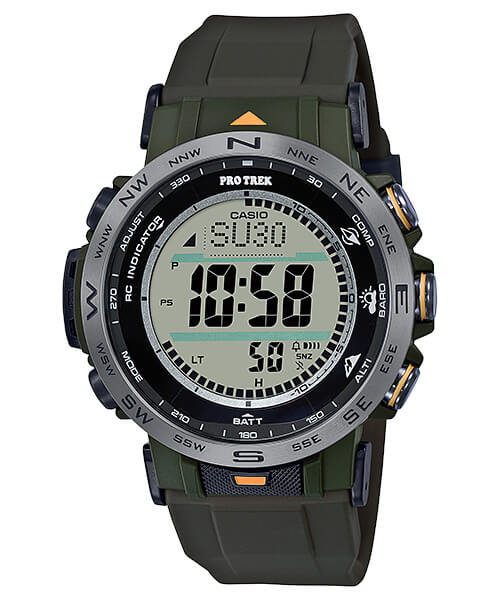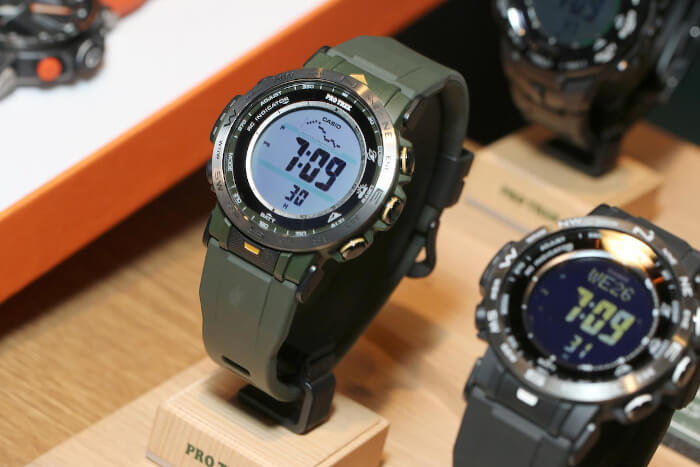 Photos via news.mynavi.jp