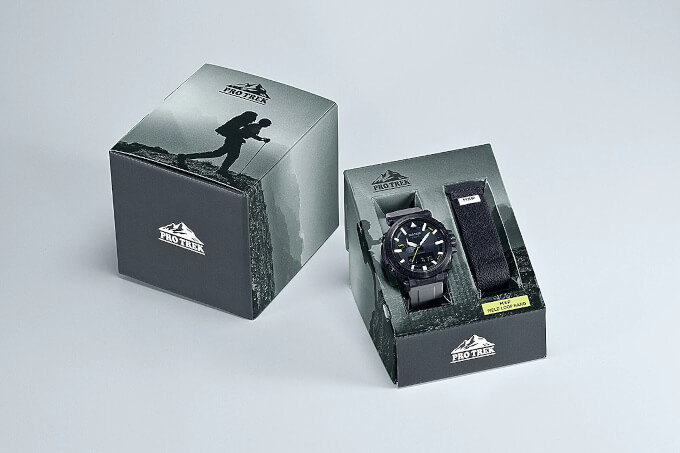 The limited edition Pro Trek PRW-6620YFM-1JR offers a new dial design and a unique colorway with a black IP stainless steel bezel, a gray Durasoft silicone band, and white markers for high visibility. The lime yellow second hand and dial labels are a nod to the yellow labels from the packaging of Japanese clothing company MXP. The watch also includes an interchangeable field loop band made by MXP. This band uses the "Maxi Fresh Plus" deodorizing technology developed jointly with the Japan Aerospace Exploration Agency, which allows the band to deodorize itself when washed with water. The MXP band is elastic and can be worn over clothing and outerwear, and the bands have slide levers for easy swapping.
Major features of this advanced outdoor watch include 100-meter water resistance, Tough Solar power, Multi-Band 6 auto radio time adjustment, and the Triple Sensor with pressure sensor (altimeter and barometer), compass, and thermometer.
Due to a slightly different subdial indicator, this all-new PRW-6620 model has a different module (5660) than the PRW-6600 (5571), but the functions are the same. The PRW-6620 also has an updated style of dial without Arabic numerals. The PRW-6620 does not have the Neon Illuminator black light, but it does have full auto dual LED lights with a backlit LCD and adjustable afterglow. The PRW-6620 has the same dimensions of 51.6 x 51.5 x 13.6 millimeters and weighs the same as the PRW-6600 at 78 grams.
The Pro Trek PRW-6620YFM-1JR is a July 2021 release in Japan with a tax-included retail price of 66,000 yen.