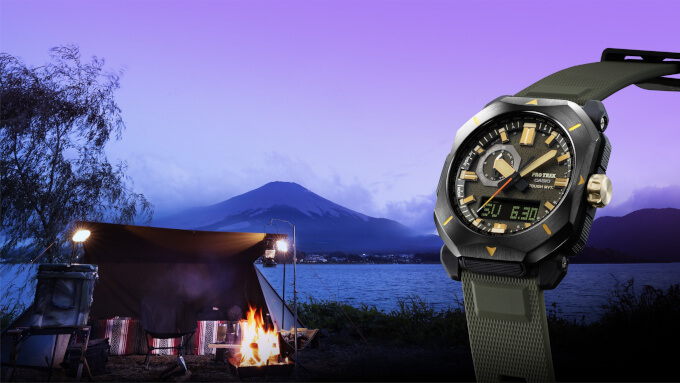 Casio is releasing the Pro Trek PRW-6900 featuring an octagonal stainless steel bezel with tapered edges, starting in October. The PRW-6900 evolves from the recent PRW-6800 climbing line and has some notable differences. While other Pro Trek watches have a round shape, the octagonal bezel of the PRW-6900 has more of a squarish shape and does not rotate. The buttons are flat and less pronounced than other models, and the prominent electronic crown gives the watch a more traditional look. Like the PRW-6800, there is also a front light button that is not immediately apparent at first glance. The case, case back, and soft urethane band are made of eco-friendly biomass plastics (except for the PRW-6900Y-3 which has a flame-retardant synthetic leather band).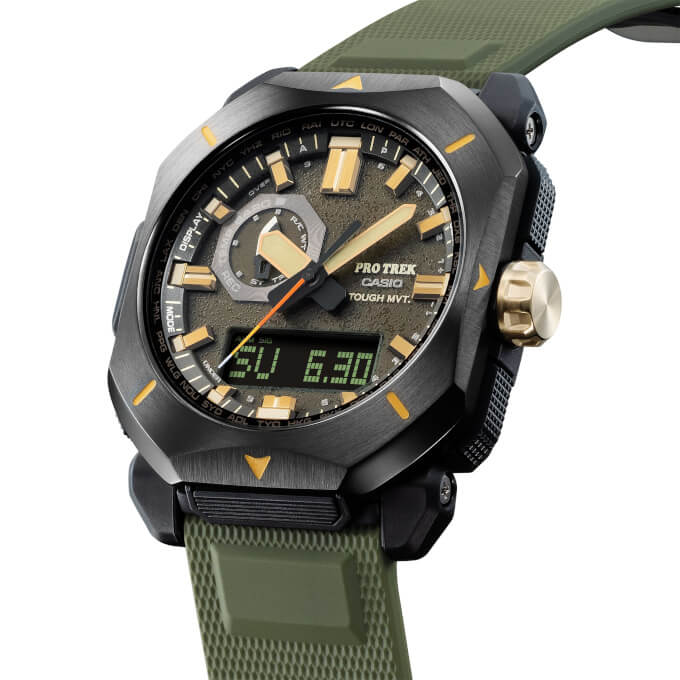 According to Casio, the minimalist design takes its inspiration from bushcraft, in which campers survive in the wilderness using their knowledge and a minimal amount of tools. The textured dial surface is inspired by cast iron cookware that is often used with campfires. The bushcraft theme is also apparent with the subdial indicator which resembles a survival knife, and the multi-colored second hand resembles the flames of a campfire. The PRW-6900 has useful outdoor sensors with the Triple Sensor (altimeter-barometer, compass, thermometer). The watch also has Tough Solar power and Multi-Band 6 automatic radio time syncing.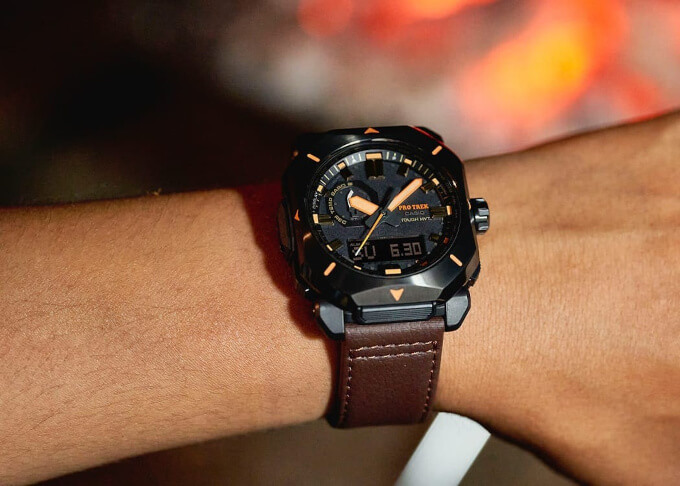 In Japan, the PRW-6900Y-1JF, PRW-6900Y-3JF, and PRW-6900YL-5JF have a tax-included price of ¥68,200 each and will be released in October. The PRW-6900Y-1, PRW-6900Y-3, and PRW-6900YL-5 were also announced for an international release, and more information for specific countries is forthcoming.
Update: As of October 14, Amazon.com has the PRW-6900YL-5 listed for $266.90, but it is showing as "Temporarily out of stock." This is a U.S. release sold directly by Amazon.com, but it's uncertain when the watch will be available. (See product link below.)
Update 2: Casio U.S. released the PRW6900YL-5 for $500, and it is also now available at Amazon.com.
PRW-6900 Specifications
Module: 5673 (instruction manual at casio.com)
List Price: ¥68,200 (Japan) Size: 49.6 × 44.8 × 14.7 mm Weight: 65 grams (with resin band), 63 grams (with synthetic leather band) Structure: resin case, stainless steel bezel, soft urethane (biomass resin) band or synthetic leather band, screw lock crown, Neobrite Protection: 100-meter water resistance, low temperature resistance (–10°C/14°F) Power: Tough Solar
Features: Multi-Band 6 auto time adjustment, Triple Sensor (altimeter-barometer, compass, thermometer), world time (29 time zones, 29 cities + UTC, DST, city swapping, one-touch UTC display), 1/100-second stopwatch (23:59'59.99′ max, elapsed time, cumulative time, split time, 1st-2nd place times), countdown timer (60 minutes, settable in minutes), 5 time alarms, hourly time signal, full auto dual LED light with 1.5 or 3-second afterglow, full auto-calendar, button tone on/off, 12/24-hour format, hand shift
Our Take: The PRW-6900 is an advanced Pro Trek model offering practical features and a bold new style in a lightweight package that is suitable for smaller and average-size wrists.
PRW-6900 Launch Models
From left to right: PRW-6900Y-1 (black with soft urethane band), PRW-6900Y-3 (black and green with soft urethane band), PRW-6900YL-5 (black and brown with synthetic leather band)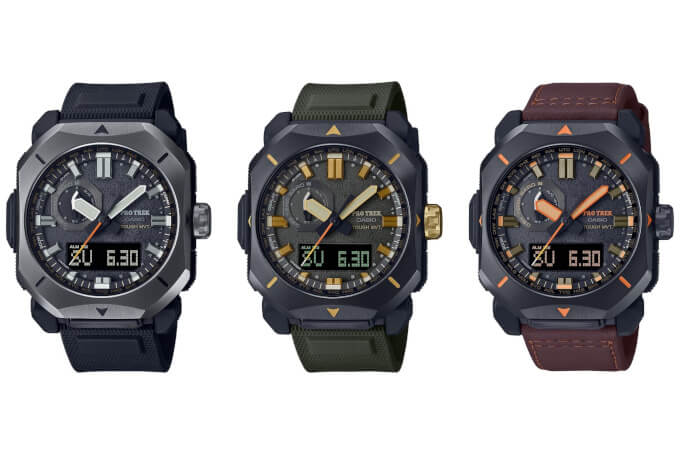 Pro Trek PRW-6900 Watches on eBay
Pro Trek PRW-6900 Promo Video:
Pro Trek PRW-6900 Developer Interview: