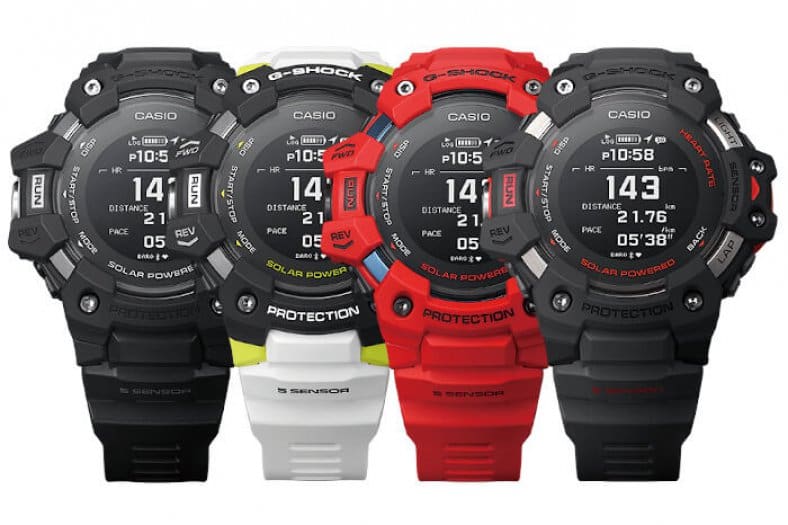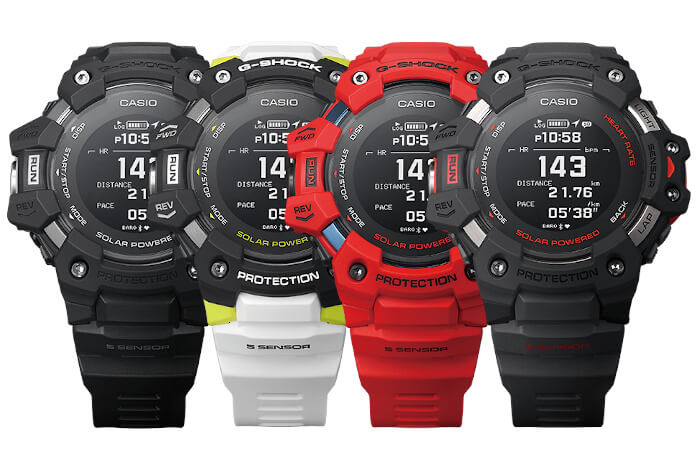 Casio announced the highly anticipated G-Shock GBD-H1000 for an April 2020 release (but now delayed until late May). This new G-SQUAD fitness series features built-in GPS and five sensors: an optical heart rate monitor, pressure sensor (altimeter and barometer), compass (with auto horizontal compensation), thermometer, and accelerometer for step counting. The high-contrast memory-in-pixel (MIP) LCD display is reminiscent of the G-Shock GPR-B1000 Rangeman, as its pixels fill the whole display to display a large amount of data. Other notable features include automatic GPS time syncing, Bluetooth mobile link, vibration alerts, solar power, and USB charging. As a G-Shock, the GBD-H1000 is fully shock-resistant and water-resistant to 200 meters.
G-SHOCK G-SQUAD GBD-H1000-1: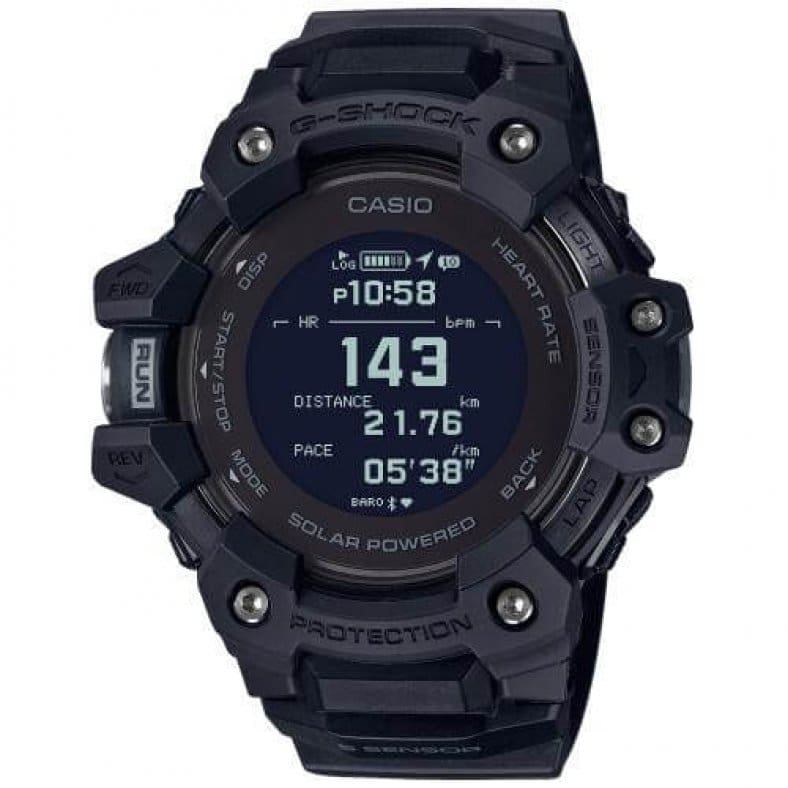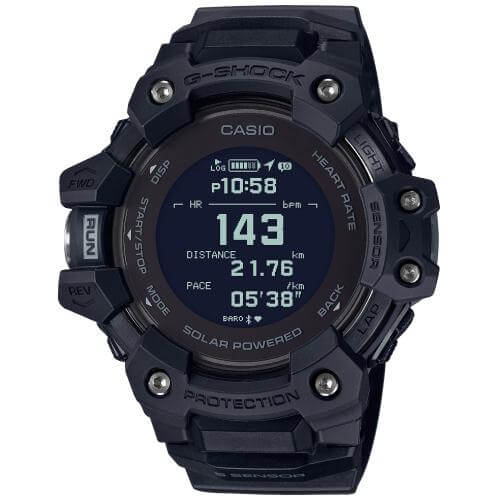 G-SHOCK G-SQUAD GBD-H1000-1A7: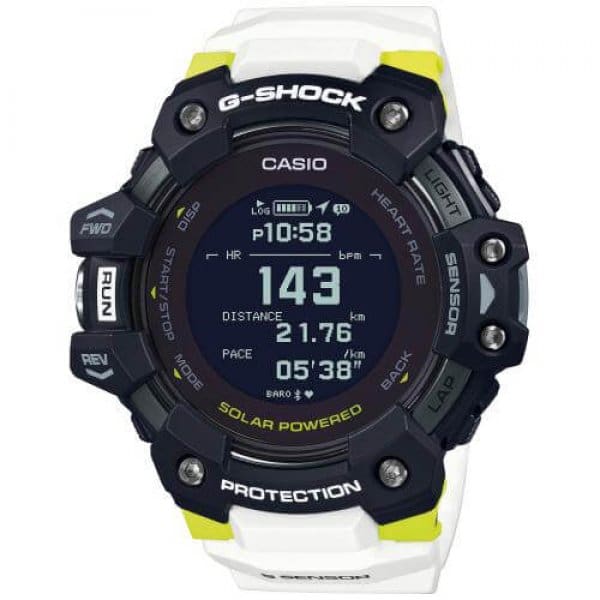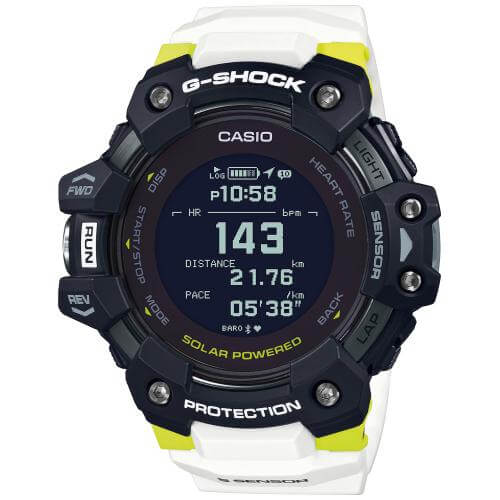 G-SHOCK G-SQUAD GBD-H1000-4: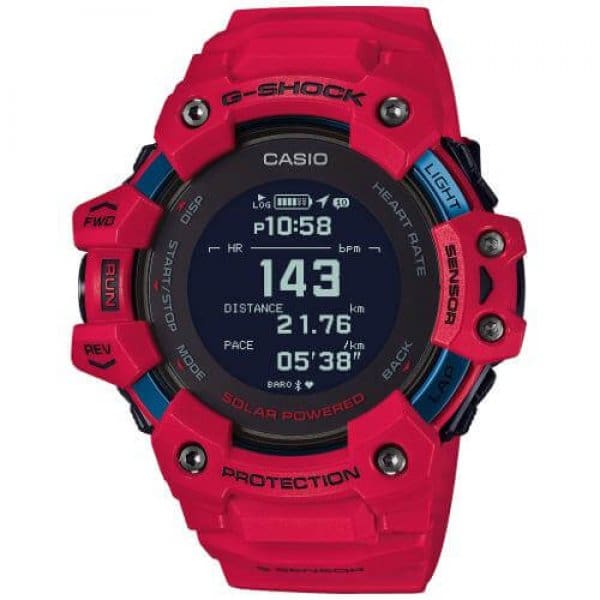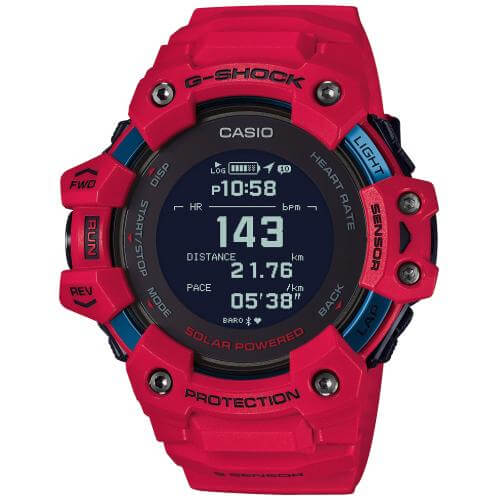 G-SHOCK G-SQUAD GBD-H1000-8: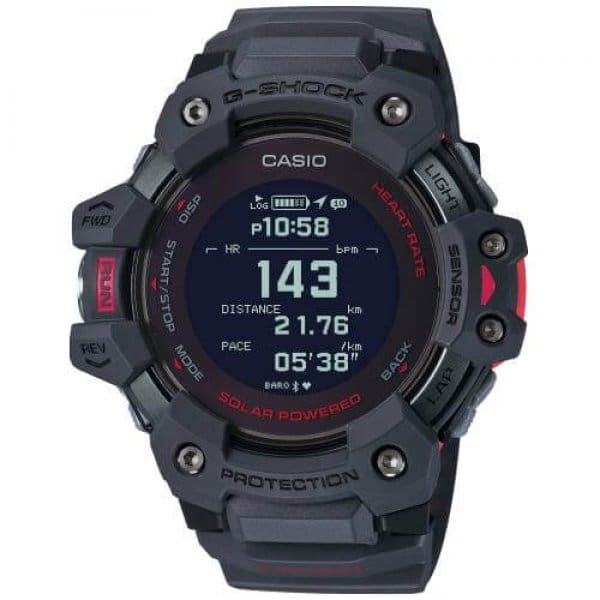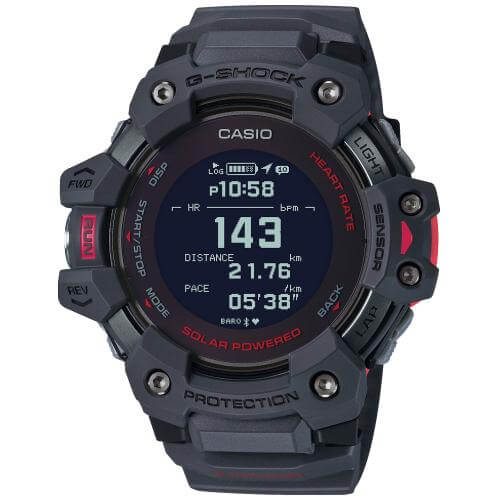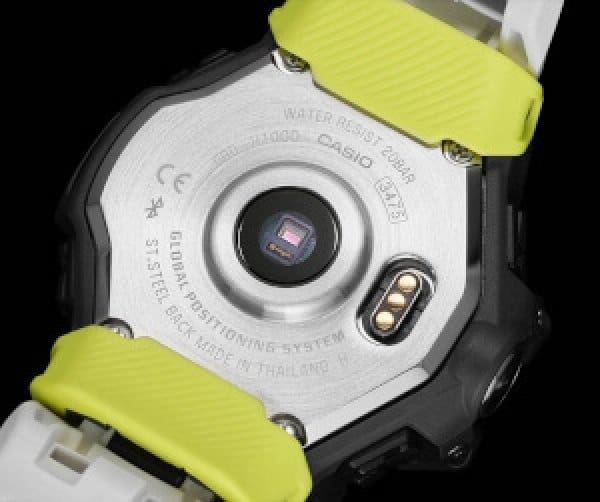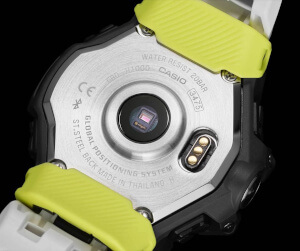 Some of the training functions include displaying the distance, speed, and pace measured by GPS or accelerometer, automatic run timing start, and target alarm setting (time, altitude, calories burned). The training display on the watch is customizable. In addition to GPS, the watch can also receive data from GLONASS and Michibiki (QZSS) satellite systems.
By analyzing measured data, the watch can display an indicator of cardiorespiratory capacity (VO2max). With the Bluetooth functionality and smartphone app, the user can manage recorded data such as calories burned and and logged travel. Training analysis functions include fitness level trend, training load trend, VO2max, and recovery time. The training log data measures up to 100 runs (and up to 140 laps per run) with elapsed time, distance, pace, calories burned, heart rate, maximum heart rate, aerobic training effect, and anaerobic training effect. A map display of the route traveled (recorded with GPS) is available on the smartphone app. The smartphone app can also automatically create training plans that are tailored to set targets.
The training measurements and analysis use an algorithm by Firstbeat Technologies (which is also used by many other manufacturers including Garmin).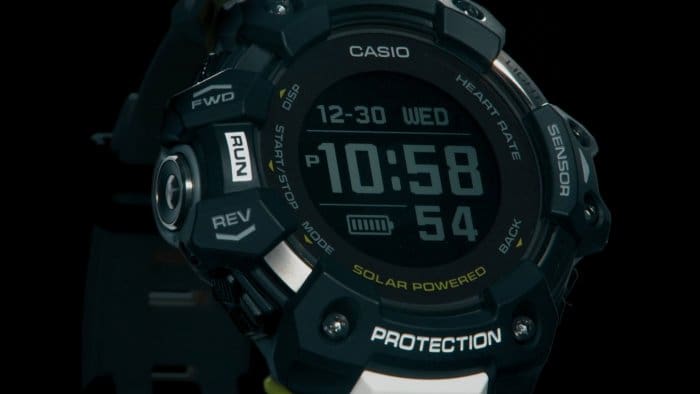 Other features include world time (38 cities), stopwatch (1-second units, 99:59'59 total with elapsed and split times), countdown timer (60 minutes, with up to 5 repeatable interval timers), 4 daily alarms with snooze alarms, power save function, and full auto Super Illuminator LED backlight. The watch has a curved back cover and a soft urethane band.
The battery life in training mode (with continuous GPS and heart rate monitor use) is about 14 hours. In time mode (including step counting and notifications), it is about 12 months. These estimates are without additional solar power considered. Using GPS and the heart rate monitor will require the watch to be recharged with the USB cable, but in time mode only, it seems likely that the watch will be rechargeable and operational from only solar power. Update: The GBD-H1000 page at world.g-shock.com confirms that the watch can be charged with solar charging alone for time mode (including step counting and notification functions), provided the watch is charged about eight hours daily under indoor fluorescent lighting (500 lux) and at a sunny window side for two hours per week (10,000 lux).
The GBD-H1000 is a significant advancement for the G-SQUAD line and is a useful tool for serious runners and athletes, as well as for those who just want to monitor their everyday health. With its environmental sensors, the watch also has a lot to offer outdoor enthusiasts. The GPS time-syncing feature is also a major selling point for those who want automatic time adjustment, as the watch is able to sync anywhere in the world without a smartphone connection (unlike Multi-Band 6 watches that are limited to the range of the radio transmitters).
Another feature that deserves attention is the notifications function. The promotional video (below) shows a menu of smartphone notifications on the watch, including phone calls, email, SNS (social networking services) messages, and reminders. This smartphone notification function has been absent on other (recent) Bluetooth-equipped G-Shock watches, and will be a very welcome and useful feature. There is more information for the notification function at world.g-shock.com. It also includes calendar and reminder notifications. Vibration alerts can be used, but notifications are not displayed in training mode.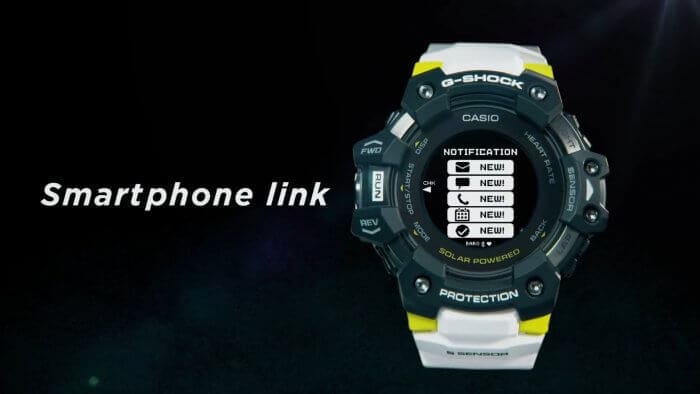 The four debut models are the black GBD-H1000-1, black and white GBD-H1000-1A7, red GBD-H1000-4, and black and red GBD-H1000-8. The GBD-H1000 measures 63.0 x 55.0 x 20.4 millimeters and weighs about 101 grams. In Japan, each model will have a list price of 50,000 JPY each (plus tax) and will be released on April 24, 2020. (Update: The release in Japan has been delayed until late May 2020.)
Update: Casio America announced the all-black GBDH1000-1 and black and white GBDH1000-1A7 as part of the G-Shock Move line, with a list price of US$399 each. In the UK and Europe, all four colorways will be released. In the U.S. and Europe, the launch has been delayed until late May 2020.
G-Shock U.S. also released the red GBDH1000-4 for $399 in August 2021.
Update 2: Amazon.com is selling the GBD-H1000-8 in the U.S.
GBD-H1000 Instruction Manual (HTML/PDF)
For more information, visit world.g-shock.com.
Firstbeat Technologies added a GBD-H1000 page with more information about its training features at firstbeat.com.
Casio G-Shock GBD-H1000 Promo Video:
G-Shock G-SQUAD GBD-H1000 Wrist Shot: