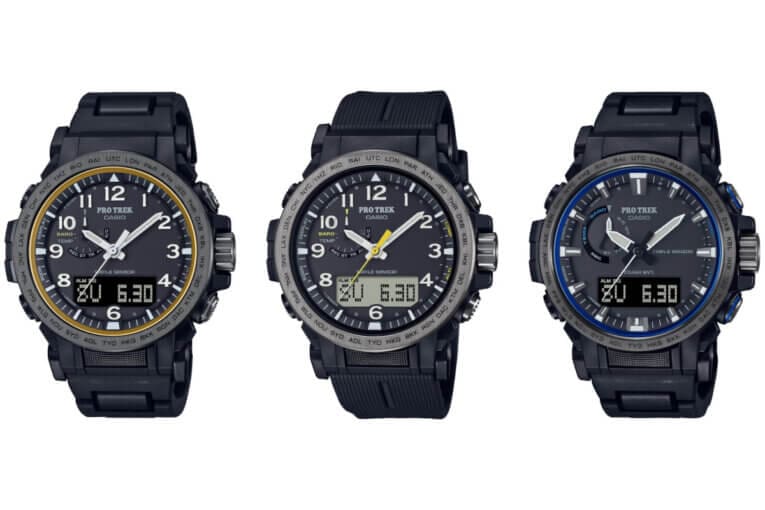 Casio is launching three new Pro Trek models in January 2023: two deluxe models with a sapphire crystal and a field composite band made of biomass plastics and a metal frame, PRW-51FC-1 and PRW-61FC-1, and the standard PRW-51Y-1 with a resin band.
The PRW-51 and PRW-61 are moderately-sized Pro Trek watches with a case and back cover made of biomass plastics. They are equipped with Tough Solar power, Multi-Band 6 auto radio time correction, and the Triple Sensor (altimeter-barometer, compass, thermometer). Both series are water-resistant to 100 meters. Other features include 1/100 stopwatch (24 hours), 60-minute countdown timer, 5 daily alarms, full auto-calendar, full auto double LED light, 12/24-hour format, and hand shift. The altimeter has a 30-record manual memory (with date, time, and altitude) and auto-log data (with high/low altitudes, cumulative ascent and descent).
Standard (non-"FC") models are equipped with mineral glass instead of sapphire. The PRW-51 and PRW-61 have the same functions, with the main differences being the style of the dial (numerical versus non-numerical) and slightly different dimensions and weights. Also, the PRW-51 has the Neon Illuminator blacklight LED, while the PRW-61 series has the Super Illuminator high-brightness LED.
The PRW-51Y-1, with a yellow second hand and non-inverted LCD display, appears to be positioned as a standard model, as the first and only PRW-51 release until now was the limited edition PRW-51NJ-1 collaboration.
These three models were announced for Japan, but it's possible that some or all will get a wider release. The PRW61-1A has been a popular model in the U.S., thanks to its discounted availability on Amazon. The first PRW-51 model (PRW-51NJ-1) was not released in the U.S. or Europe.
Please note: Pro Trek watches are not G-Shock, but are made by the same company (Casio).
Pro Trek PRW-51FC-1: With sapphire crystal and composite band. Gold dial ring.
Dimensions: 51 x 47.4 x 14.5 Weight: 89 grams
Japan: PRW-51FC-1JF, 81,400 yen, all Japan prices include tax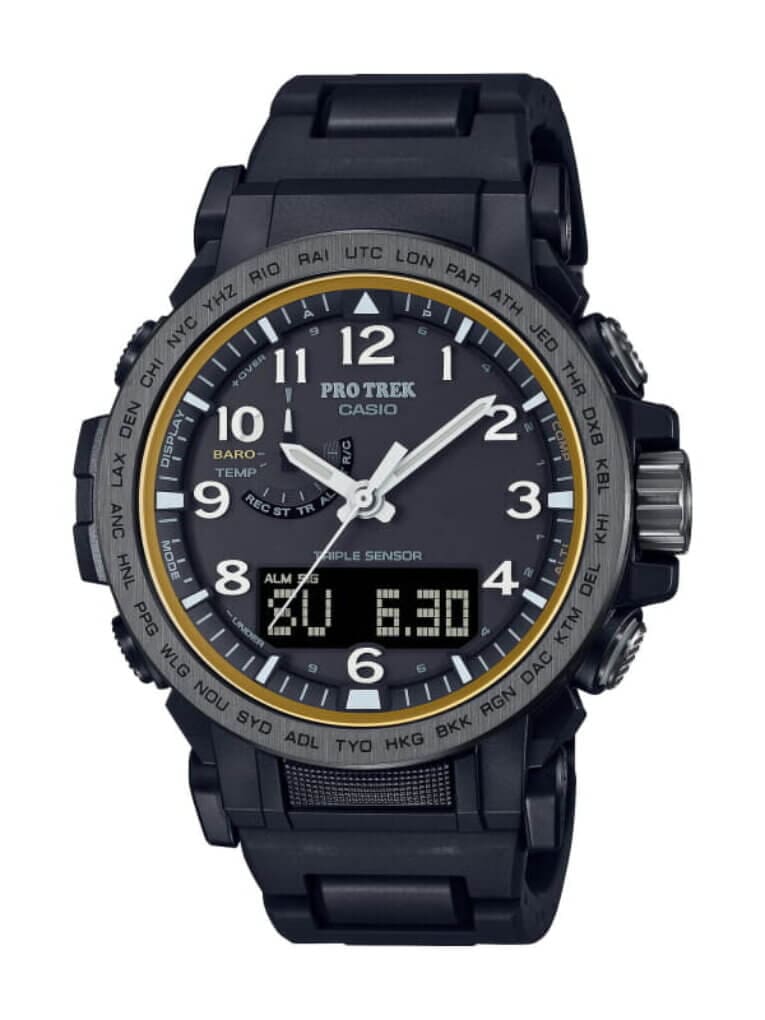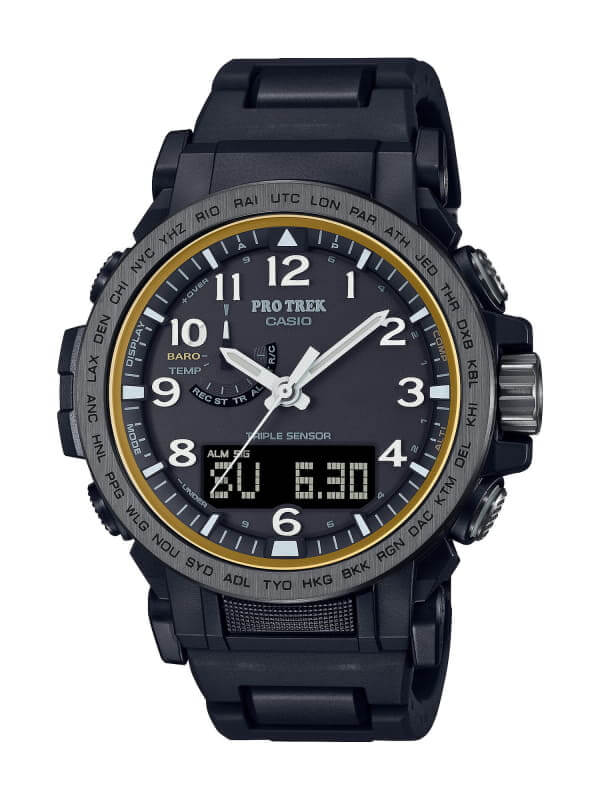 Pro Trek PRW-51Y-1: With resin band.
Dimensions: 51 x 47.4 x 14.5 Weight: 55 grams
Japan: PRW-51Y-1JF, 59,400 yen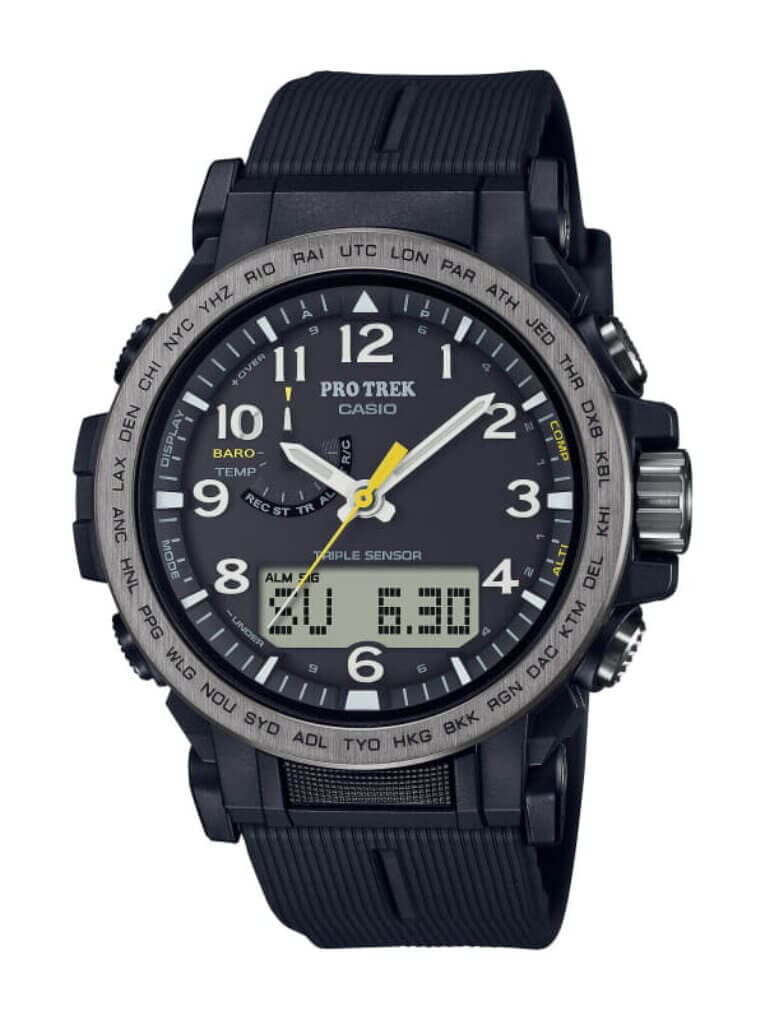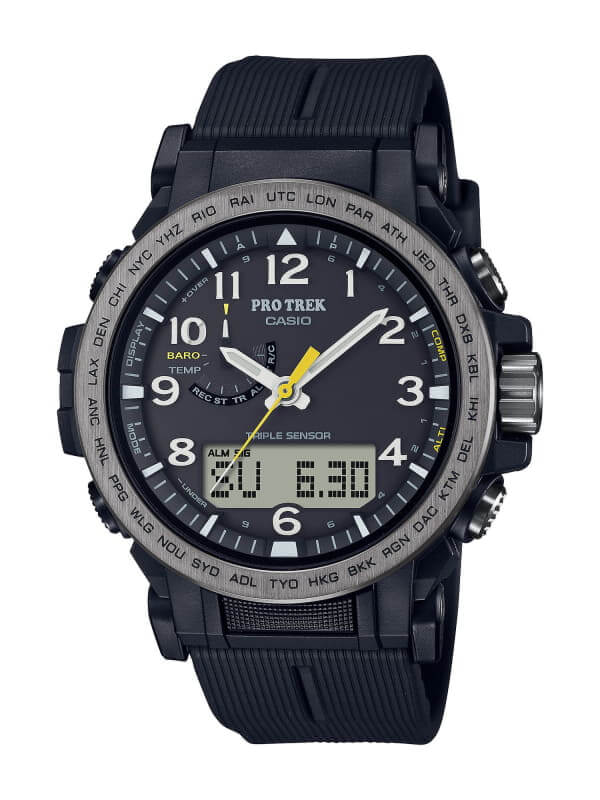 Pro Trek PRW-61FC-1: With sapphire crystal and composite band. Blue dial ring.
Dimensions: 51 x 47.4 x 14.7 Weight: 86 grams
Japan: PRW-61FC-1JF, 81,400 yen