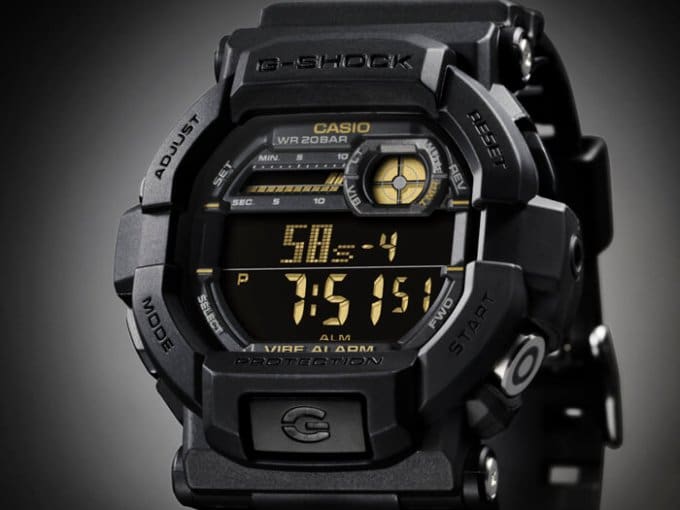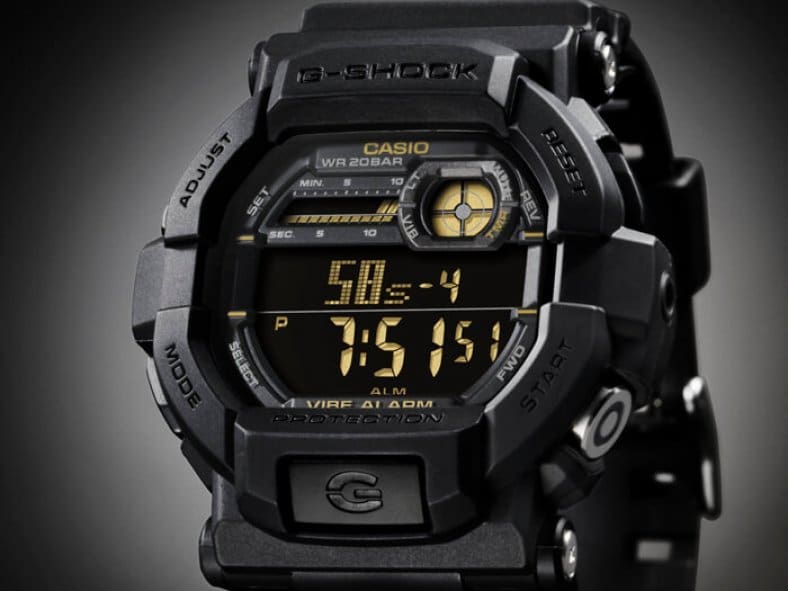 The G-Shock GD350 is a unique model known for its vibration alerts, direct timer start and display in timekeeping mode, low battery indicator, and approximate 5-year CR2023 battery. One feature that isn't mentioned as much is its world time function, which has 35 time zones and 100 cities. This is a few more time zones and a lot more cities than most (non-Bluetooth) G-Shock watches. (Recent G-Shock watches equipped with Bluetooth have around 38 time zones and 38 onboard cities, plus more than 300 cities by using the smartphone app.) In comparison, the recent GW-M5610U has 31 time zones and 48 cities. The extra cities on the GD350 are arguably not a necessity, as one can just use the cities that share the same time zone, but it is nice to see the actual name of the city for those who want to keep track of any of the additional cities. In the world time mode, the city name scrolls horizontally to show the complete name. (The city names on the GW-M5610U also scroll, but not on the older GW-M5610 which uses abbreviations.) The only other models that we know of that had onboard 100-city world time were the early (and discontinued) Bluetooth models like the GB-5600, GB-6900, GB-X6900, and GBA-400.
The GD-350 is no longer available in all countries, but the GD350 is still available in the U.S at gshock.com, Amazon, and military exchanges. In the U.K., one model is available at g-shock.co.uk in limited quantities. Although all the GD-350 models are listed as discontinued by G-Shock Japan, that does not necessarily apply to all overseas markets, and it's possible that they are still being produced for the U.S. (We've seen how all G-9000 Mudmaster models were listed as discontinued by G-Shock Japan in 2018, but the G9000-1 is still readily available in the U.S.)
Compared to the GW-M5610U, these are the four additional time zones on the GD350: +12.75 (Chatham Islands), +13 (Nukualofa), +14 (Kiritimati), -4.5 (Caracas).
Here is a list of all the time zones and cities. The "Plus" cities in italics are the cities on the GD350 that the GW-M5610U lacks.
O: Same: UTC, Lisbon, London. Plus: Reykjavic, Casablanca
+1: Same: Madrid, Paris, Rome, Berlin, Stockholm. Plus: Algiers, Brussels, Amsterdam, Zurich, Frankfurt, Oslo, Copenhagen, Budapest, Warsaw
+2: Same: Athens, Cairo, Jerusalem. Plus: Cape Town, Sofia, Helsinki, Istanbul, Kyiv
+3: Same: Moscow*, Jeddah. Plus: Addis Ababa
+3.5: Same: Tehran
+4: Same: Dubai
+4.5: Same: Kabul
+5: Same: Karachi
+5.5: Same: Delhi
+5.75 Same: Kathmandu
+6: Same: Dhaka. Plus: Novosibirsk*
+6.5: Same: Yangon
+7: Same: Bangkok. Plus: Hanoi, Jakarta
+8: Same: Singapore, Hong Kong, Beijing, Taipei. Plus: Kuala Lumpur, Perth, Manila, Shanghai
+9: Same: Seoul, Tokyo
+9.5: Same: Adelaide
+10: Same: Guam, Sydney. Plus: Vladivostok*
+11: Same: Nournea
+12: Same: Wellington. Plus: Suva
+12.75: Plus: Chatham Islands
+13: Plus: Nukualofa
+14: Plus: Kiritimati
-11: Same: Pago Pago
-10: Same: Honolulu
-9: Same: Anchorage
-8: Same: Vancouver, Los Angeles. Plus: San Francisco, Seattle, Tijuana
-7: Same: Edmonton, Denver. Plus: Phoenix, Chihuahua
-6: Same: Mexico City, Chicago. Plus: Winnipeg, Dallas, Houston, Guatemala City
-5: Same: New York. Plus: Atlanta, Havana, Toronto, Lima, Washington DC, Kingston, Philadelphia, Bogota, Boston
-4.5: Plus: Caracas
-4: Same: Halifax. Plus: Santiago, La Paz, San Juan
-3.5: Same: St. John's
-3: Same: Buenos Aires, Rio de Janeiro. Plus: Montevideo
-2: Same: Fernando de Noroha
-1: Same: Praia
* According to the manual, the time offsets for Moscow, Novosibirsk, Vladivostok were changed by +1 hour in 2012, but the GD350 (Module 3403) does not reflect this change. The summer time setting can be set to ON to advance the time for these cities by one hour.