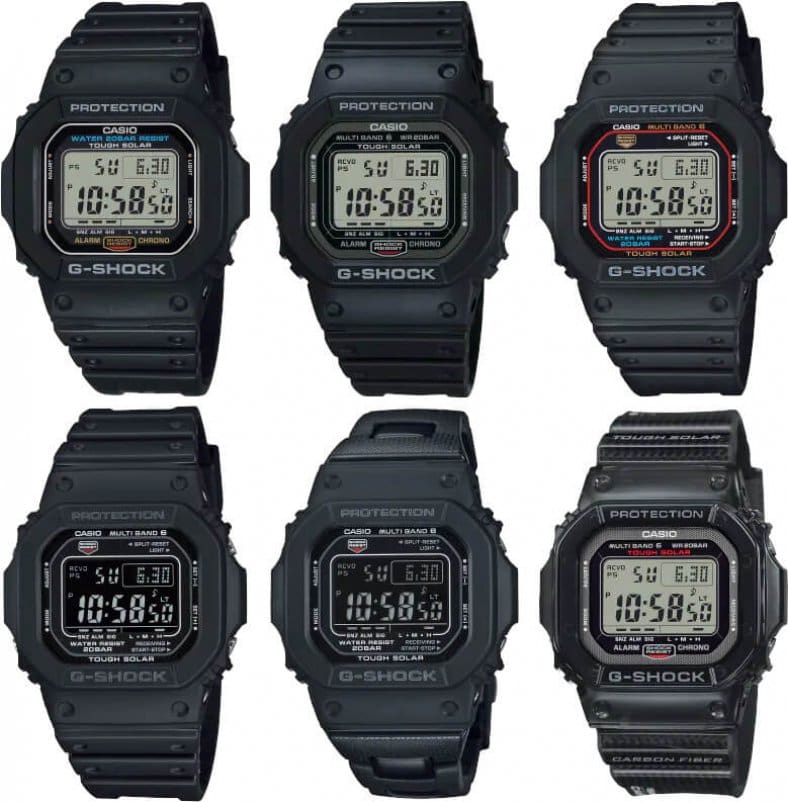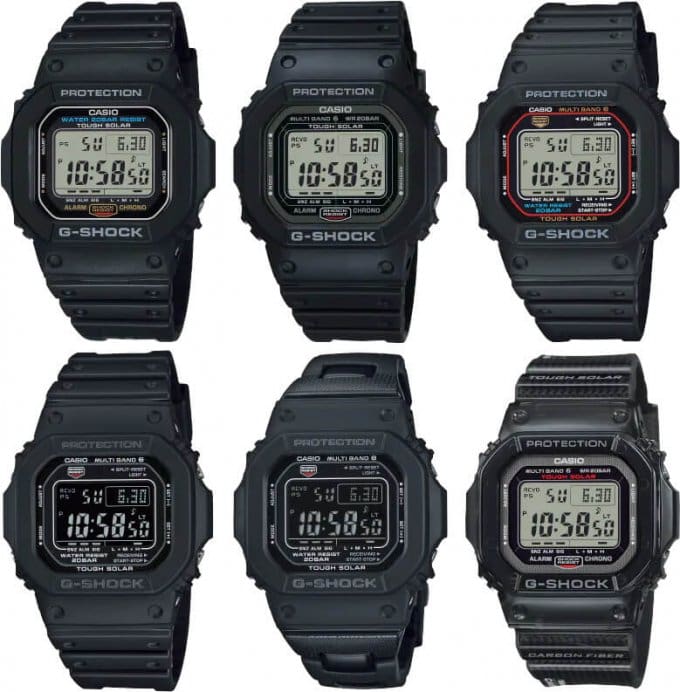 G-Shock Japan officially announced the G-5600UE-1JF (16,500 yen), GW-5000U-1JF with screw-back (42,900 yen), GW-M5610U-1JF (22,000 yen), GW-M5610U-1BJF with inverted LCD display (22,000 yen), GW-M5610UBC-1JF with inverted LCD display and composite band (26,400 yen), and GW-S5600U-1JF with carbon fiber insert band and titanium case back, buttons, and screws (34,100 yen). These models have the same exteriors and colors as their previous non-U counterparts (except for minor label differences for the light) and feature updated and improved modules and LED lights (see the previous update below).
Update: The GW-5000U-1ER (€299), GW-M5610U-1ER (€129), and GW-M5610U-1BER (€129) will be released in Europe. G-Shock U.K. has the GW-M5610U-1ER and GW-M5610U-1BER listed as coming soon for £135 each. The G-5600UE-1 is an August release throughout Asia.
Previous Update: The English manuals are now available for module 3495 (all models excluding G-5600UE) and module 3496 (G-5600UE).
Here is a list of updated features for the "U" series.
• Full auto LED backlight
• Adjustable 1.5 or 3 second afterglow for light (versus 1.5 second non-adjustable afterglow on module 3159)
• Current time display in stopwatch and countdown timer mode
• 24-hour countdown timer is settable in units of seconds and not only hours and minutes
• Adjustable date format (M.DD or DD.M) and adjustable day of week language (English, Spanish, French, German, Italian, Russian)
• Quick return to timekeeping mode by holding down Mode (C) button for more than 1 second
• Home city time and world time display swap in world time mode by pressing the top two buttons (A and B) at the same time
• 5 world time settings (48 cities), 31 time zones, the additional 2 time zones are for the cities of Fernando de Noronha (-2) and Kathmandu (+5.75)
Other features include Tough Solar power, Multi-Band 6 automatic radio time syncing (except for G-5600UE), mineral glass, full auto calendar, 1/100-second stopwatch with split, 1st and 2nd place (1/100-second for first hour, 1-second after first hour), 5 alarms with 1 snooze, adjustable hourly time signal, power saving function, 12-24 hour format, and button tone on/off.
G-Shock G-5600UE-1JF: With Tough Solar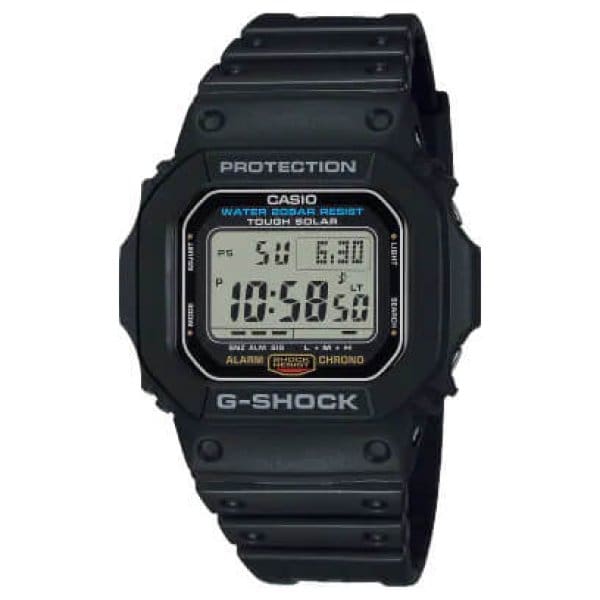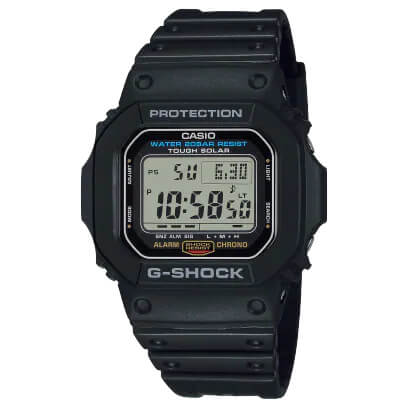 G-5600UE-1JF on Amazon G-5600UE-1JF on eBay
G-Shock GW-5000U-1JF: With Tough Solar, Multi-Band 6, stainless steel inner case and screw down case back with DLC coating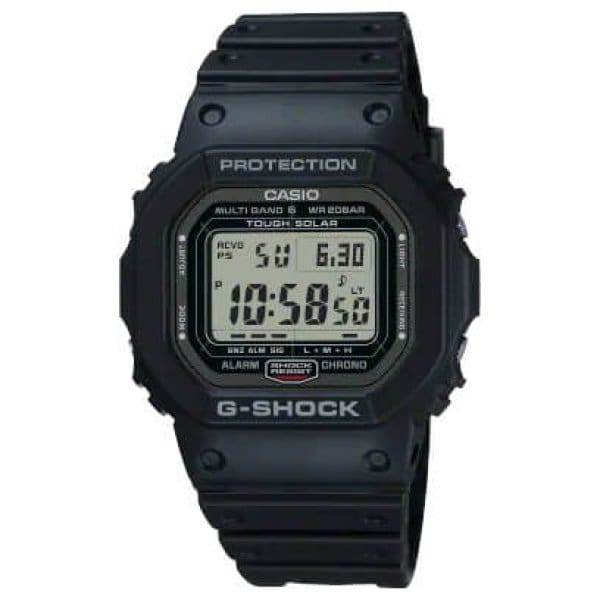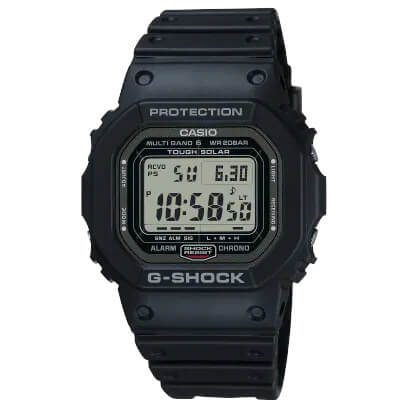 GW-5000U-1JF on Amazon GW-5000U-1JF on eBay
G-Shock GW-M5610U-1JF: With Tough Solar, Multi-Band 6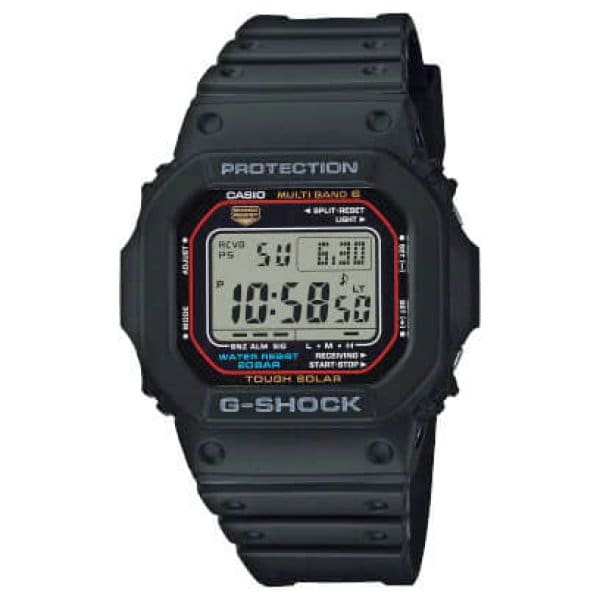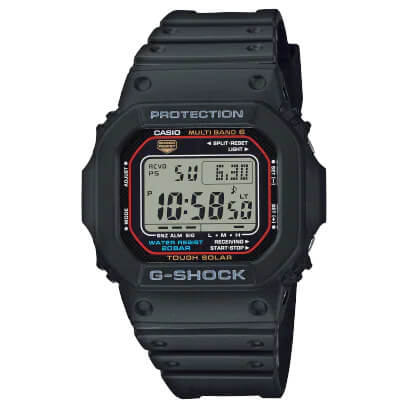 GW-M5610U-1JF on Amazon GW-M5610U-1JF on eBay
Note: Many people in the U.S. have reported receiving the GW-M5610U-1 after ordering the GWM5610-1 from Amazon.com. We cannot guarantee that you will receive the GW-M5610U-1, but many recent user review photos show the GW-M5610U-1.
G-Shock GW-M5610U-1BJF: With Tough Solar, Multi-Band 6, inverted LCD display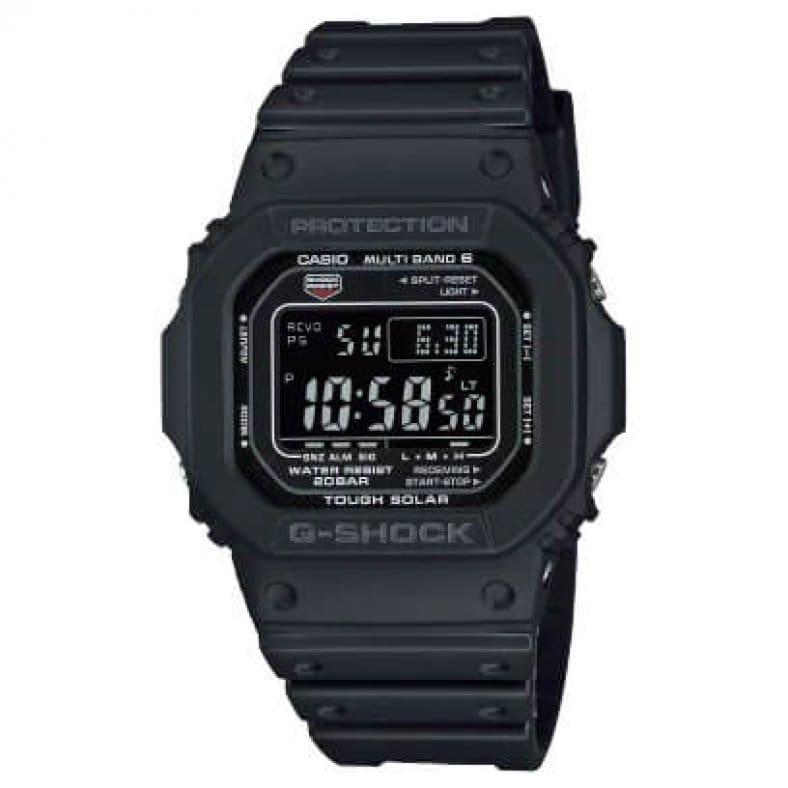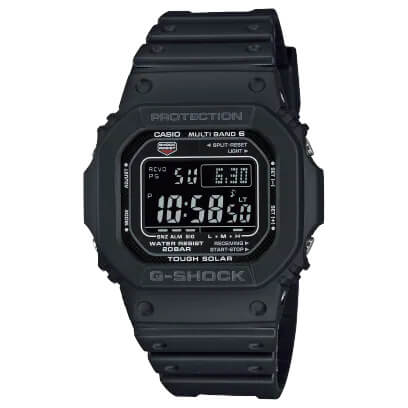 GW-M5610U-1BJF on Amazon GW-M5610U-1BJF on eBay
G-Shock GW-M5610UBC-1JF: With Tough Solar, Multi-Band 6, inverted LCD display, composite band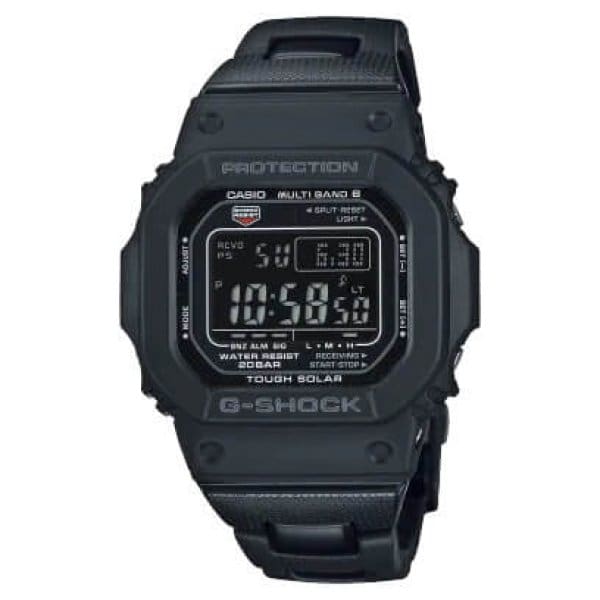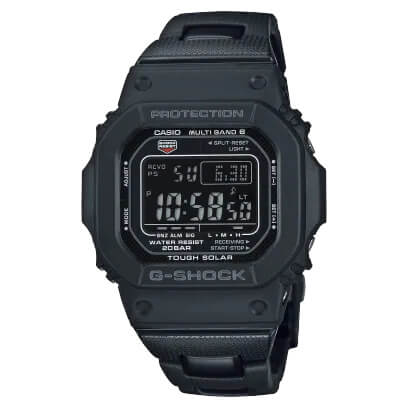 GW-M5610UBC-1JF on Amazon GW-M5610UBC-1JF on eBay
G-Shock GW-S5600U-1JF: With Tough Solar, Multi-Band 6, titanium case back, buttons, and screws, carbon fiber insert band, lightest G-Shock men's watch (along with GW-S5600-1JF at 47 grams)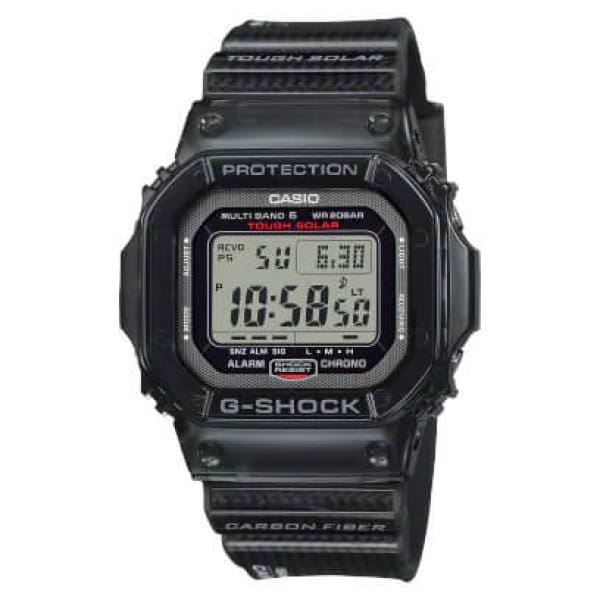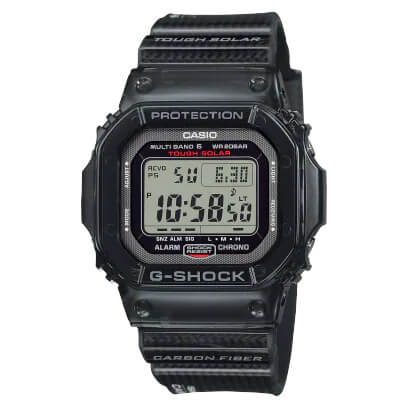 GW-S5600U-1JF on Amazon GW-S5600U-1JF on eBay
Original Post:
A reliable source has a new "Speed Model Series" listed for July 2021 in Japan. Though not all of the details are available, it includes three GW-M5610U models, one GW-5000U, one GW-S5600U, and one G-5600U.
Upon further searching, we found that the GW-M5610U-1 and GW-M5610U-1B are listed on some European retailer sites (as the GW-M5610U-1ER and GW-M5610U-1BER, €129 each). We also found a search result for the GW-5000U-1 from an official Casio retail site (as the GW-5000U-1ER, €299), but that page is not currently active. The original source has a GW-S5600U-1JF listed, but we could not find any other results for this or a G-5600U. No images are currently available, but they should be soon.
The GW-M5610 series features Tough Solar and Multi-Band 6. The G-5600 has Tough Solar but not Multi-Band 6. The GW-S5600 is known as the lightest G-Shock watch for men (47 grams) and has a titanium case back and carbon fiber insert band, with the GW-S5600-1JF being an active model in Japan. The GW-5000 has a screw-back case (like the original DW-5000C and other early G-Shock models) with DLC, and the GW-5000-1JF is an active Japan-only model that is popular with fans and watch enthusiasts around the world.
We're not sure if "Speed Model Series" is the official name for this series, or if the original source gave it this name informally. We believe it is probably the latter. "Speed model" is often used in Japan to refer to a 5000 series watch, because of the DW-5600C worn by Keanu Reeves in the 1994 movie "Speed."
Update: Based on some leaked images that we've seen, these models are the same colorways as their non-U counterparts, and based on a different LCD indicator ("LT" versus "A.EL") and label ("Light" versus "EL Back Light"), it appears that all of these U models may have an upgraded LED light instead of the old style of EL backlight. More recent square models like the GMW-B5000 and GW-B5600 also have an LED backlight. The Google-cached page from an official European site for the GW-5000U-1ER has the module number listed as 3495, which is different than the GW-5000-1 (module 3159). The older non-U GW-M5610 and GW-S5600 models also have module 3159, so the GW-M5610U and GW-S5600U models are expected to have module 3495.