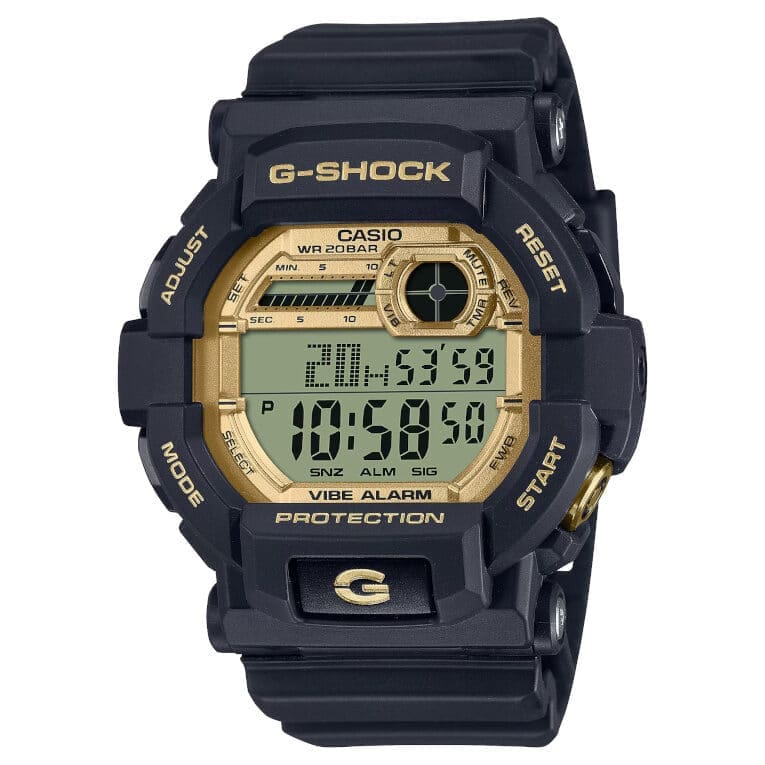 An unexpected August release in Japan, the GD-350GB-1 is a black and gold edition of the GD-350 featuring vibration alerts. Not to be confused with the GD-350BR-1, which was another black and gold model but with a glossy finish and inverted LCD display, the GD-350GB-1 is matte black with a positive LCD display.
Originally launched in 2013 and celebrating its tenth anniversary this year, the GD-350 series had been discontinued in Japan prior to this release but was and still is regularly available in the United States from large retailers and military exchanges. Some unique features of the GD-350 include 100-city world time, vibration alert option (for the alarms, timer countdown end, and hourly time signal), a direct timer start button to start and view the timer in timekeeping mode, low battery alert, and an adjustable auto LED backlight duration of up to 5 seconds. (Other G-Shock series with a 5-second backlight option include the G-7900 and G-9000, but these have a less power-efficient EL backlight. The GD-350 uses a CR2032 battery and has an approximate battery life of 5 years. Other features include a 1/100-second stopwatch, 5 alarms (4 with one-time/daily switching, 1 with snooze), flash alerts, full auto calendar, and button tone on/off. The GD-350GB-1 weighs 53.4 x 50.8 x 18 millimeters and weighs 75 grams.
The GD-350GB-1JF has a retail price of 17,600 yen in Japan. It remains to be seen if it will be released in other regions.
Update: The GD-350GB-1 was also announced for an August release in Asia and the Middle East.