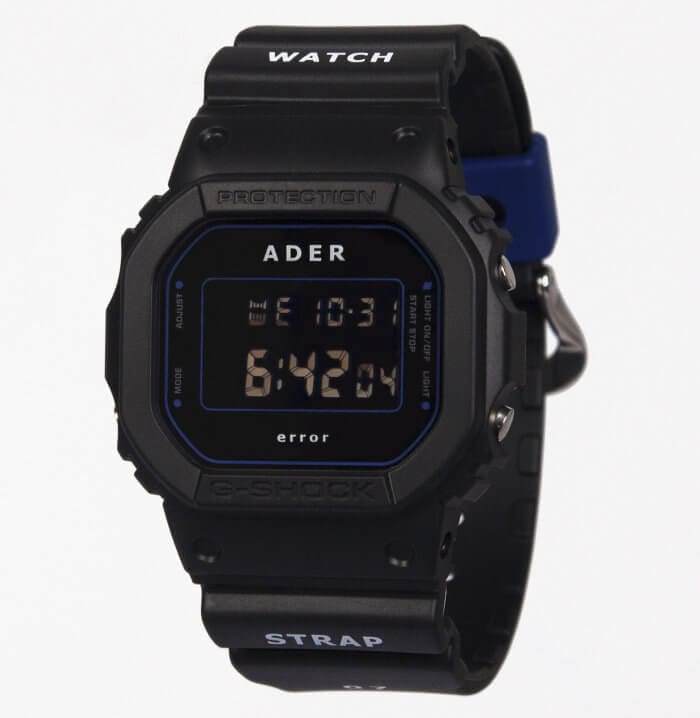 South Korean fashion house Ader Error is releasing the G-Shock DW-5600ADER-1DR watch in collaboration with Casio. The black DW-5600ADER-1DR has stealth lettering and a reverse LCD display along with blue and white accents which include a blue band keeper. Ader Error logos and design elements appear on the face, case back, and bands. The watch is presented in white and blue custom packaging.
The DW-5600ADER-1DR + G-CAP package was a pre-launch special available on November 13 for $155.65 at adererror.com. The official launch date is 17 November 2018 at 11:00 a.m. (KST) at the Ader Error Online Shop and 1:00 p.m. at the Ader Error flagship store in Seoul. Co-branded collaboration t-shirts will also be available.
Launched in 2014 and once an under-the-radar cult brand, Ader Error has become one of South Korea's hippest and most recognized youth culture fashion brands. The company is known for forgoing celebrity and influencer endorsements in favor of focusing its marketing efforts on its popular Instagram accounts.