All models in the G-Shock Gravitymaster GR-B100 series are now in "end of production" status and have been discontinued, according to G-Shock Japan. The GR-B100 series launched in 2018 and features Tough Solar power, Bluetooth smartphone link, and an STN LCD display. It also has some unique features like the flight log function, 5 multi-function alarms including daily, one-time, and schedule (time and date) modes, and countdown alarms to count down the remaining days and hours to a schedule alarm.
Other than the three launch models, the only other GR-B100 models were the black and gold GR-B100GB-1A and the white and brown GR-B100WLP-7A, a Love The Sea And The Earth collaboration with Wildlife Promising.
When all models of a certain series are discontinued like this, it usually means the end of the series. The Gravitymaster GR-B200 series is still active, which features Bluetooth smartphone link and a Quad Sensor (altimeter-barometer, compass, thermometer, step counter).
Update: The black and orange GRB100-1A4 is available for $198 in the U.S. at outlet.casio.com.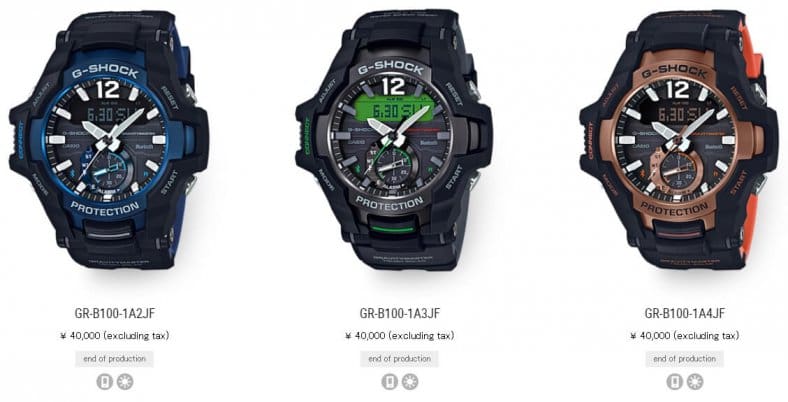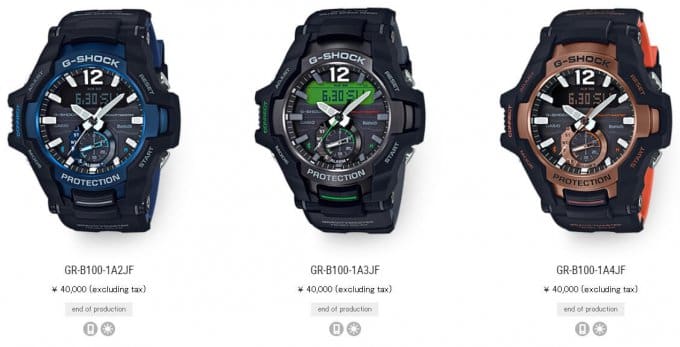 Image via G-Shock Japan, translated by Google Chrome