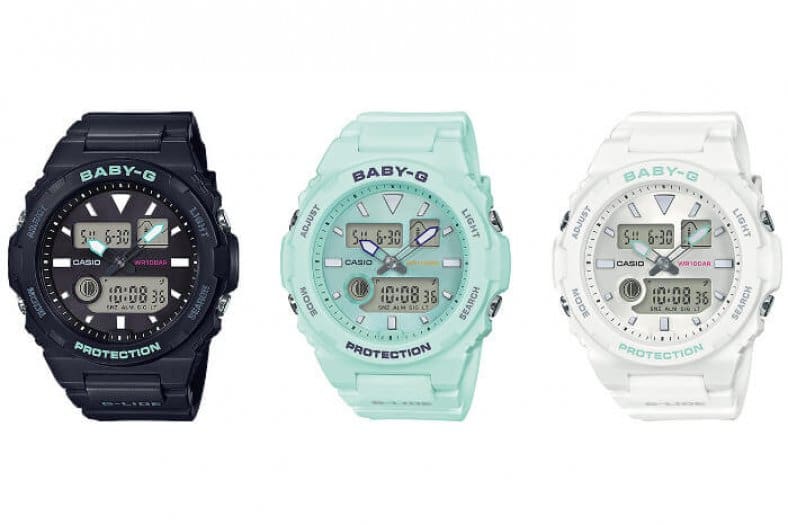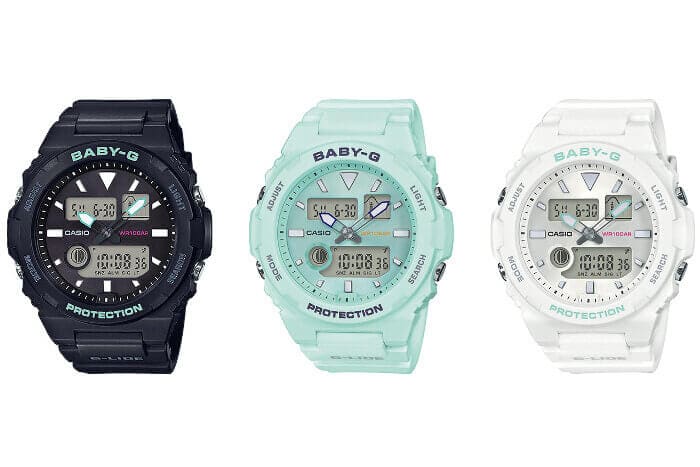 Recently spotted on the Casio Europe website is the new Baby-G G-LIDE BAX-100 series. This analog-digital model features tide and moon phase graphs on the LCD display. While other Baby-G G-LIDE watches like the digital BLX-560 and analog-digital BGA-180 also have a tide graph and moon age data (displayed as a number), the BAX-100 is the only Baby-G model that has a dedicated moon phase graph on the display and it also has moon age data.
Other notable features include the auto LED light switch setting which activates the light with a turn of the wrist, a second time zone setting, and three multi-alarms with a snooze alarm. In addition to the daily alarm, there is also a date alarm (to help remember birthdays or other events) and a monthly alarm for the same day and time every month. Along with its signature Baby-G shock resistance, the watch is water-resistant to 100 meters and is rated for swimming and snorkeling. Other features include a 1/100 second stopwatch (24 hours), 1/1 second countdown timer (24 hours), auto-calendar, 12/24 hour timekeeping, and an estimated 3-year battery. The BAX-100 measures 46.1 x 42.4 x 11.0 mm and weighs about 36 grams.
The models listed include the black BAX-100-1AER, pastel green BAX-100-3AER, and white BAX-100-7AER.
Update: The BAX-100-1AJF, BAX-100-3AJF, and BAX-100-7AJF will be released in March 2019 in Japan with a list price of ¥13,000 JPY. The BAX-100-1A, BAX-100-3A, and BAX-100-7A will also be released in Asia and will likely get a worldwide release.
BABY-G G-LIDE BAX-100 featuring Maria Manuel Promo Video:
Source: www.casio-europe.com