Hong Kong is probably the second best place for G-Shock shopping after Japan and is one of the more accessible Asian cities for English speakers. Unlike most cities around the world, you'll find big price discounts in many shops and rare collectible models for sale. I had the good fortune of spending some time in Hong Kong recently and found it to be an excellent destination for G-Shock buyers and collectors.
G-Factory Sheung Wan (a.k.a. G-Shock Flagship Store)
P1, Casey Bldg, 38 Lok Ku Rd, Sheung Wan
This G-Factory is the main G-Shock store in Hong Kong run by official Casio distributor Javy's International Ltd. It is located close to the Sheung Wan MTR station and not far from the Central station. This store is like half a Casio watch store and half a G-Shock museum with a ton of rare and vintage models on display. From what I've heard these older models are prohibitively expensive here, but I'm not certain as I didn't want to bother the staff too much. It might be the case that they don't really want to sell the older models, so that they can keep them on display. As an official G-Factory store, the new models are sold at list price here. Even if you don't plan on buying anything, this store is worth visiting to look at all the old G-Shocks.
This half of the G-Factory store is devoted to G-Shock and Baby-G, the other half has other Casio brands and more G-Shock watches: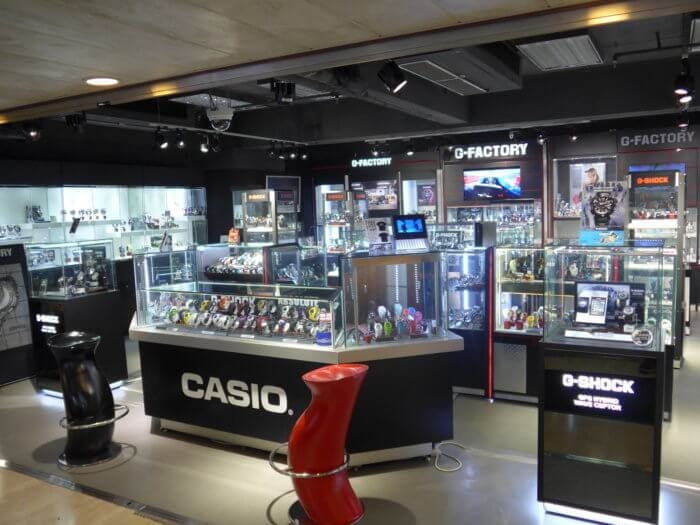 A collection of older Frogman models: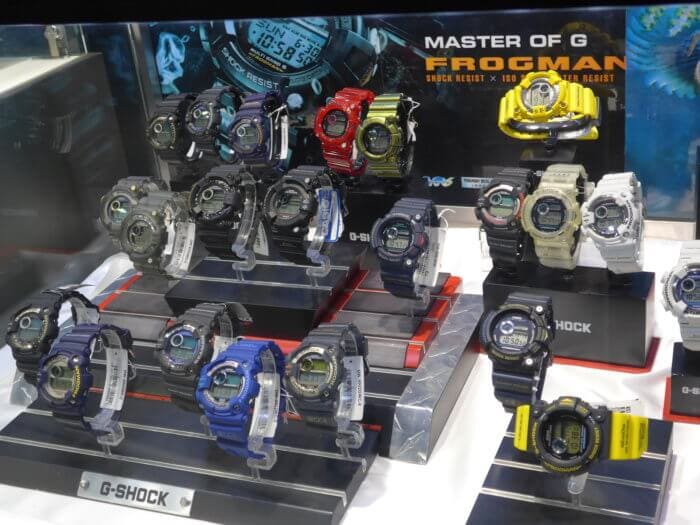 Jelly Baby-G Frogman watches, yes these are ISO Diver's 200M screw back models: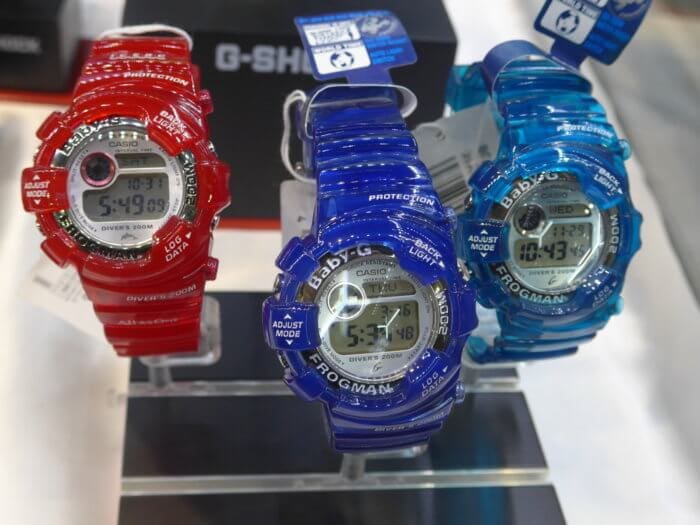 Vintage MR-G models from the 1990s: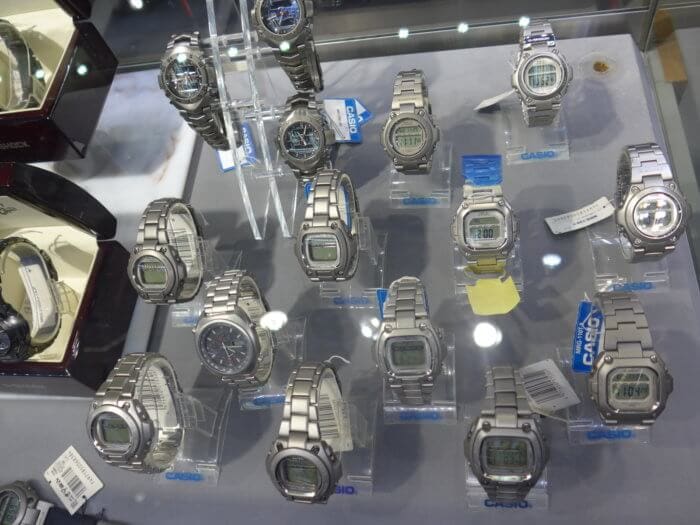 One older series that caught my eye was the GLS-5600KL, the black, white, and purple watches seen near the center and upper middle of this 5600 collection. This 2010 series has a very reflective, sparkly face known as the synthetic opal dial which is made by Kyocera and is quite unique. It needs to be seen in person under bright lights to be fully appreciated.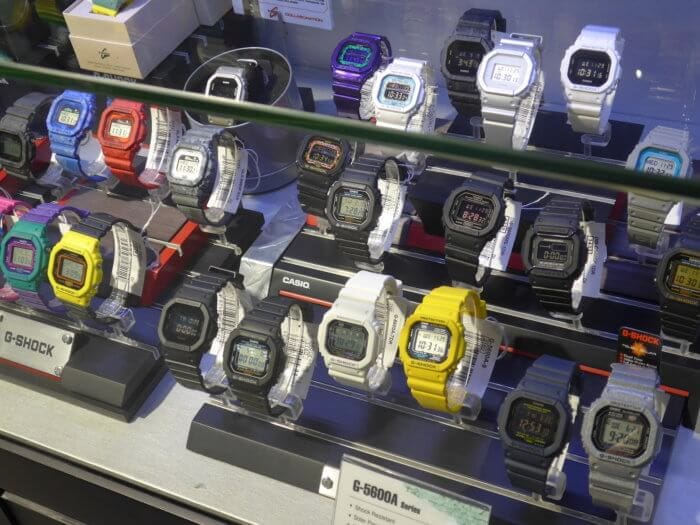 G-Factory Tsim Sha Tsui East
61 Mody Rd, Tsim Sha Tsui East – East of the Tsim Sha Tsui East MTR (P2) exit
This G-Factory store on the Kowloon side also has some older and rare models but the focus is on the newer models here. Though not as large and impressive as the main G-Factory store, it's worth a look if you're in the area. I also visited this store in 2008 and I think it used to be the main store.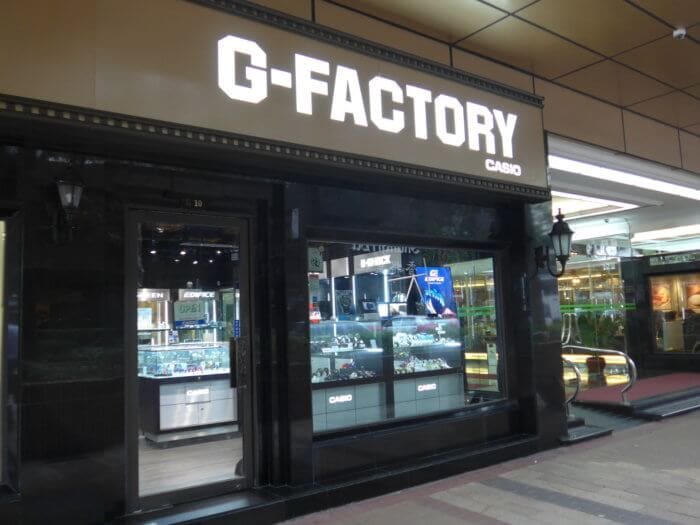 Watch Outz
Shop 10B, G/F, National Court, 242 Nathan Rd, Jordan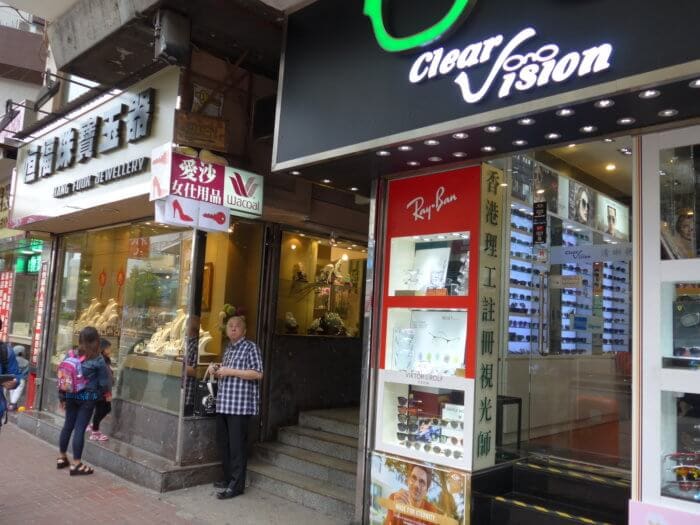 Go up the stairs to the left of Clear Vision on Jordan Road and you will find Watch Outz.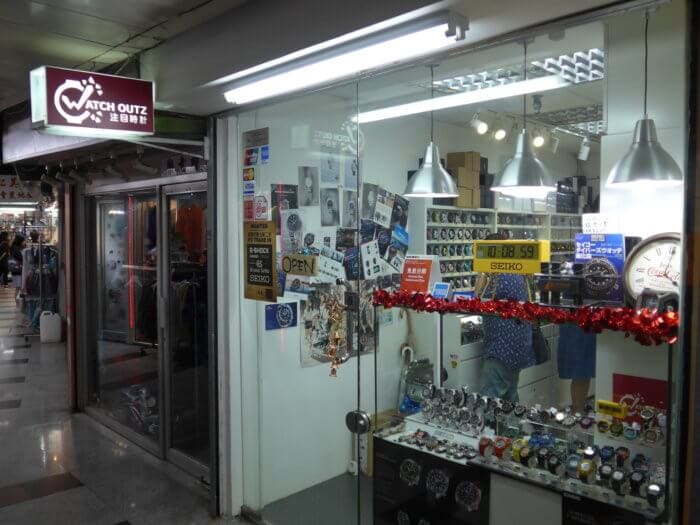 Watch Outz is probably the best known independent G-Shock seller in Hong Kong now thanks to a strong Facebook presence. This shop has a friendly and easygoing atmosphere with new releases and a lot of collaboration watches from Japan. It also has great prices on import and limited edition models and some collectible items for sale like the Frogman sculpture. It is one of the only places where I saw the GW-5035A-1 35th Anniversary Edition.
An excellent G-Shock collection at Watch Outz, can you spot the Brazilian Frogman?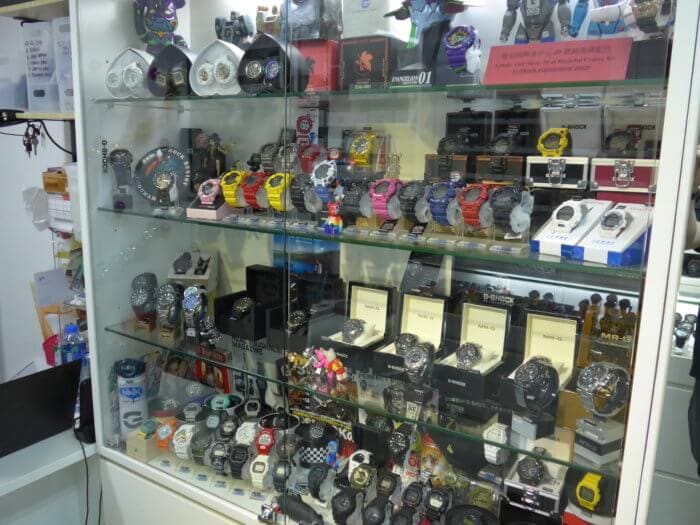 The GW-5000-1JF was available at Watch Outz for just $2080 HKD (~$266.34 USD), which is better than the usual Amazon and eBay prices. They also had a DW-5030C-1 screw back model from the 30th Anniversary for $2580 HKD (~$330.32 USD) which was very tempting.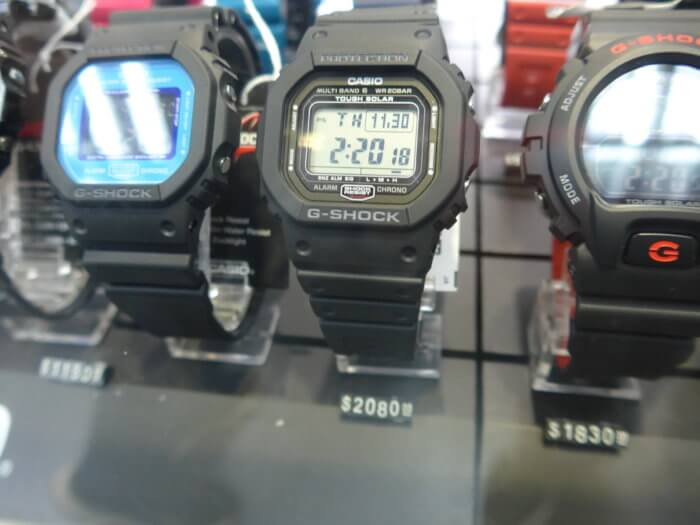 Watch Outz has limited edition collaboration watches from Japan: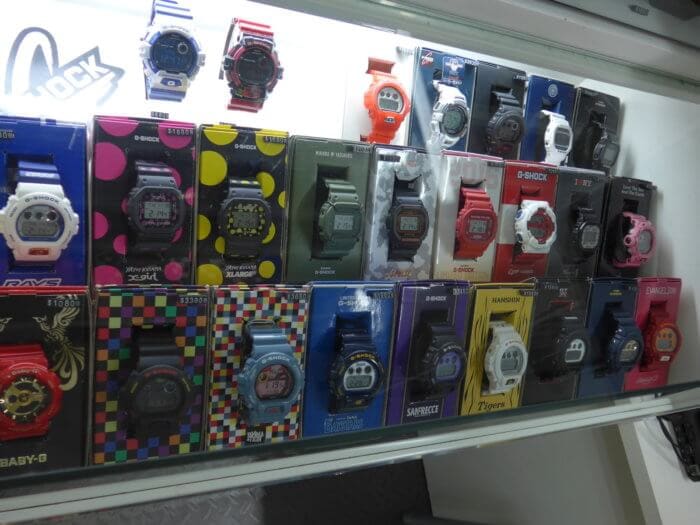 Sino Centre
582-592 Nathan Road, Mongkok
Mainly known for its anime and toy stores, Sino Centre has a handful of stores with an excellent selection of current and recent G-Shock, Baby-G, and Pro Trek watches available at discount prices. The prices are often better than what you would find on Amazon and eBay, so it is a great place for browsing and buying. Some stores like In-Watch Company (shop 21-22) have limited edition watches, Japanese imports, and older rarities. They also had some models from the Big Bang Black 35th Anniversary Collection and all three models from the Gold Tornado Collection. In addition to a huge selection of affordable models, I saw a lot of Frogman, Mudmaster, G-STEEL, and Gravitymaster aviation models throughout Sino Centre.
The watch stores with G-Shock watches are found on the ground floor of the Sino Centre. There is also one on one of the upper floors (shop 119).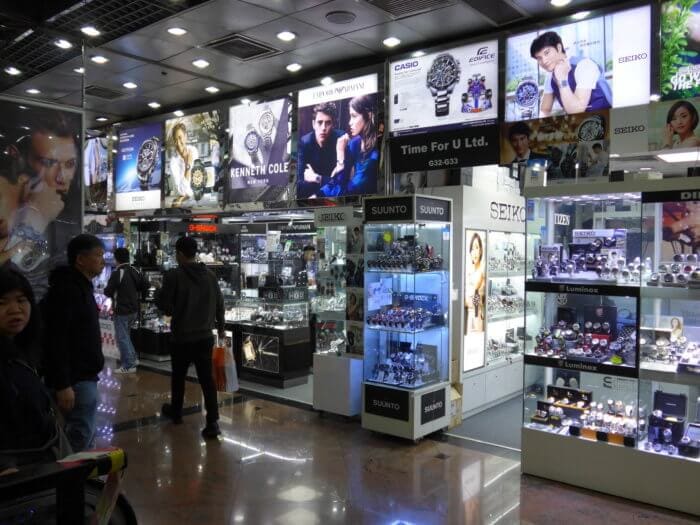 One of several G-Shock displays at In-Watch Company in Sino Centre: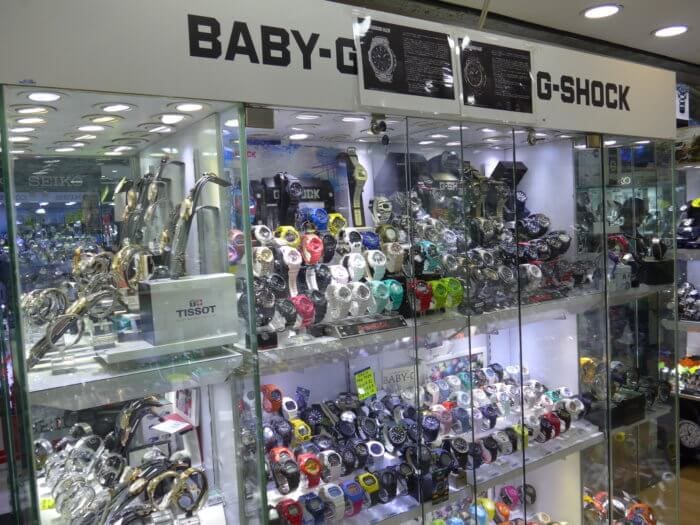 Trendy Zone
Chow Tai Fook Commercial Centre, 580A Nathan Rd, Mong Kok – Entrance is on Dundas Street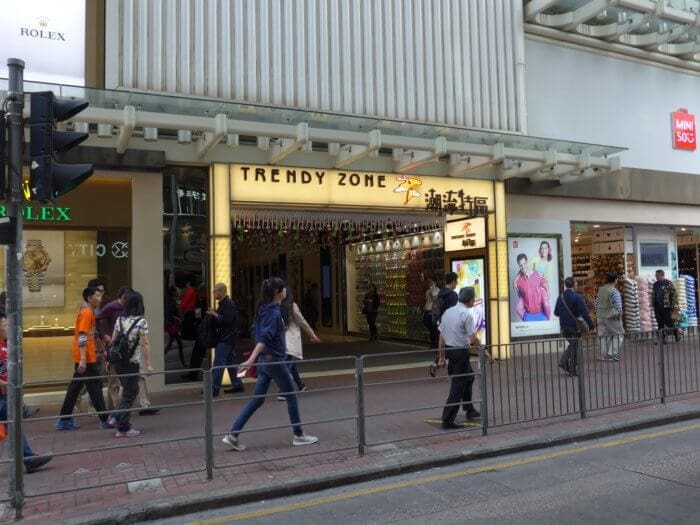 Trendy Zone is another mini-mall very close to Sino Centre that caters to streetwear fashion. Most of the stores in there open at around 2 p.m., so don't go too early. There are a handful of watch stores on most of the levels that have a good selection of G-Shock and Casio watches at discount prices. I saw specials such as the blue Gulfmaster GWN-1000-2A with standard LCD display (which is becoming much more expensive online) for as low as $1,880 HKD (~$240.64 USD).
The most interesting shop at Trendy Zone was Time2 on the basement level. They had the full Big Bang Black Collection including the GW-5035A-1 for $3,380 HKD (~$432.64 USD). They also had the GW-5000-1JF for $2,180 HKD and the black and red GW-5000HR-1JF for $3,480 HKD (~$445.44 USD, which is not bad considering what it's going for online). They have a lot of Japanese limited editions, including Frogman and Rangeman models, as well as new releases and even new MR-G models.
Time2 in the basement level of Trendy Zone has a fine G-Shock selection: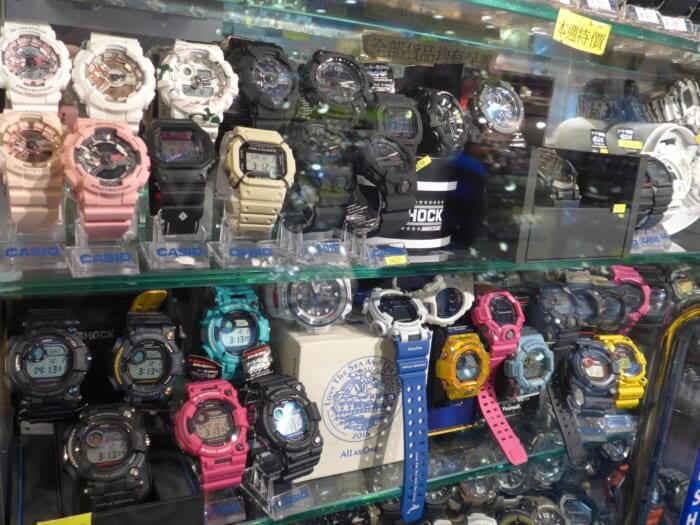 Other Stores
The previous stores are the best options for G-Shock collectors and bargain hunters, but you'll also find G-Shock watches at many other stores throughout the city. Official dealer City Chain offers current G-Shock watches at its various locations. Watch stores with a wide selection of brands are likely to have some G-Shock watches, and you can find them in some electronics stores too.
Conclusion
As you can see, Hong Kong is a great place to shop for G-Shock watches. I was surprised at how reasonable the prices were and how many Japanese models were available. The only disappointment was that I did not see any of the limited edition watches or models that are exclusive to China. (Update: Some of the boutique stores have started to sell these mainland China imports.) It is easy to visit all the stores and malls mentioned here using the MTR subway, and you can find them on Google Maps. In Hong Kong, there is a good chance that you will find a new G-Shock for a discounted price or that you will find a rare discontinued model for a fair price that would be much more expensive elsewhere. Whether you are seeking out the best bargains or hunting for rarities, Hong Kong offers something for all G-Shock enthusiasts.