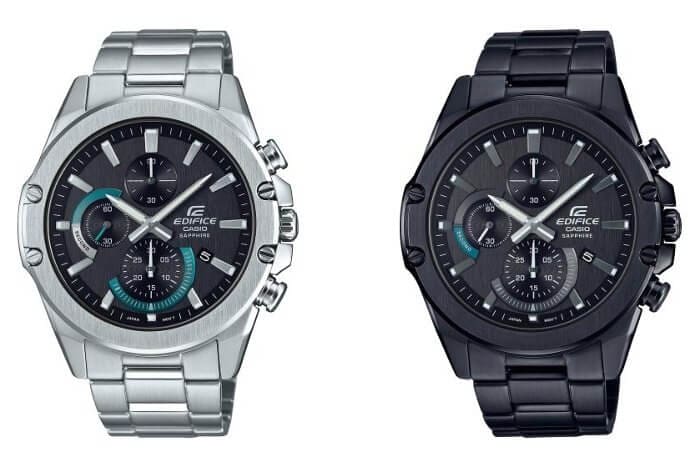 We usually don't cover Casio Edifice watches at G-Central, but these new models caught our eye and may be of interest to some G-Shock and Casio fans. The silver Edifice EFR-S567D-1AVCR and black Edifice EFR-S567DC-1AVCR are stainless steel analog watches featuring a minimalist style.
The brushed stainless steel bezels are reminiscent of G-Shock G-STEEL watches, though these Edifice watches are smaller and thinner, measuring 50.5 x 45.6 x 9.5 millimeters.
These watches have a solid stainless steel case with a screw-lock case back and are water-resistant to 100 meters.
The displays are made of sapphire crystal for superior scratch resistance.
Other features include Neo-Brite luminous hands, date display, 1/1 second 30-minute stopwatch, and estimated 5-year battery life. The watches have stainless steel bands with a safety catch and weigh about 136 grams.
Considering the materials and build type, these watches seem to be a good value, but one thing G-Shock fans will miss is an illumination light. The EFR-S567D-1AVCR and EFR-S567DC-1AVCR are currently available for pre-order at Amazon.com and will be released on August 1, 2019. These watches are also new releases in Europe (EFR-S567D-1AVUEF and EFR-S567DC-1AVUEF). Casio Europe also lists the EFR-S567D-2AVUEF which is silver with a blue dial.