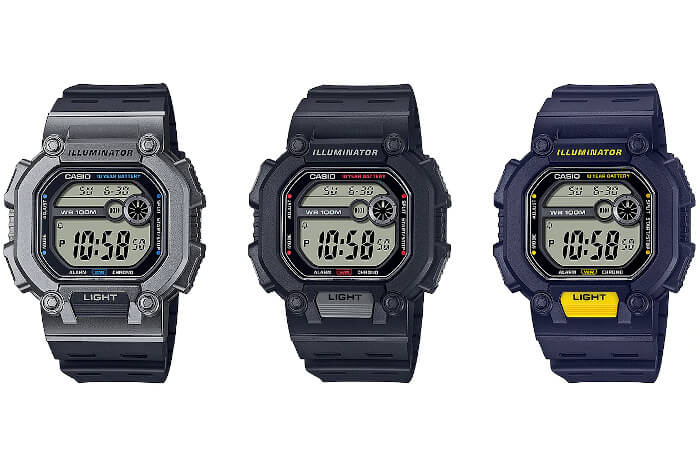 The Casio W-737H series is not G-Shock, but it has a rugged style that is obviously influenced by G-Shock. At an extremely low price point, the W-737H offers some nice specs, such as 100-meter water resistance and a 10-year battery, which make it a worthwhile alternative to a G-Shock. The series includes the silver W-737H-1A2V, black W-737H-1AV, and blue W-737H-2AV.
The W-737H has a look that is reminiscent of the large G-Shock GX-56, though not quite as bulky, but still larger than a G-Shock DW-5600 with dimensions of 51.9 x 45.7 x 14 millimeters. Features include a resin band, resin glass, LED backlight with afterglow, dual time, 1/100 second stopwatch (23:59'59.99″ max with elapsed time, split time, 1st and 2nd place times, target time alarm, auto start), countdown timer (24 hours max with auto-repeat, progress beeper on/off), daily alarm, hourly time signal, full auto calendar, and 12/24-hour format.
For around half the U.S. street price of a G-Shock DW-5600E, the main sacrifices are the lack of G-Shock-quality shock resistance, resin glass versus mineral glass, 100-meter versus 200-meter shock resistance, no flash alerts, and a slightly less accurate quartz movement with an accuracy of ±30 seconds per month versus ±15 for the G-Shock. The W-737H's advantages are an approximate 10-year battery and the dual time feature. The W-737H is also unique because it is a square-like model with a front light button, which is not seen on square G-Shocks, except for the GBX-100.
The W-737H series was announced for Asia and the Middle East in August 2020. It is reportedly not being released in Europe, but it is available in the U.S. from Amazon.com. Casio has not announced the watch in the U.S. yet, and it could be a case of the series being exclusively available on Amazon, where it is currently available for pre-orders with a release date of September 15, 2020.