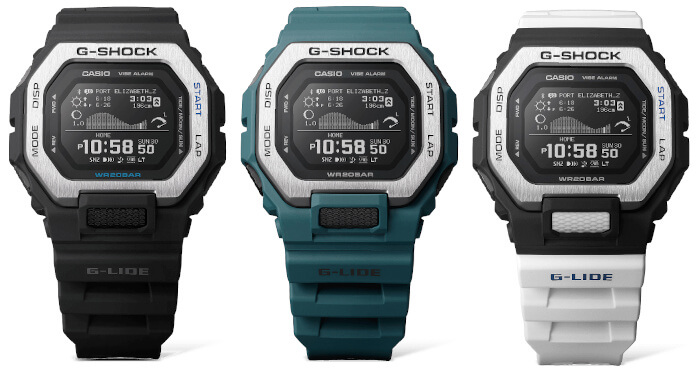 Update: Many users reported inaccuracies with the tide graph function on the GBX-100. On November 12, 2020, Casio stated that the problem was fixed with the latest version (1.10.0) of the G-SHOCK MOVE app.
The GBX-100 series is now officially listed as a May 2020 release in Asia and a June 2020 release in Japan. Clearing up some uncertainty from before, the watch has a 1-second increment stopwatch and not 1/100-second as mistakenly stated earlier on the casio-watches.com page. The watch has a 3-axis accelerator for step counting, which allows it to measure distance, speed, and pace, as well as to calculate calories burned. Unlike other G-Shock watches with tide graphs, the GBX-100 displays the actual height (in centimeters or feet) of the high and low tides.
The watch works with the new G-Shock MOVE smartphone app like the GBD-H1000 and GBD-100. According to the instructions, the watch is also capable of displaying smartphone notifications, including incoming and missed calls, email, SNS (social networking services), schedule, and "other." The GBX-100 also has vibration alerts.
The instruction manual is now available at support.casio.com. See the full specifications listed below.
Update: G-Shock U.S. is releasing the GBX100-1, GBX100-2, and GBX100-7 in mid-June 2020, with a list price of $160 each.
G-Shock G-LIDE GBX-100-1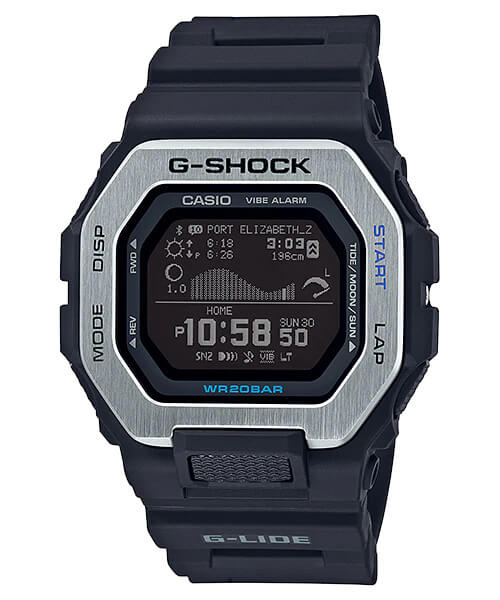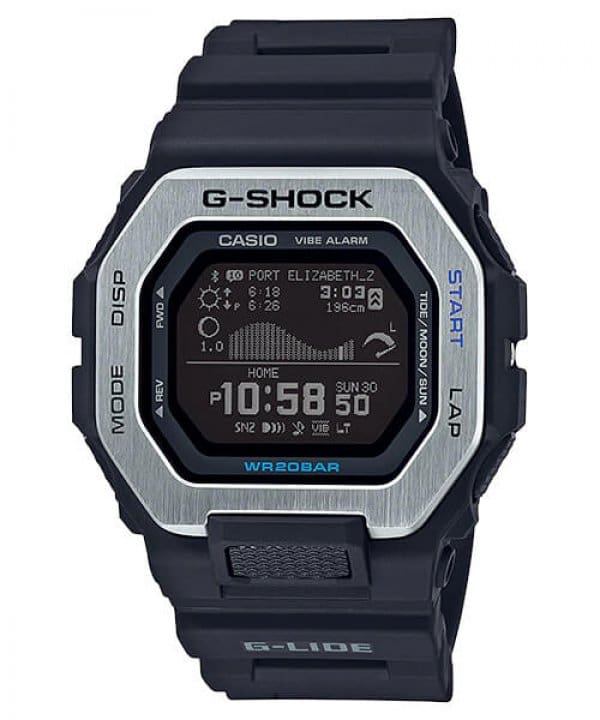 G-Shock G-LIDE GBX-100-2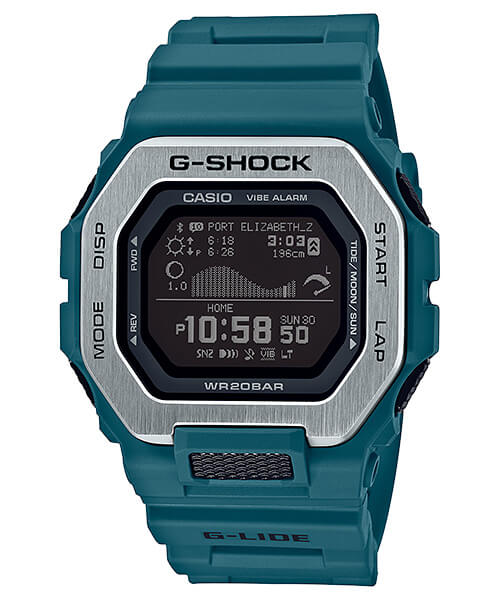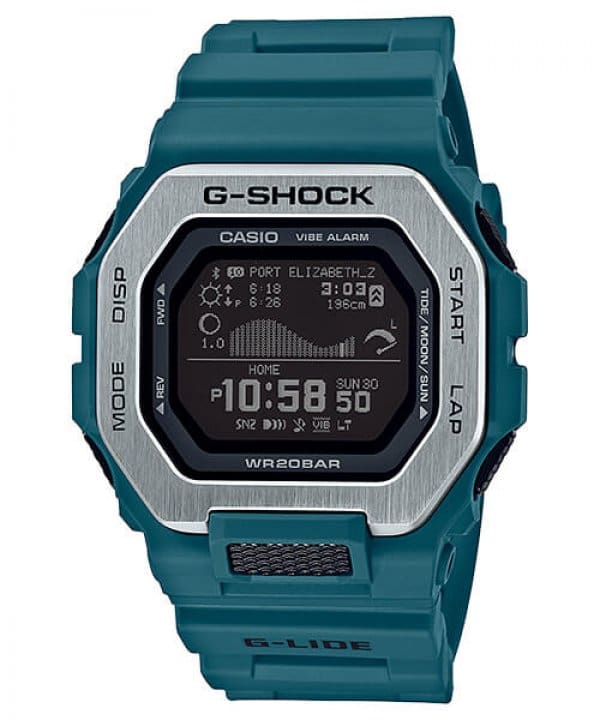 G-Shock G-LIDE GBX-100-7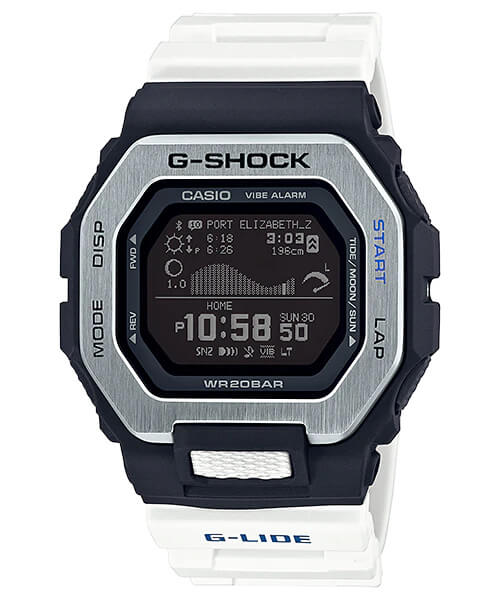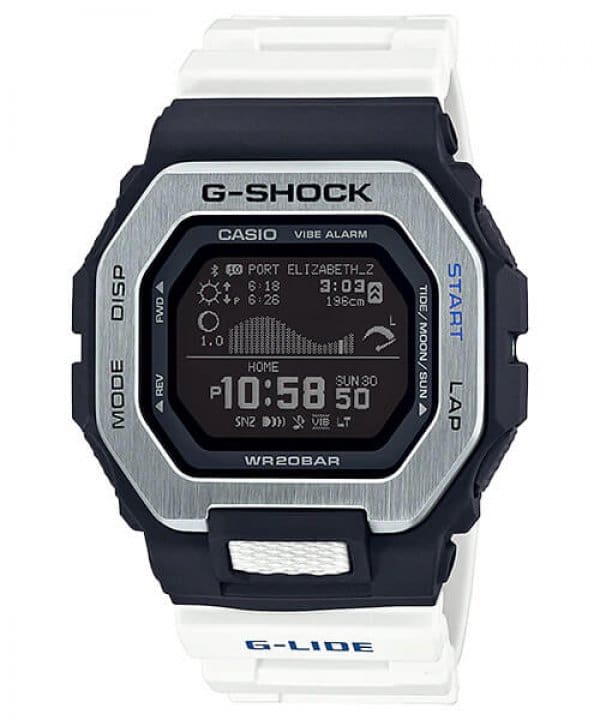 G-Shock G-LIDE GBX-100 Specifications:
Resin case with stainless steel bezel
Shock resistance, 200-meter water resistance
Mineral glass
Auto LED backlight (Super Illuminator) with 1.5 or 3 second afterglow
Bluetooth mobile link
Training Function: Display of distance, speed, pace, and other calculated values based on accelerometer, auto/manual lap times, Auto Pause, target alert setting (time, calories burned) on/off, training display customization
Training Data: Up to 100 runs, up to 140 lap times per run (elapsed time, distance, pace, calories burned)
Life Log Data: Daily data display (step count), Monthly data display (running distance)
User profile creation
Flight mode
Moon data (moon age of the specific date, moon phase)
Tide graph (tide level for specific date and time)
Sunrise/sunset time
World time
1-second stopwatch (99:59'59" max, with elapsed time, split time)
Countdown timer (interval timer with up to five time settings, 1-second units, duration 00'00" to 60'00", auto-repeat settable from 1 to 20)
Vibrator for vibration alerts, vibration on/off
4 daily alarms with snooze
Power saving
Full auto-calendar
12/24 hour format
Button sound on/off
Approximate battery life: 2 years on CR2032
Size: 50.9 x 46 x 14.7 mm
Weight: 66 grams
Visit casio-intl.com for the complete specifications.
Second Post: The GBX-100 has a stainless steel bezel with a hairline and top honing treatment, and the rest of the case is resin.
The watch measures 50.9 x 46.0 x 14.7 millimeters and weighs 66 grams, which is somewhere between the size of a DW-5600 (48.9 x 42.8 x 13.4) and GX-56 (55.5 × 53.6 × 17.5), but lighter than the GX-56's 88 grams.
Tide information is available for 3,300 locations through the smartphone app. The GBX-100 also has training measurement functions like the G-SQUAD models, including distance, speed, pace, lap, and pitch. Other fitness features include a preset calorie use alarm, training log, and life log. The watch also has a soft urethane band.
A GBX-100 product page at casio-watches.com lists "Step Tracker" as a feature, which makes sense considering the fitness measurement functions.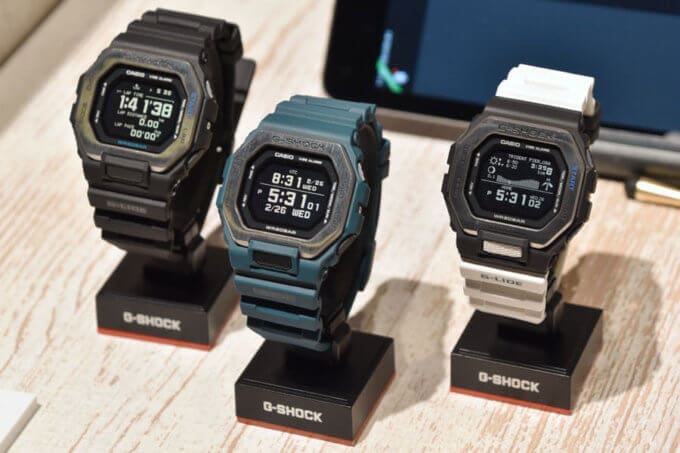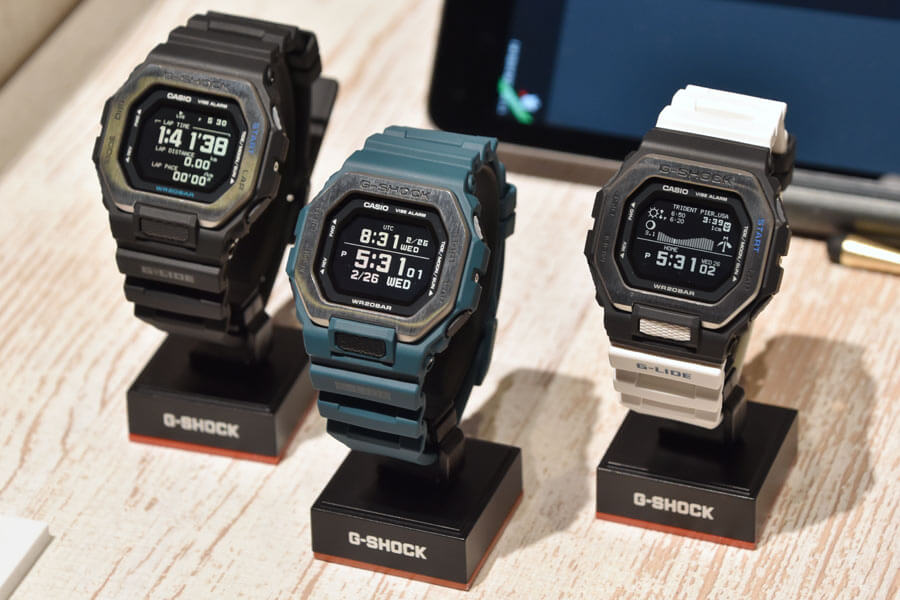 Source: news.mynavi.jp
Original Post:
In recent years, Bluetooth connectivity was a rising technology in G-Shock watches that is now a common feature in many models. In a few years, we might be saying the same thing about the memory in pixel (MIP) LCD displays on such models as the Rangeman GPR-B1000, G-SQUAD models GBD-H1000 and GBD-100, and now, the G-LIDE GBX-100.
Revealed at Casio's Spring & Summer New Product Exhibition, the GBX-100 is a surfing-oriented watch with Bluetooth smartphone connectivity, high/low tide times, tide levels, and sunrise/sunset times, along with the traditional tide graph and moon age display.
Unlike the round displays of the previous MIP LCD models, the GBX-100 has an octagonal shape that is squarish in appearance. The watch also appears to have a metal bezel and a front button.
The watch also has vibration alerts, which is labeled as "Vibe Alarm" on the face.
The debut models include the black GBX-100-1, blue GBX-100-2, and black and white GBX-100-7. In Japan, the GBX-100-1JF, G-LIDE GBX-100-2JF, and G-LIDE GBX-100-7JF is scheduled for a May 2020 release, with a list price of 24,200 JPY each (tax included). (Update: The release date has been delayed.)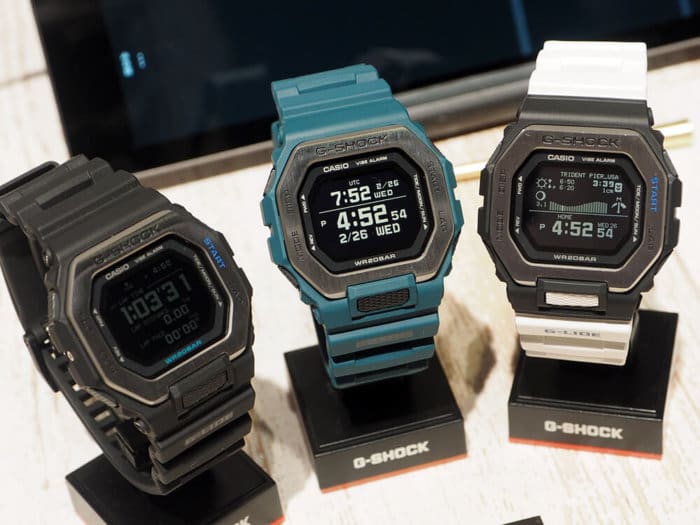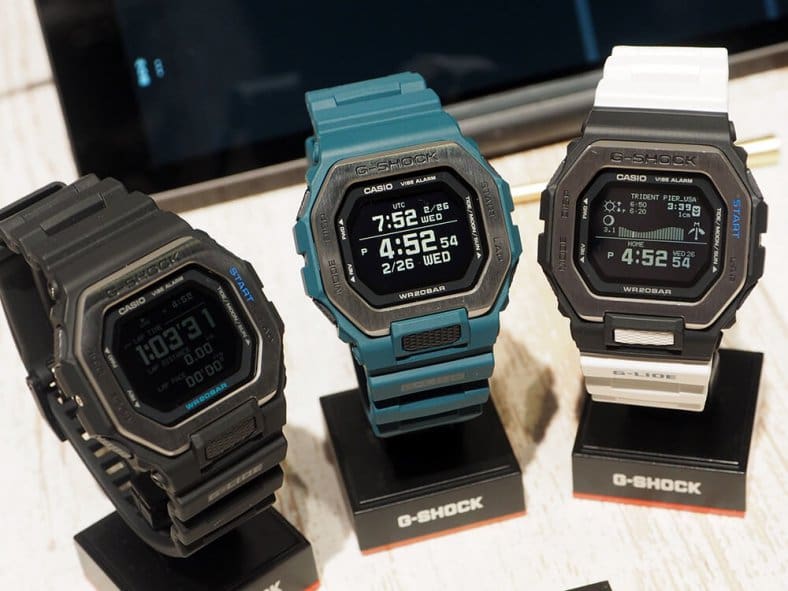 Photos via kakakumag.com, twitter.com/CASIOJapan