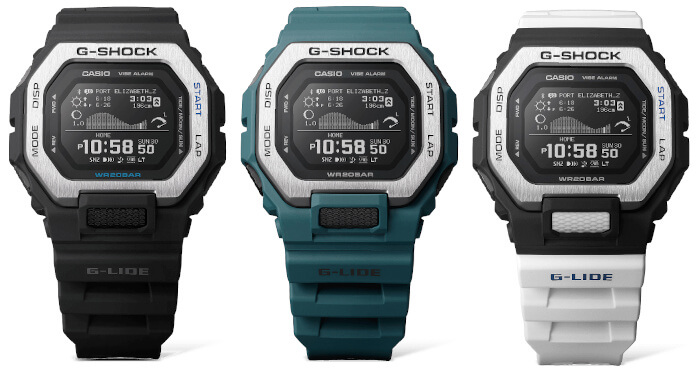 Update 1: The GBX-100 has a stainless steel bezel with a hairline and top honing treatment, and the rest of the case is resin.
The watch measures 50.9 x 46.0 x 14.7 millimeters and weighs 66 grams, which is somewhere between the size of a DW-5600 (48.9 x 42.8 x 13.4) and GX-56 (55.5 × 53.6 × 17.5), but lighter than the GX-56's 88 grams.
Tide information is available for 3,300 locations through the G-Shock Connected smartphone app. The GBX-100 also has training measurement functions like the G-SQUAD models, including distance, speed, pace, lap, and pitch. (There is no mention of a step-counting accelerometer or GPS, so presumably some of these functions will need to rely on a connected smartphone's GPS.) Other fitness features include a preset calorie use alarm, training log, and life log. The front button is described as the "center" button. The watch also has a soft urethane band.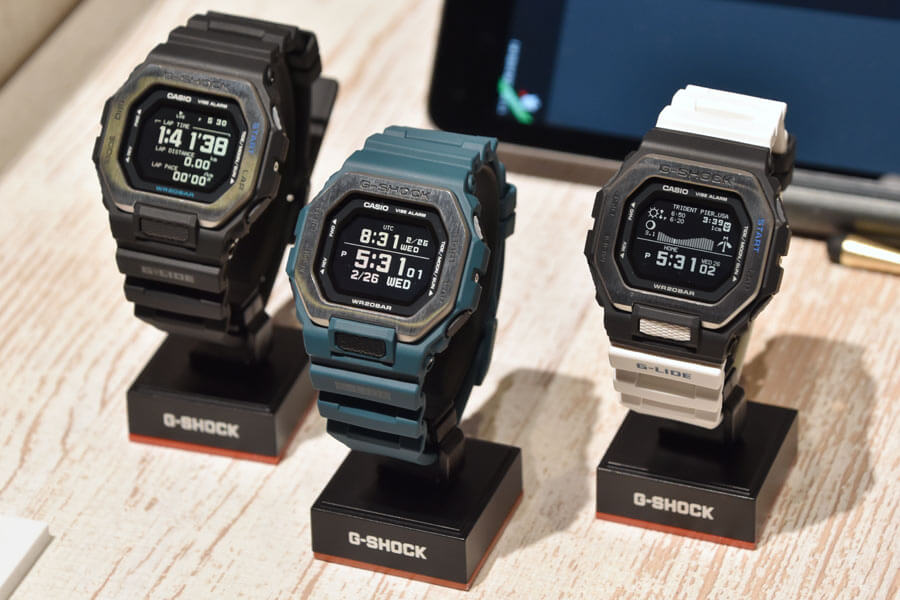 Source: news.mynavi.jp
Original Post:
In recent years, Bluetooth connectivity was a rising technology in G-Shock watches that is now a common feature in many models. In a few years, we might be saying the same thing about the memory in pixel (MIP) LCD displays on such models as the Rangeman GPR-B1000, G-SQUAD models GBD-H1000 and GBD-100, and now, the G-LIDE GBX-100.
Revealed at Casio's Spring & Summer New Product Exhibition, the GBX-100 is a surfing-oriented watch with Bluetooth smartphone connectivity, high/low tide times, tide levels, and sunrise/sunset times, along with the traditional tide graph and moon age display.
Unlike the round displays of the previous MIP LCD models, the GBX-100 has an octagonal shape that is squarish in appearance. The watch also appears to have a metal bezel and a front button.
The watch also has vibration alerts, which is labeled as "Vibe Alarm" on the face. It's not yet known if this watch will offer smartphone notifications like the GBD-H1000 and GBD-100.
The debut models include the black GBX-100-1, blue GBX-100-2, and black and white GBX-100-7. In Japan, the GBX-100-1JF, G-LIDE GBX-100-2JF, and G-LIDE GBX-100-7JF will be released in May 2020 with a list price of 24,200 JPY each (tax included).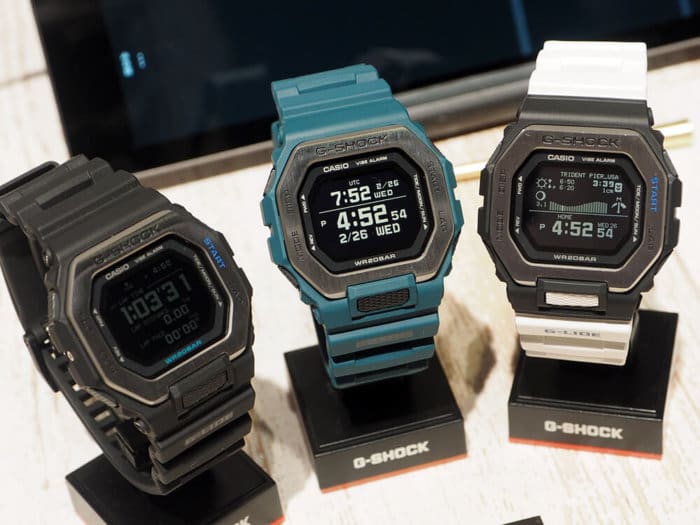 Photos via kakakumag.com, twitter.com/CASIOJapan
(
Disclosure: G-Central is independently managed by fans and is not an official G-Shock site. As an Amazon Associate and eBay Partner, G-Central earns on qualifying purchases, at no extra cost to the customer.
)
Shop for new releases and see our top selections at: amazon.com/shop/gcentralhq
ABOUT THE COMMENTS SECTION:
Comments by G-Central are those of its editor and do not represent G-Shock or Casio. For official support, visit
world.casio.com
.