G-Shock revealed the upcoming G Presents Lover's Collection 2021 G-Shock and Baby-G pairs on YouTube. The Lover's Collection series celebrates its 25th anniversary this year, and these four watches feature a special design to commemorate the event.
The love equation "x²-|x|y+y²=25" is the inspiration for these limited edition sets. This math formula creates a heart shape when plotted out. The two sets include the LOV-21A-1A with an analog-digital G-Shock GA-110 and Baby-G BA-110 and the LOV-21B-7 with a classic square G-Shock DW-5600 and Baby-G BGD-560. The red stars at the 25-minute mark on the black LOV-21A-1A watches symbolize the anniversary. The white LOV-21B-7 watches have a heart next to the light label and a heart shape on the EL backlight. All the watches have a Lover's Collection 2021 engraved stainless steel case back with the familiar angel and devil motif.
Lover's Collection models are only sold in paired sets and are usually only sold in Japan and Asia. Both sets are expected to be released in November.
Update: The LOV-21A-1AJR set (39,600 yen) and LOV-21B-7JR set (29,150 yen) were announced for a November 2021 release in Japan.
G Presents Lover's Collection LOV-21A-1A: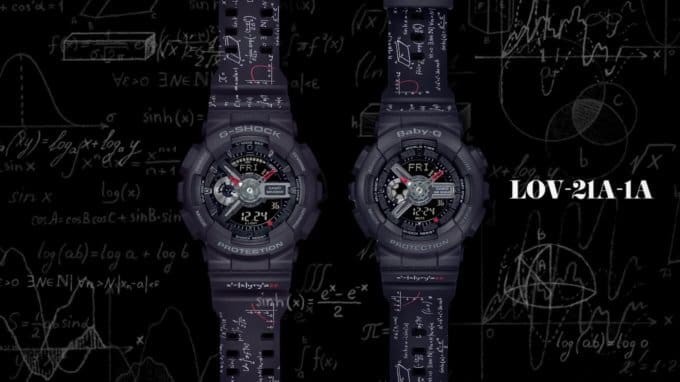 G Presents Lover's Collection LOV-21B-7: