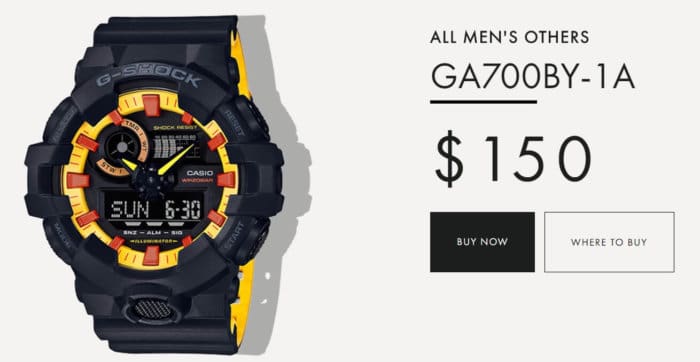 We previously reported on the GA-700BY-1A Burning Sun Edition which was first released in China and thought to be exclusive to China at the time. Well it turns out that's not the case as the GA700BY-1A is now available in Canada. G-Shock Canada currently has the watch listed with a retail price of $150 CAD. This is quite a curious release and it remains to be seen if this model will be available in other regions soon. The GA700BY-1A shares the same color scheme as the Black and Yellow Accent Series from Japan but was not part of that collection except in China as the Burning Sun Series. Two models from that series, the GA100BY-1A and GA110BY-1A, were released in the U.S. What makes the GA700BY-1A unique from those models is its orange index, which gives the watch a striking tricolor design. Other features include a dual-layer band with a yellow inner layer, front-facing LED light button, and estimated 5-year battery life.
The GA700BY-1A is currently available at gshockcanada.ca. There is also a listing on eBay at the moment.
Update: The GA700BY-1A is also available at Zumiez.
(
G-Central is an independent news site created and maintained by fans and is not an official representative of Casio or G-Shock. G-Central earns a commission on qualifying purchases made from its links. See full disclosure.
)