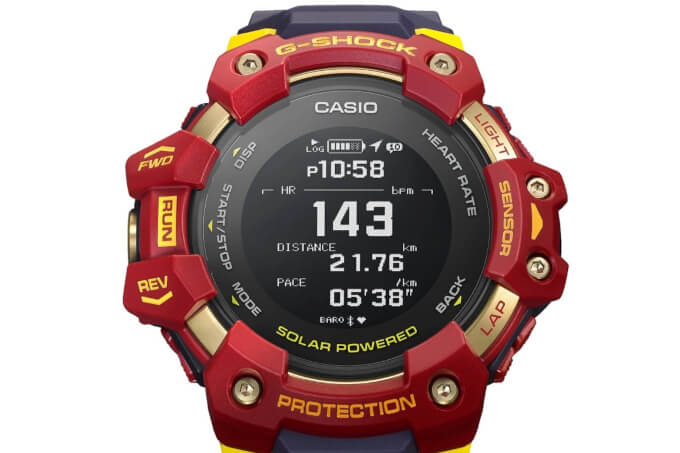 The G-Shock G-SQUAD GBD-H1000BAR-4ER, coming soon to Europe, is a special collaboration with professional football club FC Barcelona. This is the first-ever collaboration with a GBD-H1000 base.
The watch features red, gold, and yellow colors for the bezel and a blue and garnet patterned band. The club name and motto "Més que un club" ("More than a club") is printed on the lower band, and a "Matchday" logo is printed on the upper band. "Matchday: Inside FC Barcelona" was a television documentary series that followed the 2018-2019 season.
The GBD-H1000BAR-4ER is an advanced fitness and training watch featuring solar and USB charging, GPS, optical heart rate monitor, Bluetooth, and a Triple Sensor (pressure: altimter-barometer, compass, thermometer).
The watch is currently listed as "coming soon" at select Casio Europe online shops with a price of €519.
Another collaboration model with the same color scheme and design elements, the G-Shock G-SQUAD GBD-100BAR-4ER, is also coming soon with a price of €229. The GBD-100 base watch is smaller than the GBD-H1000 and is powered by a CR2032 battery with an estimated 2-year battery life. Major features include a step counter and Bluetooth smartphone link.
Update: The GBD-H1000BAR-4 and GBD-100BAR-4 were also announced for Japan and Asia. In Japan, the watches will be released on January 14, 2022. G-Shock U.S. is releasing the GBD100BAR-4 for $230.
GBD-H1000BAR-4ER at es.casio-shop.eu (with links for other EU countries)
GBD-100BAR-4ER at es.casio-shop.eu
G-Shock GBD-H1000BAR-4: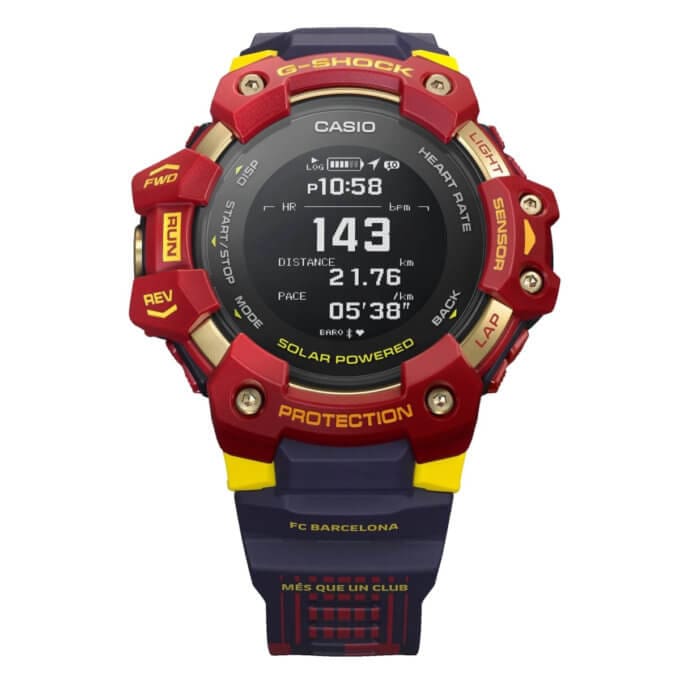 Size: 54.6 × 55 × 20.4 mm Weight: 101 grams
Structure: resin case and band, resin and stainless steel bezel, mineral glass
Protection: Shock Resistance, 200-meter Water Resistance Power: Rechargeable (dedicated cable with Type-A USB terminal), solar powered
Features: Heart rate monitor, step counter with training function and data, Bluetooth smartphone link, GPS (for distance, speed, and pace data, auto/manual timekeeping, position info), vibration alerts, world time (38 time zones, 38 cities +UTC, DST on/off, auto DST), 1-second stopwatch (99:59'59" max, elapsed time, split time), countdown timer (60 minutes, settable in seconds, 5 interval timers, auto-repeat 1-20 times), 4 daily alarms with snooze, full auto LED light with 1.5 or 3-second afterglow, full auto-calendar, button tone on/off, power saving, 12/24-hour format, flight mode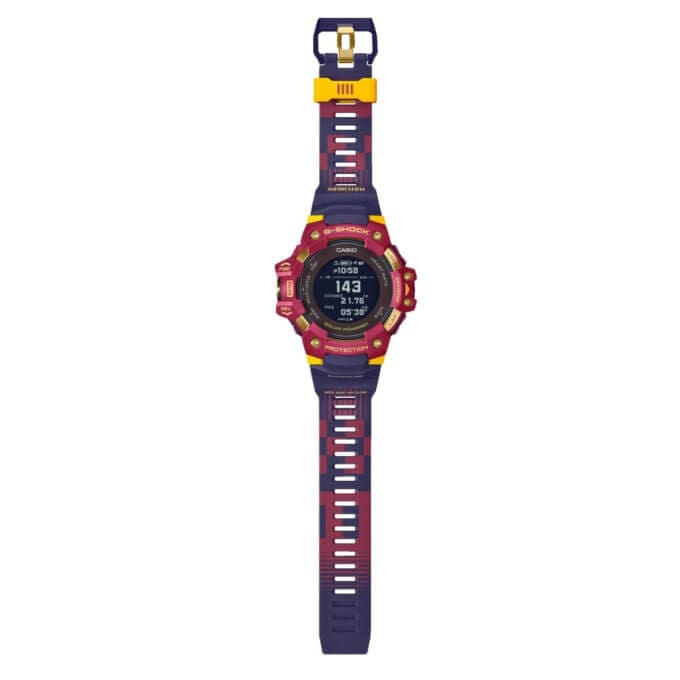 G-Shock GBD-100BAR-4: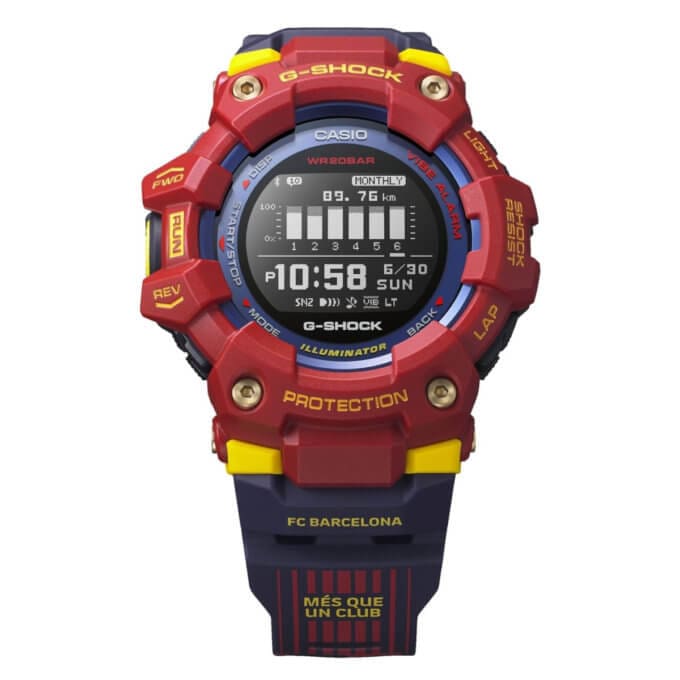 Size: 58.2 × 49.3 × 17 mm Weight: 69 grams
Structure: resin case and band, resin and aluminum bezel
Protection: Shock Resistance, 200-meter Water Resistance Power: Battery (CR2032, approx. 2-year life)
Features: Step counter with training function and data, Bluetooth smartphone link, vibration alerts, world time (38 time zones, 38 cities +UTC, DST on/off, auto DST), 1-second stopwatch (99:59'59" max, elapsed time, split time), countdown timer (60 minutes, settable in seconds, 5 interval timers, auto-repeat 1-20 times), 4 daily alarms with snooze, auto LED light with 1.5 or 3-second afterglow, full auto-calendar, button tone on/off, power saving, 12/24-hour format, flight mode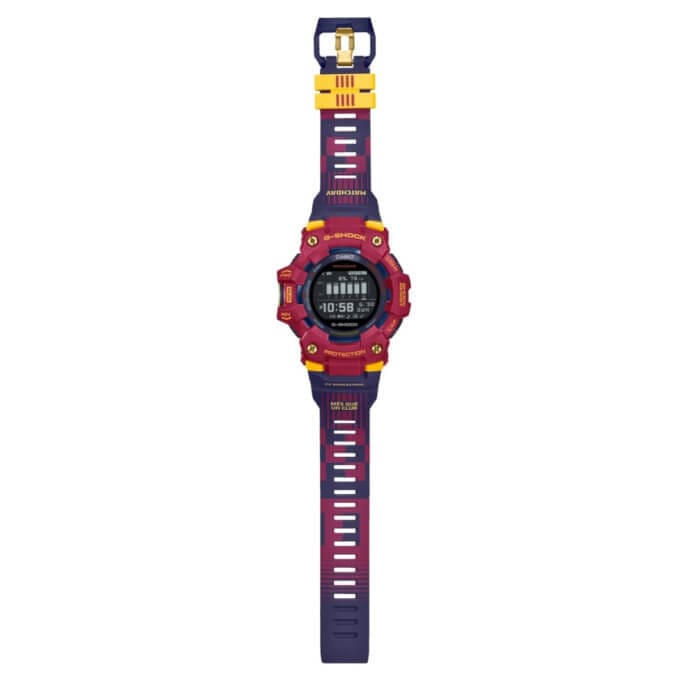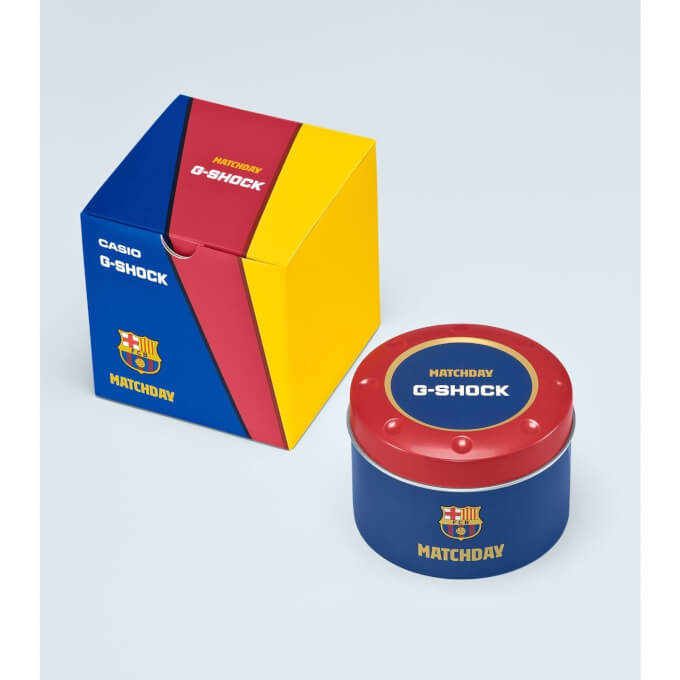 Packaging for GBD-H1000BAR-4 (left) and GBD-100BAR-4 (right):