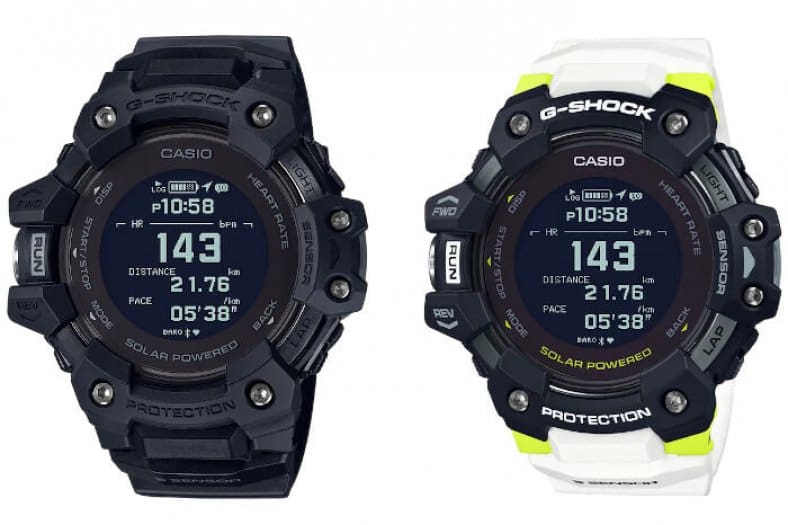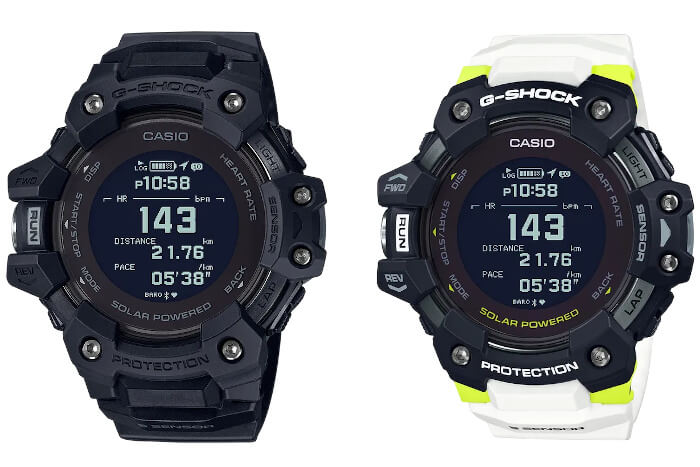 Casio America announced the G-Shock GBDH1000-1 and GBDH1000-1A7 and is taking pre-orders for US$399 each, with an estimated release date of April 17, 2020. (Update: The release date has been delayed until late May.) The watches are being sold under the "G-Shock Move" line in the U.S. The upcoming companion app for Bluetooth-connected smartphones is also titled "G-Shock Move."
G-Shock UK also announced the GBD-H1000-1, GBD-H1000-1A7, red GBD-H1000-4, and gray GBD-H1000-8 for an April 20, 2020 release as part of the "G-Shock Sport" line, with a list price of £379 each. (Update: G-Shock UK reported that the release will be delayed until the end of May 2020.)
As part of the GBD-H1000 series, these innovative models feature an MIP LCD display, five sensors (optical heart rate monitor, accelerometer for step counting, altimeter-barometer, compass, and thermometer), GPS plus GLONASS and Michibiki (QZSS), solar-assisted power, and GPS timekeeping.
The heart rate monitor displays the current heart rate, along with a five-stage heart rate zone (recovery, base, cardio, at threshold, and maximum), which is useful for managing pace. Through a Firstbeat Technologies algorithm, the watch estimates VO2 max, an indicator of cardio-pulmonary capacity and a useful measurement when training to to build endurance. With the built-in GPS enabled, a map of a route traveled can be displayed on the smartphone app. The app can also be used to access training logs, analyze fitness data and training progress, automatically create training plans, and adjust the watch settings.
The GBDH1000 is also chargeable by USB port with the included cable. According to G-Shock, if only time mode and step counting is used, the watch is completely operational through solar power alone. Other notable features include G-Shock's renowned shock resistance, 200-meter water resistance, vibration alerts for training and smartphone alerts (calls, email, SNS), and LED backlight.
Pre-orders for the GBDH1000-1 and GBDH1000-1A7 are available in the U.S. at www.gshock.com/collections/move and Reeds Jewelers.
Update: G-Shock US states that the watches have an estimated release date of late May 2020.
Update 2: Amazon is also accepting pre-orders for the GBD-H1000-8.