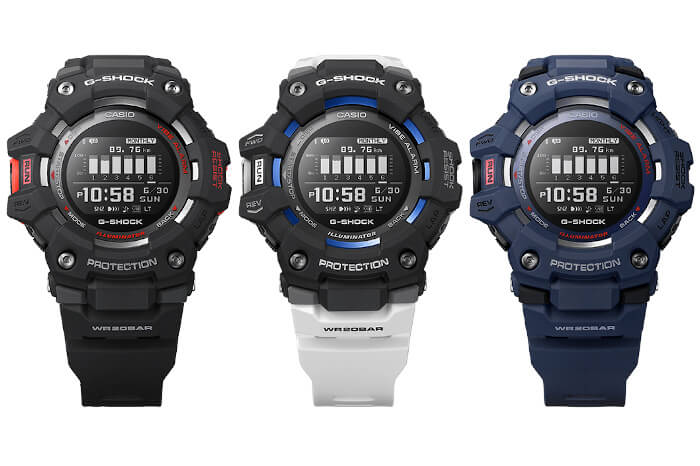 Update: The GBD-100 is scheduled for an April 2020 release in Japan.
Casio also revealed the upcoming G-Shock G-SQUAD GBD-100 with a dedicated page at world.g-shock.com. The GBD-100 has a similar design as the GBD-H1000, with the same type of high-contrast memory in pixel (MIP) LCD display, but there are some major differences.
The GBD-100 is a smaller and much more affordable model without a heart rate monitor, built-in GPS, or solar power. Instead of a rechargeable lithium-ion battery, it uses a CR2032 battery with an estimated battery life of two years. The watch has an accelerometer for step counting, but there is no additional Triple Sensor like the GBDH1000. The distance, pace, and speed can be calculated using a connected smartphone's GPS or the watch's accelerometer. The GBD-100 does not have the advanced training analysis features of the GBD-H1000, and the training log data is limited to elapsed time, distance, pace, and calories burned.
The affordable GBD-100 has a similar style but smaller size than the GBD-H1000: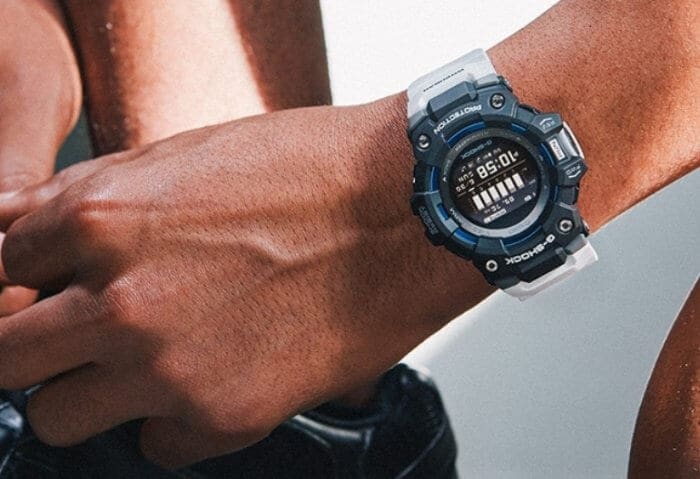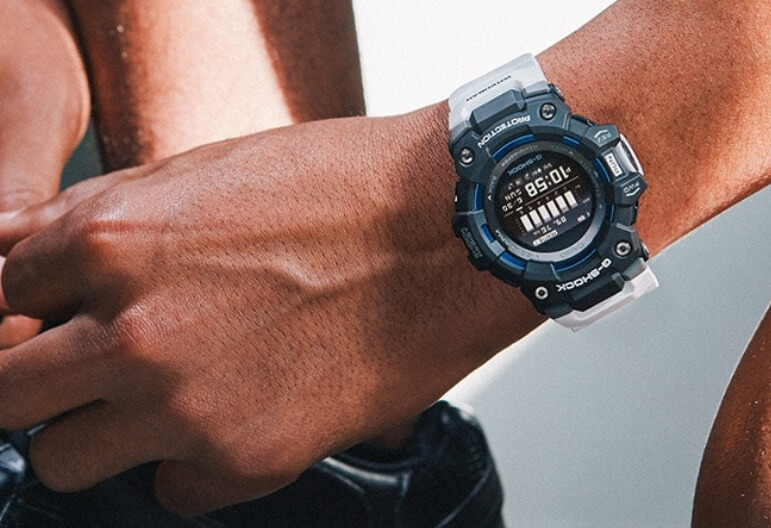 Despite the limitations in comparison to the GBD-H1000, the GBD-100 still has a lot going for it. It has the Bluetooth smartphone link feature and can automatically adjust the time when connected. It also has vibration alerts and the notifications function for incoming calls, email, SNS (social networking services) messages, and reminders. (It is the most affordable current G-Shock model with smartphone notifications, with the only other current model with this feature being the GBD-H1000.) The training log data holds records for 100 runs and 140 laps per run, and the smartphone app displays target attainment level data, training history data, and a training plan function. It has a stopwatch, 5 repeatable interval timers, and 4 daily alarms.
The GBD-100 is also significantly smaller and lighter than the GBD-H1000, measuring 58.2 x 49.3 x 17.0 millimeters and weighing about 69 grams (versus 63.0 x 55.0 x 20.4 mm and 101 grams for the GBD-H1000).
In Japan, the GBD-100 will have a list price of 20,000 JPY. The debut models include the black GBD-100-1, black and white GBD-100-1A7, and blue GBD-100-2. The GBD-100 series was announced for a May 2020 release in Japan.
Update: Reeds Jewelers is now taking pre-orders for the GBD100 series with a price of US$150. Shipping is expected to begin in late May 2020.
GBD-100-1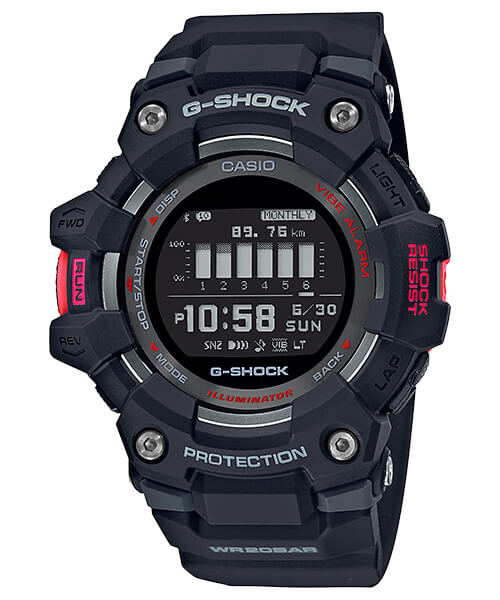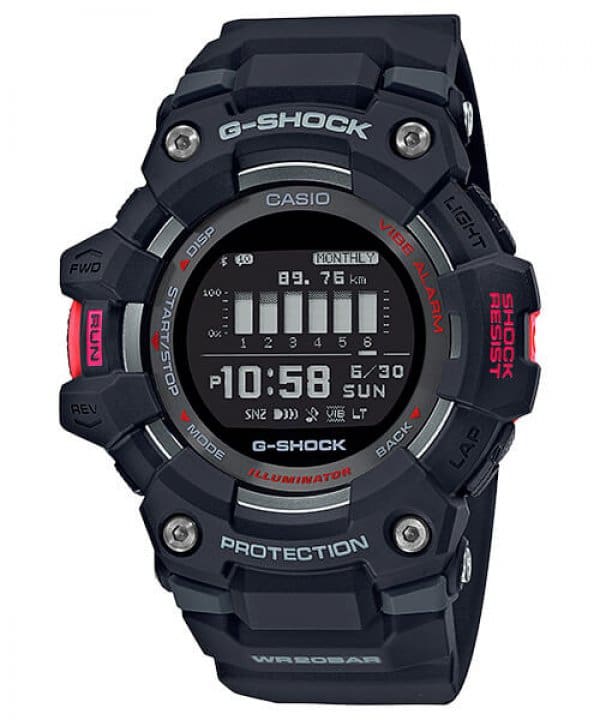 GBD-100-1A7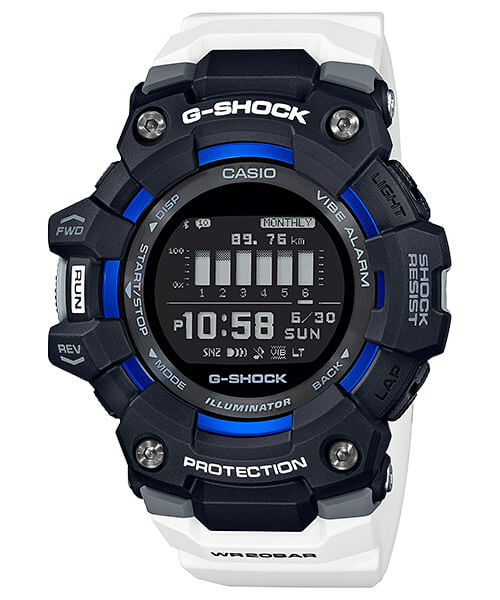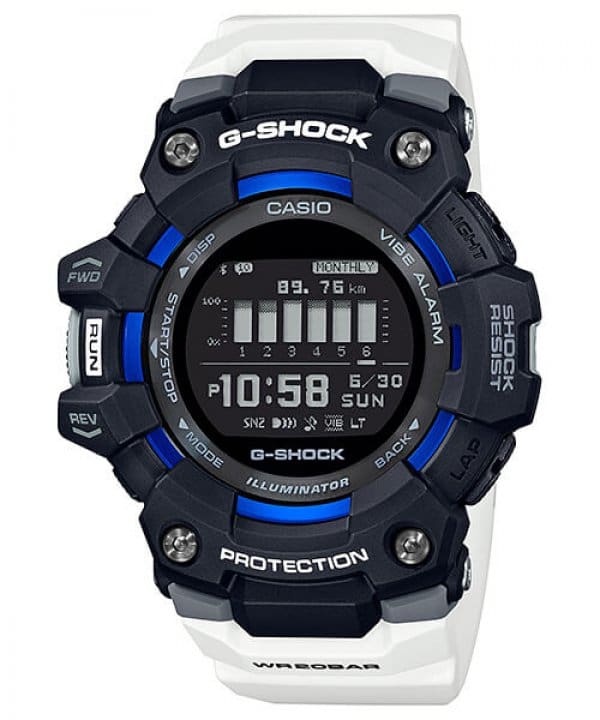 G-Shock G-SQUAD GBD-100-2