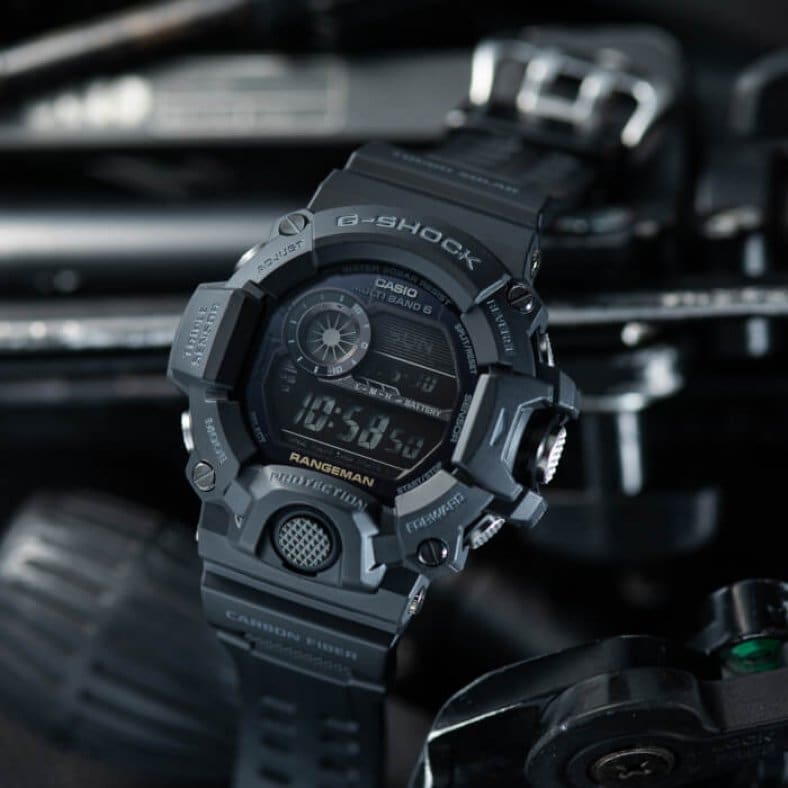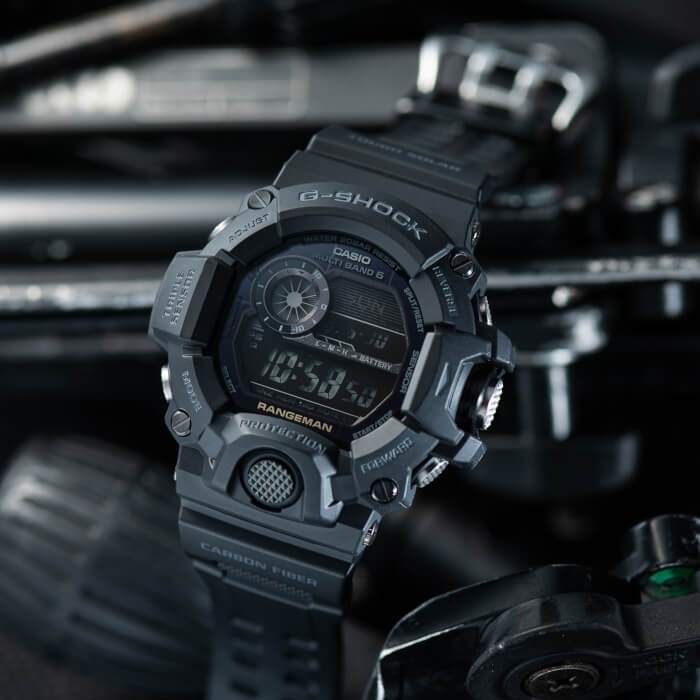 January is usually an uneventful time for new watch releases, but many G-Shock fans are likely to take notice of the G-Shock GW-9400J-1BJF Black Out Rangeman, which is scheduled for a January 2020 release in Japan.
The GW-9400J-1BJF is notable because it's the first non-collaboration Rangeman GW-9400 since 2016, and it offers a basic blackout colorway to a best-selling series that hasn't offered a conventional colorway like this in a long time. It looks somewhat similar to the Japan-exclusive GW-9400BJ-1JF with a black color and a reverse LCD display, but it has a standard matte finish instead of the GW-9400BJ-1JF's unusual painted one and a grayed-out display without any bright accents. With its back to basics appearance, the GW-9400J-1B, along with the GW-9400-1B, seems poised to become a permanent part of the GW-9400 lineup, but that's never a certainty when it comes to new colorways. (The GWG-1000-1A1 Mudmaster from 2018, featuring the same colorway, appears to still be an active release in Asia and the U.S.)
The module remains the same as previous GW-9400 models, so we can probably infer that we will not be seeing any sort of updated GW-9400 model this year (and perhaps for years to come). That's fine by us, as the GW-9400 continues to be very popular and is arguably one of the best values for a G-Shock watch, especially when purchased at a discounted price. Its many features include shock resistance, 200-meter water resistance, Tough Solar power, Multi-Band 6 automatic radio timekeeping, Triple Sensor Version 3 (altimeter-barometer, compass, thermometer), mud and dust resistance, world time, sunrise/sunset data, 1/100 second stopwatch, one-press stopwatch start button, 24-hour countdown timer, five alarms with one snooze alarm, battery level indicator, power saving function, and full auto Super Illuminator LED backlight. With its maintenance-free solar power, automatic time syncing, and environmental sensors equipped with a 40-set timestamp memory, the GW-9400 is the ultimate survival watch and is suitable for a wide range of outdoor activities.
The GW-9400J-1BJF has a list price of ¥48,000 JPY in Japan.
Update: Casio America announced the GW9400-1B for a late February 2020 release, with a list price of $330 USD. The GW9400-1B has the same features of the GW-9400J-1BJF, except for the carbon fiber insert band. See: "Blackout Mudmaster GGB100-1B and Rangeman GW9400-1B to get U.S. release".
Update 2: The GW-9400-1B (without the carbon fiber insert band of the Japan release, like the American release) is a February 2020 release throughout Asia.