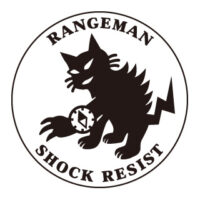 The GW-9400 Rangeman is the quintessential modern Casio G-Shock watch and has arguably replaced the Frogman as the most desirable all-digital G-Shock to own. The Rangeman made its debut in 2013 and has since become the most popular model in the professional Master of G lineup.
With its Tough Solar powered rechargeable battery, Multi-Band 6 atomic timekeeping, direct-access Triple Sensor (with digital compass, thermometer, altimeter, and barometer), and a 40-record sensor memory, the Rangeman is one of the best watches available for any outdoor activity and makes an excellent survival watch. The feature-rich watch also has mud resistance, low temperature resistance and sunrise/sunset data. Of course it also has common G-Shock features like world time (48 cities + UTC), 5 daily alarms, stopwatch, and countdown timer. Its many useful features and affordable price makes it a popular watch with outdoorsmen and sportsmen of all types.
In addition to being one of the most functional G-Shock watches, the limited edition models are highly coveted as collector timepieces and the Rangeman is now one of the limited edition base models of choice with nine special editions so far. Here is a list of every Rangeman model produced starting with the newest release and including special editions and Japanese domestic market (JDM) releases. This page will be updated as new models are released.
Image
Description
Links
GW-9400DCJ-1JF Master In Desert Camouflage Rangeman - September 2016 limited edition Master of G series. Black bezel, light brown lettering, black front screws, orange accents on face, desert camouflage band, positive LCD display.
Amazon

eBay
GW-9402KJ-2JR Love The Sea And The Earth Rangeman - June 2016 Earthwatch collaboration with blue-footed booby bird color scheme (blue bezel with black and white bands). Love The Sea And The Earth 2016 case back engraving and Earthwatch EL backlight. Japan release.
Amazon

eBay
GW-9400BTJ-8JR Burton Snowboards Rangeman - December 2015 collaboration with Burton Snowboards. White/ice gray bezel with black buttons, black front screws and orange accents. Standard LCD display. Carbon fiber insert band with light blue & gray digital snow camouflage print. Black IP metal keeper with mountain logo engraving. Custom Burton logo case back engraving. GW-9400BTJ-8 international release.
Amazon

eBay
GW-9400SRJ-4JF Men In Sunrise Purple Rangeman October 2015 Master of G series limited edition. Purple bezel with black buttons, black screws, black buckle and keeper, reverse LCD display, and carbon fiber insert band. GW-9400SRJ-4 international release.
Amazon

eBay
GW-9400FBJ-4JR Kobe City Fire Bureau Rangeman - 2015 JDM limited edition collaboration. Orange bezel with blue lettering and carbon fiber band. Custom logo backlight and case back engraving.
Amazon

eBay
GW-9401KJ-3JR Love The Sea And The Earth 2015 Rangeman - 2015 JDM limited edition. Earthwatch collaboration. Translucent green and yellow bezel with green and yellow band. Band says "Change the World. Yourself."
Amazon

eBay
GW-9400CMJ-3 Men In Camouflage Rangeman - 2015 limited edition. Green bezel with black and orange lettering. Green camouflage band with carbon fiber insert.
Amazon

eBay
GW-9400RDJ-4JF Men In Rescue Red Rangeman - 2014 JDM limited edition. Like the GW-9400RD-4 but with a carbon fiber insert band.
Amazon

eBay
GW-9400RD-4 Red Series Rangeman - 2014 limited edition. Red bezel with white lettering and reverse display.
Amazon

eBay
GW-9400NVJ-2JF Men In Navy Rangeman - 2014 limited edition. Like the GW-9400NV-2 but with carbon fiber insert band.
Amazon

eBay
GW-9400NV-2 Navy Series Rangeman - 2014 limited edition. Blue bezel with white and black lettering with reverse display.
Amazon

eBay
GW-9400KJ-8JR Love The Sea And The Earth Rangeman - 2014 JDM limited edition. Earthwatch collaboration. Gray bezel with red and black lettering. Custom backlight logo and case back engraving.
Amazon

eBay
GW-9430EJ-9JR 30th Anniversary Lightning Yellow Rangeman - 2014 JDM limited edition. Yellow bezel with black lettering and carbon fiber insert band. Black front facing screws and black backlight button.
Amazon

eBay
GW-9400BJ-1JF Rangeman - 2013 JDM release. Black bezel with gray and stealth lettering, reverse display, and carbon fiber insert band. Black front facing screws and black backlight button.
Amazon

eBay
GW-9400J-3JF Rangeman - 2013 JDM release. Looks like the GW-9400-3 but has a carbon fiber insert band.
Amazon
GW-9400J-1JF Rangeman - 2013 standard JDM release. Looks like the GW-9400-1 but has a carbon fiber insert band.
Amazon

eBay
GW-9400-3 Rangeman - 2013 standard international release. Khaki/army green/olive drab bezel featuring black and yellow lettering with reverse display. Black EL backlight button and silver metal keeper.
Amazon

eBay
GW-9400-1 Rangeman - 2013 standard international black model. Silver buttons, front screws, and metal keeper. Successor to the G-Shock GW-9200 Riseman.
Amazon

eBay