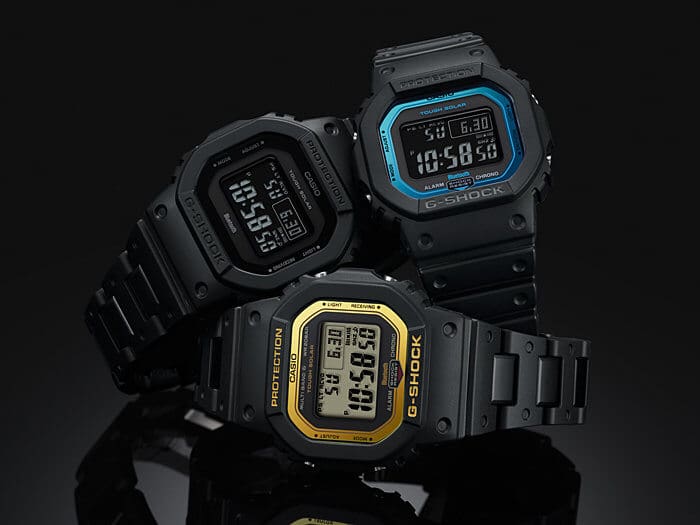 Update: G-Shock Japan officially announced the GW-B5600-2JF, GW-B5600BC-1JF, and GW-B5600BC-1BJF for October 2018. The GW-B5600 watches are currently the most affordable G-Shock models with both Tough Solar power and Bluetooth mobile link, with the next being the GR-B100 Gravitymaster series. The GW-B5600-2, GW-B5600BC-1, and GW-B5600BC-1B are also October 2018 releases in other Asian markets outside of Japan. North America will be getting only the GWB5600BC-1B in November 2018.
Following the release of the full-metal G-Shock GMW-B5000 watches, there was speculation as to whether a Tough Solar with Bluetooth module would be added to other non-metal 5000-5600 square models. We now have the answer to that question with Casio Europe's reveal of the new G-Shock GW-B5600 and GW-5600BC watches.
The GW-B5600-2 (black and blue), GW-B5600BC-1B (black), GW-B5600BC-1 (black and yellow) have resin cases. The GW-B5600-2 has a resin band and the GW-B5600BC-1B and GW-B5600BC-1 have a hard composite band made of resin and metal. The blue and yellow borders on the faces of the GW-B5600-2 and GW-B5600BC-1 have a highly relective surface like recent "metallic mirror" models. This gives the GW-B5600BC-1 a gold-like appearance.
The module number is 3461 which differs from the GMW-B5000's 3459 module, though the features appear to be the same. (The instruction manual for the 3461 module is not yet available.) Reader Gary pointed out that the 3461 and 3459 instructions are the same in Japan. The GW-B5600 measures 48.9 x 42.8 x 13.4 mm which is the same as the DW-5600E-1V and a little shorter and narrower than the GMW-B5000.
The resin-link band of the GW-B5600BC-1 and GW-B5600BC-1B appears to be similar to other hard "composite" bands we've seen on G-Shock watches before but with all resin links with internal metal parts. The metal and resin construction allows for a durable yet lightweight band that is convenient to put on and remove. The fine resin links are said to have a glossy finish.
With its Bluetooth connectivity, the GW-B5600 series offers many additional features over the G-Shock GW-M5610-1. These include automatic internet time adjustment (4 times/day), a time & place log, easy watch setting with the G-Shock Connected app (world time setting with 300+ cities, time-swapping, alarms), reminder function with up to 5 reminder alerts, phone finder function, and a battery level indicator with seven levels. It is also possible to set 5 world time cities on the watch and the day of the week abbreviations are available in six languages.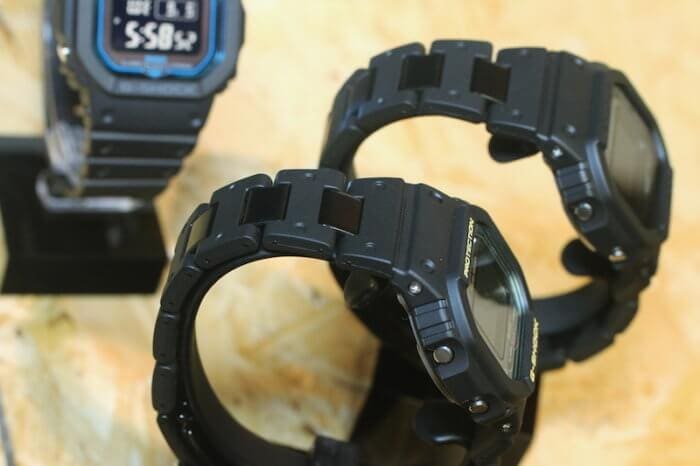 Other features include shock resistance, 200-meter water resistance, Tough Solar power, Multi-Band 6 radio wave time adjustment, world time, 1/100 second stopwatch, countdown timer, 5 daily alarms with 1 snooze alarm, mineral glass, and full auto Super Illuminator LED light, . The dimensions are 48.9 mm x 42.8 x 13.4 mm with a weight of ~53 grams for the GW-B5600-2 and ~85 grams for the GW-B5600BC-1B and GW-B5600BC-1.
The European model numbers are GW-B5600-2ER (list price €139 EUR), GW-B5600BC-1BER (list price €199 EUR), and GW-B5600BC-1ER (list price €199 EUR). We expect to see other international releases for these models.
Update 2: The GW-B5600-2JF (list price ¥21,000 JPY), GW-B5600BC-1BJF (list price ¥26,000 JPY), GW-B5600BC-1JF (list price ¥26,000 JPY) were revealed at Casio's Autumn/Winter 2018 G-Shock showcase in Japan and are due for an October 2018 release in Japan.
G-Shock GW-B5600-2
Blue accents with a black resin case and resin band, reverse LCD display.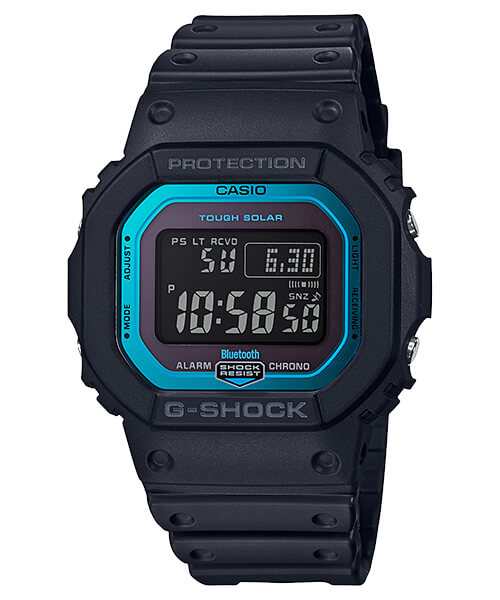 GW-B5600-2JF on Amazon GW-B5600-2JF on eBay
G-Shock GW-B5600BC-1
Yellow accents with a black resin case and composite band, standard LCD display.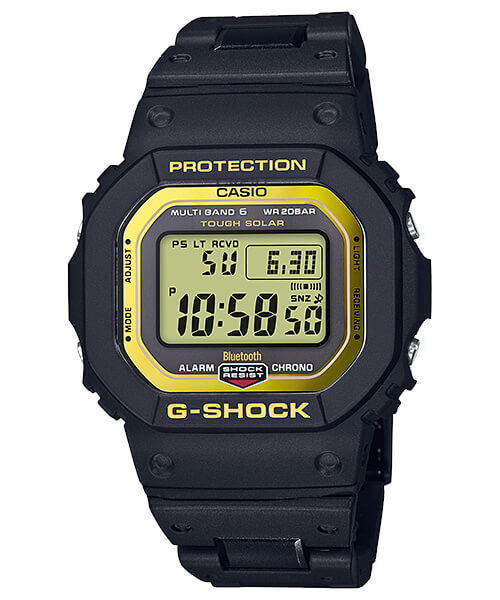 GW-B5600BC-1JF on Amazon GW-B5600BC-1JF on eBay
G-Shock GW-B5600BC-1B
Black resin case and composite band, reverse LCD display.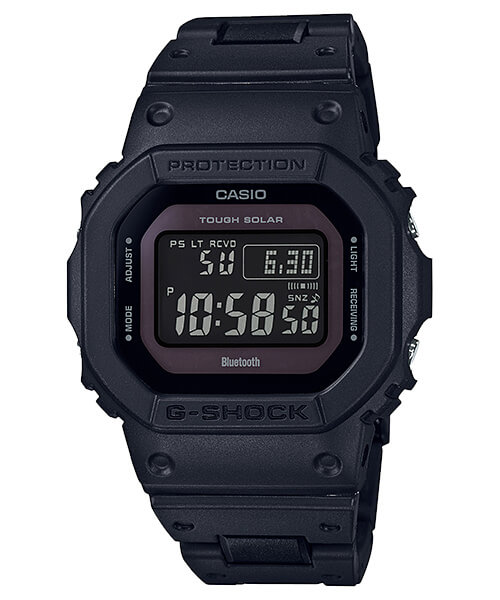 GW-B5600BC-1BJF on Amazon GW-B5600BC-1BJF on eBay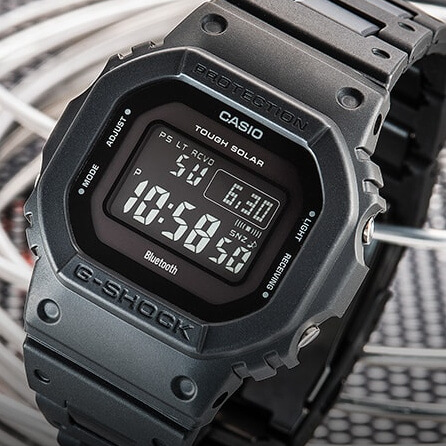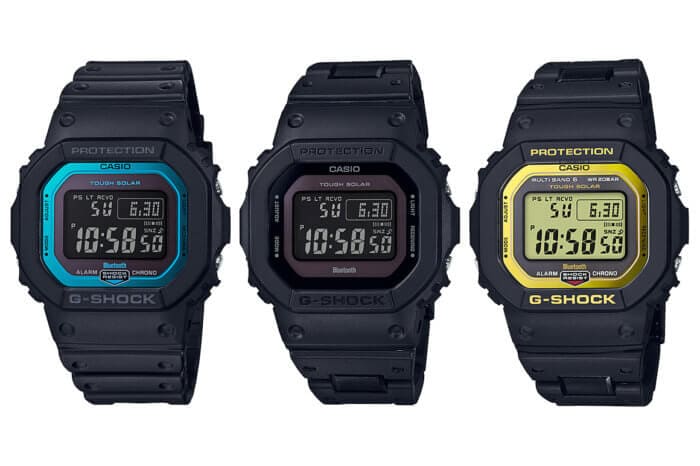 Disclosure: G-Central is independently managed by fans and is not an official G-Shock site. For official support, visit world.casio.com. Please follow your region's official site for more release information. All articles are written by G-Central. We may earn a commission on purchases from our links to Amazon, eBay, and Reeds Jewelers.
Advertisement: