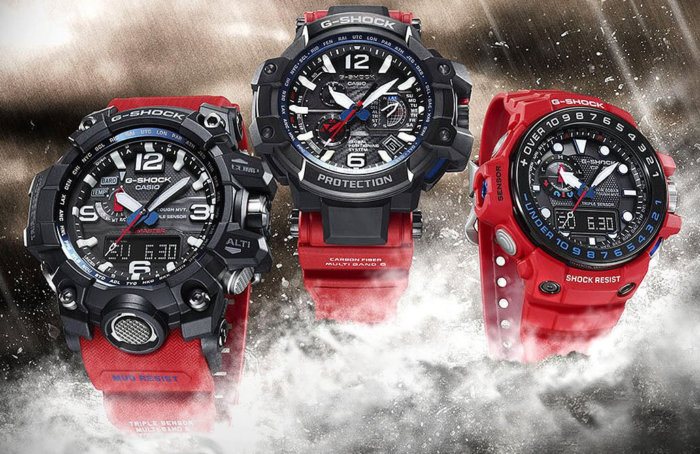 G-Shock is expanding the Rescue Red Series to the analog models of the feature-rich Master of G line. Casio Europe released photos of the upcoming G-Shock Master of G Rescue Red Series which includes the GWN-1000RD-4A Gulfmaster, GWG-1000RD-4A Mudmaster, and GPW-1000RD-4A Gravitymaster. The Solid Red Series follows the release of the first ever analog Master of G collection from fall 2015, the Black and Gold Series.
Update: Casio Japan announced the GWN-1000RD-4AJF (¥57,000), GWG-1000RD-4AJF (¥80,000), and GPW-1000RD-4AJF (¥100,000) for March 2016.
Update 2: Casio USA announced the Rescue Red Master of G Series for April 2016. The retail list prices are $500 for the Gulfmaster GWN1000RD-4A, $750 for the Mudmaster GWG1000RD-4A, and $950 for the Gravitymaster GPW1000RD-4A.
The Rescue Red theme is inspired by the red color of rescue vehicles and aircraft and the navy blue uniforms of rescue personnel. The watches feature solid red bands combined with blue accents on the displays or bezel for a bold and sporty look. The Gulfmaster's outer resin body is also red with blue lettering on the lower half of the black stainless steel bezel. The Mudmaster has a black bezel with a blue dial ring and the Gravitymaster has a gray stainless steel bezel with a blue dial ring.
All three watches feature Tough Solar power and Multi-Band 6 radio wave timekeeping. The Gulfmaster and Mudmaster feature the Triple Sensor (altimeter, barometer, compass, thermometer) and the GPW-1000 Gravitymaster features GPS Hybrid Wave Ceptor timekeeping.
Check this page later for more information on price and availability.
GWN-1000RD-4A Rescue Red Gulfmaster
The GWN-1000RD-4A Gulfmaster has a red band and body along with a black bezel with white and blue lettering.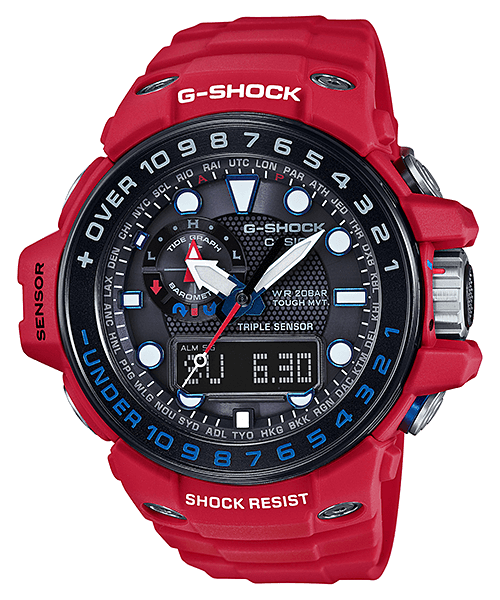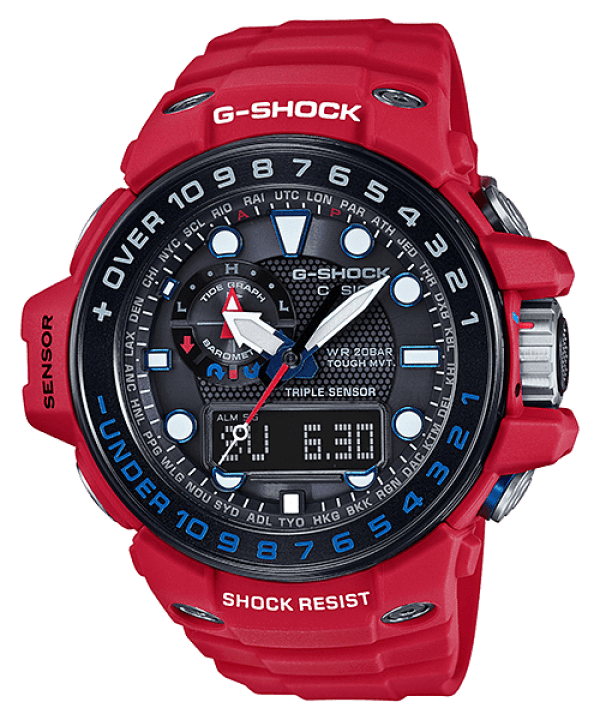 GWG-1000RD-4A Rescue Red Mudmaster
The GWG-1000RD-4A Mudmaster has a red band and a blue dial ring.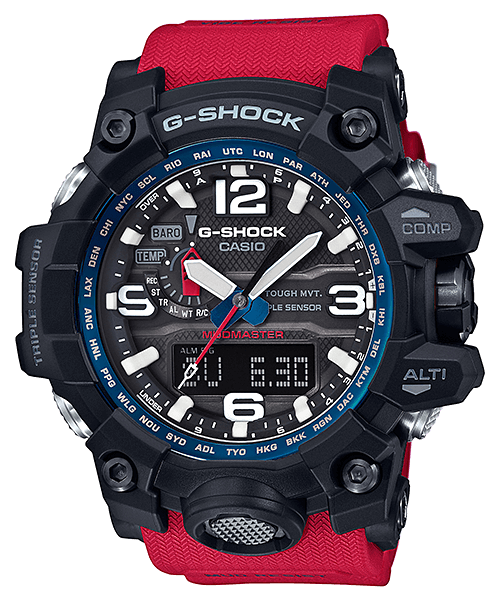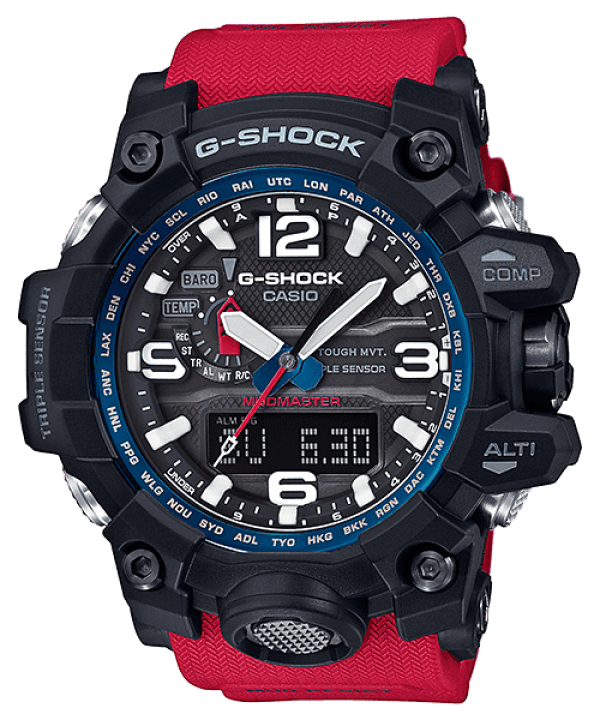 GPW-1000RD-4A Rescue Red Gravitymaster
The GPW-1000RD-4A Gravitymaster has a red band, gray stainless steel bezel, and a blue dial ring.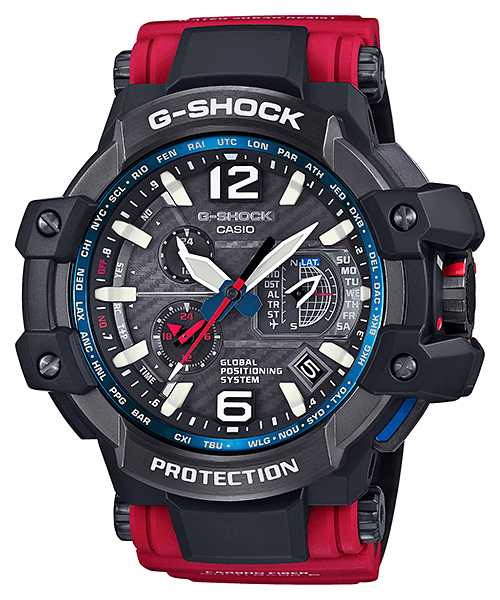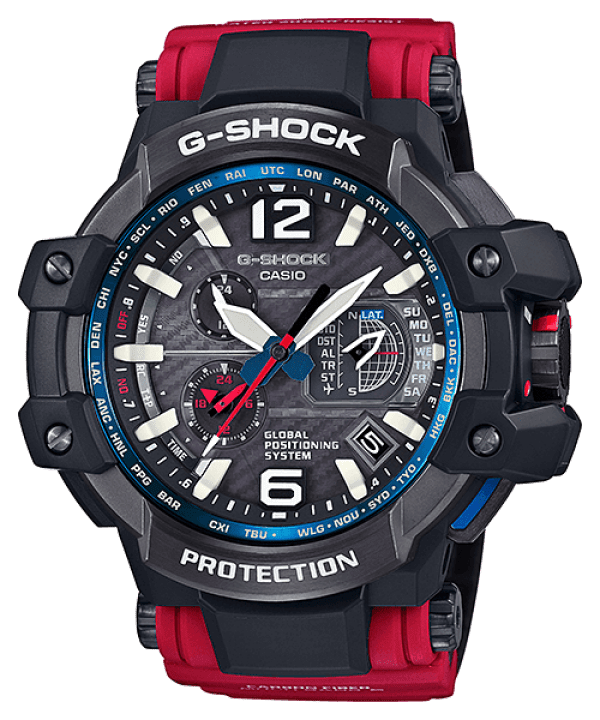 Sources: casio-europe.com, g-shock.jp