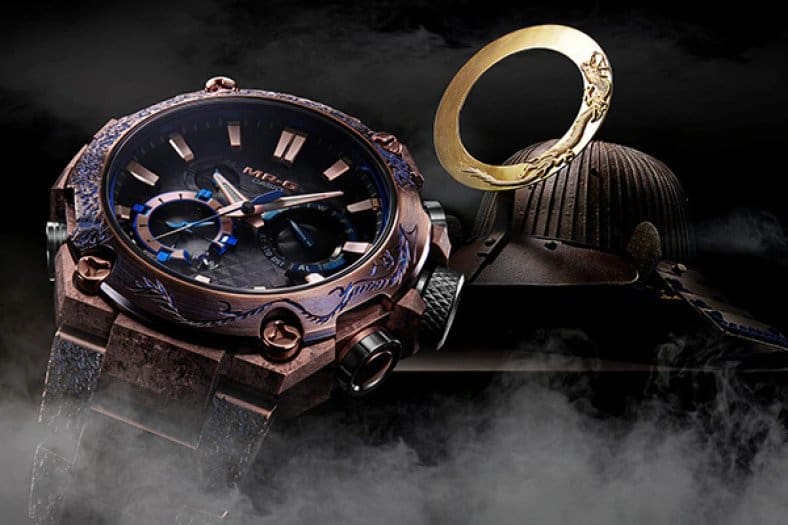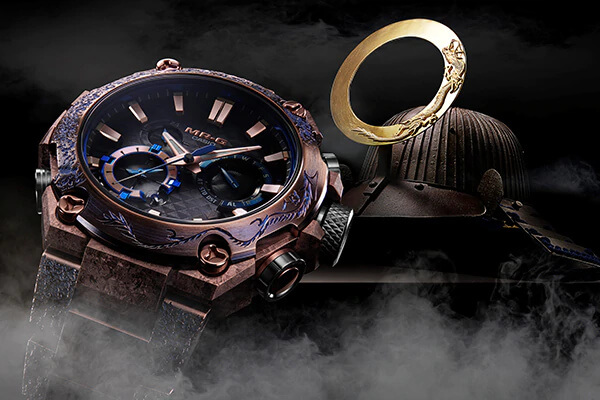 The Bruce Lee x G-Shock MRG-G2000BL-9A won't be the only special edition MR-G model for 2020, as Casio announced the MRG-B2000SH-5A Shougeki-Maru, which is inspired by the kabuto (helmet) of Japanese samurai and limited to 400 pieces worldwide (with individual certified serial numbers). The MRG-B2000SH-5A is the first-ever announced MRG-B2000 model, and the case resembles the large MRG-G2000 more than the mid-size MRG-B1000. The main internal differences between the MRG-B2000 and MRG-G2000 is that the MRG-B2000, like the MRG-B1000, has Bluetooth connectivity but does not have GPS timekeeping like the MRG-G2000.
"Shougeki-Maru" is an original kabuto helmet commissioned for MR-G and made by Yuzan Suzukine and master metalworker Masao Kobayashi. The bezel on the MRG-B2000SH represents the maedate (crest) of the helmet and is hand carved by Masao Kobayashi, with an "ascending dragon" image of the mythical beast climbing to the heavens. The bezel and band have a finish inspired by the "tetsu sabiji" technique used on the Shougeki-Maru helmet. Metal dies based on the sand dies by casting artisan Masanao Kikuchi, combined with layers of brown and blue ion plating, create a rusted steel look that is enhanced by the navy blue color inspired by ito odoshi, the overlaying plates of armor bound together with navy blue string. Blue accents also adorn the dial. The unique design evokes the aged beauty of the kabuto helmet and the samurai aesthetic.
The MRG-B2000SH-5A features a recrystallized titanium case with a deep-hardening treatment and AIP (arc ion plating), Tough Solar power, Multi-Band 6 auto radio time adjustmen, and Bluetooth smartphone link. This is the first MRG-B2000 model that has been announced so far, and the case measures 54.7 x 49.8 x 16.9 millimeters, which makes it larger than the mid-size MRG-B1000 (52.2 x 46.2 x 14.6 mm) and the exact same size as the MRG-G2000.
Features include shock resistance, 200-meter water resistance, Tough Solar power, Multi-Band 6 radio-controlled timekeeping, Bluetooth smartphone link,
ISO 764-compliant magnetic resistance, world time (with auto DST switching, home time/world time switching), 1-second stopwatch (23:59'59 max), 1-second countdown timer (24 hours max), daily alarm, day and date display, and LED light (Super Illuminator) with afterglow.
The MRG-B2000SH-5AJR is reportedly planned for a July 2020 release (now delayed) with a tax included price of 880,000 JPY.
Update: The MRG-B2000SH-5A is an October 2020 release in Asia (excluding Japan). The MRGB2000SH-5A was also released in the U.S. with a list price of $8,000 (as MRGB2000SH5A).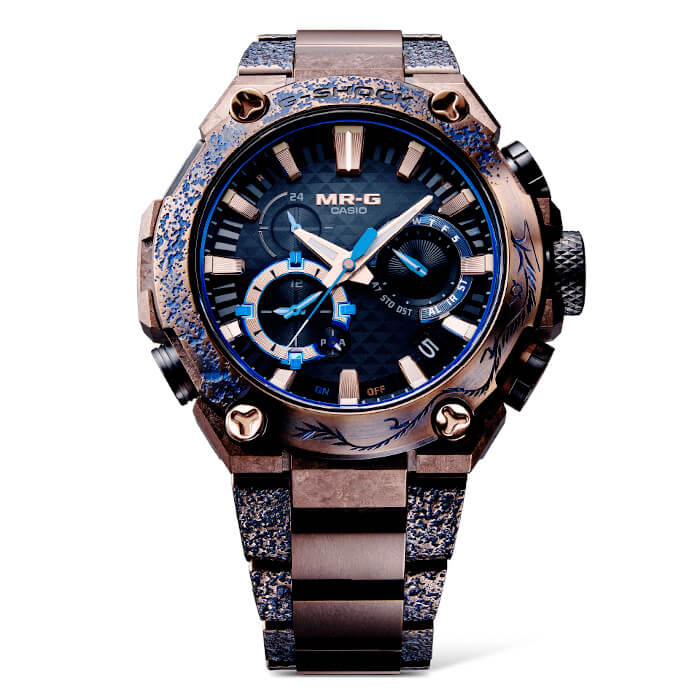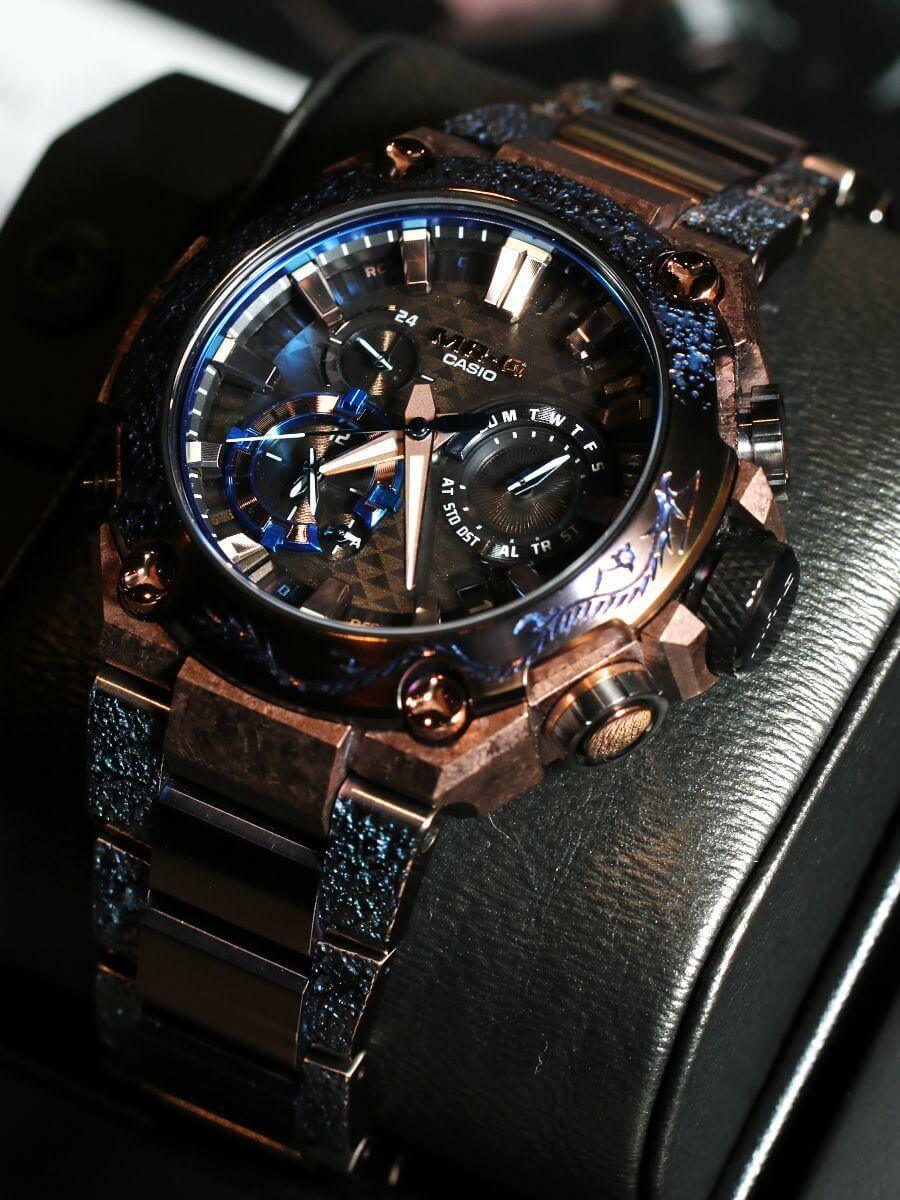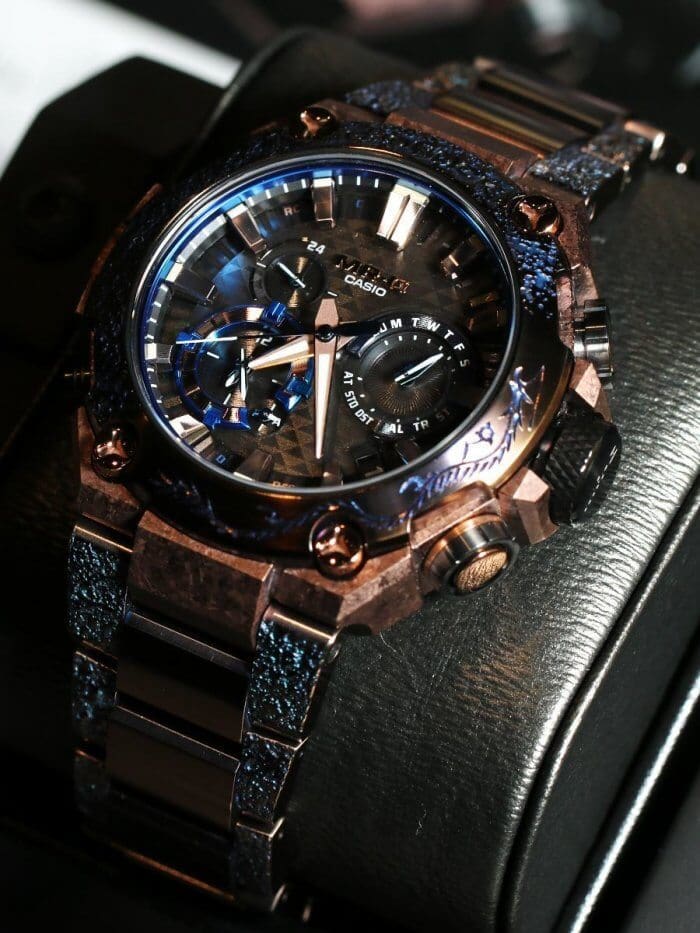 MRG-B2000SH Shougeki-Maru Video:
Sources: www.casio-watches.com, news.mynavi.jp