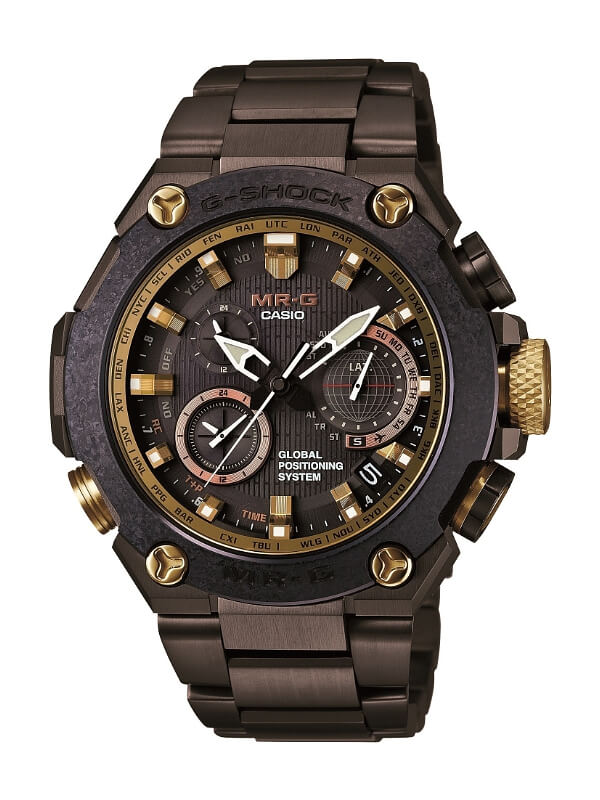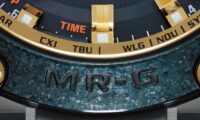 Update 2: The MRG-G2000HT-1A Baselworld 2017 Edition which is limited to 500 units will be released in September 2017 with a list price of $7,400 USD.
Update 1: The MRG-G1000HT Hammer Tone 2016 release for the 20th anniversary of the MR-G line has a list price of $6,200. In late 2016 G-Shock also released the MRG-G1000HG-9A Gold Hammer Tone with a list price of $6,200.
The MRG-G1000RT-1A is getting a U.S.A. release in September and according to Casio will be available at select jewelers, the G-Shock website, and the G-Shock Soho Store. The list price is $6,000 making it the most expensive official G-Shock watch ever released for sale. The Yamagata-produced watch is made with the Titanium 64 alloy which is seven times harder than pure titanium. For the most expensive standard edition G-Shock watches see the MRG-G1000 Series.
The MRG-G1000RT-1A is a Baselworld 2015 limited edition and its official American name is (get ready) The G-Shock MR-G GPS Atomic Solar Hybrid Basel Special Limited Edition MRGG1000RT-1A. Some of its unique features include gold accents on the face, gold front screws and crown, a "Japan Blu" DLC (diamond-like carbon) coating on the case and bands, and a recrystalized bezel that is made in the style of the "nie pattern" of Japanese swords. This rich finish is considered the pinnacle of Japanese craftmanship and is said to reflect a unique glow in the light. Standard features of the MRG-G1000 include GPS Hybrid Multi-Band 6 worldwide timekeeping, Tough Solar, anti-glare sapphire crystal, latitude indicator, world time, LED Super Illuminator, daily alarm, auto calendar, 1/20 second stopwatch (24 minutes), countdown timer (24 hour), and day/date display.
Reports out of Baselworld stated that the production run was limited to 100. One unit of the MRG-G1000RT-1A was available on the EVINE shopping network.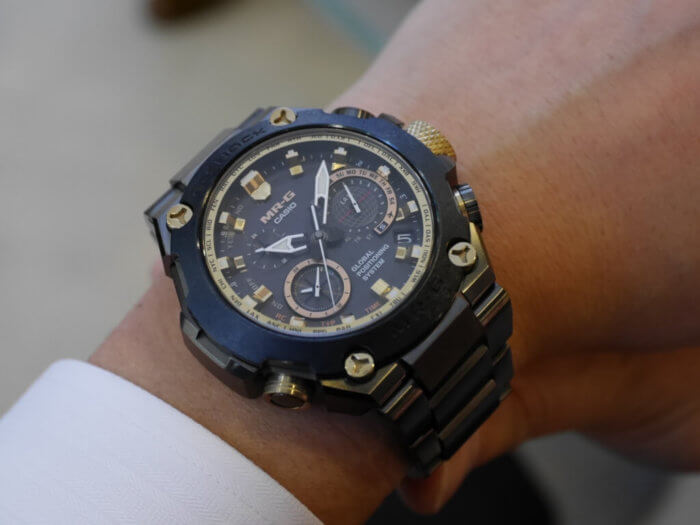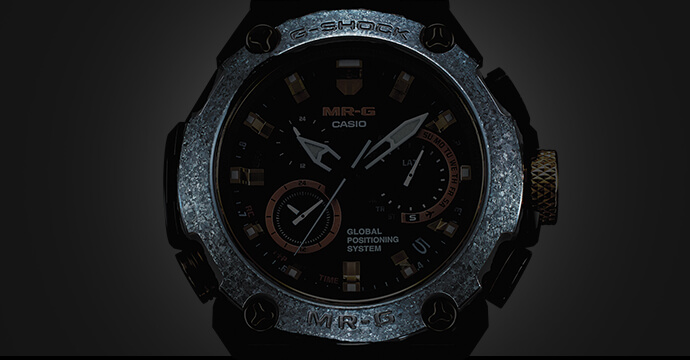 source: gshock.com, photos via nowre.com, www.jw-oomiya.co.jp, casio-watches.com